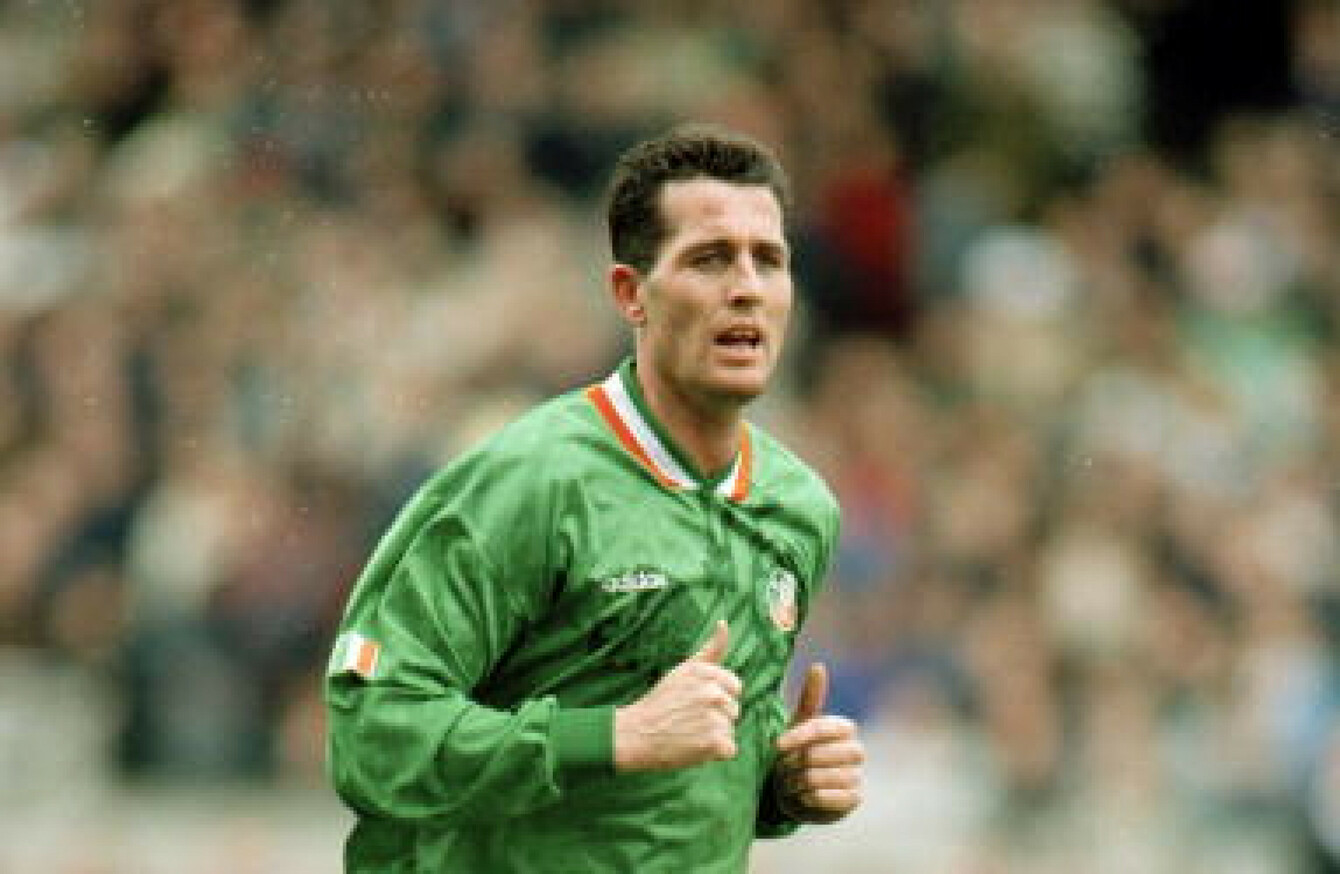 Liam O'Brien earned 16 caps for Ireland.
Image: Bob Thomas/Getty Images
Liam O'Brien earned 16 caps for Ireland.
Image: Bob Thomas/Getty Images
Updated at 08.41
DURING THE ALEX Ferguson era, even some of Manchester United's biggest stars were effectively pushed out of the club rather than choosing to leave of their own accord.
Top players, including Roy Keane, Paul Ince, Jaap Stam, David Beckham and Paul McGrath, were moved on. But to Ferguson's credit, the team invariably were able to cope in these players' absence, while many of those who departed struggled to hit similar heights for the remainder of their careers.
It was rare, however, for the opposite to occur — players who left when Fergie wanted them to stay. Former Irish international Liam O'Brien belongs in that category of footballers brave enough to defy the fiery manager's wishes.
Exactly why and how we'll come to later, but for context, it's important to start where it all began — Ringsend in Dublin, the location in which O'Brien was born and raised, and a place he describes as "a hotbed of football".
"A lot of Irish internationals came out of there," O'Brien tells The42. "It was a really good place to play football and learn your trade."
After stints with Cambridge Boys and Stella Maris, just before his 17th birthday, O'Brien joined Bohemians. He spent two years at the club in the early 1980s, making a handful of senior appearances during his time there.
O'Brien, though, was never someone happy to simply coast along in life. Ultimately, this taste of first-team football was not enough to persuade him to stick around for too long. In 1983, with the Celtic Tiger still nearly a decade away and amid Ireland's harsh economic climate, America beckoned.
"I told Billy Young, who was the manager of Bohs. He wanted me to sign professional. I wouldn't, I told him at the time that work was very scarce in the country and there was no real prospects.
I told him I was going to go to America. I was over there, played in a tournament in that summer of 1983. I did really well and a scout asked me would I like to go and play. I decided that I would. I was probably too young, I was 18 at the time. Billy Young obviously wasn't happy about it."
With the benefit of hindsight, O'Brien accepts he made a mistake in moving to Cleveland, Ohio. Without Skype, Whatsapp and the countless convenient modern-day inventions, the US seemed much further away than it does now. Seeing your family, even through the prism of technology or by virtue of a simple Facebook post, was not an option.
"It was just soccer, indoor football at the time, and I was offered quite good money for 1983. I just couldn't settle," he recalls.
"I was only there for about four or five weeks. It was one of those where I had to get back home."
O'Brien was at a loose end after he "more or less fell out with" Bohs. However, Jim McLaughlin, who had just become manager of Shamrock Rovers at the time, offered the player an attractive alternative option.
"Noel King, who was actually at Bohemians while I was there, obviously saw something in me. He said 'would you like to come up and play for Shamrock Rovers until your American thing and then you can go over there, and if you don't like it, you can always come back to us'.
So from 1983 when I came back from America, Shamrock Rovers asked me to sign for them and I did on a professional basis, and my career really took off from that."
O'Brien was fortunate in the sense his move to Shamrock Rovers happened to coincide with a golden era for the club.
McLaughlin had previously won three league titles and three FAI Cups among other achievements while manager at Dundalk. He set about buying the best players in the country and the Hoops, who had plenty of cash to bring in the necessary recruitments at the time, quickly prospered.
O'Brien, who was named PFAI Young Player of the Year in 1986, was part of the famous side who claimed four league titles on the trot, though he was only there for three of the triumphs before moving across the water.
That Rovers team featured a number of top players, such as Liam Buckley, Harry Kenny, Alan Campbell, Pat Byrne (the "best" player O'Brien ever played with in the League of Ireland), Peter Eccles, Mick Neville, Kevin Brady, Terry Eviston, Anto Whelan and Neville Steedman.
Even when key players in Campbell and Buckley were sold to Racing Santander and KSV Waregem respectively, they were succeeded by top-quality replacements, Mick Byrne and Noel Larkin. The squad was so good that O'Brien — still an inexperienced player — was just a bit-part player initially. However, as the side evolved while continuing to dominate Irish football, the young midfielder increasingly thrived.
[Jim] attracted the best players and you had some great experience with a good blend of youth there as well," he says.
"Dermot Keely was there as well, he had a wealth of experience from up the north [with Glentoran] and came down having played with Dundalk as well. So we had a lot of leaders in the team and that's how we gelled, we were all good players.
"I was only young and naive. At that age, you had no fear. It was a great learning curve for me, playing with experienced players, who would kind of teach you about the game, because you're only learning about the game at that age. You're trying to know what positions to play in, when to get forward, when to get back.
"But it was really good, I really enjoyed it, a great set of lads, and the camaraderie we had was very good, the team spirit was very good and that really helps for any winning formula."
Unsurprisingly, O'Brien's eye-catching performances as part of this dominant Rovers team consequently prompted talk of a move abroad.
"If I'm being honest I was doing quite well with Shamrock Rovers. I was scoring goals, I was doing well for the team and people were putting it in the papers 'why' am I not away [in Britain]. 'Why has he not got a chance yet?' When you get to a certain age, you think it's passed you by, that you're not going to get that chance.
"I did go to Celtic for a week, but it wasn't a trial really. I went over to play a game and the game was called off because of the snow, so they never really got to see me. That was in about 1984, but when I established myself at Shamrock Rovers, I was getting to the same stage: 'Will I ever get a chance to get away?' There's talk in the papers, 'this team is coming over to watch him,' but nothing was happening.
I was doing quite well and then out of the blue, I got a phone call to say that Manchester United were interested in me.
"I played in a pre-season friendly against them and had done really well. I played against Celtic in the European Cup, done really well against them and it kind of just spiralled from there really."
So after over 100 appearances in three years at Rovers and plenty of silverware to show for it, O'Brien joined Manchester United for an initial fee of £50,000 during the early stages of the 1986-87 season. In contrast with the all-conquering Irish side, the young midfielder joined his new club at a tumultuous time in their history. Indeed, he would prove to be embattled manager Ron Atkinson's last signing.
I signed in October, he got sacked in November," O'Brien remembers. "I didn't get into the first team because I was coming from a part-time outfit into a full-time club. So I was training every day and getting used to the training and I was doing quite well in the reserves. I remember [Ron] saying to me 'you're doing quite well, you've scored a couple of goals, you're getting stronger, you're getting fitter, it might not be long before you get a chance'.
"So when he was sacked, I was on the verge of getting into the team, but it only took me a couple of weeks with the new manager coming in.
"[Alex Ferguson] seen me playing in the reserves and then gave me my debut a month after he arrived. I had my first-team debut two months after I arrived at the club, so I was very happy with that."
Much has been made of the way Ferguson transformed the culture of the club during his time there. The former Aberdeen manager was not afraid to part with star players such as Paul McGrath and Norman Whiteside, both of whom had a reputation for being troublemakers, but O'Brien rejects the suggestion that there was a lack of discipline at the club before the legendary Scottish coach arrived there.
"They were playing for one of the biggest clubs in the world," he says. "They were all good professionals. We had the England captain there, Paul McGrath was playing there. They were all fantastic footballers. There was a drinking culture at the time in the '80s around every football club, it wasn't just Manchester United. He came in, they hadn't won anything for years, Liverpool were the dominant team, he obviously wanted to change things and he had to be seen to be doing something, that's what he did do in the end.
"He brought his own ideas, he was a disciplinarian. I remember Gordon Strachan saying, before he came in, if he gets the job here 'lads we'll be working our socks off day in day out'. That's the way he was and that's why he was very successful.
"So he was his own man and proved in the end how good he really was. After the first two or three years when he didn't win anything, it just took off for him."
One remarkable aspect of Ferguson's management is the esteem in which he is held by former players, even those who did not thrive during his time there. Another Irishman, Derek Brazil, who The42 recently spoke to, is one such example, as is O'Brien.
I didn't have one problem with him," O'Brien recalls. "I actually got on quite well with him. He was very good to me. Alex Ferguson gave me my debut and I wouldn't have a bad word to say about him.
"I learned an awful lot playing with those players, training with those players. It was another learning curve for me."
Everything appeared to be going well initially. Having thought he might have to wait until the following season to make his debut, a 22-year-old O'Brien had his first senior appearance for Man United in Ferguson's seventh game in charge. The club were in transition at the time and had endured an awful start under Atkinson, with his replacement left to pick up the pieces.
United had just exited the League Cup following a 4-1 loss to Southampton, while they found themselves in the bottom four in the league. Things did not improve dramatically initially. In Ferguson's first match in charge, they suffered a 2-0 defeat at Oxford United. The Red Devils would win just one of their next five games.
It was under these pressurised circumstances, on 20 November 1986, that the Irish player got his chance, as the club beat Leicester City 2-0 at Old Trafford in front of 35,000 fans to rise to 15th in the table.
The Dubliner went on to play a further 13 games for United that season, though one of these fixtures ended disastrously, and it also makes O'Brien the answer to a good potential pub quiz question.
After just 85 seconds of their January 1987 encounter with Southampton, the youngster became the quickest player to get sent off in the club's history — a record he still holds to this day. To make matters worse, the game was broadcast live in Ireland.
I was so disappointed because I knew everybody was watching it at home on the TV," he remembers. "My mates were all watching it in the pub.
"To this day, I think it wasn't a sending off. In them days, you were allowed tackle. I know you're not allowed do it now.
"I did get a touch of the ball. It was the very first tackle. I thought it warranted a yellow card, but not a sending off.
"It was against a guy called Mark Dennis, who had a very bad reputation for being sent off. So I was kind of protecting myself as well."
Source: Jojoscafe/YouTube
Despite this unfortunate setback, O'Brien enjoyed his early days at United. There was to be no repeat of the America experience, with a few familiar faces helping their young counterpart to feel at home.
"I always wanted to be a footballer and to get the chance to play for Manchester United was fantastic. You always go through phases where you're homesick, but I was with a lot of Irish players over there, the likes of Kevin Moran, Paul McGrath, Frank Stapleton and Joe Hanrahan, who I lived with in digs for a few months.
"My fiancé, who is now my wife, came over — that kind of helped me settle in. So I really didn't feel any homesickness then."
SEE SPORT
DIFFERENTLY
Get closer to the stories that matter with exclusive analysis, insight and debate in The42 Membership.
Become a Member
O'Brien was also getting international recognition during this period. Capped 16 times for his country, he was part of the Ireland team that beat Brazil in front of a crowd of 17,000 people at Lansdowne Road in May 1987, with Liam Brady scoring the winner amid a famous 1-0 victory.
To be lucky enough to be in a team that beat Brazil, that's something to tell the grandkids," he says.
Jack Charlton deemed him good enough to make the Euro '88 squad, though not to feature in any of the three matches Ireland played there. And O'Brien's eagerness to establish himself as a regular fixture in the Irish team was one reason why he chose to leave Old Trafford in November 1988, however there were off-field issues too.
It seems hard to believe now, when many Premier League youngsters are paid astronomical fees before they have even made a first-team appearance, but in the 1980s, playing for Manchester United was no guarantee of long-term financial stability.
"[Ferguson] offered me a new [two-year] contract," O'Brien, who made a total of 36 appearances in two years at United, recalls.
"The money at the time was poor… After the money was offered, I said: 'I'm not signing.' It was only 100 quid in the difference at the time. He dug his heels in and I dug my heels in.
I was on a week-to-week contract from the end of June all the way up to October or November. I was in and out of the first team. It was in the papers: 'Why has he not signed the contract?' And it was really that. And my wife just had her first child too. So I hadn't got any security really.
"And after doing well, getting back into the first team, Newcastle came in for me and they just offered me a lot more than I was on at Manchester United.
"At the time, it was three years of security for me, so I had to sign it. It was a no-brainer for me in the end really."
Willie McFaul was manager of the Magpies at the time, bringing the Irishman to the club for a £250,000 fee, and O'Brien has fond memories of his six seasons at Newcastle.
"I've never met fans that are so passionate," he says. "They love their football."
It was not always so positive, however. At the end of O'Brien's first season there, the club finished 20th and were relegated to Division 2 (the equivalent of the Championship back then). And there was more misery aside from the pain of relegation, as the player broke his leg in 1989, forcing him out of action for a considerable period.
"I was in plasters from my toe all the way to the top of my thigh for about 12 weeks," he explains. "You couldn't do anything. You'd go into training and go into the gym and see what you could do in the gym. Your best friend is the physio really and I couldn't speak more highly Derek Wright at Newcastle, who nursed me back to full fitness and he's really your psychologist as well. He has to say the right thing to keep you at it and that's what they were all about when I was playing.
It's tough when you're on your own and you're training — all the lads are out playing and you want to be out there with them. But it's part and parcel of the game — most players get injured. But it's how you get back after it and how you recover from it.
"It's a great relief you feel that you can get back into it and get back training with the lads."
It was during former Argentina and Tottenham star Ossie Ardiles' time as manager that O'Brien established himself as an important member of the team, but it was not until Kevin Keegan arrived that success followed. After four seasons out of the top flight, the Liverpool legend's inspirational management helped the club lift the title in the 1992-93 campaign and gain promotion to the recently established Premier League.
O'Brien was a key part of the promotion-winning side under Keegan, scoring six goals in 33 appearances, with the club topping the league after finishing 20th and narrowly avoiding relegation the previous season.
"[Keegan] came to Newcastle and the fans took to him. They loved him. He was a god up there and still is.
[Before Keegan] under Jim Smith we nearly got into the Premier League. We were beaten in a play-off semi-final against Sunderland unfortunately, our rivals. And then Ossie came in — he didn't get much help from the board to get players in. He kind of had to play with the players he had there, the young players coming through.
"When Keegan came in, John Hall took over as the chairman and promised Kevin that he would help him build the team again. He did really and it took off.
"[Keegan's] man-management skills were excellent. He made you feel on cloud nine, on a high all the time. He'd tell you how good you were.
"We had a great team spirit. The time we won the league that year was probably one of the best times in my career."
All appeared to be going well for O'Brien, but injury problems were to hamper him again in the 1993-94 campaign, and ultimately played a part in his Newcastle exit.
"That's typical of football really," he says. "It's great when you get promoted, but players do themselves out of a job.
"He got rid of the two strikers who were brilliant and who were there when we got promoted. David Kelly was unbelievable and Gavin Peacock — one went to Wolves and one went to Chelsea.
"I started that year in the Premier League and then other injuries kept me out and I couldn't get back in [to the starting XI]."
In early 1994, O'Brien joined Tranmere, spending five years at the club, who were in the First Division/Championship at the time.
The team was filled with talented individuals and while not as prestigious or high profile as Man United or Newcastle, there was no shortage of memorable moments at this point in O'Brien's career.
"We just had really good players — John Aldridge was there, Pat Nevin, Paul Cook, who's now [managing] at Wigan. Shaun Teale, Gary Stevens, John McGreal, Ged Brannan.
We played a lot of games on a Friday night and people used to say you 'couldn't beat Tranmere on a Friday night in Prenton Park'. We just hammered teams. It was a really good side and another good time in my life.
"We were knocking on the [Premier League] door, the three years in a row there [in the play-offs] — well I missed the first year, but '94 and '95, we were a bit unlucky not to get to the final at Wembley.
"We just didn't perform in one of the games. But the first play-off match against Leicester, we should have beat them. Their goalkeeper had a worldie that day, we just couldn't put the ball past him. That was unfortunate, because that was a really good team.
"We got to the semi-final of the League Cup against Aston Villa and they beat us on penalties. We beat them 3-1 in the first leg at Prenton Park and then it was the reverse at Villa Park. I was unfortunate not to score myself in the main game. I hit the post and it didn't go in from a free kick. Then I missed a penalty to get us to Wembley. I had a penalty to take the club to Wembley, and [the goalkeeper] saved it.
"But it's the ups and downs [of football], the best players in the world miss penalties."
Source: fatoomstcha/YouTube
In 1999, aged 35, O'Brien returned home to Ireland with Cork City, spending a season there before finishing his playing career where it began — at Bohs.
"I always wanted to come back and finish my career in Ireland. I was 35 at the time. Some people must have been expecting the player that went away at 21, but it was never going to happen, I was getting on a bit.
"You can feel your legs starting to go and stuff, but you still had the old head and the experience.
"I enjoyed my time down [in Cork]. Then I went to Bohs and I kind of concentrated on more or less being a coach then. I did all the coaching badges and it was if the manager wanted me to play [I'd play]. I played a few games for Bohs in the European competitions, against Aberdeen and Kaiserslautern."
Aside from Bohemians, O'Brien's CV as a coach includes stints at Shamrock Rovers, Hibernian and most recently, Bray Wanderers. He also started up an executive chauffeur business in the 2000s, but sold it when he moved to Scotland with Pat Fenlon in 2011 to work at Hibernian.
"Nobody wants to retire, but your legs tell you you've got to go," he says. "I played my last game in the League of Ireland when I was 38, so I was really happy then. That's a fair age to get a last game, even if I didn't play most of the season.
Obviously, you have to take a step back to be involved in the coaching side of things. You can't be involved with the players anymore, but you still have to try to balance it, have a laugh with them and stuff, and teach them the stuff that I learned when I was in the UK or the League of Ireland with the managers and coaches I worked under.
"If you asked most of the players that I was involved with at Bohs and different teams, they would have thought maybe it was tough, but they would have enjoyed it. We managed to win trophies.
"I've been offered mangers' jobs over the years, but it doesn't really interest me. I actually like being on the pitch and the other side of it — putting on the training sessions and stuff. That's what I enjoy most.
"We went to Hibs and myself and Pat were asked to do a job over there and we did the job — keep them in the division. We got a bonus for getting them to the cup final — unfortunately, we were beaten by Hearts, which didn't help, but we still got there — we got to two cup finals in the couple of years that I was there."
O'Brien left Bray along with manager and former Rovers teammate Harry Kenny at the end of the 2017 campaign. The club had begun the season very well and even were challenging Dundalk for second spot early on. However, financial difficulties midway through the campaign unsettled the players, and the results almost inevitably reflected the precariousness of the off-field situation.
"It was a little bit frustrating for everybody involved. We had a fantastic start and the team were flying. When you're winning games, it just breathes more confidence into the players.
"Then we had that little blip in the middle of the season where players were wondering if they were going to get paid or not.
They took their foot off the gas, which is understandable, because it's their livelihood. Things went bad for us — we had five or six games and we couldn't get anything out of them in training. We turned it around and we just kind of finished the season out. We were a little bit down and a little bit sad, because the way we were going [at the start], I think we would have finished higher than we did.
"[The players] had their families to think about too. It's unfortunate the way it happened, and it was resolved in the end, but it wasn't great the way it was resolved, to be honest."
His next step in football is uncertain but O'Brien is not complaining. For most of his 53 years on this planet, he has dedicated himself to the game, and the sport has given him plenty in return. It remains his passion and he hopes to be back involved in some capacity in the near future.
"People can see my record coaching-wise, I've won a lot here in the league. I have a good CV behind me, so hopefully I won't be out of it too long.
"It's in my blood, I love the game, so if something does come up, I'll have a look at it and see what happens."