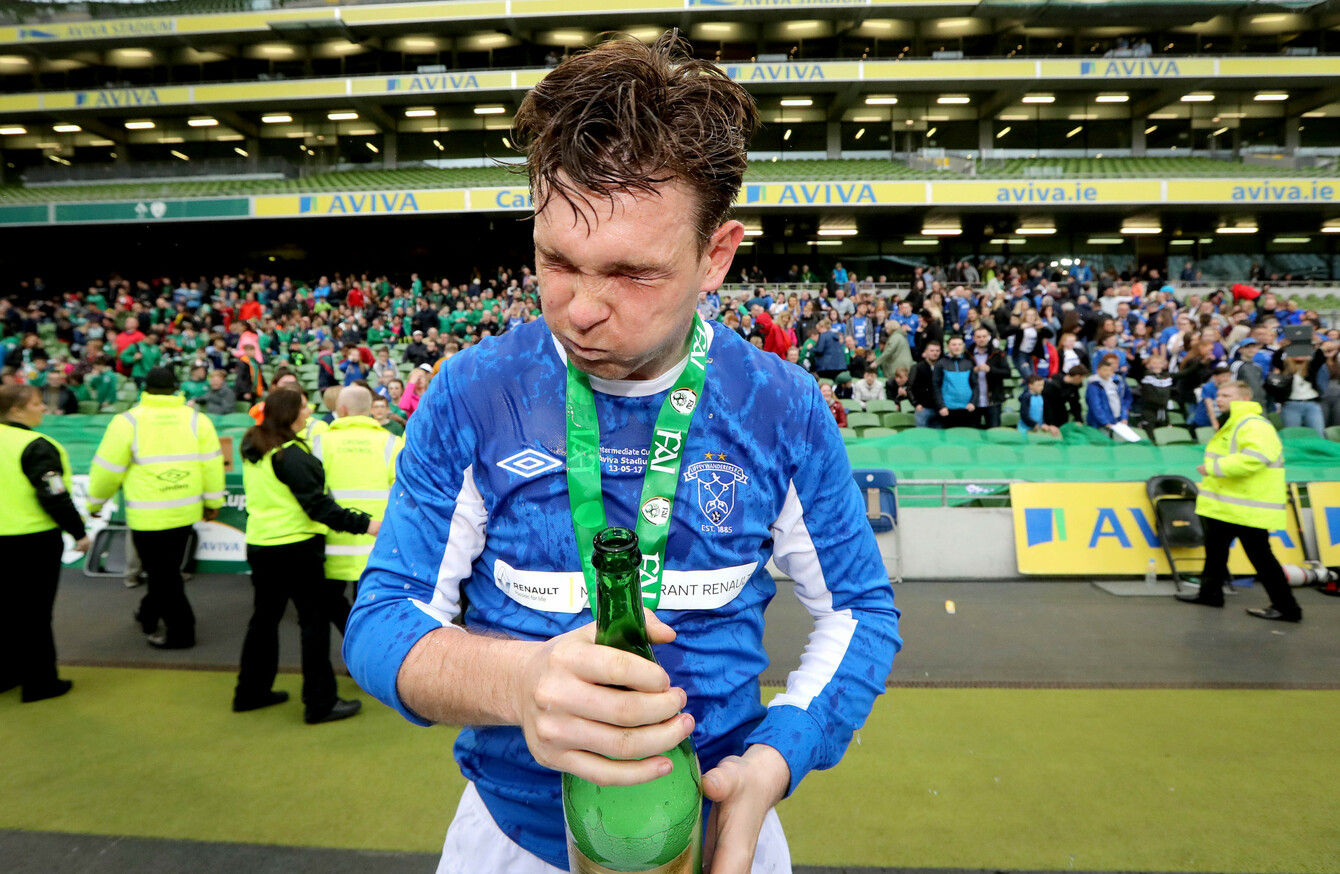 Liffey Wanderers' Glen O'Connor celebrates winning the Junior Cup.
Image: Ryan Byrne/INPHO
Liffey Wanderers' Glen O'Connor celebrates winning the Junior Cup.
Image: Ryan Byrne/INPHO
BEFORE THE FAI Junior Cup took pride of place on the inner city streets of south Dublin, and long before there was anyone around Townsend Street who would dare to dream that the FAI Intermediate Cup could be paraded from Macken Street to Pearse House, there were sing-songs pouring out of Doolan's and Lynch's and lifelong friendships forged in the Pearse Street area.
This was long before John 'Wembo' Young stepped up to the top job at the small but intensely proud Liffey Wanderers club. None of those destiny-changing prospects crossed his mind – their young babies to tend to and a whole other set of realities to contend with.
But like anyone in that tightknit Dublin neighborhood whose streets have pumped life and passion into the southside's football scene, Young was a keen observer of each of the Liffey happenings.
"I remember myself and my wife Leila living in the newly-wed flats on Meades Terrace just off Hogan Place," he recalled recently.
"It's where we started out as a young couple. We were there for a few years. I've fond memories of putting the twins, Dean and Gary, to bed then looking out the flat window. I used to watch the Liffey families leave Doolan's and Lynch's after a few beverages and a good sing-song."
May's dramatic Intermediate Cup victory over Cork's Cobh Wanderers at the Aviva Stadium shocked a lot of football people who weren't fortunate enough to grow up 20 minutes from Lansdowne Road.
For anyone who did, however, it was an inevitable conclusion to the meteoric rise of the sort of club which feeds off the energy of family and friends.
"We're very much a Liffey's family ourselves, myself, Leila and the twins," said Young. "It's who we are.  We are part of a bigger community, football is what drives that community, and we have momentum now."
Back in 2015, blue and white flags ushered the singing Liffey supporters down Pearse Street as they made their way to the Aviva for that year's decider.  Young took Liffeys past their archrivals Sheriff to lift the FAI Junior Cup.
"We wanted it badly," recalls Young. "We had two successful seasons under our belt.  For me it was all about team discipline. We needed poise when we faced Sheriff – they're a powerhouse but I knew discipline would see us through the 90 minutes."
Discipline and composure is a mantra for Young from lessons learned early as the manager at St Pat's CY.
"I was doing a talk after a game and started at one player then ended up lashing the lot of them.  I was seeing stars leaving that meeting.  That night I realised that team talks needed better control from me first."
As a schoolboy Young remained loyal to Quayside under the guidance of manager Noel Fox.  As a teenager he played for Bath Rangers then joined Markievicz Celtic in the men's league.
"At times, I was overly aggressive.  I wanted to batter the opposition in a game," he confesses.
Noel Dennan kept a close eye on the rambunctious defender but it was Tomo Nolan who took the loose cannon under his wing.  "Tomo put manners on me."
SEE SPORT
DIFFERENTLY
Get closer to the stories that matter with exclusive analysis, insight and debate in The42 Membership.
Become a Member
Soon, Young followed in his father's footsteps joining Liffeys under Stephen Jones, the then Saturday side manager. And then appearing into view was the man who motivated Young the most; club captain Patrick 'Parko' Kealy.
"I made sure I got the lift to the game in Parko's car every time.  I loved to hear the man speak.  What a motivator," says Young.
However, there was no better lesson than the one Young received when he joined Beechill United under ex Bohemians player David 'Rocky' O'Brien.
"The first thing Rocky told me was: 'If you're out of order, you're out of the club.'  That sunk in, a lot. Rocky had a very professional mindset.  He had just finished his playing career but hit the ground running as a hungry ambitious manager.  I would have run through a brick wall for him."
Being professional – that was O'Brien's philosophy, one that meant a lot to Young.  After seeing Rocky play for Bohs many times, Young knew he was in serious company.
"All these great encounters and experiences as a player made an impact on me and has helped me all the way as a manager.  I'm also fortunate to have such a good team," admitted Young.
A nucleus of players returned to the 2015/16 promotion side – the likes of the Roche brothers, Aidan, Lee, Ken and Dylan; the Youngs; John's twins and the O'Connors, Philip, Dano and Anto.  Then for the 2016/17 season Young had new assistant coach Scott Foley by his side.  Both men had made promotion the target when a slightly unexpected Intermediate Cup run began to gather steam
"There was a good feeling in the team," Young says.  "We were very close.  I had total faith in my assistant.  We'd discuss topics before sessions and off he'd go.  I'm not a coach – I'm the man-manager.  The players give me everything they've got, that's all you can ask for.  Just that little bit of extra discipline with a blend of good football, and we'll take it from there as a unit."
On Saturday, 13 May, the Liffey legions once again marched down Pearse Street towards the famous football cauldron.  Cobh Wanderers lay in wait.
"Stick together no matter what," Foley advised pre-game. "Win the battles.  Our family and friends are out there.  They can get us through this.  Do it for them.  It starts in here with us."
The game went all the way to penalties.  It was agoniing for Cobh but monumental for Liffeys.
The lessons Young has learned at the 132-year-old club are invaluable to him but his willingness to remember and use those lessons is what makes him the successful manager he is today.
"We must continue with the Liffey legacy and never forget to include its loyal families, supporters and community."
Those nights putting the twins to bed on Meades Terrace served him better than he could have ever imagined.
The club will have their end-of-year awards tonight 'to celebrate the finest season in the club's history' at the Radisson Blu Royal Hotel, Golden Lane tomorrow night.