SUNDAY WAS A tremendous All-Ireland hurling victory for Limerick and they thoroughly deserved to win it on the day. When you look back on the game, it's hard to believe they only won it by a single point.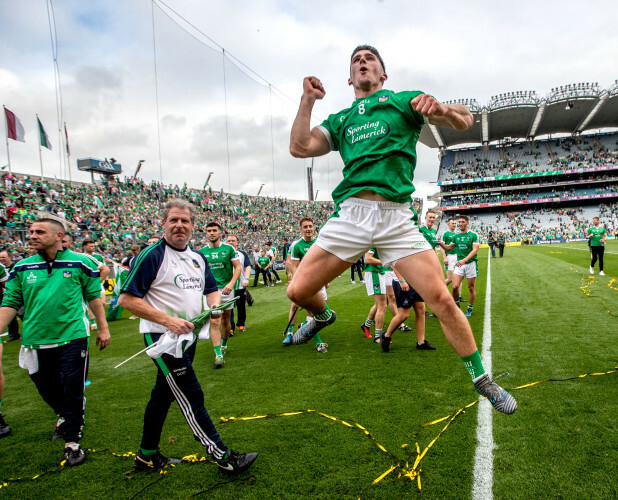 James Crombie / INPHO James Crombie / INPHO / INPHO
From the word go, Limerick dictated the terms of engagement. It was only Galway's resilience and never say die attitude that kept them in the game, because they weren't playing well. Limerick did all the hurling throughout the contest and it was incredible that the Tribesmen got within a point down the stretch.
John Kiely's men were much the better team all over the field and it was quite an impressive performance from them on the day. They should have won by more but a one-point win is plenty when you've been waiting 45 years for the Liam MacCarthy Cup.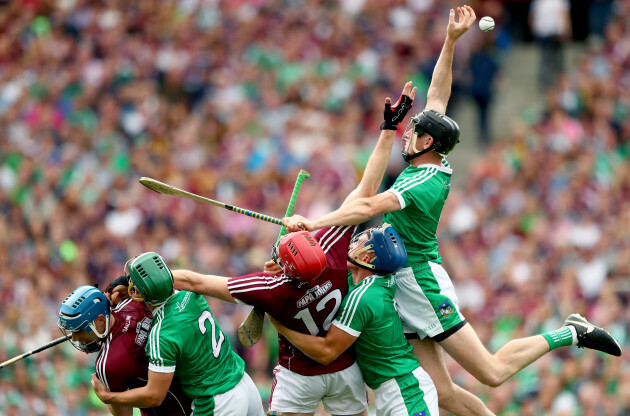 James Crombie / INPHO James Crombie / INPHO / INPHO
1. Limerick dominate the puck-out battle
Galway badly misfired on their own puck-outs. They lost a lot of James Skehill's restarts in the first-half – when he went both long and short. I mentioned it in the preview last week that puck-outs are one of the most important factors in big games. It was unusual to see Galway's own restarts cause them so much trouble, particularly early on.
2 minutes 8 seconds - Skehill goes short to John Hanbury who carries it forward and hits a clearance down the sideline that's intercepted by Diarmuid Byrnes.
He sends a lovely ball into Aaron Gillane and it's duly dispatched over the bar by the corner-forward.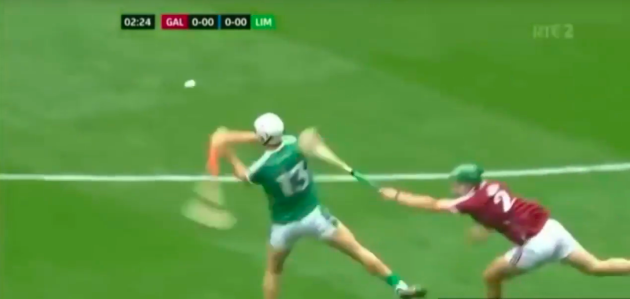 2:40 - From the next play, Skehill sends it long to the Galway half-forward line. It breaks to the floor where Darragh O'Donovan is waiting. He feeds Byrnes and the wing-back's shot on goal trails off wide, but it's another chance Limerick have created off the Galway puck-out.
3:10 - The puck-out goes short to Adrian Tuohey and without any real options he carries it down the middle. Tuohey tries to give a pop pass to Gearoid McInerney but it's intercepted by Kyle Hayes.
The 20-year-old solos through the central channel and raises a white flag.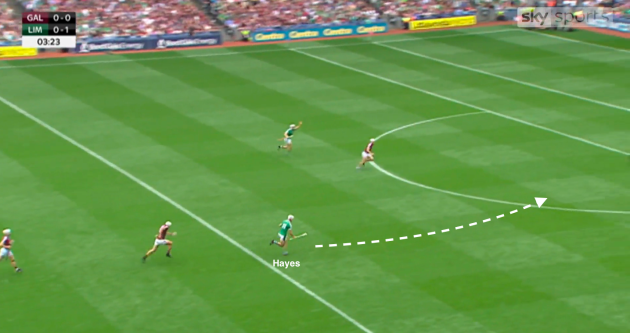 Galway are three down at this stage with as many minutes played.
3:40 - Skehil's next delivery drops in midfield where Cian Lynch wins the breaking ball. Lynch handpasses to his partner in crime O'Donovan and the sliotar is launched into Limerick's dangerous full-forward line. Graeme Mulcahy comes away with possession but sends it wide. Galway have now lost four puck-outs in-a-row.
5:14 - They lost another one minutes later. Hanbury receives a short pass from Skehill and carries it forward, but he's tackled by Seamus Flanagan and it goes out for a line ball. Galway are in serious trouble on their own line-ball inside the opening five minutes and it's unexpected since they've so many ball winners all over the field.
Contrast Galway's early struggles with Limerick's relative ease on their own puck-outs:
7:03 - Nickie Quaid mostly went long from his restarts. He picks out Flanagan, who wins it completely and utterly uncontested out the field.
9:36 – Another Limerick puck-out goes long and it's won brilliantly by Kyle Hayes in the air.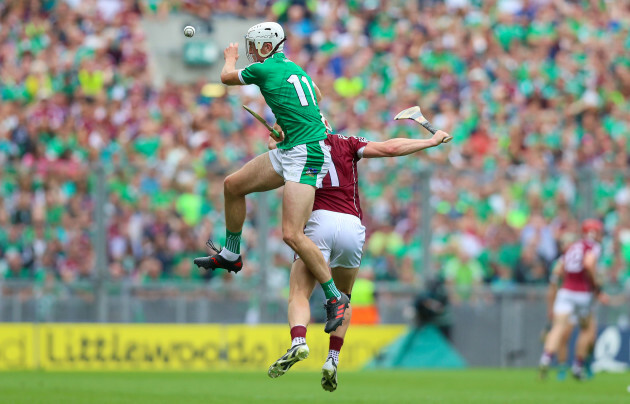 Tommy Dickson / INPHO Kyle Hayes collides in the air with Joe Canning Tommy Dickson / INPHO / INPHO
Galway lost another four puck-outs during a six-minute spell from the 20th minute. It forced them to move Jonathan Glynn out to wing-forward and he claimed a fine catch in the 28th minute that resulted in a David Burke point, but it was an outlier in the opening period.
2. Limerick's work-rate and intensity
The underdogs often have the bigger appetite on All-Ireland final day and after 45 years of waiting it was no surprise that Limerick had an unmerciful work-rate on the day.
8:52 - This image gives a good indication of Limerick's tackling. You can see two players surrounding McInerney – one of Galway's lynchpins – and there are three more just out of shot as he comes out with the ball.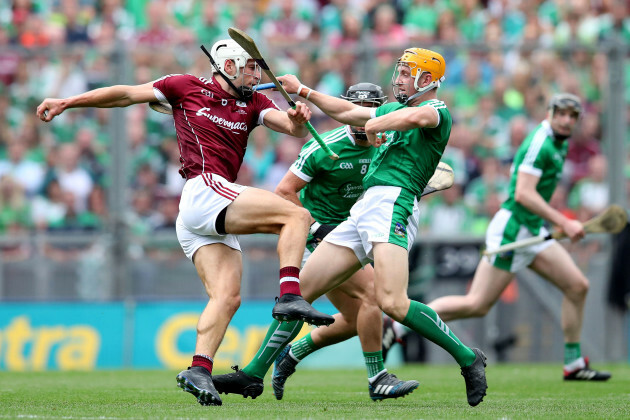 Bryan Keane / INPHO Bryan Keane / INPHO / INPHO
Kiely would have identified the centre-back as a man who could ignite the game like he did on this stage last year. But here McInerney is after winning a great ball and he runs into a tremendous first tackle before he's engulfed by ravenous Treaty forwards.
10:06 - Galway go direct into Conor Cooney but he's tightly marked by Richie English. The sliotar breaks to the deck and Cooney scraps for it, but he has no room to manoeuvre. Limerick turn it over and Lynch clears.
15:47 - Limerick's first goal is a massively important score in the context of the game and it arrives off a Galway possession. David Burke has no options from his line ball and he goes short to McInerney but Flanagan comes in with a big hit. It's possibly a free but Hayes reacts very well and picks out Mulcahy with a great stick pass.
GOAL! Graeme Mulcahy gets the ball over the line for Limerick! pic.twitter.com/xPpTfPynDq

— The GAA (@officialgaa) August 19, 2018
Mulcahy turns the ball into the net eventually and it's another good illustration of the challenges Limerick are putting in on the Tribe backs.
28:35 - Cooney is challenged by three Limerick players – Mike Casey, Gearoid Hegarty and O'Donovan – and eventually turned over by Hayes.
53:22 - Limerick's second goal typifies their intensity and work-rate. Tom Morrissey shows massive desire to put in a beautiful tackle on McInerney and come away with possession.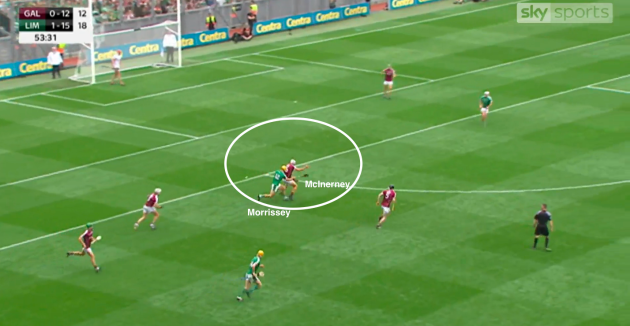 He powers on, beats another one or two defenders and buries into the net. 
GOAL! Great goal by Limerick's Tom Morrissey! pic.twitter.com/p7MqymhENY

— The GAA (@officialgaa) August 19, 2018
It was incredibly important for Limerick start the second-half well because all the onus was on Galway to come out firing after half-time. But it was Limerick who had a brilliant third quarter:
39:14 - Byrnes collects the ball unmarked following a loose Galway clearance into no man's land.
The wing-back has all the time in the world to pick off the score from distance.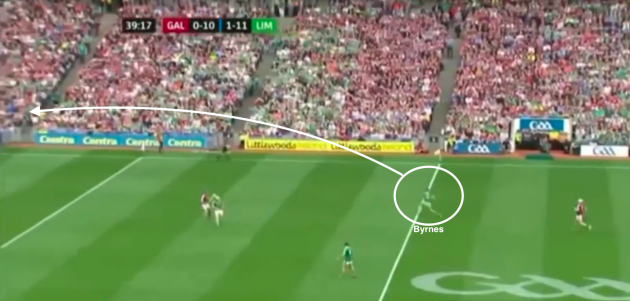 39:37 – Galway lose another puck-out to Byrnes. The ball breaks towards Hayes and he smashes over a great point.
41:06 - Quaid comes out from the back and picks out Morrissey, who goes long into Flanagan. The full-forwards collects it in the air and feeds Hayes for a lovely point off his left-hand side. This is Limerick's third score since the break and they've started the second-half in the same vein of form as the first.
Lovely point by Limerick's Kyle Hayes! pic.twitter.com/M1n0oHKteB

— The GAA (@officialgaa) August 19, 2018
44:00 - Gillane follows up with a point from a free near the sideline. Of the 1-15 Limerick now have on the board, 1-13 has come from open play.
Given the wides they hit it wasn't the best we've seen of Limerick's forwards this year, but it was seriously impressive. This Galway backline had a reputation as the best in the country, but they were being roasted by the Limerick forwards.
3. Galway's attacking woes
There were question marks over how Limerick might handle big guys like Glynn, Joe Canning, Conor Cooney and Joseph Cooney, but the Limerick backs were tremendous.
They did look a little shaky near the end of the game as Galway closed the gap from eight points to one, but for the rest of the game they were dominant.
Casey did a fine job on Glynn, who in fairness had to be moved to wing-forward to help Galway win their own restarts. He was instrumental in getting the Tribesmen going in the second period by claiming a few puck-outs but they had no real joy on the inside line.
Cathal Mannion got no joy and while Conor Whelan didn't become influential until late in the game when he scored a great goal to hand Galway a lifeline. Here are some examples of good play from the Limerick backs on the Galway forwards.
20:47 - We know the Galway half-forwards like to come deep to leave space to exploit the full-back line. Harte sends a nice ball into Glynn but Casey battles to get in front and helps them clear it.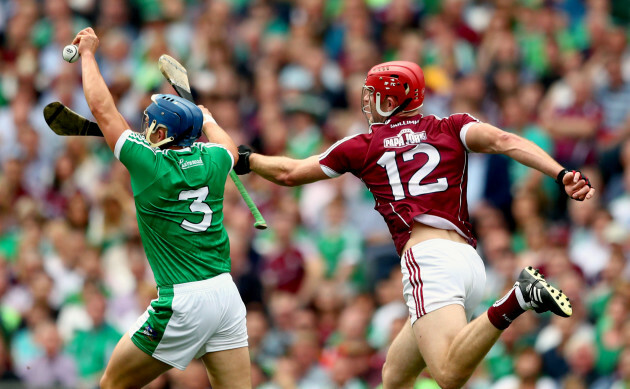 James Crombie / INPHO Mike Casey wins it out in front of Jonathan Glynn James Crombie / INPHO / INPHO
22:48 - Padraic Mannion, who had a good game for Galway, drives forward and tries to pick out Canning with a 30-yard ball.
Declan Hannon reads it brilliantly and intercepts, before driving forward and slotting it between the posts.
51:24 - A long ball in by Harte is claimed brilliantly by Dan Morrissey and he's fouled by Canning for a free out.
59:59 - Another direct pass inside is easily dealt with by the Limerick back line as Hannon tucks in behind and clears it away.
69:19 - Near the end of normal-time, a long delivery is once again swept up by Hannon and cleared.
Hannon, Dan Morrissey, Byrnes, Casey and Sean Finn – these guys were superb. The half-back line was in complete control with Morrissey and Byrnes on the ball a huge amount.
Ryan Byrne / INPHO Cathal Mannion and Dan Morrissey compete for possession Ryan Byrne / INPHO / INPHO
Conclusion
The Limerick forward line was massively effective. Mulcahy and Gillane were good, Hayes was man-of-the-match and then you had Shane Dowling's impact from the bench. and Peter Casey's important contribution too.
Kiely's subs didn't weaken Limerick one bit and Dowling even chipped in with another goal following a great turnover from Casey on a Galway defender.
Limerick were full value for their win and you could not argue with the result. It was completely and utterly a savage team performance from the Shannonsiders.
The42 is on Instagram! Tap the button below on your phone to follow us!