Liveblog
Result: Kilkenny 1-21 Limerick 2-17
Afternoon all and welcome along to the start of a massive hurling weekend. We're down to the last four with All-Ireland final spots on the line this weekend. The players, management and fans of Limerick, Kilkenny, Tipperary and Wexford are all bound for Dublin dreaming of reaching the 2019 decider.
Tomorrow it'll be Wexford against Tipperary at 3.30pm but our focus now is on Kilkenny against Limerick at 6pm here in Croke Park.
We've already had the minor clash between the counties, Kilkenny are already celebrating after a comprehensive win by 2-24 to 0-18 against Limerick. An impressive semi-final showing and they're through to the final on 18 August against Wexford or Galway.
Here are the sides named to start:
Limerick
1. Nickie Quaid
2. Sean Finn
3. Mike Casey
4. Richie English
5. Diarmaid Byrnes
6. Declan Hannon
7. Dan Morrissey
8. Cian Lynch
9. William O'Donoghue
10. Gearoid Hegarty
11. Kyle Hayes
12. Tom Morrissey
13. Aaron Gillane
14. Graeme Mulcahy
15. Peter Casey
Kilkenny
1. Eoin Murphy
2. Paul Murphy
3. Huw Lawlor
4. Joey Holden
5. Conor Fogarty
6. Padraig Walsh
7. Paddy Deegan
8. Conor Browne
9. Richie Leahy
10. John Donnelly
11. TJ Reid
12. Walter Walsh
13. Adrian Mullen
14. Colin Fennelly
15. Richie Hogan
Game on in Croke Park and early free for Kilkenny's TJ Reid.
Kilkenny 0-1 Limerick 0-0
And Reid slots his shot between the posts.
Kilkenny 0-2 Limerick 0-0
Another chance from a placed ball for Reid, this time from his own '65 and he obliges again. Bright start for Kilkenny!
Kilkenny 0-3 Limerick 0-0
A third point for Kilkenny, Walter Walsh snapping a shot over from play. Then Graeme Mulcahy shoots wide at the other end from close range for Limerick.
Diarmaid Byrnes sizes up a long-range from distance for Limerick but can't flight it over. They're still waiting for their first score.
Kilkenny 0-3 Limerick 0-1
And then it arrives! Fine delivery finds Aaron Gillane and the Patrickswell man does the rest.
Kilkenny 0-4 Limerick 0-1
Three points in it once more, TJ Reid arcing over a lovely score from a sideline. Then Limerick get a chance to respond but Gillane's accuracy lets him down on this occasion.
Kilkenny 0-6 Limerick 0-1
No such problems for Walter Walsh, who gathers the puckout and holds off a couple of challenges to grab a super score. Then Kilkenny fans are in full voice again after Adrian Mullen lands one from the sideline after a bunch of their players harried Tom Morrissey to force a turnover.
This is a super start by Kilkenny, five up after ten minutes.
Kilkenny 0-7 Limerick 0-2
In search of something to ignite their challenge, Limerick bag a point. Fine effort by Mulcahy after a passage of huge physicality in the centre. Kilkenny quickly cancel that out through Pádraig Walsh.
Goal for Kilkenny from Colin Fennelly!
Kilkenny 1-7 Limerick 0-2
And what a boost now for Kilkenny! They go route one from the puckout and it's danger man Fennelly who grabs it, holds off Seán Finn and the covering Limerick defence to charge through and bat a shot to the net.
Kilkenny 1-8 Limerick 0-2
Mulcahy wide at one end, Reid makes no mistake from a 20-yard free at the other. Sean Finn gets a yellow for his foul as Reid cut through and advanced on goal.
Kilkenny 1-8 Limerick 0-3
Kyle Hayes tries to make headway but is fouled and Gillane pops over the free for Limerick.
Kilkenny 1-8 Limerick 0-5
Couple of tidy Limerick points from Peter Casey and Graeme Mulcahy. Gap is cut to six now.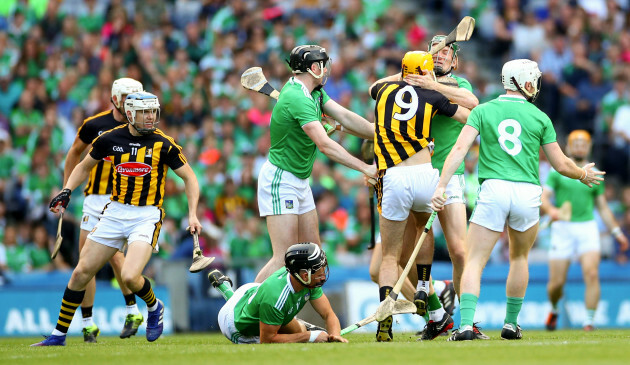 Source: James Crombie/INPHO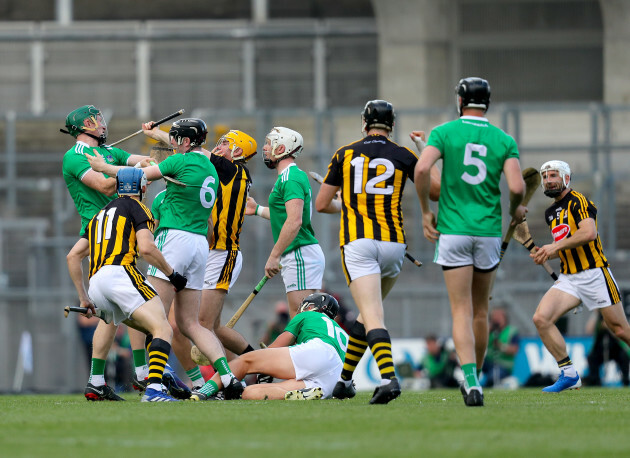 Kilkenny 1-10 Limerick 0-6
Brilliant marksmanship by Reid, the Ballyhale man landing two points from frees to push Kilkenny's lead out to eight. It's only momentary as Gillane fights back for Limerick with a point.
Kilkenny 1-11 Limerick 0-7
Just not quite clicking for Limerick. Gearoid Hegarty gets yellow for a heavy challenge on Paddy Deegan and Reid is on song today from frees. Mulcahy is impressing for the All-Ireland champions and he draws a foul which yields a free from Gillane.
Kilkenny 1-11 Limerick 0-8
Lovely flowing move from Limerick out of defence and it culminates in a great point from Tom Morrissey.
Couple of chances for Limerick to make further inroads into that Kilkenny advantage but Peter Casey and Tom Morrissey shoot wides into Hill 16.
Kilkenny 1-11 Limerick 0-9
TJ Reid is judged to have thrown the ball and Gillane comes out to send a sweeping shot over the bar from the free.
Sub: Cillian Buckley in for Kilkenny for Richie Leahy.
That's a massive call, seems to be for a foul on Gillane by Huw Lawlor.
Kilkenny 1-12 Limerick 1-9
Massive boost for Limerick as Gillane lashes his shot to the net past Eoin Murphy. Kilkenny fight back with Richie Hogan firing over a point.
Half-Time: Kilkenny 1-12 Limerick 1-9
So three in it after a pulsating first-half in Croke Park. We'll take a breather and be back for the second half.
Source: James Crombie/INPHO
Kilkenny back out for the second half, we're waiting on Limerick.
And we're underway for the second half.
Sub: Big change for Limerick at half-time with captain Declan Hannon coming off and Barry Nash has been brought in.
Kilkenny 1-13 Limerick 1-10
Points swapped early in the second half by Colin Fennelly and Aaron Gillane.
Kilkenny 1-13 Limerick 1-11
Now Kilkenny's lead is down to two, Byrnes knocks over a free from distance. Gillane has a chance to cut it further but clips his effort wide.
Kilkenny 1-14 Limerick 1-12
Reid taps over the free to restore Kilkenny's three-point advantage after being fouled himself. Then Limerick respond with William O'Donoghue being bowled over and Gillane slots the free.
Kilkenny 1-14 Limerick 1-13
Gillane smacks over another point from a free and Limerick trail by the minimum.
Kilkenny 1-15 Limerick 1-13
Adrian Mullen's point for Kilkenny but it's also the product of TJ Reid's graft to win possession and offload.
Sub: Bill Sheehan in for Kilkenny for Richie Hogan.
Kilkenny 1-15 Limerick 1-14
Hegarty is fouled, Gillane points the free and Limerick trail by one again.
Kyle Hayes with the chance to draw Limerick level but he shoots wide.
Kilkenny 1-16 Limerick 1-14
Kilkenny manage to work the ball downfield and it's John Donnelly who keeps calm by stepping inside to float over a point.
Kilkenny 1-16 Limerick 1-15
Barry Nash surges up the wing after being fed by William O'Donoghue and slots over Limerick's latest point.
Sub: Billy Ryan in for Kilkenny for John Donnelly.
Limerick's Nickie Quaid with Kilkenny's Colin Fennelly. Source: Oisin Keniry/INPHO
Kilkenny 1-17 Limerick 1-15
Mullen does superbly to gather a delivery from Conor Fogarty for Kilkenny and lob over his third point of the day. End to end stuff here, it's relentless.
Kilkenny 1-18 Limerick 1-15
Kilkenny are making Limerick pay for not drawing level. Colin Fennelly puts them three clear.
Sub: Shane Dowling in for Limerick for Gearoid Hegarty.
Patient play from Limerick, moving the ball impressively but again they can't manage to round it off with a point. Tom Morrissey wide on this occasion.
Sub: Limerick bring in Darragh O'Donovan for William O'Donoghue.
Kilkenny 1-20 Limerick 1-15
Four in it now, Mullen improvising brilliantly to get a shot away for his latest Kilkenny point. Then Fennelly puts five between them!
Chance for TJ Reid to put six between them but he spurns it from a free. Let off for Limerick.
But Kilkenny force another Limerick turnover to win a sideline, their work ethic has been ferocious today.
Goal for Limerick from Shane Dowling!
Kilkenny 1-20 Limerick 2-15
What a finish by Dowling! The super sub comes up trumps again for Limerick, shooting home brilliantly. Two in it now!
Limerick did excellently to turnover Cillian Buckley and counter-attacked with Kyle Hayes feeding Dowling. They needed something special and he delivered. David Reidy in for Limerick for Tom Morrissey as well.
Five left in normal time, this is still all up for grabs.
Kilkenny 1-20 Limerick 2-16
David Reidy ghosts into space to collect a pass from Dowling and point for Limerick.
Subs: More replacements coming in. Pat Ryan for Limerick for Peter Casey and Kilkenny introduce Conor Delaney for Conor Fogarty. James Maher in as a blood sub for them for Joey Holden.
Huge tension here, Limerick chasing a levelling score. Reminder that extra-time will be played if it finishes level.
Richie English comes thundering out of defence for Limerick and wins a free about 50 yards from his own goal. Byrnes will take it.
Byrnes shoots wide! Five minutes of injury time to be played.
Kilkenny 1-21 Limerick 2-16
James Maher puts it over for Kilkenny!
Goal chance for Limerick but Eoin Murphy denies David Reidy!
Byrnes to take this one for Limerick.
Kilkenny 1-21 Limerick 2-17
Kilkenny have a sideline deep in Limerick territory.
Sideline for Limerick about 25 yards out. Darragh O'Donovan to take it.
Full-Time: Kilkenny 1-21 Limerick 2-17
Kilkenny hold on and are back in another All-Ireland final! First time since 2016 that Brian Cody's side return to the decider.
Tough on Limerick but they just could not manage to draw level in that second half.
A frantic finale but it's Kilkenny that prevail by the narrowest of margins and we've got the familiar sight of Brian Cody leading his team to another All-Ireland decider. Limerick are the league and Munster champions but couldn't add a third trophy in 2019. That's all from us, thanks for joining in. Plenty reaction and analysis later on The42. We'll be back tomorrow as well with all the coverage from Tipperary against Wexford. Bye for now.
Contribute to this story: