1. Limerick the masters of tight games
When Limerick's Munster title winning five-in-a-row sequence began, it was achieved with a layer of comfort as they cruised past Tipperary by 12 points in the 2019 final. That was a recurring theme as they eased to victories in the 2020 and 2021 All-Ireland deciders, but their past two campaigns have seen them continuously forced into tight spots. Limerick have been taken to the brink in pulsating championship encounters but when the need is greatest, they hold their nerve to triumph.
Last year in the Munster round-robin series they were dominant in beating Cork by 11 points yet the rest of their Munster campaign saw them pounded with tests. When they triumphed in the final against Clare on 5 June, fashioning that extra-time three-point win, it was the first of eight championship ties they have played up to yesterday.
In that run of just over eight months, they have won six games, drawn one and lost one, to Clare in April by a point. Their six victories have all been achieved by margins of one to three points. To be so successful in one score games requires clarity of thinking and an exhibition of resilience in those frenetic finales. Clare hurled themselves with ferocity at Limerick in the last quarter but the champions never allowed themselves to be drawn level on the scoreboard, let alone overtaken. They are the modern masters at winning tight games.
2. Clare's missed chance
And so Clare's hopes of ending the 25-year wait for a Munster senior hurling title have evaporated. They must go again next year to aim to end that barren spell and while the immediate focus will switch to this year's quarter-final, privately they will know they missed a glorious chance to add a provincial senior medal to their honours list.
James Crombie / INPHO Limerick players celebrate their win over Clare. James Crombie / INPHO / INPHO
A chunk of the current team lost by five to Cork in 2017, two to Cork in 2018 and three to Limerick last year. None of those Munster final losses would have felt palatable but there could be an acceptance of meeting a superior team or the solace like last year of having nothing left to give after a draining encounter.
Yesterday felt different, regrets that will gnaw at them. They should have been awarded a free at the finish, a chance to draw the match, but before that frittered away chances to increase their lead in the first half or to draw level in the second half. The final wide tally was 12 and the six shots dropped short will hurt as well. Tony Kelly, David Fitzgerald, Ryan Taylor and Diarmuid Ryan were all players who inked their names on the scoresheet, but also saw accuracy elude them at vital stages. This game will be marked down as a missed chance for Clare.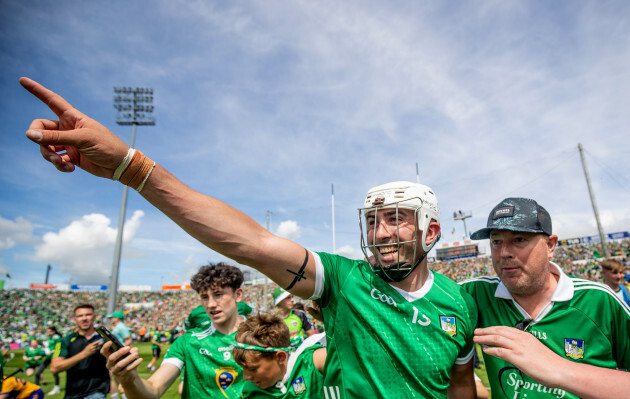 Evan Treacy / INPHO Aaron Gillane celebrates after Limerick's win over Clare. Evan Treacy / INPHO / INPHO
3. Gillane the scoring star
Over the course of Limerick's previous four Munster final wins, Aaron Gillane had been a critical attacking component. He shot 30 points, 22 from placed balls, in the 2019-22 deciders, but reserved his greatest impact for the afternoon when the five-in-a-row was sealed in the province. 1-11 was a handsome return to post on sun-splashed Gaelic Grounds afternoon. Dig deeper for the detail to unearth the 1-3 scored from play, the three converted frees he was fouled for and the timing of his 44th minute goal, a strike that catapulted Limerick into a lead they would never subsequently relinquish.
The absence of his old sparring partner Conor Cleary through injury robbed Clare of a key tactic in nullifying GIllane. It was a tough task presented to Cian Nolan, the Smith O'Briens man too often left in one-on-one duels where Gillane is so difficult to tie down, when he bounds onto diagonal deliveries, arcs his run to create an angle and rifles over scores. Seadna Morey made an impression when introduced in quietening the Patrickswell man but by that juncture the damage was done and Gillane's work justified his eventual man-of-the-match selection.