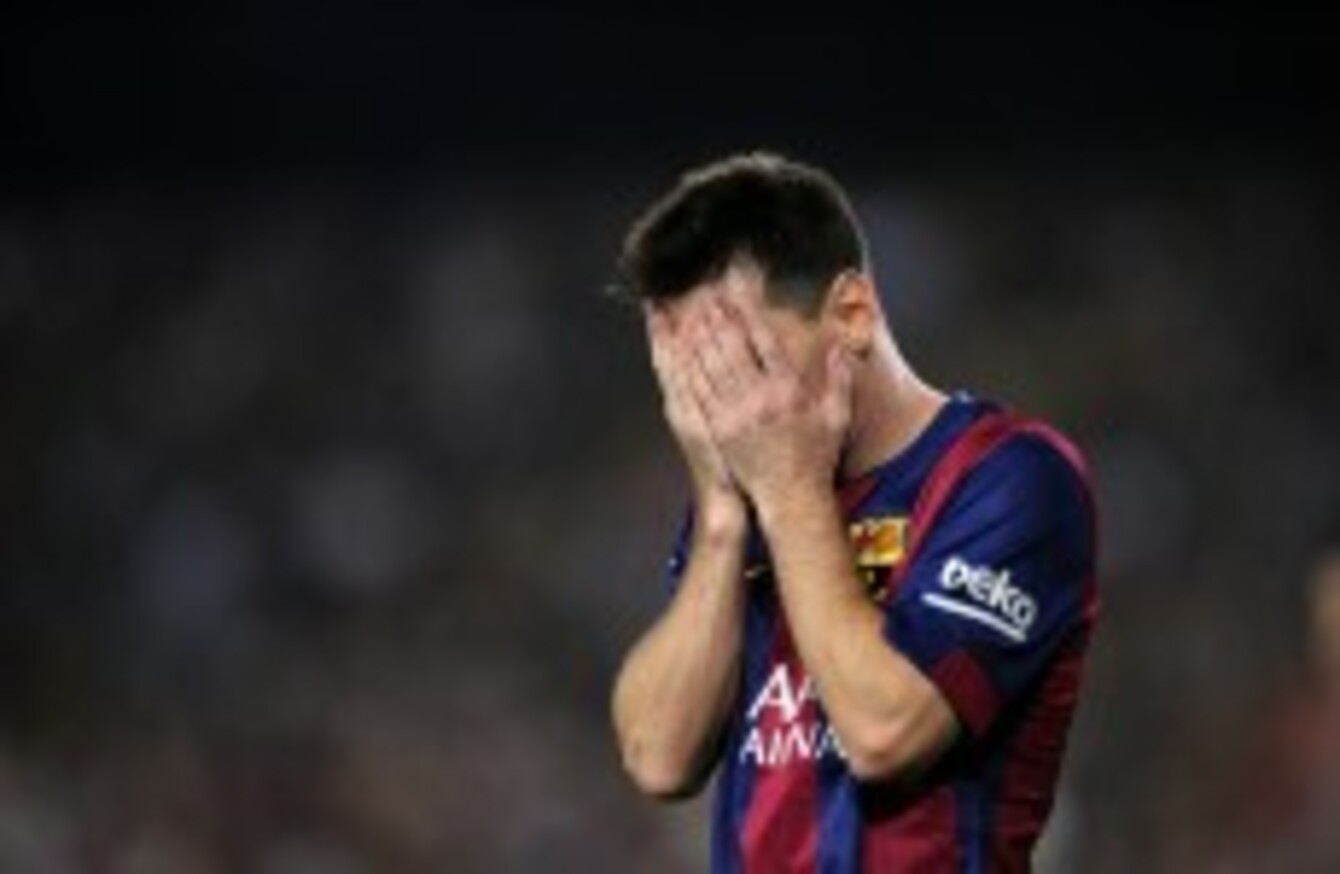 Image: Manu Fernandez/AP/Press Association Images
Image: Manu Fernandez/AP/Press Association Images
SPANISH FOOTBALL EXPERT Graham Hunter believes the only way Lionel Messi will move to another club is by demanding a transfer.
Speaking to TheScore.ie, the author of Barca: The Making of the Greatest Team in the World said that with football's current financial landscape, it would be close to impossible for any side to buy-out the Argentine's contract.
My opinion is that nobody could afford to force him out of Barcelona which would be via the buy-out clause. Messi's contract is €250m or around £200m. There's VAT on that and comes in at something like 52% or 53%. So, you take 250m and add another 50% onto it even before you begin to speak about salary."
"I think the stringency of FFP probably means that it's an exercise that isn't feasible.  But I'd also ask, given that we've had a maximum transfer fee paid of €100m – that was for Bale or Ronaldo – choose whichever one you think was more expensive – are we really going to see 3 times that paid for Messi? Is a club going to be saying it's the right kind of money to be paying for a guy who turns 28 in the summer? Overall, if you take the buy-out clause, the VAT and then the salary, it becomes an operation that's extraordinarily difficult to imagine."
Therefore, the only way this could happen is for Messi to say to the club 'I want to leave. I'll lose parts of my contract, bonus money, it will initially hurt me financially to come out and demand a transfer but I'm going to do that because I'm so desperate to leave'. At that stage, the operation becomes expensive but feasible, I think."
The club has undergone a major transition in recent seasons but there continues to be changes behind the scenes. Recently, the club's Director of Football Andoni Zubizarreta was sacked with ex-captain Carles Puyol also leaving his administrative position. But, Hunter feels that though the instability may seem to be contributing to a general chaos and confusion at the club, the right decisions are being made and that is of benefit to Messi – who wants the club to be better.
"When you look at the performance of Zubizarreta, it has been clear for the longest time that he was, if not inept, then not fit for purpose. Therefore, his departure is a step in the right direction for Lionel Messi. Things like Messi knowing Victor Valdes was an exceptional goalkeeper but who left partly because he didn't see eye-to-eye with Zubizarreta. Or, when you look at Barca's inability via Zubizarreta as Director of Football, to make one cogent, successful signing of a top central defender. Or, having to rely on buying Alex Song and saying 'He is our central defender', then only really using him as a central midfielder and the exercise subsequently failing. Or, buying Thomas Vermaelen against doctors' advice and him not being able to play for an entire first season. Or, continuing to rely on a brilliant, world-class midfielder in Javier Mascherano – who should be in the middle of midfield for Barcelona and who's not."
Be part
of the team
Access exclusive podcasts, interviews and analysis with a monthly or annual membership.
Become a Member
"Why wouldn't Lionel Messi be saying 'The guy who's helping shape my future isn't up to the job'? It will influence him positively now that Zubizarreta has gone. What Barcelona do when they're able to sign players again in 2016 and who guides that process is something that will matter to Messi. But it's largely irrelevant who gets appointed now until the elections come in the summer because at that point, if there's a new president, there will be a new director of football and it will then be for Messi to assess whether he's content with the movement or strategy or philosophy."
As much as Messi has found himself at the centre of a media storm with rumours and gossip and whispers of where he'll ply his trade next, there has been an upturn in his and the club's fortunes in recent weeks. There's a long way to go before the Argentine attacker is firmly behind the club's long-term strategy but there have been steps in the right direction.
"Short-term, the time since Messi was in a row with Luis Enrique – a standard training ground row that happens many players and coaches in every working week in the football world, the events that have happened then – the calling of elections, the departure of Zubizereta, the way in which the players around him reacted, the way the crowd reacted and the level of performance of the team  and the victory against Atletico Madrid – nearly everything has gone in the right direction for Messi since that fateful Friday before the Real Sociedad game."