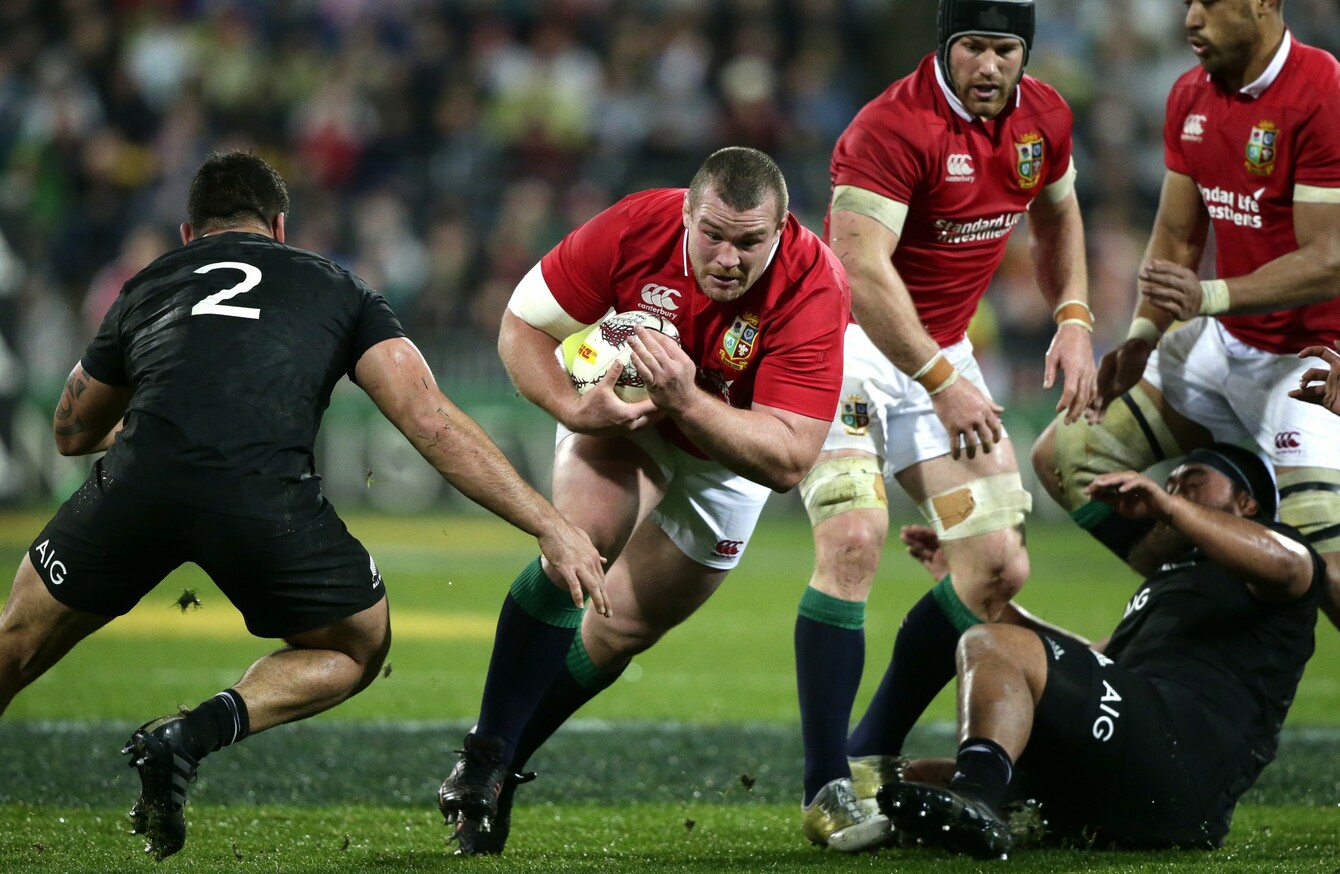 Image: Mark Baker
Image: Mark Baker
HE'S HARDLY AVERSE to uproarious curveballs when it comes to team selection, but Warren Gatland would be wise to stick as opposed to twist when it comes to Saturday's potentially monumental third Test with New Zealand at Eden Park.
Gatland and the Lions arrive at a similar juncture as they did four years ago with the series tied at one apiece, but on this occasion the momentum travels in overhead luggage with the tourists as opposed to the hosts, as both sides ascend New Zealand's North Island in search of immortality (we presume, by now, you've heard it beckons).
Last weekend's victory dictates that neither the Lions' starting XV nor matchday squad require a major reshuffle. Gatland is not the head coach who needs to make a 'statement' selection call, and so the seemingly inexplicable, unceremonious quelling of a major name remains unlikely ahead of his announcement in the wee hours of Thursday morning Irish time. There will likely be no Sextongate to follow 2013′s Brian O'Driscoll saga, and it's unlikely Sam Warburton will go the way of fellow Test captain Peter O'Mahony after a solid outing in Wellington. The back three is now settled and reasonably productive, the centres combined with Sexton are a force, and Conor Murray has once more distanced himself from the chasing pack as the world's finest nine.
One glaring change must be made to the otherwise vastly improved pack, however, and that's Jack McGrath's inclusion at loose-head in Mako Vunipola's stead.
The Saracens prop conceded four of the Lions' 13 penalties at Westpac Stadium, a kamikaze run which culminated in a borderline maniacal clear-out of Beauden Barrett and his duly receiving a yellow card. In layman's terms he utterly lost the arse, and can consider himself fortunate that the 14 men around him were sufficiently galvanised by his significant loss that they tore into New Zealand territory and dotted down without him.
But none of this is to attempt to vilify one of the most talented front row forwards in the game. You need look no further than Ronan O'Gara eight years ago to realise that even the coolest of heads can come to boil in the cauldron that is a Lions Test. Vunipola 'had one' last Saturday, and it's extremely unlikely that he'd endure similar were he to start in Auckland seven days later – even allowing for the countless Kiwi whispers alerting the referee to any half-indiscretion.
The cause to drop Vunipola for McGrath isn't merely penance, but it still relates to the man in the middle. French referee Romain Poite is the overbearing father of the modern scrum, and frankly speaking, Vunipola is less capable of meeting his lofty demands than the Leinsterman.
Poite views each scrum as an individual battle, and if he can at all, refuses to allow for a 'dominant versus submissive' pattern to establish itself across 80 minutes. He's also extremely whistle-happy at scrum-time, resulting in erratic but typically balanced foul tallies from within the scrum alone.
Take, for example, England's first Test in Australia last summer, where – not dissimilar to this weekend – two fairly evenly matched scrums went at it in Brisbane. There were seven scrums in total, and Poite officiated them thusly:
First scrum: England put-in, Australia free-kick
Second scrum: Australia put-in, Australia penalty
Third scrum: Australia put-in, England penalty
Fourth scrum: England put-in, England penalty
Fifth scrum: Australia put-in, England penalty and yellow card for Scott Sio
Sixth scrum: Australia put-in, scrum completed and Australia score a try
Seventh scrum: Australia put-in, Australia penalty.
For all of his perplexing calls in the past, you could hardly accuse the Frenchman of being a homer, but rather extremely impatient, regardless of environment. His insistence on props staying square and not twisting in on their counterpart saw him send Australian prop Ben Alexander to the bin in the third Lions Test in 2013 for a number of scrum infringements – this after just 24 minutes of play.
In the 12 months which followed, Warren Gatland and Wales twice consulted with the International Rugby Board over Poite's refereeing of the scrum. On the day he equalled the Welsh record of 104 international caps, prop Gethin Jenkins was shown a yellow card at Twickenham during the 2014 Six Nations for persistently not scrummaging straight, much to Wales' incredulity (incidentally, it was Jenkins' third yellow card for scrummaging offences in six Test matches that season, having twice previously been given ten minutes on the exercise bike by Alain Roland).

Three months later, the WRU again wrote to the IRB, once more unhappy with Poite's refereeing of the scrum during a 38-16 Test defeat to South Africa in Durban. "We met Romain before the game and still those decisions went against us. We just need to clarify things," said assistant coach Robin McBryde at the time.
Gatland, then, knows the Toulousain's ways all too well. So too does Lions hooker Rory Best, who was fully aware the Lions would meet Poite again when he said of the referee's decision to bin Iain Henderson versus the Hurricanes: "It was obviously touch and go but when you're being officiated by a quality referee like Romain Poite and he takes his time and goes to the TMO, you've got to trust that the guy has got it right."
But brown-nosing isn't the only potential means of keeping Poite onside. McGrath's power in the set piece scarcely requires further teasing out at this point, but it does tend to disguise one of his most unheralded talents in the scrum: his intuition. McGrath picks his battles, and he usually does so with impeccable timing.
The 27-year-old Ireland international is equally comfortable anchoring head-on while his tight-head applies the squeeze, or going for the jugular himself when the time is right. More pertinently, his body shape – for the most part – is fundamentally sound in either guise. He simply offers fewer excuses for a harsh blast of the Frenchman's whistle than Vunipola, for all of the latter's other qualities around the park.
With his back straight, his head and hips parallel to the ground, and a decent flex at his knees, McGrath – once he keeps his arms in check – is a seriously difficult man to penalise in a tit-for-tat exchange. In many ways, he's Roman Poite's dream prop.
The forecast is for rain in Auckland on Saturday night, and when you consider the scrum has essentially amounted to a dead heat across three battles between the six starting front rows to date (including the Crusaders game), McGrath's form – in terms of posture, that is – could make a significant difference in an error-strewn affair with Poite at the whistle.
Add to this the potential ball-carrying impact of Vunipola off the bench for the final 20 minutes, combined with a Test-starved CJ Stander, which would provide a huge boost to exhausted legs if the Lions are still in with a shout as the series draws to its conclusion, and McGrath in a starting berth strikes as the remaining ace in Gatland's deck.
The42 is on Instagram! Tap the button below on your phone to follow us!