IT'S TWELVE YEARS ago, but with the Lions back in Wellington after being overpowered, the legacy of the All Blacks' second Test victory over the Lions in 2005 is casting something of a shadow on Warren Gatland's side.
Thanks to the wonders of YouTube, we sat down this week to enjoy the record New Zealand win over the Lions all over again. Here are some things that hit us during the impressive future-telling 80 minutes.
1. All Clive's careful pre-tour planning was thrown out the window even before kick-off
Once commentator Miles Harrison slips into gear,  he notes: "seven new faces and four other positional changes…"
It was only the first signal that the courage of Woodward's convictions were on the wane. The World Cup-winning coach was panicked after the one-sided first Test and changed all but four starters between first and second Test.
And there were protocol alterations made too. After defending the fateful decision to position Brian O'Driscoll and Dwayne Peel on their own between the Haka and the rest of the Lions, they ending up reverting to the straight line arm-in-arm stance everyone did.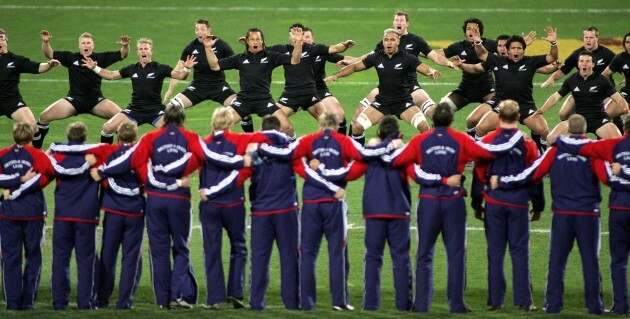 Photosport / INPHO Photosport / INPHO / INPHO
2. Not much wrong with the Lions' first four minutes at least
A little slip ensured Keven Mealamu didn't get quite as close to the new Lions number 13 as he managed early in the first Test.
Just look at Richie McCaw's meaningful exhale after Gareth Thomas touches down. The bear had been poked.
MottiRugby / YouTube
Personally though, that was the last Lions try against New Zealand I celebrated. The attacking culture of the All Blacks was easier to love than the 'Power of Four'.
3. Paulie a little too 'Focused'
In his autobiography Paul O'Connell spoke about how he was getting hyped up to critical levels in training with players being offered a particularly strong caffeine supplement by the name of 'Focus'.
"I'd never been as worked up in training – not even remotely close. But then I'd never taken something called Focus before putting on my boots," he wrote in The Battle.
You could call it an energy drink, but that wouldn't cover it. It contained a massive hit of caffeine. Whatever you happened to be feeling at the time, whatever mood you were in, it exaggerated it."
There's never been much need to get O'Connell more pumped than he gets himself. A cool head was needed after Jonny Wilkinson missed a penalty that would have had the tourists 10 – 0 up. Instead…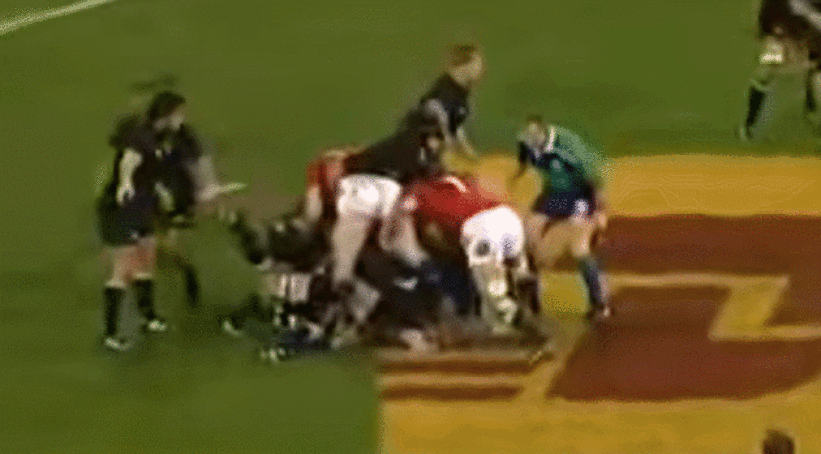 4. Shout-out to this guy
Not since Aesop's thorn has a Lion looked so forlorn.
5. It could have been even worse than 48 – 18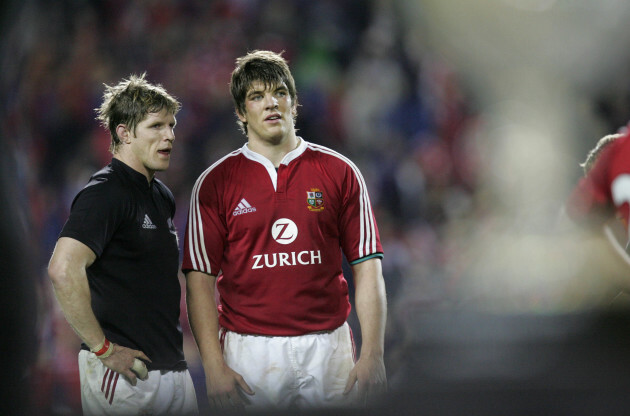 Billy Stickland / INPHO Billy Stickland / INPHO / INPHO
Dan Carter's first try (which we'll get to) killed the game, but once he ran in his second with 12 minutes to go the All Blacks really looked capable of cutting loose.
In fairness to the tourists, they continued to dig deep and attack as aggressively as they could. And in between Carter's brace, current Ireland forwards coach Simon Easterby powered into the corner for a deserved try in a brilliant individual performance against the tide.
Much later, Shane Horgan typified the will to grab scores in a game long lost…
… but the cross-field kick he hoped for didn't come to pass.
6. Jerry Collins was some horse of a man
RIP.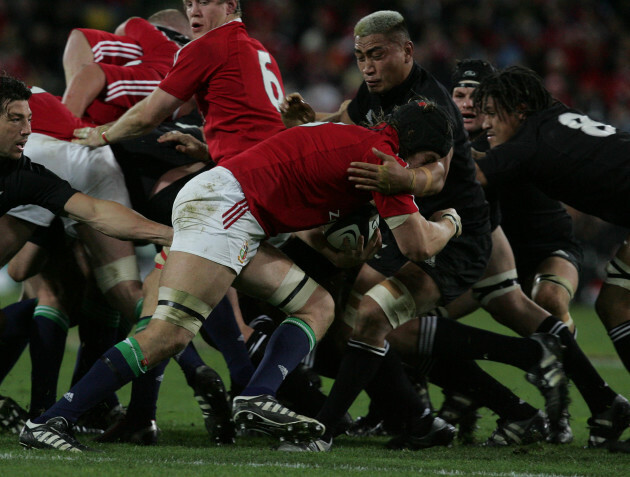 ©INPHO ©INPHO
Rodney So'oialo had the handling skill and Richie McCaw was unrivalled as a breakdown technician, but Collins picked up every scrap of dirty work going to free them up to shine in this victory.
7. Maybe there's a perfectly good reason why Josh Lewsey missed this tackle…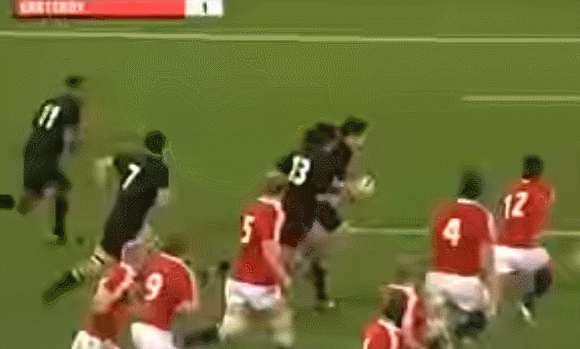 Aside from the snake oil all over Dan Carter's hips, we just haven't spotted it yet.
The number 15 looks nicely set coming in from the right of the screen, but some time between him planting his feet and leaning forward to make the hit, his target managed to move out of range and on to getting a nice hand-off on Gavin Henson in the lead up to Tana Umaga's try.
8. Aaron Mauger's 'tweener' offload!
Sensational.
Hemi Maka Tekobum / YouTube
9. Poor Shane Williams had a rough night
The Welshman ran his little legs off, but the All Blacks were determined to rub his nose in the turf at every opportunity.
First, Sitiveni Sivivatu dunked on him to add insult after bursting through his tackle on the way to the hosts' second try.
In the second half, he was bull-dozed twice in the space of a minute as Rico Gear and then (the ultimate mismatch of namesakes) Ali Williams cemented him.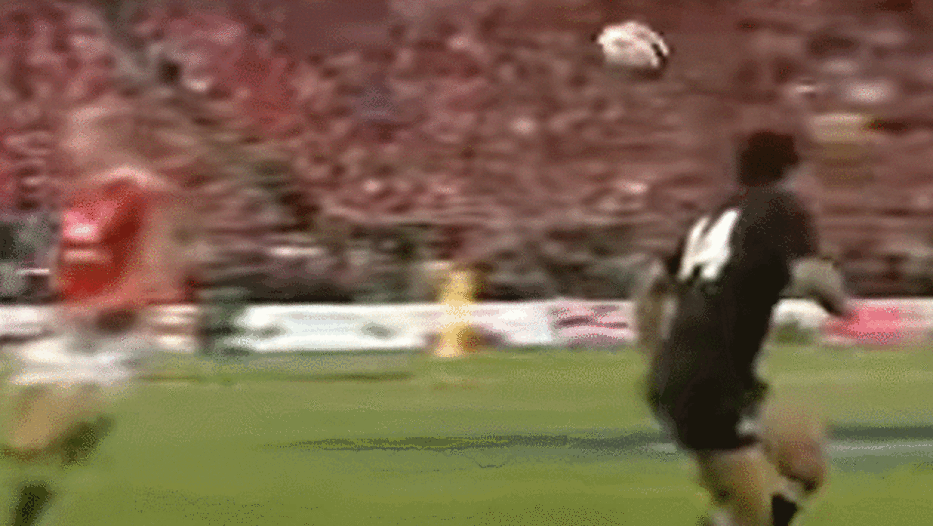 10. Dan Carter's first try is better with every re-watch
Though it does contain a definite drag on (again!) Shane Williams, Carter's sublime 43rd minute grubber and finish started with a quick tap all the way back in the New Zealand 22.
The42 Rugby Show / SoundCloud
Just three phases and three touches from DC later, we were in Champagne rugby territory.
11. Future Ulster head coach Jono Gibbes was suitably impressed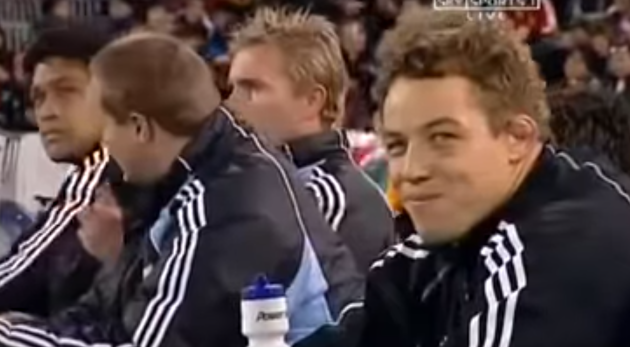 12. It has passed into legend as 'the most complete out-half performance', but was it?
It was the game that turned young Daniel Carter into Dan the Man as Stuart Barnes' in-game assessment of it being the best number 10 display ever took hold. Not least thanks to the Kiwi willingness to accept the honour.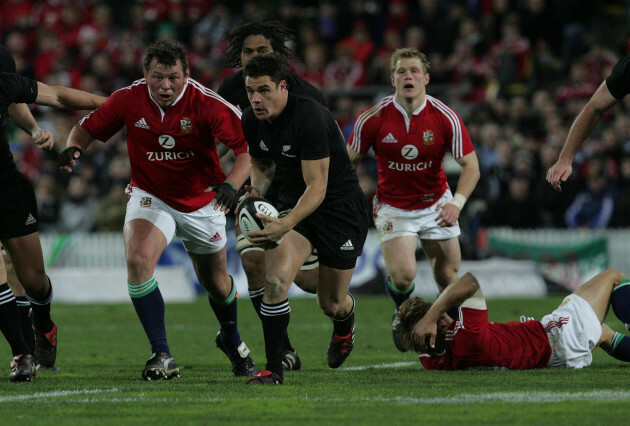 INPHO INPHO
At 23, he was majestic. But watching it over again, I couldn't help but feel that 'the complete' game you expect from an out-half was coming in large parts from the management of Byron Kelleher, Aaron Mauger and (later) Leon MacDonald.
Carter kicked 9/10 off the tee and the Lions could not cope with his running threat. His 33 points should leave no argument against this being called 'The Dan Carter Game'.
But he had plenty of help from some experienced shepherds along the way, and when it comes to 'the most complete out-half performance', I think the 2015 World Cup final is well worth another watch.
13. Richie McCaw was already worthy of being this team's captain
Just a little moment, but after a week of having Tana Umaga in the spotlight after Brian O'Driscoll's injury, the centre becomes embroiled in some heated verbals on the stroke of half-time.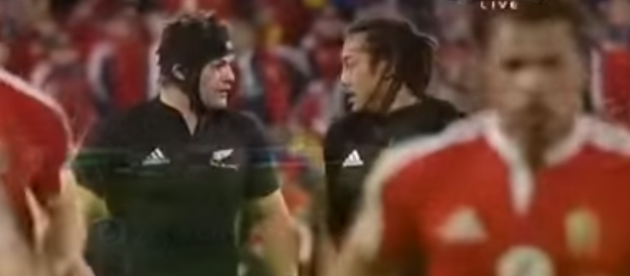 With an eight-point lead, it was no time to be getting drawn into a scrap. So who stepped up to question the leader and back him down? McCaw.
A hand on the shoulder, a few quiet words off to the side and only then was Umaga released to chat with the ref on the way to the tunnel.
14. Carter just loved breezing past Josh Lewsey!
He ghosted him in the lead-up to Umaga's try, sold him this withering dummy for his second try and the usually excellent Wasps back couldn't even chop Carter down to stop him chasing his own kick to score the first try of the second half.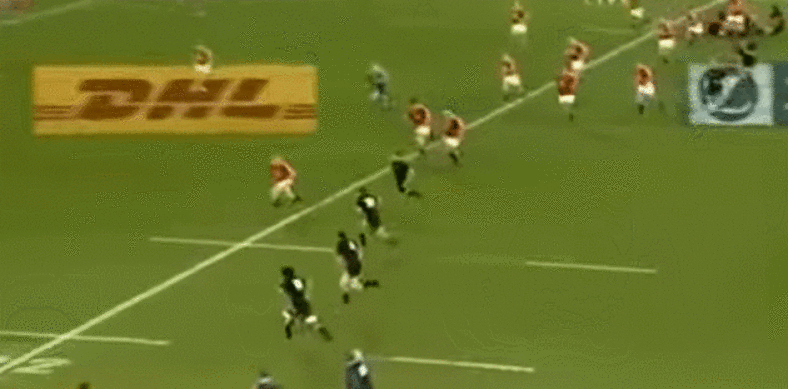 In fairness to Lewsey, he wasn't the first or last defender that Carter left looking utterly befuddled. 
15.  Treat yourself and watch it back before the 2017 edition
Carter's first try (which we mentioned in point 10 above) begins from 53.30, but it's well worth re-watching and re-living now that you're 12 years older.
Exclusive Six
Nations Analysis
Get Murray Kinsella's exclusive analysis of Ireland's Six Nations campaign this spring
Become a Member
Rugby 2017 / YouTube
The42 is on Instagram! Tap the button below on your phone to follow us!