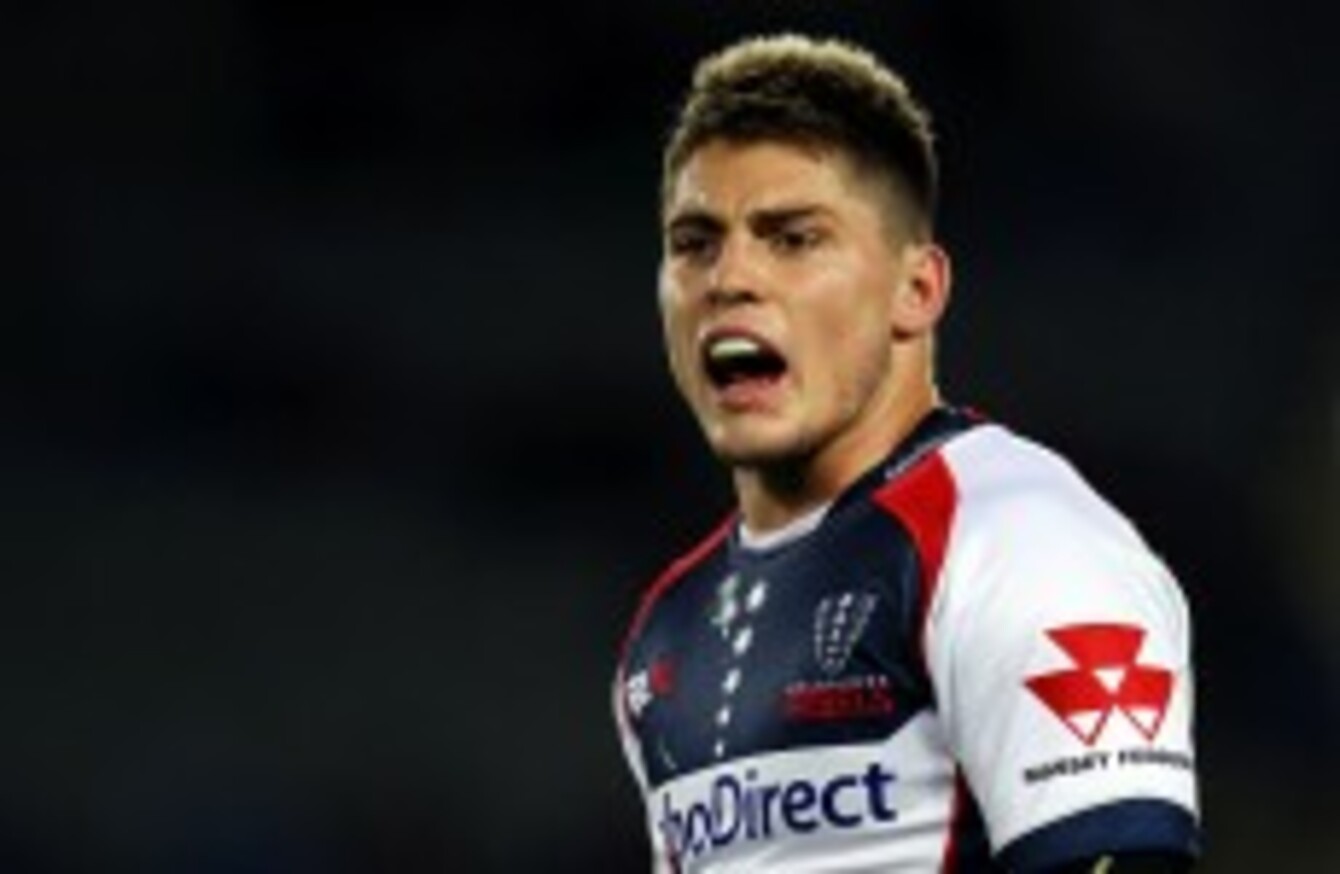 Australia's James O'Connor.
Image: ©INPHO/Photosport
Australia's James O'Connor.
Image: ©INPHO/Photosport
Reproduced with permission from Green and Gold Rugby
LET'S PRETEND FOR just a couple of minutes that Quade Cooper never existed, that he's not in the conversation for the coveted number 10 jersey. Let's leave the outrage behind, at least for a moment, and have a chat about how Robbie Deans can get the best out of the Wallabies with James O'Connor at flyhalf.
Since his 2008 debut, as a 17-year-old, O'Connor has been found at fullback, inside-centre, wing and flyhalf in both Super and Test rugby. This versatility has made him arguably the most valuable utility back in world rugby, although it can, and has been, argued that it has somewhat stunted his chance to consolidate his ability in one position.
Not large for a rugby player, O'Connor is best known for his running ability. For his size he is phenomenally strong in contact, can step off both feet, and possesses a low centre of gravity that allows him to stay upright. He's exceptionally strong through his hips and core, a physical trait that enables him to shrug off weak attempted tackles.
'Bieber' is a slippery and elusive runner who plays 'vertically' – that is to say he goes straight up and down the park, he doesn't crab or drift across field. He's fearless, equally comfortable playing flat on the line or slightly deeper to accommodate for inconsistent delivery from his scrumhalf.
Numbers stack up
His strength in contact means he regularly gains metres after he's taken contact, consistently getting over the advantage line. He averages 9 runs a game, making 8 metres per run. Further, he averages 0.6 clean linebreaks a game. With a stronger supporting cast at the Wallabies, I'd expect him to bust the line at least once per test.
He has an effective short passing game and the vision to exploit gaps in the defensive line with it. He weights his passes nicely and puts his runners in the best possible places for them to do damage.
O'Connor makes excellent decisions, rarely conceding interceptions or giving the opposition chances to force turnovers. He gets away 1.5 offloads a game, while conceding less than 1 turnover. In the 10 Super Rugby games he's played this season he's had five direct try assists – about one every two games.
His kicking game is, to the eye, average. The stats, however, suggest otherwise. Kicking a touch over six times a game, O'Connor averages 42 metres per kick – exactly the same as Brumbies fullback Jesse Mogg who is widely regarded as having the best boot in Australia. The truth lies somewhere in the middle.
O'Connor's longer kicks tend to go down field, not flying the extra distance on the angle needed to take it out. His kicks for touch, clearing from the 22 or attempting to play territory, require him to kick on a more severe angle to ensure the ball goes out. These clearance kicks will often travel only 30 metres or less, while his lengthier kicks to try and turn the opposition around will sail around 50 – thus creating the good average distance. His technique, both from hand and from the tee, looks manufactured. It's adequate, but Deans will want to have another kicker in the team.
Despite the comments made by Ewen McKenzie criticising O'Connor's physicality – in light of an injured O'Connor getting bumped by Rene Ranger – he provides technically excellent defense in both the line and in broken play. His tackle completion percentage of 91% in this Super Rugby season is excellent – especially when one considers the wildly inconsistent Rebels players he has had surrounding him.
(©INPHO/Photosport/Anthony Au-Yeung)
For the Wallabies he will either have Christian Lealiifano (86%), Rob Horne (91%) or Berrick Barnes (91%) outside him – a marked contrast in defensive steel to Rory Sidey (79%)
A little thought of statistic regarding backs is ruck involvements – especially that of 'first to ruck.' O'Connor averages 5.8 'first to ruck' involvements per game, the highest of any Australian flyhalf by far. Indeed, he trails only Scott Higginbotham and Luke Jones in this category for the Rebels.
What are they
really like?
Rare insights on sport's biggest names from the writers who know them best. Listen to Behind the Lines podcast.
Become a Member
There are a number of things we can take out of this. He has an exceptional workrate, reads the play very well, knows where to move in support and that doesn't mind putting his body on the line and taking on the piggies up front to help secure the ball. What it also tells us is that if he's going to get caught up protecting ruck ball, Australia is going to need a second ball player nearby.
His major weakness, as a flyhalf, is however fairly crucial. He isn't a great playmaker. That is to say, he doesn't yet have the ability to lead his team through the phases – to march them around the park.
Watching someone like Dan Carter play, a lot of the time they don't seem to do much until you realise that's all they need to do – pulling the strings a little bit here and a little bit there. O'Connor doesn't appear to play three phases ahead and he doesn't appear to know how to whip his backline into shape.  In possession of the ball, the Rebels manage to hold onto the ball for longer than 6 phases only 8% of the time. This is equal with the Brumbies, but behind the other Australian conference teams.
The Genia-O'Connor axis
Deans has said he wants his flyhalf playing 'square.' O'Connor delivers this in spades. His hard, straight, running – willingness to take the ball to the line – and ability to beat defenders one-on-one will keep the Lions defenders fixed. This is especially so if he plays with Will Genia,
The threat of Genia's running game will keep Lions defenders pinned close to the ruck. If they drift to try and cover O'Connor, Genia will dart straight through the hole. If they hold their line, O'Connor will start running at the Lions – looking to make breaks and half breaks from one-on-one situations.
By pinning the Lions close to the ruck with such a dynamic pairing in the halves, space will open up out wide. To exploit this, Deans will pick at least one extra ball-player, possibly even two. These ball players will come into play from inside centre and/or fullback.
Ultimately Australia will be fine with O'Connor at flyhalf. He's not my first choice, but he's certainly not my last. He's young, quick, strong, has a massive ego and balls of steel. I won't be surprised in the slightest if he's the player of the series.
*You can follow Green and Gold Rugby @GAGR on Twitter