THESCORE.IE COLUMINSTS DAVID WALLACE and Shane Byrne have been on three Lions tours between them. Flanker Wallace toured Australia in 2001 and South Africa in 2009 while hooker Byrne went to New Zealand in 2005 and started two Tests.
With the First Test of the 2013 Tour, against the Wallabies, just hours away, the former Ireland internationals give us their take on the anticipation, nerves and sheer thrill of representing the Lions against the best of the best:
David Wallace on 2001: I arrived as a replacement for Lawrence Dallaglio, who who injured against the Waratahs. My plane landed at 11am and I was playing [against New South Wales Country] at 3pm. I did OK in the warm-up matches I featured in but the closest I got to a Test appearance was the Second Test. I was put on stand-by for Scott Quinnell after the his knee locked up the night before. I had been on tour two weeks at that stage and was now thinking 'OK, this is real'. I was ready to go but, fortunately for Scott, the swelling went down on his knee the morning of the game and he was ready to go.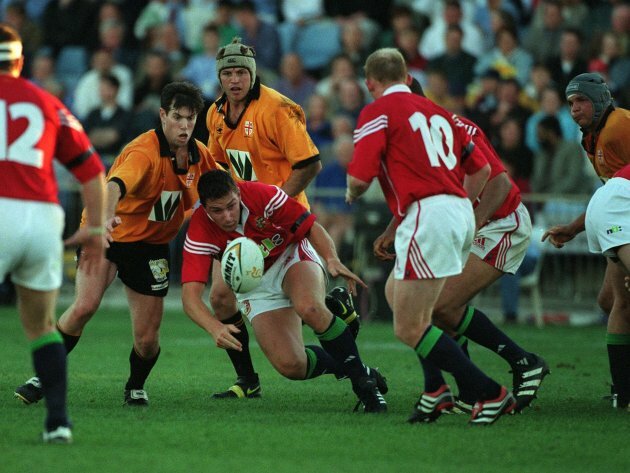 A nice loosener for Wallace against the NSW Country Cockatoos (real name) in 2001. (©INPHO/Billy Stickland)
Shane Byrne on 2005: Right up until you hear the team announced, you're on edge. You can do as well in training or warm-up matches as you can but until you hear your name called out you can't relax. You almost can't believe that you are that close to reaching the pinnacle of your sport.
You then have to deal with the circus of press; getting in touch with family and friends back home. You are so determined that everything you do will be the best you can do it. You've played in big matches, you've played for your country and you've done these preparations dozens of times. Still, you're aware that what you're doing is very special.
There was nobody to room with the night before my Lions Test debut. We roomed with ourselves all tour. That was another of the controversial elements of Clive Woodward's coaching plan. On the morning of the game, you get to experience what the home side can't even imagine. Your hotel is surrounded by Lions supporters, out early and eager to cheer you own. As you leave the hotel and make your way to the bus, you walk through a tunnel of supporters and the sound, the chanting, is unbelievable.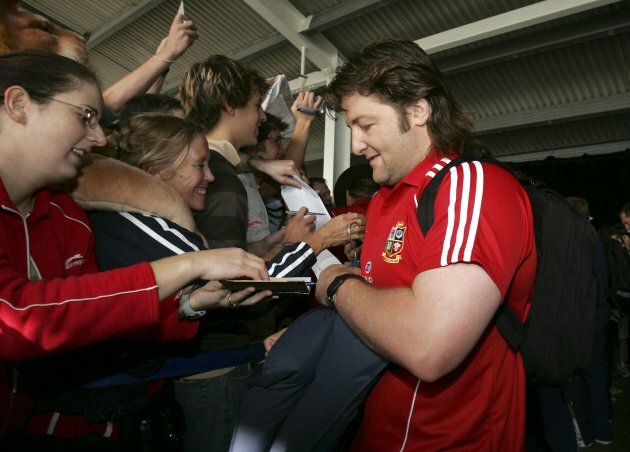 Byrne signs autographs for Lions fans in Auckland. (©INPHO/Hannah Johnston)
When you take that step out onto the pitch, you are hit with this wall of sound. A Lions tour is different from a typical away match or World Cup; there are more of your supporters in the ground and the atmosphere is not as hostile as you'd think. It's an emotional rollercoaster, right up until the first whistle. Then, all bets are off.
I could give you a running commentary of what every minute of every hour was like for that match [against the All Blacks]. In quieter moments I can still re-live it. You'll know exactly what those players are feeling today.
David Wallace on 2009: There was such an intense environment around the camp before the Test Series. There was a lot more media there than I had ever experienced. The pressure is greater too. I told myself 'It's just another game' and tried to keep my feet on the ground. Obviously, that was not the case. There's a lot riding on the First Test and everyone knows it.
Exclusive Six
Nations Analysis
Get Murray Kinsella's exclusive analysis of Ireland's Six Nations campaign this spring
Become a Member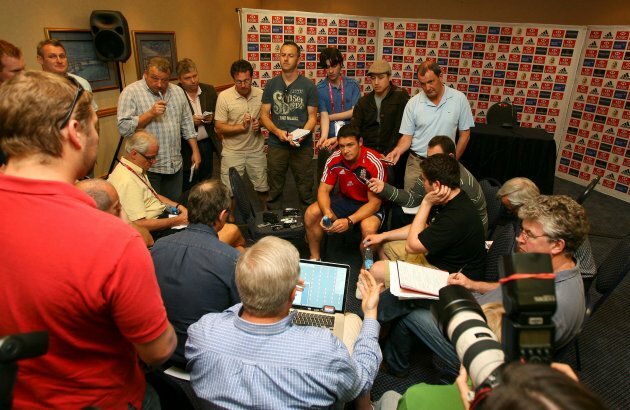 Wallace has an intimate chat with a sackful of journalists. (©INPHO/Dan Sheridan)
It is an exciting time as well. I had made it a massive goal of mine to make the Test team. I'd been in Australia in 2001 but had not got out on the pitch as a Test player. I did as a waterboy though. I was struggling with my back a bit in the lead-up to the First Test but was delighted to be named and in good form come kick-off.
I roomed with [English prop] Phil Vickery the night before. He was a relaxed fella to room with and, having toured in 2001, had been there and done that. I slept no problem. I generally never had a problem with nerves the night before a game. It's when I woke up that it hit me like a tonne of bricks.
It's different to anything I had felt before; a nauseating experience. I wanted to find a hole and crawl into it until it was time to play. You just want to be out on the pitch. Once you get out there, though, and the game starts, the nerves evaporate, you get on with the game and you start to enjoy it.
*TheScore.ie will be liveblogging all the Lions v Wallabies action from 9:30am.