THE LIONS MISSED out of a perfect opportunity to clinch their first Test Series win when Australia edged them out 16-15 in the Second Test last Saturday. A second chance for glory is just four days away.
TheScore.ie caught up with the man that clinched the Lions' last series win, 16 years ago, to draw inspiration and hopes from his nerveless achievements:
In 1997, Jeremy Guscott kicked a drop goal that ultimately delivered the Lions and series victory over the world champion Springboks. His partner in midfield, Welshman Scott Gibbs, was a revelation at outside centre and won Player of the Series.
Guscott had been with Bath Rugby from the Under-8′s and had broken into the senior side as an 18-year-old. His elevation to the England team came five years later, in May 1989, against Romania. Six weeks later and he was lining up for the Lions, beside Scott Hastings, in Brisbane for the Second Test against the Wallabies.
"Jack Rowell, the Bath coach, told me that Ian McGeechan had been talking about me with regards to the Lions tour," explained Guscott, "but we had just won the Pilkington Cup so I got on with the celebrations and forgot about it. When [Lions manager] Clive Rowlands called me to say I was in the squad, I thought it was one of the lads taking to piss so I put the phone down. Luckily, he called back."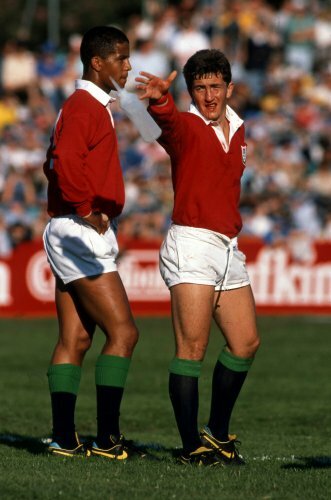 Guscott with Robert Jones in 1989. (©INPHO/Billy Stickland)
Accepting an expected role in 'Donal's Doughnuts', the midweek team captained by Ireland's Donal Lenihan, Guscott was given the 12 jersey and thrown in from the start in Brisbane following a Lions defeat to Australia in Sydney. Fittingly, for a player that could call upon natural talent and exposed a mere sliver of a defensive gap, the Englishman dotted down on his Lions debut, in a 19-12 win that set the tourists on course for a series triumph.
Guscott told TheScore.ie, "The ball came to me, instinctively I dribbled it through and prayed it would bounce up. It did and I shot through David Campese and Michael Lynagh to score.
It was a surreal moment. All my rugby career passed before me in that instant. It was like a flash; really weird. I had played rugby since I was seven, my rugby life had spanned 16 years. It all flashed by in six seconds. It was full of elation and pumped up. Amazing how the mind can play tricks."
Guscott admits that the enormity of touring with The Lions did not hit him until he returned to England and Bath. "I didn't have a great season afterwards," he confessed. "The Lions was so big that club rugby became a problem. I used to love running out at The Rec [Bath's home ground] but it took a while for me to get the feeling back of 'this is great'. You lived in a bubble on that tour and you don't realise it until you are back home, just how intense it was."
89/90 was not the finest of Guscott's rugby-playing seasons but the following four brought English Premiership success. Five Nations Grand Slams for England in 1991 and '92 meant Guscott and several of his countrymen were virtual guarantees for Lions selection the following year. However, a 17-3 defeat to Ireland in the final Five Nations match of that year, says Guscott, led to several anxious calls from senior players as they tried to get an idea of Lions coach Dick Best's selection leanings.
The squad was announced two months later and the centre was one of 16 Englishmen selected. There were also seven Scots, two Irishmen and five Welsh players, including rugby league convert Scott Gibbs, with whom he formed an effective midfield partnership.
A midweek match against Canterbury, at Lancaster Park, saw Best go with the Anglo-Welsh midfield axis of Guscott and Gibbs. "We immediately clicked," says the Englishman, "and had this telepathic link; working so well together. I thought 'the selectors couldn't have missed that'."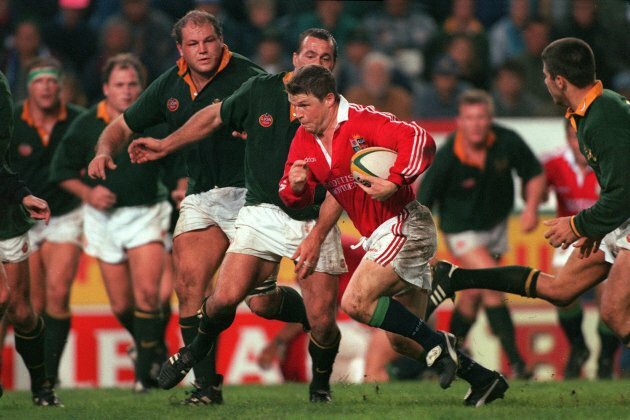 Scott Gibbs is pursued by seven Springboks in the First Test. (©INPHO/Billy Stickland)
While Guscott can remember the game in detail, Gibb's memories are sketchy after the opening 40 minutes. He says, "We won in the end [28-10] but I don't remember much of it as I was heavily concussed. I took an open handed smack to the face, right under my nose.
There was no half-time break back then so I can just remember standing in the middle of the huddle in a daze. I didn't know who I was, I didn't know where I was and I didn't know what was going on. I looked up and saw the crowd and the scoreboard and then looked at my jersey. I was thinking 'Oh my God, I'm in a Lions jersey'. I started looking around the huddle and thought 'Wow, there's Rob Andrew, there's Jason Leonard, there's Jeremy Guscott'."
The second-half started with Gibbs in not much better shape but the ball soon found its way to him. "I made a simple line bust and a feed," he recalled, "and Jeremy made a 60 yard burst. That got me back into it."
When it came to the Test Series against the All Blacks, Guscott believes a 'terrible reffing decision' cost The Lions the First Test but, with Gibbs in for the injured Carling, the tourists struck back in Wellington. Gibbs dived over for a try in the decider, in Auckland, but New Zealand were in a wrecking ball mood that day and captured the series with a 30-13 win.
By the time the '97 tour to South Africa came around, there was no guarantee that either Gibbs or Guscott would make the squad, let alone start. The Welshman had returned to Union after a two season flirtation with League side St Helens. With England now captained by Phil de Glanville and former captain Will Carling occupying the other midfield role, Guscott found himself on the fringes of Test rugby.
A stunning outing against Northern Transvaal reminded the selectors of what the duo were capable of. Going into the Test matches,Guscott claims The Lions had a multitude of doubters to silence. "I was pissed off that no-one gave us a chance," he said. "I don't know why. The attitude purveyed to us by the South African media and players, and several from back home, was to be prepared for a thrashing. We were called pussycats the whole tour. The public were very hospitable but they took it for granted that the Springboks would win.
That squad had so many players you respected, players like Keith Wood and Ieuan Evans. Lawrence Dallaglio, just coming though, he stood tall. Richard Hill was massive. Jeremy Davidson and Paul Wallace, two guys that got the late call, played exceptionally. And Neil Jenkins, I don't know how he made it at fullback but he basically won us the series with his kicks."
Gibbs, adds Guscott, was one of the inspirations of the winning tour. "Everything the South Africans could throw it him," said Guscott, "he took it. There was nothing that was going to stop him from performing. He was my minder on that tour. He would line up against the 'Boks and tell them exactly what he thought. They ate it up. I had to pull his jersey every now and then, tell him to ease off. He just smiled and said 'I'll take it'. And he did."
When it came to the drop goal, with the Second Test tied at 15-15, Guscott thought 'I'll take it' and, thankfully, he did:

YouTube credit: RDRugby08