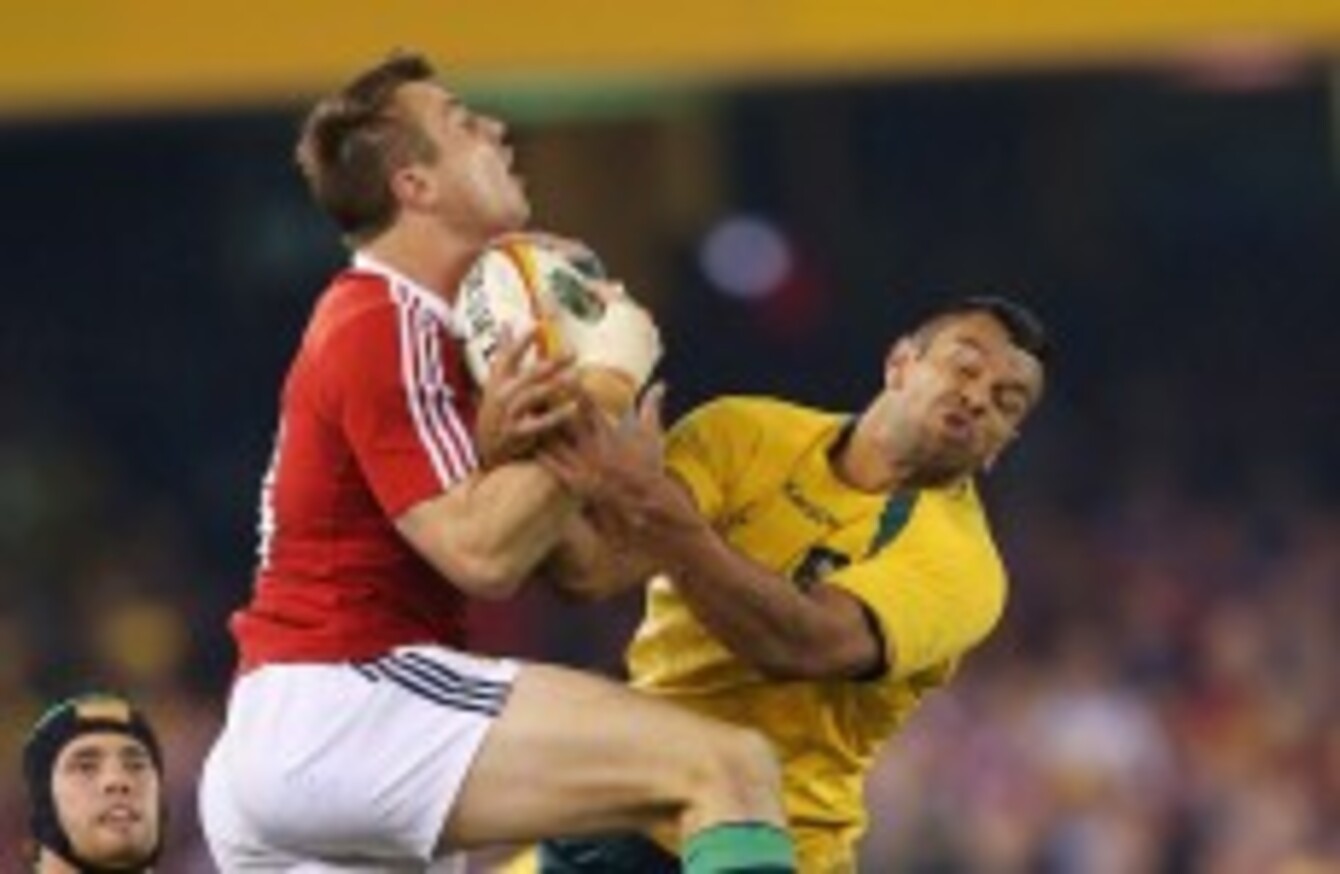 Tommy Bowe wrests an aerial ball from Kurtley Beale.
Image: ©INPHO/Billy Stickland
Tommy Bowe wrests an aerial ball from Kurtley Beale.
Image: ©INPHO/Billy Stickland
SOMEONE MUST HAVE been spying/planning weddings in Australia again.
Word came from loose lips, following the Lions captain's run at the North Sydney Oval, that replacement centre Manu Tuilagi had not taken a full part in the training drills. Was Brian O'Driscoll back in the selection mix for the Third Test against Australia?
The rumours, the speculation, lasted for a glorious couple of hours before Lions forwards coach Graham Rowntree faced the press and assured the assembled media corp that all 23 players, named in the original matchday squad, were fit and ready to play. Oh well, back to the matter at hand — winning the Lions first series in 16 years.
Tommy Bowe is one of three Irish starters in Sydney tomorrow [11:05am kick-off] and the winger is hoping the Lions will go out shooting from the hip rather than the death of 1,000 phases the Australians put them through last week.
Bowe, reflecting on the 16-15 loss in Melbourne last week, reflected O'Driscoll's frustration that the Lions went down without a gunslinging fight. "I did a lot of chasing kicks," he said, "we didn't have very much possession and we did a lot of defending." The Ulster winger added:
With as big a side as we have picked here for tomorrow, hopefully, we'll be getting a lot of ball and getting on the front foot. We have to play rugby. Last week we did so much defending, we were on the back foot an awful lot and, when we had it, we kicked it away. This week, if we can play rugby, we can do a lot of damage, certainly with a lot of the players we've got in this team.
"There are huge ball carriers there. If we can hold on to the ball, keep battering over the top of the Aussies, hopefully, it will cause a bit of damage."
Brian O'Driscoll pins Manu Tuilagi to the turf at training on Thursday. (INPHO/Dan Sheridan)
With O'Driscoll, barring any last-minute pulls or twinges, set to watch the deciding match of the series from the sidelines, it was left to Bowe to commend the attitude of a man that went from solid captaincy shout to wistful cheerleader. He commented, "It would be very easy for Brian to go off tour now, and go off on the lash or whatever, but he was there training yesterday, he's been there first thing this morning."
He added, "He trained with the team, he spoke up, he told us exactly what it meant to him again. Everybody knows the disappointment he has for not being involved, but for a guy like that, who has such a presence around the squad, to really be rallying around the team, to really want us to push on to win the series, it's a huge motivation for us to go out and do the job for him as well."
*TheScore.ie will be liveblogging all the Third Test action from 10am on Saturday.