WARREN GATLAND WAS an interested spectator at Ireland training on Tuesday at Carton House, with photos of the Lions boss – on leave from his position as Wales head coach – sparking some speculation that Joe Schmidt might have reeled in his session.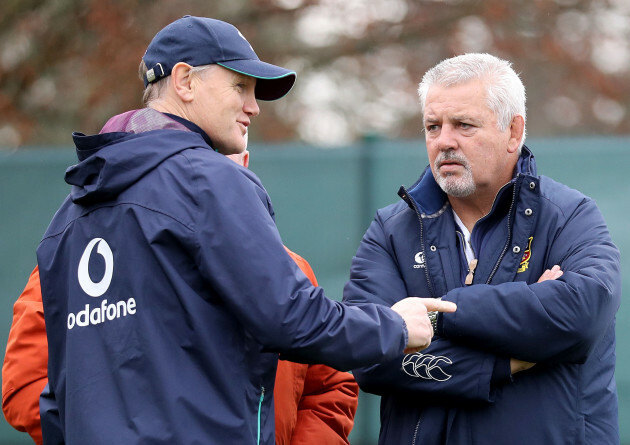 Dan Sheridan / INPHO Warren Gatland speaks to Joe Schmidt at Ireland training on Tuesday. Dan Sheridan / INPHO / INPHO
When you ask Schmidt if he hid some of his best moves when Gatland was watching on, the Ireland head coach laughs.
"No, we trained fully!" says Schmidt. "In the end, there's not much that's secret in the world of rugby anyway. It may be secret from one week to the next, and then everyone does their analysis and figures out what you're doing.
"There wasn't too much that was secretive. We had an hour or two of a chat after training and chatted about all sorts of things."
Schmidt hopes to get across to New Zealand for the tail end of the Lions tour after his Ireland team take on Japan in two Tests in June.
He says himself and fellow Kiwi native Gatland discussed what the Lions tour will involve and some of the conditions they will play in.
"We didn't talk too much about who will be playing because that's a decision for him and his coaching staff, certainly not mine," says Schmidt.
Gatland found his visit to Carton House beneficial, although he may not have welcomed being in the middle of the latest confirmation of an injury to Johnny Sexton, the Lions out-half in 2013.
Ex-Ireland boss Gatland appreciated getting insight into how Schmidt's team train, particularly given that it contrasts with how some of the other Lions nations go about their business.
"Ireland tend to run their sessions one-a-day, whereas England and Wales tend to have two sessions a day – in the morning and the afternoon," says Gatland.
"So, it is just about understanding the pressures that the players are going through and that things aren't a big shock when the team comes together.
"I'm just having a look at the training session, the intensity of the session and how it ran and I was able to got to the team meeting before training. I was lucky enough to sit down for a lunch with Joe and have a good chat, which was pretty beneficial."
Dan Sheridan / INPHO Schmidt's Ireland trained in the rain yesterday. Dan Sheridan / INPHO / INPHO
While Schmidt says individual Irish players were not discussed, the former Leinster head coach did give Gatland detail on the mentality of his playing group.
"The big thing that came out of the conversation with him was what a good bunch of guys they are – good players, pretty humble, work hard and good professionals," says Gatland.
"When you come to a bigger squad, sometimes you are trying to finalise the last few players and you are looking at player personalities, characteristics and making sure that you pick the right guys in terms of fitting in.
"My experience in the past with the Lions is that if you can get things right off the field, you have a chance of getting it right on it."
As is normal procedure, every player in the Ireland squad had their photo taken in a Lions shirt last week in order to provide headshots for when Gatland names his finalised squad. Scotland, England and Wales players all did the same.
With Gatland also present at training this week, it would be entirely normal for a few thoughts of touring New Zealand this summer to stray into Irish players' minds.
But Schmidt says he doesn't even need to address any potential distraction among his squad.
"It hasn't come up in one single conversation," says Schmidt. "I've no doubt in the back of their minds that they'd love to get a red jersey at the end of May, but at this given point… even they're so used to playing in provincial games that mean a lot to them – that's their full focus at that time and then they step it up for national honours.
"At the same time, there is probably a hope in their head that they will get recognised for national honours, so it's similar to that."
Dan Sheridan / INPHO Gatland will attend Ireland v Scotland and Italy v Wales this weekend. Dan Sheridan / INPHO / INPHO
Gatland – who recently undertook a recce of New Zealand to view team hotels and training bases, as well as travel some of the journeys the Lions will take – won't name his final squad until 19 April, but this Six Nations is a prime audition.
The head coach still envisages bringing 37 players - 20 forwards, 17 backs – but says he may stretch that figure if any selection decisions are too finely balanced.
He hasn't added any further coaching staff since the announcement of assistants Andy Farrell, Rob Howley and Steve Borthwick in December, but hopes to do so within the next month.
His scouting of players continues this weekend as he heads to Murrayfield on Saturday, then flies to Rome for Wales' clash with the Italians the next day.
Round two will see Gatland take in Wales' home clash with England on the Saturday, before a trip to Paris for Scotland's visit to les Bleus.
So, the race is very much on for Lions places, even if the head coaches and players involved in the Six Nations cannot afford to focus that far into the future.
For the rest of us, and Gatland, the debates and discussions are only going to grow in the coming weeks as individuals stand out and others succumb to injury or poor form.
Down in New Zealand, meanwhile, they can't wait – as Gatland found out on his most recent visit.
"New Zealanders are incredibly excited about the Lions. We've got to a little bit of PR from 2005 because people keep asking me if Alistair Campbell is coming or if we are bringing two teams and two coaching set-ups. Apart from that they are really excited."
Subscribe to The42 Rugby Show podcast here: