Murray Kinsella reports from Auckland
THIS WAS THE one for the Lions, their best shot to grab a foothold in this Test series and make the All Blacks doubt themselves.
History tells us that losing the first Test in these series is catastrophic, and the Lions have only recovered from doing so twice in their history – the 1899 and 1989 tours of Australia.
Billy Stickland / INPHO The Lions missed their chance. Billy Stickland / INPHO / INPHO
While the Wallabies were accommodating on both of those occasions, it is unlikely that the All Blacks will take a backwards step next weekend in Wellington, with Steve Hansen and his players quietly confident in their ability to be even better in Test two.
So as the Lions fly down to the capital city today, there will be real pangs of regret at having missed an opportunity.
The All Blacks were the better team last night in Auckland, certainly, but had the Lions been able to take one of their try-scoring chances when they trailed 13-8 after half time, this could have been a very different story.
As it transpired, there are concerns in several places for Warren Gatland and chief among them was how his team were second best up front.
"The All Blacks sacked us [in the lineouts] very well, so we need to negate that," said Gatland.
"And there was one scrum that's caught us as well," he continued, referencing the scrum where the All Blacks marched the Lions backwards before Rieko Ioane's second try. "So here's several areas where we need to be better at the set-piece."
The Lions had been expected to have real strength up front in this Test series, but predictions of set-piece dominance were always likely to be short of the mark.
Led by returning captain Kieran Read and the brilliant Sam Cane, this is a Kiwi pack full of tough nuts – men like Brodie Retallick who can play and dish out pain – and they always felt they were underrated in the tight.
"You don't become the number one side in the world without having a quality tight five, said Hansen. "I always find it amusing when people tell us they are going to beat us up in the tight five.
Photosport / Marty Melville/INPHO Jonathan Davies was strong for the Lions. Photosport / Marty Melville/INPHO / Marty Melville/INPHO
"We can play down and dirty rugby too if we have to. And I mean down and dirty in the most respectful way!"
It was notable how effective the All Blacks' ball carrier were around the fringes of rucks too, as they battered at the Lions for extended periods of phase play.
It's not exactly the image many have of Kiwi rugby, but it was simple, intelligent play that helped to negate the previously effective Lions linespeed further out the line.
"With their defence we just had to earn the right and try and go through them," said All Blacks scrum-half Aaron Smith. "If they want to keep spreading out that is our option, but their rush D is something we must keep working on."
Collectively, the All Blacks were the more potent force and they unsurprisingly looked like the more cohesive team, but they also appeared to have the better individual players.
Number eight Read – "a freak," according to Smith – is a prime example, coming back from a thumb injury to deliver a gritty, skillful performance.
20-year-old wing Ioane, meanwhile, bagged a brace on his first Test start and looks like he will be a huge star for the All Blacks thanks to his pace, power and finishing ability. The production line just keeps on churning them out…
The first All Blacks try, through hooker Codie Taylor, was illustrative of the Kiwis' quicker thinking and ability to execute, as Smith quick-tapped and fed the ball to Beauden Barrett, who found Isreal Dagg, who in turn fed Taylor to score.
"It was just a simple numbers game, there was three of them and five of us," said Smith. "Let's go!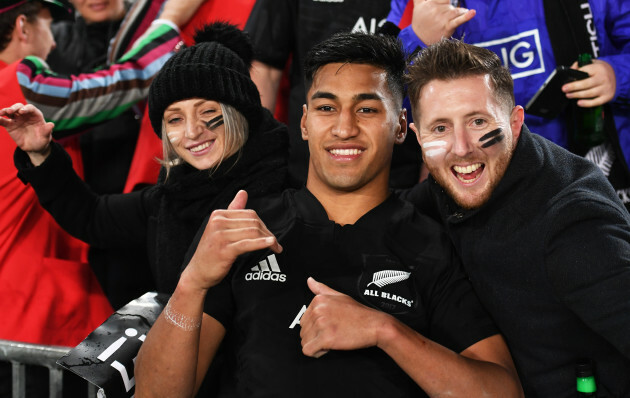 Photosport / Andrew Cornaga/INPHO Rieko Ioane was superb. Photosport / Andrew Cornaga/INPHO / Andrew Cornaga/INPHO
"Steve always talks about 'don't play in your shell.' For, me it's more about if I feel they were under the pump a bit and it's a way to execute more pressure."
From the Lions' point of view, that try was also illustrative of how they made basic errors to allow the All Blacks to thrive.
"Elliot Daly said he got caught in no man's lands," said Gatland, with the England wing himself later confirming "I probably fell asleep a little bit."
There were other similar lapses of focus from the Lions – Liam Williams dropping TJ Perenara's pass for Ioane's second, the numerous missed clearouts for turnovers – and they are strongly of the belief that those elements are readily fixable.
More positively, the try they scored late in the first half finished by Sean O'Brien – Hansen called it "one of the best Test tries I've ever seen" – underlined what was an excellent performance on kick return and counter attack.
"We're thrilled with the try," said Daly. "It has given us the belief that we can do it. You've got to attack the All Blacks. We just have to look at opportunities where we can score a few more tries."
More of the same will have to be on the menu in Wellington, although the Lions will also be keen to build more pressure inside the All Blacks' 22, having let up a few opportunities to do so last night.
Gatland said they have no fresh injury concerns arising from the first Test, although the All Blacks have lost Ryan Crotty to a hamstring injury and Ben Smith failed his HIA in a season where he has had concussion problems.
Before moving on to the second Test, the Lions have a final midweek clash on Tuesday night against Super Rugby champions Hurricanes, and Gatland is pushing it as a chance for his players to earn Test spots.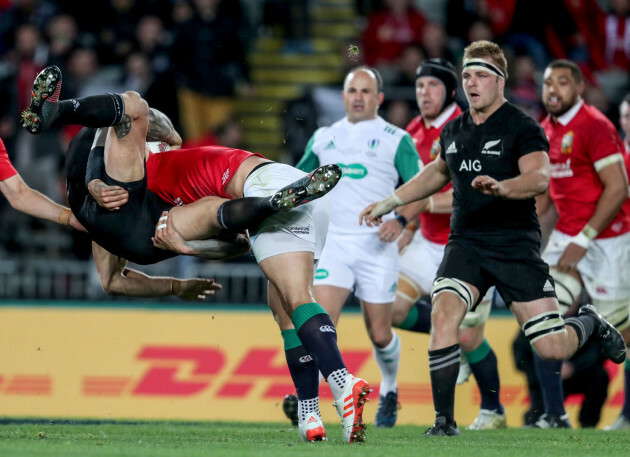 Dan Sheridan / INPHO Ben Te'o makes a big tackle on Sonny Bill Williams. Dan Sheridan / INPHO / INPHO
Last Tuesday saw Daly and Liam Williams convince the Lions coaching staff of their starting merits against the Chiefs, and Gatland wants more of the same.
"It's a huge opportunity, it's a big chance for those players who weren't involved tonight to give a huge performance."
Moving to Wellington will also allow the Lions to settle in one place for a full week for the first time on this gruelling tour, which players and coaches alike will warmly welcome.
They will need the perfect preparation if they are to cause a shock and turn this series around because the All Blacks are going to be better second time around.
"Winning one gives us an advantage, but so many times in sport, the winning team gets knocked over next week," said Hansen. "This team always works on the mantra we've got to get better, so that's what we'll try to do."
Meanwhile, Gatland and his Lions are convinced that the All Blacks didn't have to do anything special to beat them in Auckland and that if the tourists can cut out their errors, they can level the series.
"It's fixable," said Gatland. "The All Blacks haven't played champagne rugby and thrown the ball all over the place."
But that's the most worrying thing of all – the champagne stuff is yet to come from the All Blacks.
The42 is on Instagram! Tap the button below on your phone to follow us!