BEFORE SETTING OFF for Australia, via Hong Kong, Manu Tuilagi declared he was so eager to play for the Lions that he did not care whether he started at outside centre, inside centre or in the back row.
Now that he has touched down in Perth, the Leicester Tiger insists he is not bothered by his shift from the 13 jersey to 12. The fact that he gets to play alongside hero Brian O'Driscoll is suitable compensation.
He told the Lions website, "I remember Brian's try against Australia (in the First Test in 2001), so it's amazing to play alongside him. He's a legend and I can't wait to play with him. For me, it's an honour to be selected and be playing with a legend like him."
Everything Brian says, I'll do it. We just have to stick to our game plan and hopefully it will go well. You have to make the right decisions for the team – to carry or give the ball. It's not about the individual, it's about winning these games."
Tuilagi believes the Lions that tore the Barbarians to shreds on Saturday have set the bar high. He is determined to keep the team's winning run going and comments that the Welsh midfield duo of Jamie Roberts and Jonathan Davies got off to a blistering start in Hong Kong.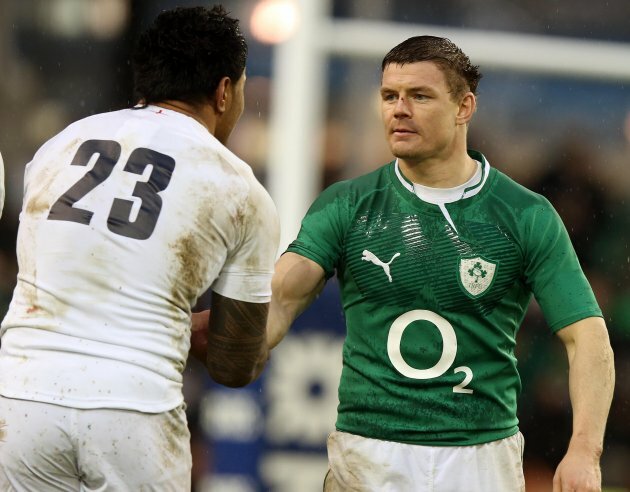 Tuilagi shakes O'Driscoll's hand after England's win over Ireland in February. (©INPHO/Dan Sheridan)
The positional shift, he argues, simply moves him closer to the outhalf and means he should get his hands on more ball. "I will do a bit more talking and passing; directing the forwards and telling them what to do," he added.
Whatever his role in the team, Tuilagi will have a contingent of vocal supporters cheering him on in Australia – dad Tuilagi Vavae and mum Aliitasi, who are travelling over from Samoa.
Tuilagi told TheScore.ie, "Growing up, dad loved the Lions and leading up to this year he always asked 'when are the Lions being picked?'. I told him 'dad, it's not this year it's next year. When I found out I was involved I couldn't wait to ring him and tell him.
"I watched the Living with the Lions DVD. I have been aware of the Lions the whole time. To be here now is a dream come true."
"The whole family will be there," he added. "There will be a lot of Samoan and Tongan people there too, so it will be great."
*TheScore.ie will be liveblogging all the Lions v Western Force action from 10:30am on Wednesday morning.