Argentina 3-0 Croatia
Hello, and welcome to tonight's liveblog.
It's another momentous night as Argentina take on Croatia.
Both sides feature two of the best footballers of their generation and probably of all time.
One of Lionel Messi and Luka Modric will be going home after this evening's encounter, in what almost certainly will be both these legendary individuals' last chance to win a World Cup.
Argentina are slight favourites, on account of their excellent recent run (discounting the group stage loss to Saudi Arabia).
They also have the better footballing pedigree historically — it would be the sixth time they have reached the final as opposed to Croatia's second appearance, while they are bidding to emulate the teams of 1978 and 1986 by winning outright.
Croatia, though, have the benefit of appearing in the most recent World Cup final in 2018, with many of that squad still around now.
Yet neither side has been wholly convincing at the tournament thus far — both dropped points in the group stage, with Croatia finishing runners-up to Morocco while each has needed penalties to advance in the knockout stages — Zlatko Dalić's side required spot kicks to overcome both Japan and Brazil, while Argentina did likewise in their quarter-final win over the Netherlands.
Fresh in many players' minds will be the 2018 World Cup meeting between these two teams, which Croatia won comprehensively 3-0. However, Argentina are much improved and more unified since then, and will likely pose a greater challenge tonight.
All of which means it's a very tough one to call in what likely will be a fascinating 90 minutes (or possibly longer).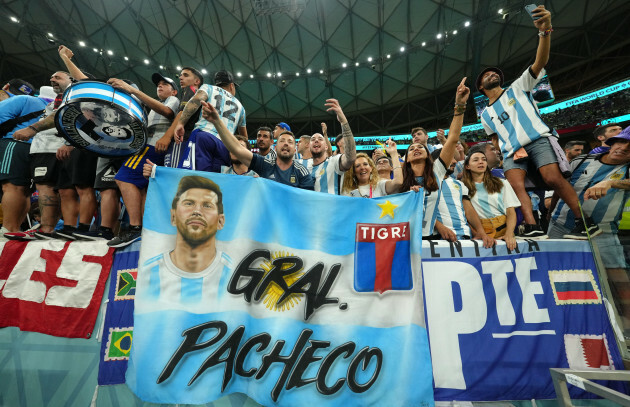 Alamy Stock Photo Argentina fans in the stands prior to the Fifa World Cup Semi-Final match. Alamy Stock Photo
Who do you think will go through?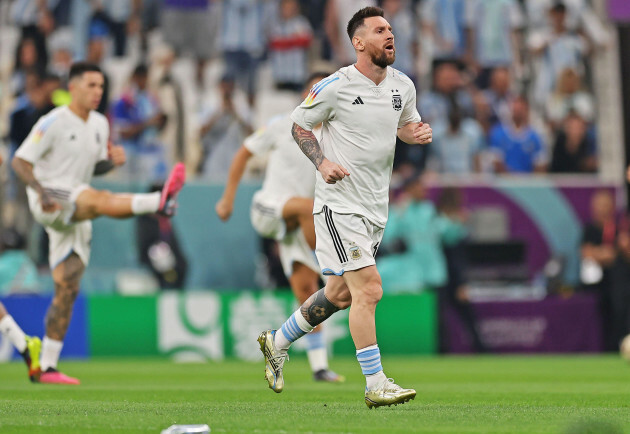 Alamy Stock Photo Lionel Messi pictured ahead of the game. Alamy Stock Photo
7 - Seven of today's starters for #ARG and #HRV also started in their meeting in the group stage at World Cup 2018: three for Argentina (Messi, Tagliafico and Otamendi) and four for Croatia (Modric, Perisic, Brozovic and Lovren). Reunion. pic.twitter.com/xILJ0qjtDt

— OptaJavier (@OptaJavier) December 13, 2022
Not much to report on for.
Three Croatia players surrounded Messi as soon as he received the ball, which is surely a sign of things to come.
A few strong and late tackles have already gone in with both sides guilty of infringements.
You get the sense it's likely to be a challenging night for the officials, as has been the case for a couple of games at this tournament during the knockout stages in particular.
Still, not much goalmouth action to report on.
This has the feel of a really big game, as both sides have begun in a decidedly cautious fashion.
Croatia have probably seen most of the ball without really threatening at any point.
The first moment of slight controversy involving the Italian referee.
Messi goes down on the edge of the area with Gvardiol in close proximity and the PSG star's protests are ignored.
The one replay that was shown proved inconclusive.
Croatia try to break through Kovacic, but he is stopped in a cynical fashion by a combination of Romero and De Paul.
The referee is clearly reluctant to give yellow cards early, so players are happy to foul their opponents ad nauseam anytime there is the slightest threat of space opening up.
This is one big reason why it's been quite a dull opening.
Nervy moment for Croatia.
Gvardiol's pass goes straight to Messi, but the Argentine star can't control the ball adequately and is unable to get a proper shot away.
A decent shot from Fernández has to be parried away by Livakovic.
Down the other end, Kovacic makes a really good individual run before being stopped by a very late challenge.
The referee really needs to start producing some cards as all the tactical fouling is really diminishing the game as a spectacle.
Álvarez is played through on goal — he puts it past Livakovic.
The goalkeeper takes him out and Lovren clears it off the line before the referee points to the spot.
Argentina 1-0 Croatia (Messi 34)
Messi makes no mistake from the spot, drilling a well-taken penalty into the top corner.
That's his 96th goal for Argentina, taking him past Gabriel Batistuta and making him Argentina's all-time top scorer.
That goal also means Messi is now level with PSG teammate Mbappe on five goals in the race for the Golden Boot.
It was slightly against the run of play as Croatia have edged the opening stages.
ARGENTINA 2-0 CROATIA (ALVAREZ 39)
Argentina swiftly double their advantage.
They counter from an initial Croatia corner.
Messi guides the ball onto Alvarez.
The Man City youngster goes on a brilliant individual run.
He gets a few lucky ricochets off defenders before finishing coolly.
Argentina almost make it three.
A corner finds MacAllister, whose downward header is well saved by Livakovic.
It's tempting to say game over already, but it's worth noting that Argentina had near-late collapses against both Australia and the Netherlands, so writing off Croatia would be unwise.
HALF-TIME: ARGENTINA 2-0 CROATIA
So half-time and it's been an interesting 45 minutes.
There wasn't much between the sides and if anything, Croatia were looking the slightly better team before Argentina hit them with two sucker punches.
The Croatian backline has not looked comfortable at all in dealing with their opponents on the transition, with the pacy and intelligent Alvarez especially doing real damage up against their hesitant defence.
Messi hasn't dominated but has had a couple of brilliant moments and had a hand in the second goal.
Modric, meanwhile, has struggled to really impose himself despite also impressing sporadically, with Croatia finding it tough to breach the Argentine defence, and not for the first time at this tournament, looking a little toothless in attack.
The second half has begun…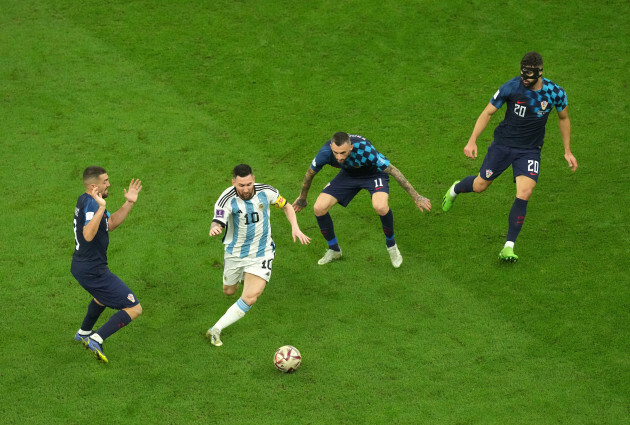 Alamy Stock Photo Croatia's Mateo Kovacic, Argentina's Lionel Messi, Croatia's Marcelo Brozovic and Josko Gvardiol (left-right) in action. Alamy Stock Photo
Croatia have a free kick in a promising position, but Modric slots it straight into Martinez's arms.
Zlatko Dalić's side have been pretty wasteful from set pieces.
Croatia make a change. Brozovic is replaced by Petkovic.
They also had two at half-time, with Vlasic and Orsic coming on for Sosa and Pasalic.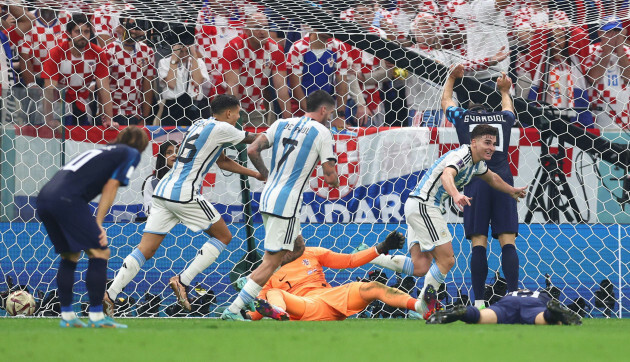 Alamy Stock Photo Julian Alvarez of Argentina (r) turns to celebrate scoring. Alamy Stock Photo
So close!
Fernández plays a clever one-two with Messi on the edge of the area. The latter's low shot from a tight angle is saved by Livakovic.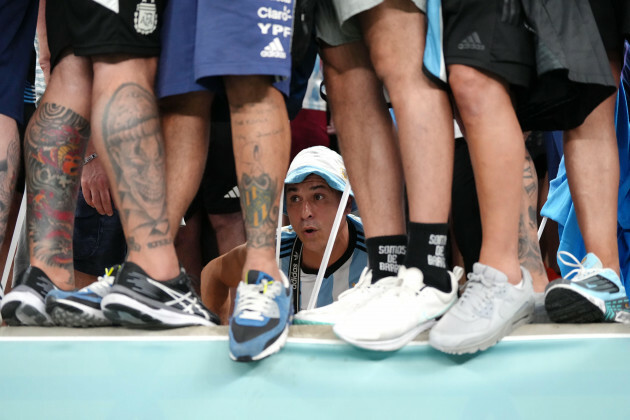 Alamy Stock Photo An Argentina fan looks on during the FIFA World Cup Semi-Final match at the Lusail Stadium. Alamy Stock Photo
Argentina make a change. Lisandro Martinez replaces Paredes, which seemingly means they'll go three at the back.
As I type, a Croatia set piece causes problems, but Lovren's goalbound header is blocked and they eventually clear.
Croatia still haven't registered an effort on target.
As it stands, Argentina are keeping them at bay with relative ease.
This game is still very stop-start with a lot of fouls.
It suits Argentina perfectly, with Croatia struggling to build any momentum.
ARGENTINA 3-0 CROATIA (ALVAREZ 69)
That's surely that, and it stems from another Messi moment of magic.
The PSG star beats Gvardiol down the line on three occasions with some sublime skill, before cutting it back to Alvarez, who has an easy tap-in.
Croatia make another change.
Livaja replaces Kramaric.
As I type, a Perisic free kick is comfortably saved by Martínez.
More changes for Argentina.
Man-of-the-match-contender Alvarez and De Paul are off, Dybala and Palacios are on.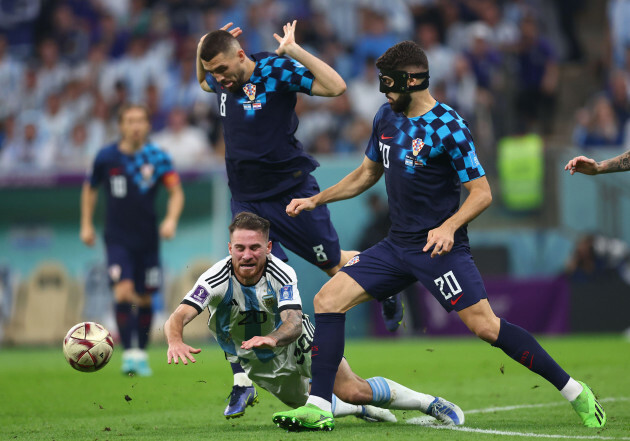 Alamy Stock Photo Alexis Mac Allister of Argentina is brought down by Mateo Kovacic and Josko Gvardiol of Croatia. Alamy Stock Photo
This game has the feel of a dead rubber now.
Both sides know it's all over.
In what is surely the end of an era, Modric has just been taken off in what will likely be his last significant appearance in a World Cup (yes, I'm calling the third-place playoff insignificant). It's Majer who has the honour of replacing this legendary footballer on such a momentous occasion.
As I type, the ball falls nicely for an onrushing MacAllister, but his volley is narrowly wide.
Majer's corner is flicked on by Perisic but Lovren stretches and narrowly fails to get on the end of it. The linesman had his flag up anyway so it presumably wouldn't have counted.
Meanwhile, more changes for Argentina — MacAllister and Molina are off, Correa and Foyth are on.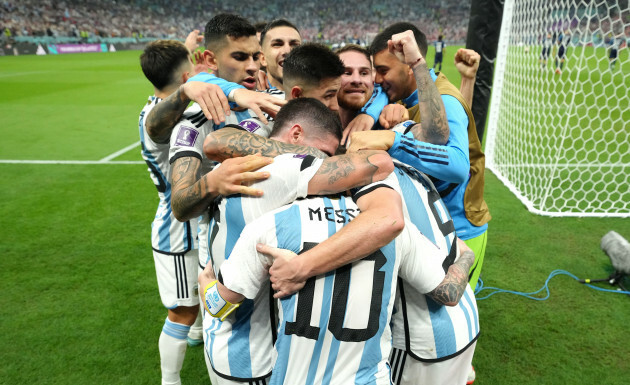 Alamy Stock Photo Argentina celebrate after Julian Alvarez scores their side's third goal of the game. Alamy Stock Photo
There will be five minutes of stoppage time…
19 - Lionel Messi has been involved in 19 goals at the World Cup (11 goals, 8 assists), equalling the best goals+assists tally for a player since 1966 (when data is available), previously set by Miroslav Klose, Ronaldo and Gerd Müller. Guide. #ARGCRO #FIFAWorldCup pic.twitter.com/PFmW5X4x6u

— OptaJean (@OptaJean) December 13, 2022
FULL-TIME: ARGENTINA 3-0 CROATIA
So that's that.
On the balance of play, Croatia can have few complaints as they were well beaten on the nights and not good enough at both ends of the pitch.
Modric was reduced to a peripheral figure as Argentina's well-organised backline limited them to a few half-chances at best.
Down the other end, it was primarily the past and future combining — bits of brilliance from Lionel Messi and Julián Álvarez won it for the South Americans, as they took advantage of some fairly inept Croatian defending.
It will be fascinating to see now if Messi can put to bed the ghosts of 2014 on Sunday, as Argentina prepare to face either Morocco or France.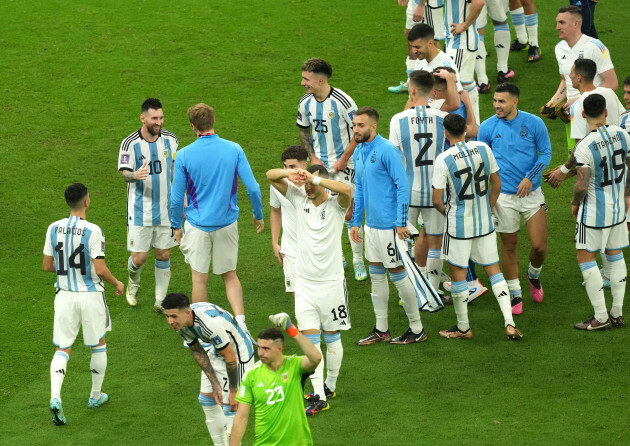 Alamy Stock Photo Argentina's Lionel Messi celebrates with team-mates following the Fifa World Cup Semi-Final match. Alamy Stock Photo
Right, that's all from me for now.
Thanks for reading and commenting.
We'll have more reaction to follow and you can read our match report here.
For the latest news coverage on the Fifa World Cup Qatar 2022, see here >