Argentina 3-3 France – Argentina win 4-2 on penalties.
Hello, and welcome to today's liveblog.
We're set for a really fascinating game.
Can Lionel Messi inspire Argentina to victory, as he has done already on numerous occasions in this tournament, thereby ending his international career in a fitting fashion?
Or will France's star power and greater strength in depth prove too difficult for their opponents to overcome?
The likes of Hugo Lloris, Kylian Mbappe, and Olivier Giroud are looking to win a second successive World Cup — that would be a similarly extraordinary achievement to Messi and would see them become the first team to secure back-to-back trophies since Brazil in 1962.
Kick-off is at 3pm Irish time.
Who do you think will win?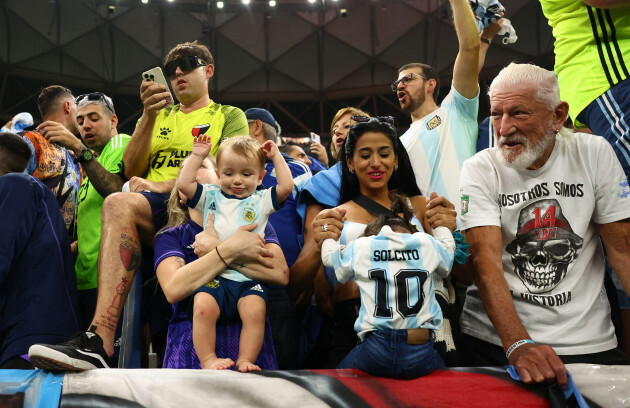 Alamy Stock Photo Argentina fans of all ages get ready for the final. Alamy Stock Photo
A word for the people that built this tournament, toiling in the sun for meagre wages, while risking their lives. The human toll of this thing was just immense. Those workers also helped fill empty stadiums to ensure the World Cup had its backdrop. Few, if any, here today.

— tariq panja (@tariqpanja) December 18, 2022
Early chance!
De Paul flicks it over the defence for Alvarez, who can't get a proper connection on his volley.
He was correctly ruled to be marginally offside anyway.
Griezmann gives it away in a dangerous area.
MacAllister then decides to take a shot on from about 25 yards out, but it's straight at Lloris and easily saved by the Tottenham man.
De Paul's goalbound shot deflects off Varane and goes out for a corner.
France are really under the cosh in these early stages.
A worrying moment for France as Lloris is down with a knock after a collision at a corner with Romero.
It looks like he'll be okay to continue, however.
France get a rare sight at goal.
Mbappe tries to play a one-two with Rabiot, but the latter's return pass is overhit and Martinez is alert to gather it.
Another flowing move involving Messi.
It ultimately falls to Di Maria on the edge of the area but he blazes his first-time shot over the bar.
Griezmann floats a free kick into the area.
A stretching Giroud gets his head to it but can't steer his effort on target.
He was penalised for an infringement on the defender anyway.
Di Maria beats Dembele and then the Frenchman clumsily takes him down.
Messi stepping to take the penalty.
ARGENTINA 1-0 FRANCE (MESSI 23)
Messi sends Lloris the wrong way to give Argentina a deserved lead.
That also takes him ahead of PSG teammate Mbappe as the tournament's top scorer, as he gets the early edge in their personal dual.
It's also his 12th World Cup goal and 97th in total for his country.
Argentina holds its breath as Messi goes down after jumping to challenge for the ball with Hernández.
The Argentine's main man goes off the field briefly but it looks like he'll be fine to continue.
Argentina continue to look like the far better team.
They are controlling the game and winning most of the second balls.
At this stage, the South Americans seem the more likely to get the next goal.
ARGENTINA 2-0 FRANCE (DI MARIA 36)
Argentina double their advantage and it's a stunning counter-attacking team goal.
Messi plays a clever pass in the build-up and it ends with MacAllister's perfectly weighted cross for Di Maria, who shows good composure to slot it home.
The score right now is in no way harsh on France.
Argentina are the much better team, whereas their rivals appear off the pace.
Not many people would have anticipated such a one-sided final in Argentina's favour.
That said, the South Americans have had some nervy moments towards the end of games already, so a comeback is not inconceivable.
Deschamps is clearly not happy and already, he is making a double change.
The ineffectual Giroud and Dembele come off, while Thuram and Kolo Muani are on.
We're into seven minutes of stoppage time.
Hernandez is lucky to escape a booking after a very challenge on De Paul.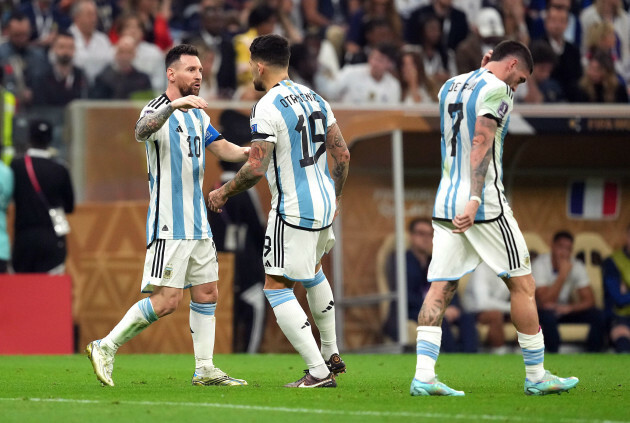 Alamy Stock Photo Argentina's Lionel Messi (left) celebrates scoring their side's first goal of the game from the penalty spot with team-mates Nicolas Otamendi and Rodrigo De Paul (right). Alamy Stock Photo
It's still early days, but France are looking like a beaten team at the moment.
They've offered so little going forward in this first half.
HALF-TIME: ARGENTINA 2-0 FRANCE
Half-time and it's Argentina firmly in the ascendancy.
The likes of Messi, Di Maria and MacAllister have been among the most impressive performers amid an excellent, solid, efficient all-round display from the South Americans.
France, by contrast, have been very disappointing, as was epitomised by Deschamps' ruthless decision to haul off both Giroud and Dembele in the 41st minute.
Meanwhile, Mbappe and Griezmann, two of the best players in the tournament, have had quiet afternoons.
The French have looked off the pace in general and you'd wonder whether the reports of multiple illnesses in the camp before the game are playing a significant factor in this deeply underwhelming performance.
The second half has begun…
Di Maria crosses for De Paul, whose volley is straight at Martinez.
Still, just one team who look like scoring at the moment.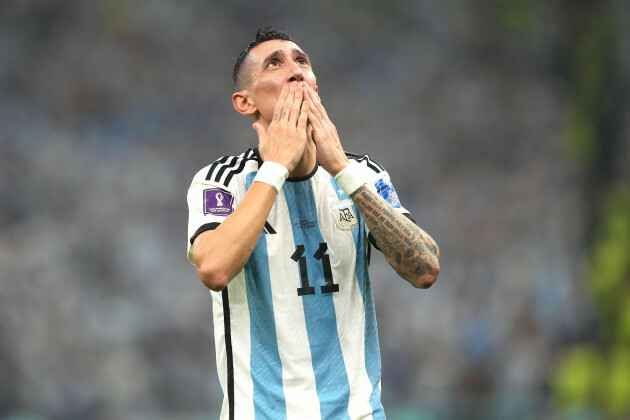 Alamy Stock Photo Argentina's Angel Di Maria celebrates scoring their side's second goal of the game. Alamy Stock Photo
A rare moment of promise for France, as they get a corner.
However, Griezmann's ball in is comfortably gathered by Martinez.
Rabiot is booked for a late challenge on De Paul.
Moments earlier, Martinez was a little fortunate, as he completely miscued a clearance, but it did not fall kindly for a French player.
Argentina need to be careful they don't get too complacent and continue to play in a professional and calm manner.
Mbappe kicks out at De Paul and is penalised.
It's been a very frustrating afternoon for the striker, who has offered almost nothing to the game.
As I type, Alvarez gets a sight at goal, but his effort from a tight angle is saved by Lloris.
Di Maria crosses low. It's a lovely dummy by De Paul.
It then comes to Messi, but the defender closeby does enough to put him off, as he can't find the target.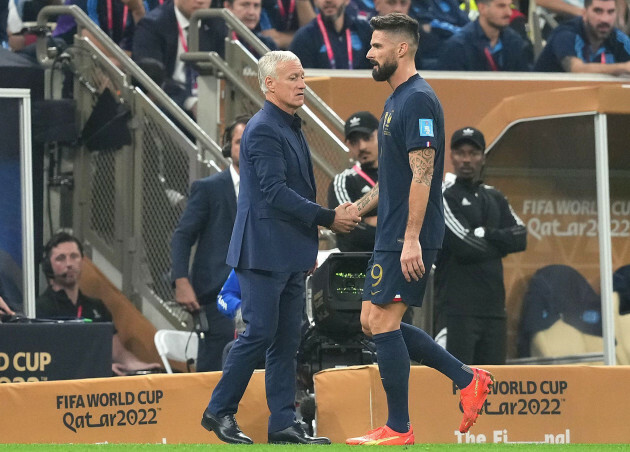 Alamy Stock Photo France's Olivier Giroud (right) looks dejected as he shake hands with manager Didier Deschamps. Alamy Stock Photo
It's another excellent counter-attack from Argentina.
Lloris is alert to get to the through ball before MacAllister, who appears to get a slight nudge from Upamecano, but the referee waves play on.
Meanwhile, Argentina make a change.
Di Maria, who was not a certain starter, has certainly justified his coach's faith in him with a stellar performance, and he's now replaced by Acuna.
Griezmann puts a dangerous ball into the box that no one can get on the end of.
A reminder that this game is not over yet.
Griezmann's ball in is headed narrowly wide by Kolo Muani.
France are finally starting to show signs of life, but is it too little too late?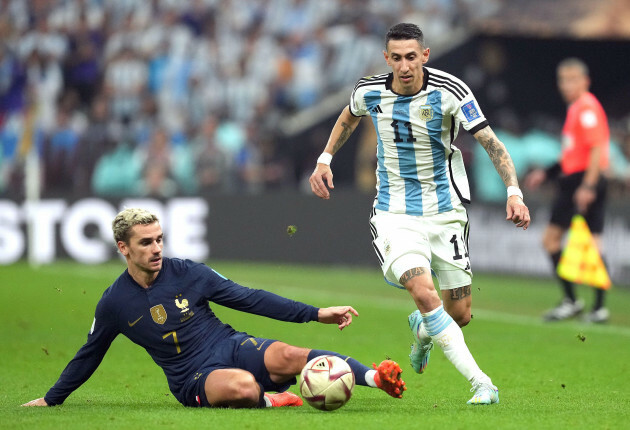 Alamy Stock Photo Argentina's Angel Di Maria (right) and France's Antoine Griezmann battle for the ball. Alamy Stock Photo
More France changes. Hernandez and Griezmann are off, Coman and Camavinga are on.
As I type, Mbappe gets a sight at goal following a good dribble, but under pressure from a defender, his effort goes just over.
That was a half-chance at best, but probably still the closest France have come to scoring.
Varane has just put the ball straight out of play, summing up France's woeful day so far.
The camera pans to Deschamps and he does not look impressed, to put it mildly.
Out of nothing, France have a chance back into this game.
Otamendi needlessly takes down Kolo Muani as he runs through on goal.
ARGENTINA 2-1 FRANCE (MBAPPE 80)
It's not really merited, but France are back into this game.
Martinez gets a hand to Mbappe's penalty but can't keep it out.
ARGENTINA 2-2 FRANCE (MBAPPE 82)
Somehow, France are level.
Mbappe, having done nothing for much of the game, has scored two in quick succession.
His second is a wonderful volley from the edge of the area, after Messi is dispossessed by Coman in the build-up.
Another moment of panic for Argentina, as it looks like France have a penalty.
However, the referee ultimately opts to correctly book Thuram for diving after going down too easily with minimal contact.
There will be eight minutes of stoppage time.
Could there be another twist before the whistle or are we destined for extra time?
Mbappe shoots but it deflects over off Otamendi
Moments later, it falls to Rabiot on the edge of the area but it's straight at Martinez, who gathers at the second attempt.
All the momentum is with France now, while Argentina haven't really recovered mentally from the concession of those two goals.
So close!
Messi creates space on the edge of the box, but Lloris does very well to tip over his powerful strike.
FULL-TIME: ARGENTINA 2-2 FRANCE – EXTRA TIME TO BE PLAYED!
So incredibly, we have another 30 minutes and potentially penalties to play.
Argentina's biggest flaw throughout this tournament has been their struggle to see games out and that has come back to hurt them again.
It seems now France, who looked dead and buried for much of this game, suddenly have all the momentum.
Whatever happens next, this surely a strong contender for game of the tournament already.
The first half of extra time is underway…
Argentina made a change before extra time.
Molina has been replaced by Montiel.
Messi is on the attack, but Camavinga does well to stop him and then win a free kick.
The 35-year-old is starting to look tired now.
France's turn to make a change.
Fofana is on for Rabiot.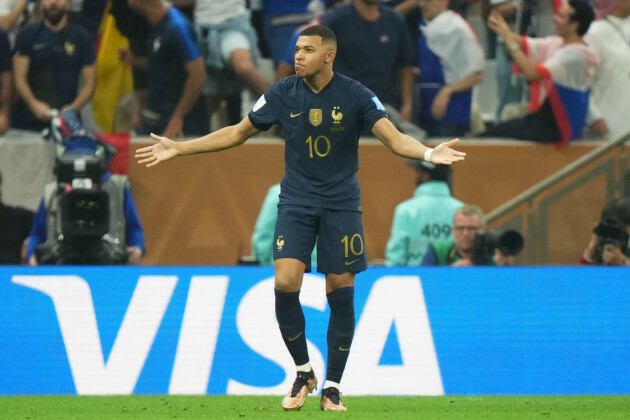 Alamy Stock Photo Kylian Mbappe of France celebrates his goal with his teammates. Alamy Stock Photo
Romero is lucky to get away with a poor challenge on Mbappe.
The play had already been stopped for offside, so the officials decide to ignore it.
Argentina are under the cosh now.
Coman's shot is deflected out for a corner.
More changes for Argentina.
Martinez and Paredes replace De Paul and Alvarez.
Acuna finds himself in a promising area, but his cross is wayward.
Argentina have looked a bit more stable since extra time.
A close call for France.
Messi is at the heart of the attack again. He lays it to Martinez, whose goalbound shot is stopped via a terrific block by Upamecano.
As I type, Martinez runs through on goal but he can only steer it wide under pressure from Upamecano.
HALF-TIME: ARGENTINA 2-2 FRANCE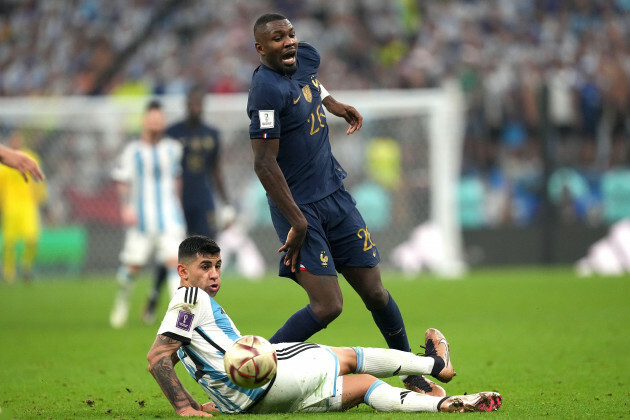 Alamy Stock Photo France's Marcus Thuram reacts after being tackled by Argentina's Cristian Romero. Alamy Stock Photo
The second half has begun…
ARGENTINA 3-2 FRANCE (MESSI 109)
It's another counter-attack. Martinez's shot is saved, but Messi is on hand to convert the rebound.
There is some initial uncertainty, as Kounde attempted to clear it off the line, but replays reveal it was a clear goal.
France make another change.
An exhausted-looking Varane is helped from the field.
Konaté comes on in his place.
Paredes gets booked for a poor challenge on Camavinga.
Argentina will do everything to slow this game down now with around five minutes left.
Mbappe's shot comes off the hand of Montiel.
ARGENTINA 3-3 FRANCE (MBAPPE 118)
Mbappe has equalised, sending the goalkeeper the wrong.
That's his hat-trick and eighth goal of the tournament.
He's surely set for the Golden Boot now.
Corner to Argentina now.
This game isn't over yet.
Mbappe crosses for Kolo Muani, whose header goes just wide.
There will be three minutes of stoppage time.
Argentina make a change.
Dybala is on for Tagliafico.
Messi plays it through for Martinez, but the finish is saved by Lloris' legs.
Then Martinez makes a superb save to deny Muani for close range, before Martinez then heads it wide down the other end.
FULL-TIME: ARGENTINA 3-3 FRANCE – PENALTIES TO BE PLAYED!
This has to be a contender for the best World Cup final ever.
It is so unpredictable and there have been so many twists and turns.
Extra time in particular was end to end, and either side could easily have won it.
Argentina have greater experience at penalties, but France will feel the luckier of the two sides to be at this point, so it's anyone's guess what transpires from this point onwards.
France 1-0 Argentina – Mbappe scores.
Argentina 1-1 France – Messi scores.
France 1-1 Argentina – Coman misses.
Argentina 2-1 France – Dybala scores.
France 1-2 Argentina – Tchouaméni misses.
Argentina 3-1 France – Paredes scores.
France 2-3 Argentina – Muani scores.
Argentina 4-2 France – Montiel scores.
FULL-TIME: ARGENTINA BEAT FRANCE 4-2 ON PENALTIES!
Wow! That was an absolutely breathtaking finish.
It's a fairytale end for Lionel Messi after his side showed greater composure once it went to penalties.
Mbappe may have got the Golden Boot, but his fellow superstar won't mind too much.
It's certainly deserved, as Argentina were the better team over the course of the 120 minutes.
That said, France could easily have won it at the end, with Martinez making a stunning save to deny Kolo Muani late on.
It's certainly tough on Les Bleus, who contributed to a thrilling game after a poor start.
But there is a feeling of fate with Argentina winning and their main man going out on a tremendous high.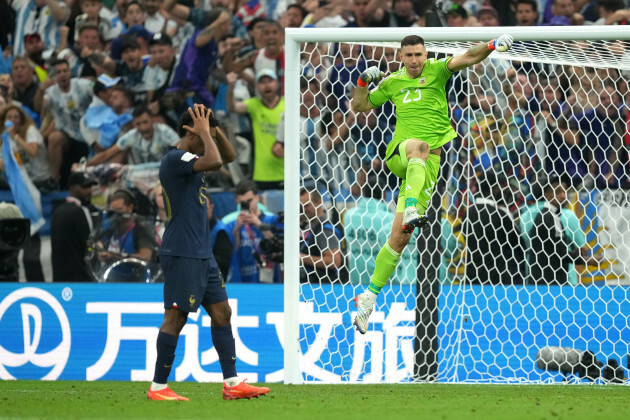 Alamy Stock Photo Argentina goalkeeper Emiliano Martinez (right) celebrates after saving France's Kingsley Coman's penalty. Alamy Stock Photo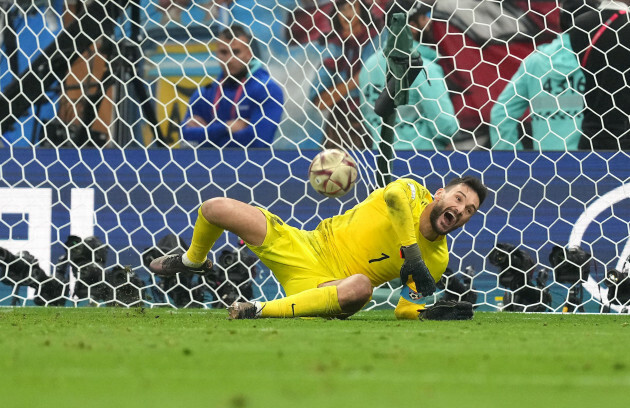 Alamy Stock Photo France goalkeeper Hugo Lloris reacts after failing to save Argentina's Paulo Dybala penalty kick. Alamy Stock Photo
Right, that's all from me for now.
Thanks for reading and commenting.
We'll have more reaction to follow shortly.