Get in touch with us as the evening progresses. Leave a comment in the comments field below, send your e-mails to niall@thescore.ie, tweet us @thescore_ie, or come find us on Facebook. It's the right thing to do …
Parting Shot That's about all from me on a night when FC Barcelona proved once again that they are the best footballing side in the world and that we should accept no imitations.
Arsenal were completely lacking any sort of attacking spirit in the opening 45 minutes and, although they did start the second half with a bit of a spring in their step, they still didn't have a single shot on target for the whole game.
Dissatisfied Gunners fans will point to van Persie's red card as a terrible refereeing blunder and a game-changer. He's not the first player to be sent off for kicking the ball away after the whistle had blown though (remember Denis Irwin at Anfield?), and besides, it was quite evident that he wasn't fully fit anyway.
Nor was Cesc Fabregas, which made Arsenal's task of trying to cope with their reduced numbers even more difficult. Had it not been for Manuel Almunia, the scoreline would have been a lot less flattering.
Bearing all that in mind, it must be remembered that Arsenal very nearly stole this one at the death. If only their final chance hadn't fallen to Nicklas Bendtner …
That's it anyway, thanks for joining me. Adrian will be here for Spurs vs Milan tomorrow. See you then.
22.10 Some comments from Arsene Wenger: "We resisted their pressure in the first half and it would have become very interesting in the second half if it had stayed 11 v 11."
We have many regrets because if you look at how we went out [in reference to van Persie's sending off], it was wrong. In a game of this importance, and with people shouting, the referee must have never played football at all to do what he did.
21:58 RVP is not happy. How do I know? Let's just say he wasn't holding back in his post-match interview.
21:53 More clips anyone? Here's Xavi's goal. Unless you too are madly in love with Villa's role in this goal, I would advise you to leave now.
… and here's Koscielny's challenge on Pedro and Messi's penalty.
21:50 OptaJoe has been in touch with the stat that matters: Barcelona (1) attempted more shots on their own goal than Arsenal managed themselves (0) in this match. Exit
FULL TIME: BARCELONA 3-1 ARSENAL (4-3 agg) That's it, Arsenal's European adventure is over for another season. As with last year, there can't be too many arguments – they were beaten by the much better team.
90+3 min: Barca won't let Arsenal have a touch. Wilshere eventually bundles Iniesta over in frustration – I don't blame him.
90+1 min: Full Time in Donetsk – Shakhtar 3-0 Roma (6-2 agg). Barca still come forward in search of number four.
90 min: Four minutes of injury time.
86 min: That might have been Arsenal's chance right there. Arshavin plays in The Best Striker in the World (TM), but Bendtner's first touch is not befitting of that title. He can't really control the bobbling ball, and Mascher gets in to knock the ball to safety. That's a huge tackle from the Barca midfielder, but Bendtner should have done better.
85 min: And if Barca somehow conspire to lose this, they only have themselves to blame. Alves was one-on-one and just needed to stick it past Almunia, but instead chooses to square it to Messi for his hat-trick. His pass goes astray and Arsenal survive.
84 min: If Arsenal somehow manage to win this tie, they owe Manuel Almunia a raise. Without him, it could be 7-1. This time, Messi comes hunting for a hat-trick and when Arshavin tackles him, the ball breaks to Affelay six yards out. Almunia is on top of him before he knows what to do, however, and the chance goes a-begging.
82 min: … and he very nearly scores with his first touch, holding off the attention of Djourou for just long enough to shoot across the face of goal. Lawro's clearly been watching the cricket – "he put a bit of leg spin on it there when what he needed was off spin". Eh?
81 min: Affelay is on for Villa …
76 min: This game is not over yet – Arsenal really need to go for it. They've made some changes accordingly. Arshavin is on for Rosicky, while Fabregas is replaced by Nicklas Bendtner aka The Best Striker in the World (TM).
75 min: Here are some clips for you. Firstly, Busquets' o.g.
… and the RVP sending-off.
71 min: GOAL (Messi pen 71′) Messi calmly slots it into the bottom left-hand corner of Almunia's net. Arsenal need to score now or they're out – they've got 20 minutes. No extra-time tonight. Barcelona 3-1 Arsenal.
70 min: PENALTY TO BARCELONA An absolute stone-waller from where I'm sitting. Xavi and Pedro link up beautifully again, this time in reverse – Xavi feeds his young team-mate and Koscielny carelessly chops him down. Game-changing moment coming up here …
68 min: GOAL (Xavi 68′) Oh me, oh my – that was quite beautiful. A glorious jinking run from Iniesta before he feeds the ball to Villa on the edge of the box. Without even looking, the striker plays a perfectly weighted ball into the onrushing Xavi's path, and he finishes with a cool head. Barcelona 2-1 Arsenal.
66 min: Almunia is playing like a man possessed. Messi plays a lovely through ball to Villa, but by the time the Barca striker can get his shot away, Almunia has narrowed the angle so much that the shot bounces away off his chest. If Villa gets as many chances in the next 22 minutes as he has in the last 22, he'll score.
63 min: Also, as a separate but related question, how much time has to be wasted before an action is considered "time-wasting"?
62 min: Playing Devil's Advocate here, but riddle me this – how come all the players have heard every other whistle all night, but RVP didn't hear the one that mattered?
60 min: Glorious opportunity wasted by Dani Alves. Adriano got himself into a shooting position, but chose instead to pull it back to the Brazilian on the edge of the box. It was almost as if he didn't expect it though, getting underneath the ball and putting it high into the stands.
57 min: Another great save from Almunia who stops Villa from close range again. He can play when he wants to, Almunia.
55 min: RED CARD (van Persie) Oh dear. That's harsh on RVP, but also a very silly second yellow card to pick up. He was flagged offside as he bore down on the Barca goal, but he squeezed his shot off anyway and the referee has booked him for kicking the ball away.
Van Persie leaves the pitch, but not before a lengthy protest in which he explains that he couldn't hear the whistle over the noise of the crowd. Which is possible, but the ref is having none of it.
53 min: And they very nearly had it there. Villa broke, but Almunia got down smartly to prevent him from scoring.
52 min: GOAL! (Busquets OG 52′) Arsenal have a corner which Nasri puts in the mixer. Busquets rises unchallenged and nods past Valdes in his own goal. He didn't seem to be under too much pressure there. Game on – Barca need another goal now to force extra-time, and two more to win outright. Barcelona 1-1 Arsenal
50 min: Summary of minutes 46-50 — Arsenal look like they might try to attack at some stage but Barca are far more comfortable on the ball. Messi looks like he has another goal in him.
48 min: Messigol anyone? I could watch it over and over again.
47 min: Seán O'Cheafarcaigh has also given us a shout – he reckons that RVP will score in the second half. If I remember rightly, Seán wasn't a million miles away with his predictions last time out. Watch this space.
46 min: Mark Hobbs has been in touch with this: This will hopefully put an end to the comparisons between Barca + Arsenal – it's the 2nd year in a row they have been comprehensively "out-footballed".
Time to defend your side's footballing integrity, Arsenal fans.
20.55 We're back underway at the Nou Camp.
20.54 Alright, a few quick thoughts from me.
1. Arsenal are doing precisely what they moan about when opponents play against them every week i.e. parking the bus. They're showing nothing in attack, which they'll have to work on because they need a goal now.
2. The fact that Barca are missing their two first-choice centre-halves has been irrelevant to this point. Abidal and Busquets have had more touches in the opposition half than they have in their own.
3. Barca are pulling every trick in the book to try and wind Arsenal up and to try and trick the referee. I'd be amazed if this one finished 11 vs. 11.
4. Arsenal need a goal. They also need their captain to stop trying outrageous flicks on the edge of his own box.
5. Messi is a god, followed closely by Iniesta.
20.45 Thoughts? Anyone?
20.44 Ex-Premier League keeper Shaka Hislop liked Messi's goal apparently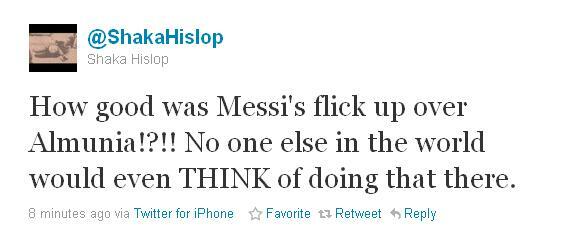 20.41 Martin Tyler has summed that up as as "Messy with a Y from Arsenal, Messi with an I for Barcelona". How do these people get paid?
20.38 One major thing to get off my chest before I go to make a cup of tea. In the build-up to Messi's goal, Fabregas gave the ball away with the most unnecessary backheel ever on the edge of his own box. What was he thinking?
In other news, I cannot stress how good Messi's finish was. Wait till you see it.
Half time: Barcelona 1-0 Arsenal // Shakhtar 1-0 Roma
47 min: GOAL! (Messi 45′+2) That is simply sensational from Barcelona. Iniesta played the most delicate through-ball to Messi who takes a touch to lift it over the advancing Almunia before burying it with his next one. Great build-up and simply sublime finishing from the little Argentinian. Barcelona 1-0 Arsenal
45 min: RVP picks up a booking for his troubles. He's obviously still wound up after his little tete a tete with Abidal as he pushes Alves in the challenge. Nothing to it really, but he's shown yellow anyway.
44 min: More handbags now. Mascher mashes Wilshere with the kind of strong but fair challenge that endeared him to Liverpool fans for so long, and as the sides come together to have a good old chat about it, Abidal shoves van Persie away. As I said, handbags.
41 min: We've a bit of a break in play while Abidal is treated for a knock. I've just had a chance to see a Barca penalty shout from a few minutes ago again. Messi knocked it past Clichy on the edge of the box and then went down under his challenge. Lawro is claiming that it wasn't given because Messi "didn't have control of the ball" – surely he has control of the ball no matter how far away from him it is? This is Messi we're talking about.
37 min: Here's Hubschmann's goal for Shakhtar. Not sure if he meant it or not, but they all count, don't they?
35 min: Adriano nips around the back of the Arsenal defence but his cross cannons back off the post.
34 min: Another well-timed tackle from Djourou nicks the ball away from Messi as he tried to manufacture a bit of space in the box.
33 min: A lovely through ball from Iniesta sets Villa free down the left, but Djourou is with him every step of the way which means that his shot from a narrow-ish angle is weaker than he'd like. Almunia deals with it comfortably.
31 min: The Leo Messi show rolls in to town. He beats Djourou, Koscielny and Clichy as he weaves his way into the box. Just as he's about to pull the trigger though, he takes an extra touch which gives Djourou time to get all the way back across and dispossess him.
28 min: Oh dear, Borriello has missed a penalty for Roma. You'd know that I've backed them, wouldn't you?
Shakhtar still 1-0 up in Donetsk.
27 min: RVP and Koscielny have a half-bite of Messi each, but there's nothing much to it. Koscielny would probably be best advised not to get involved if he wants to see the 90 minutes out.
24 min: Nasri's gone down under a heavy tackle from Dani Alves, and Arsene Wenger isn't best pleased. Looking at it again, the Brazilian won the ball though he may have caught Alves afterwards.
They're all back on their feet now though, so no harm done.
23 min: Here's a fact for you from @OptaJoe: "Manuel Almunia has conceded seven goals in 200 minutes of football for Arsenal against Barcelona before today."
20 min: Shakhtar have taken a 1-0 lead against Roma, Tomas Hubschman with the goal. That will not help my bet.
17 min: Yup, that's the end of Wojciech Szczesny's night. Manuel Almunia is on in his place for Arsenal. That should inspire confidence among the Arsenal back four.
16 min: Anxious moments for Arsenal fans. Szczesny's hurt his finger in saving that and he might have to come off.
15 min: There's a booking for Koscielny – he took Pedro out about 35 yards out. Dani Alves has a go – yup, even from that distance – but it's straight at Szczesny.
14 min: Barca are camped in the Arsenal half at the moment. Another couple of minutes and they'll be starting a fire to cook the tins of beans.
12 min: Great defending by Koscielny. Messi was motoring with purpose towards the Arsenal goal, but the Frenchman forced him wide and then got a foot in to knock the ball towards the corner flag. Good start for Koscielny so far.
10 min: Unsurprisingly, Arsenal are playing with a very high line again. Although the back four don't seem to be playing a huge amount of attention to where that line should be – they're just stepping up at random. An interesting tactic, but probably not advisable.
8 min: What do the stars think? Here a tweet from Liverpool's Glen Johnson

5 min: Arsenal break with intent through Rosicky on the right, but he overhits his pass as he tries to find RVP in the box and it goes behind for a goal kick.
3 min: Great ball over the top from Xavi who finds Pedro. Koscielny gets across just as he's about to pull the trigger though and  deflects it behind for a corner.
2 min: Arsenal have decided that they're not going to be pushed around here tonight. Clichy and Nasri getting the early shoves in.
0 min: We're off.
19.43 Teams are out on the pitch and the glorious strains of the Champions League anthem ring out around Camp Nou. We're just about ready to go.
19.41 History lesson? Here's a clip from last year's fixture.
Tony Cascarino has just said that Arsenal "got smashed". Doesn't he know you're not allowed say "the s word" any more?
19.39 In other, non-footballing news, the trailer for "Fair Game" has just been on. Looks good.
19.37 Clare has been in touch to say that she expects Arsenal to deliver a "bare arsa spanking." That's the most printable thing I've been sent tonight. Get your minds out of the gutter, kids.
19.36 TV shows Cesc Fabregas entering the ground wearing headphones. Beyonce's "Halo" can be heard in the background. Love it.
19.34 TV3 have splashed out the big bucks to bring in Martin Keown for tonight's match. I like Keown – he actually knows what he's talking about, unlike most football pundits who find their way onto the box.
19.30 Ok, I've made my mind up. Kind of.
I'm really not sure how tonight's action is going to unfold, but my money is on both Barca and Roma to win their matches in 90 minutes. Whether either side can do enough to qualify, I'm not sure.
19.25 Your comments on RVP's inclusion are starting to find their way to me. The general consensus is that Barca should be afraid, but most of the comments are unprintable due to the fact nearly everyone has chosen to express this sentiment by punning on Mr. van Persie's alleged previous misconduct. Shame on you.
19.20 Exhibit B:
19.16 Time for some serious thoughts. Arsenal more than held their own at the Emirates three weeks ago. The defenders pushed up high, making the midfield very congested which did not suit Barcelona's tippy-tappy … sorry, tiki-taka … brand of football.
The danger, as we saw, is that if your defence plays a high line, you're only one pass away from disaster. Barcelona are very good at playing that pass.
Exhibit A:

19.12
Neutrals – who are you rooting for? Not necessarily who you
think
will win, but who you would
like
to win. Get in touch and let us know.
19.04 For those of you interested in the night's other Champions League tie, here's the Roma team for their trip to Donetsk. I will probably say this on more than one occasion tonight, but I think Roma will win.
AS Roma: Doni; Burdisso, Mexes, Juan, Riise; De Rossi, Pizarro; Taddei, Perrotta, Vucinic; Borriello
19.00 Just in case you don't believe me, here's a photo of the teamsheet (via @johncrossmirror), confirming that Tomas Rosicky does in fact start for Arsenal.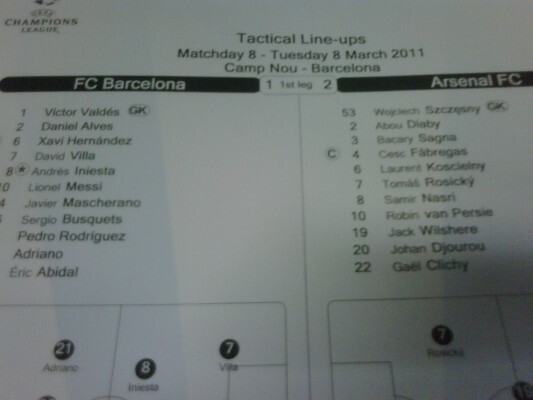 18.50 Rosicky? Seriously?
Team News The rumours were true – Robin van Persie starts for Arsenal, but there is no place is tonight's starting 11 for Arshavin who drops to the bench. Somehow, Tomas Rosicky has managed to steal himself a jersey when the kit-man's back was turned. Bizarre.
For Barca, Pep Guardiola has gone with a central-defensive pairing of Busquets and Abidal due to the absence of Pique and Puyol.
Arsenal FC: Szczesny; Sagna, Djourou, Koscielny, Clichy; Diaby, Wilshere; Nasri, Fabregas, Rosicky; Van Persie
FC Barcelona: Valdes; Alves, Busquets, Abidal, Adriano; Xavi, Mascherano, Iniesta; Pedro, Messi, Villa
Opening Salvo Is it too early to start getting excited?
In a little over an hour's time, Barcelona and Arsenal will take to the Nou Camp pitch for the most eagerly anticipated football match since … well, since the two sides met at the Emirates three weeks ago. Just in case you need reminding, Arsenal were played off the park for 45 minutes that night before punishing Barcelona's nonchalance with late goals from Robin van Persie and Andriy Arshavin.
We've no official team news yet, but it appears that van Persie has recovered from a knee injury and will take his place in Arsenal's starting line-up. How much he has actually recovered is still unknown, but I'm sure we'll be able to work that out at some stage over the next hour.
Stay put – this one's gonna be great.