Bohs 1-1 St Pat's (Pat's win 4-3 on penalties)
Hello, and welcome to today's FAI Cup final liveblog.
It's a huge game for both teams.
St Pat's last lifted this trophy in 2014, while 2008 was the most recent occasion Bohs tasted success in the competition.
Premier Division runners-up St Patrick's Athletic are already guaranteed European football next year, but Bohemians will need to win today to join them there after a fifth-place finish in the league.
Meanwhile, Derry City fans will become Saints supporters for the day, as a victory for Stephen O'Donnell's side would mean the Candystripes' fourth-place finish will be good enough for a European spot next, so there is a lot on the line today.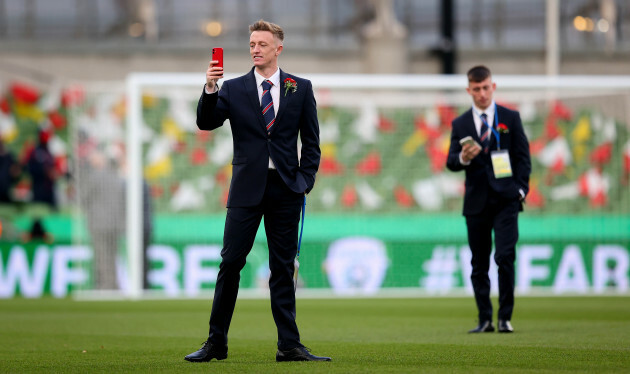 Ryan Byrne / INPHO Chris Forrester. Ryan Byrne / INPHO / INPHO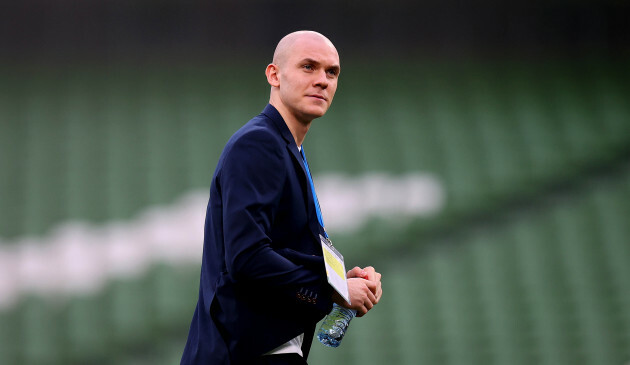 Ryan Byrne / INPHO Georgie Kelly. Ryan Byrne / INPHO / INPHO
Half-chance for Bohs.
Burt plays through the onrushing Tierney.
The youngster toe pokes his finish just wide from a tight angle under pressure from Barett.
Talbot comes off his line and slices his clearance.
It comes to Bermingham on the volley about 30 yards out but he can't direct his effort on target with the 'keeper stranded.
Burns threatens to escape Wilson, but the defender makes a challenge that the referee deems fair despite the Pat's man crashing to the ground as he's tackled.
That's one of a number of intriguing individual battles in today's game.
Matty Smith has a pot shot from the edge of the area but it drifts harmlessly wide.
Pat's have got the better of the early stages in terms of possession and territory, while Bohs have sat back and attempted to hit their rivals on the counter-attack.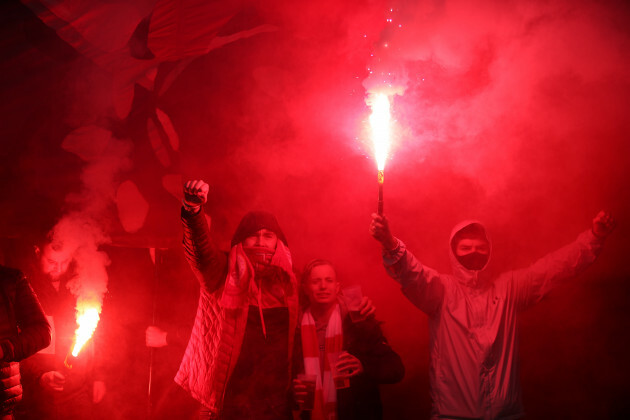 Evan Treacy / INPHO St. Patrick's Athletic fans. Evan Treacy / INPHO / INPHO
Burns plays a good through ball for Bone.
However, Talbot does well to get out quickly and tighten the angle, and in the end, the defender's effort is well off target.
Down the other end, Burt fails to really trouble Jaros with an effort from distance before Kelly finds the side netting from a tight angle after being played in by Coote.
Talbot comes for a corner, but Forrester gets there before him.
The midfielder heads over the bar and gets clattered by Talbot while doing so, but there is no adjudged infringement by the goalkeeper.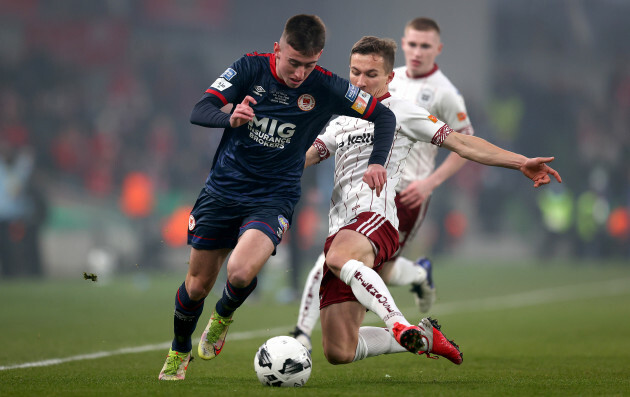 Ryan Byrne / INPHO Tyreke Wilson and Darragh Burns. Ryan Byrne / INPHO / INPHO
There's a stoppage now following a coming together between Benson and Cornwall. A headband has been put on the former and both should be okay to continue.
The lively Burt goes on a run before trying to chip the goalkeeper from the edge of the area, but it goes a few yards off target.
Bohs have come into this game more in recent minutes.
Pat's are playing without a recognised striker and are lacking a cutting edge in the final third so far.
It's been quite a tight, tense match in general.
As I type though, Benson lays it off to Lennon, whose low strike is turned around for a corner by the diving Talbot.
Buckley chests it down for Tierney on the edge of the area, but the youngster can't get a clean strike on target under pressure from Bone.
This fixture remains very balanced with half-time approaching.
Devoy plays through Kelly, but Barrett reads it well and prevents the striker from getting a shot away.
Bohs have been better as this half has developed.
Benson finds Forrester with a low cross.
But a deflection takes the sting out of the midfielder's shot and it's an easy save for Talbot.
Down the other end, the ball falls to Tierney on the edge of the area, but he drags the shot wide.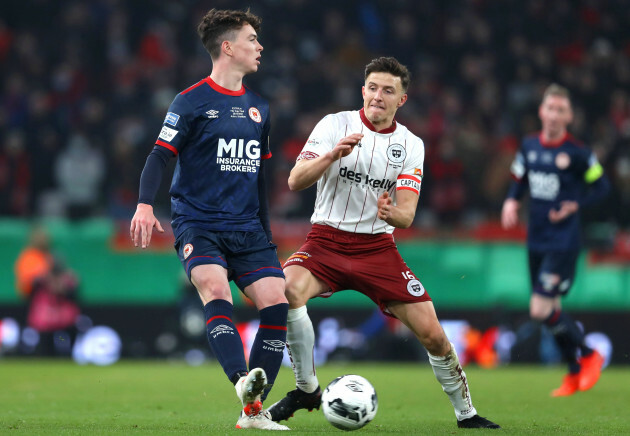 Evan Treacy / INPHO Pat's Alfie Lewis with Keith Buckley of Bohemians. Evan Treacy / INPHO / INPHO
HALF-TIME: BOHEMIANS 0-0 ST PATRICK'S ATHLETIC
So scoreless at half-time.
Pat's were on top early on but Bohs got better as they adapted to their opponents' strikerless system and were probably marginally the superior team as the half came to a close.
Lennon has come closest to scoring, as his low shot forced a good save from Talbot, but it's been fairly even in general, with both teams creating a couple of half-chances.
With 45 minutes to play, who prevails is anyone's guess, with neither team particularly dominant as it stands.
The second half has begun…
Ryan Byrne / INPHO President of Ireland Michael D. Higgins with FAI President Gerry McAnaney. Ryan Byrne / INPHO / INPHO
Burt gets to the ball just ahead of Barrett and draws the foul.
Tyreke Wilson, who is more than capable of a spectacular set-piece goal, doesn't really catch it as he would like, and it's an easy save for Jaros.
It's been a fairly uneventful start to this second half with chances remaining at a premium.
Five of the last six FAI Cup finals have gone to extra-time, and this game could well end up continuing that pattern.
Play has been stopped temporarily as there is a smoke bomb in the penalty area.
There's certainly a boisterous atmosphere at the Aviva today.
Bohs counter with Burt putting a low cross into the area.
Coote and Kelly then both see goalbound efforts blocked by Pat's players.
Pat's and Bohs make a change.
Billy King replaces Lennon.
Meanwhile, Kelly has pulled up and needs to go off, with Promise Omochere taking his place.
So ends a fantastic 26-goal season for the Bohs striker.
Alfie Lewis is down with cramp but should be okay to continue.
This game is starting to open up more as players tire.
Pat's are looking more dangerous now.
A Bermingham cross eventually falls to Burns, but his clipped effort under pressure from the Bohs defence is easily saved by Talbot.
Ciaran Kelly, who looks to have picked up a knock, is replaced by Rory Feely
Meanwhile, Pat's also make a sub, as Jason McClelland is on for Matty Smith.
Ryan Byrne / INPHO Bohs' Georgie Kelly goes off injured. Ryan Byrne / INPHO / INPHO
37, 126 is the official attendance — that's the biggest crowd at this game since the 1945 final between Shamrock Rovers and Bohs,
Big call for Pat's, meanwhile. Barrett is off, and 17-year-old defender James Abankwah comes on.
Another change for Bohs.
Stephen Mallon replaces Ali Coote.
Mallon nearly makes an immediate impact, as his cross just misses the outstretched leg of Omochere.
Just three minutes, plus stoppage time, remains.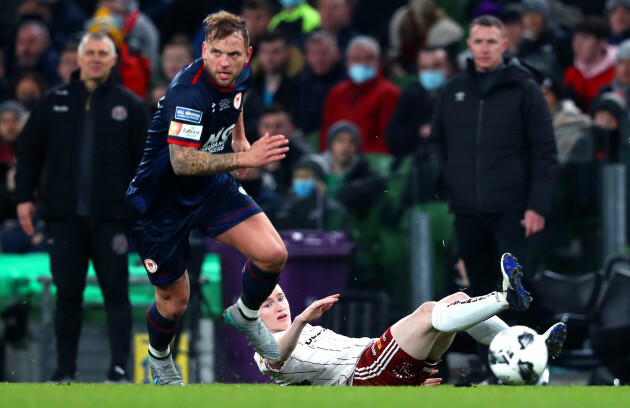 Evan Treacy / INPHO Pat's Paddy Barrett with Ross Tierney of Bohemians. Evan Treacy / INPHO / INPHO
There will be six minutes of stoppage time…
It remains fairly scrappy with no clear-cut chances.
Extra-time beckons, barring a highly dramatic moment in the next minute.
Another change for Pat's.
Bone is replaced by Jak Hickman.
FULL-TIME: BOHEMIANS 0-0 ST PAT'S – EXTRA-TIME TO BE PLAYED
Darragh Burns crosses for Billy King, whose header is cleared off the line.
Down the other end, Rory Feely plays through Ross Tierney, but he takes a touch when it needs a first-time shot and Desmond has time to make the interception.
Another change for Pat's.
Alfie Lewis, who has put in a big shift, is replaced by Ronan Coughlan.
Pat's are looking the stronger team at the moment.
They are controlling the game, with Bohs largely pinned back into their half.
Buckley lays it off to Omochere on the edge of the area, but his effort is straight at Jaros.
Better from Bohs.
Another change for Bohs.
Liam Burt, who has looked a threat at times, is replaced by Keith Ward.
Big chance!
Billy King plays through Coughlan, but Talbot is out quickly to smother the shot.
BOHEMIANS 0-1 ST PAT'S (FORRESTER 105)
Pat's take the lead and it's a spectacular goal.
Forrester goes on a mazy run, beating Buckley and Omochere, before firing home a low shot from the edge of the area in superb fashion.
HALF-TIME: BOHS 0-1 ST PAT'S
The second half is underway.
Bohs have made a change, with Conor Levingston replacing Keith Buckley.
BOHS 1-1 ST PAT'S (FEELY 106)
Bohs equalise.
It's a good corner from Keith Ward and a powerful header from substitute Rory Feely crashes into the net.
Ward plays through Tierney, who accelerates away from the defence, but Jaros gets out quickly to make the block.
Less than five minutes remaining.
Mallon crosses for Tierney, whose header is brilliantly saved by Jaros.
Moments later, a Ward corner falls to Feely, and his header is cleared off the line by Hickman.
Bohs are really pushing to win this game before penalties.
Lee Desmond has been named man of the match by RTE.
It certainly feels apt in a game where defences have been on top for most of the 120 minutes.
FULL-TIME: BOHEMIANS 1-1 ST PAT'S – PENALTIES TO BE PLAYED
The penalty shootout is set to start…
Bohs 1-0 Pat's – Devoy scores.
Pat's 1-1 Bohs – Coughlan scores
Bohs 2-1 Pat's – Levingston scores
Bohs 2-2 Pat's – King scores
Bohs 3-2 Pat's – Mallon scores.
Bohs 3-2 Pat's – Forrester misses.
Bohs 3-2 Pat's – Wilson misses.
Bohs 3-3 Pat's – McClelland scores.
Bohs 3-3 Pat's – Ward misses.
PAT'S 4-3 BOHS – BENSON WINS IT FOR PAT'S!
So that's that.
Pat's win the FAI Cup for the first time since 2014 and fourth time in their history.
It caps a fantastic season for Stephen O'Donnell and his side.
It's heartbreaking for Bohs who lose by the finest of margins and miss out on Europe next year as a result.
Meanwhile, it's great news for Derry City, who have Pat's to thank for securing their place in Europe.
There was very little between the teams — both worked extremely hard and it feels appropriate that penalties decided it as they were so evenly matched.
Right, that's all from me for now.
Thanks for reading and commenting.
Stay tuned on the site as we'll have plenty more reaction to follow.