As always, we'd love to hear your thoughts on the game. E-mail paul@thescore.ie, tweet @thescore_ie, post a message to our Facebook wall, or leave a comment below.
You may need to refresh the page for YouTube videos and other elements to display correctly.
Hello, and welcome to this afternoon's liveblog.
We'll have the team news for you momentarily…
Interesting that Terry, Cahill and Zouma all start for Chelsea. One of the three will presumably occupy the David Luiz-esque midfield role, with Matic currently unavailable.
Townsend v Lamela seems to be the one big call for Spurs, with the England winger winning a starting spot perhaps on account of his greater work-rate.
A reminder of what happened the last time these sides met…
MrLinh Extras / YouTube
Here's the scene outside the ground as we get ready for kick-off.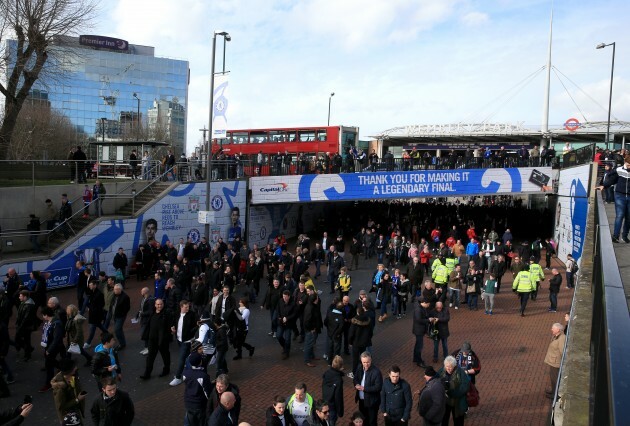 PA Wire / Press Association Images PA Wire / Press Association Images / Press Association Images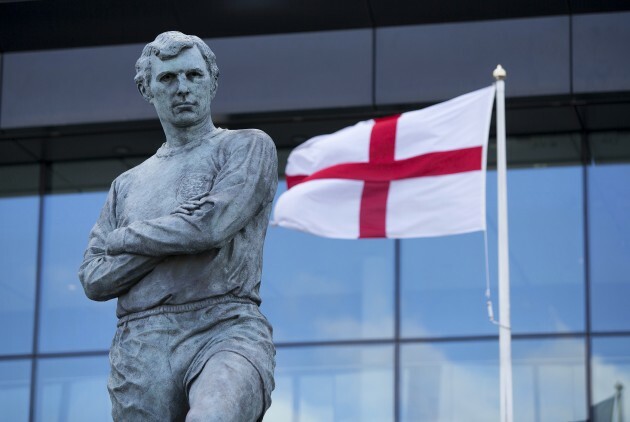 PA Wire / Press Association Images PA Wire / Press Association Images / Press Association Images
(The Bobby Moore statue stands proudly outside the stadium during the Capital One Cup final at Wembley)
Chelsea have started well.
Jose Mourinho's side have enjoyed the majority of the possession and territory, but have yet to carve out a clear-cut chance.
A sloppy pass from Walker allows Chelsea to break.
Tottenham eventually get numbers back and break up the attack, but they'll have to watch the speedy Hazard in particular.
The Belgian international caused Spurs plenty of problems when the sides met last January.
Lloris does well to tip away a deflected Ivanovic cross to safety.
It's been all Chelsea so far.
So close! Harry Kane wins a free kick outside the box, and Eriksen's curling attempt subsequently hits the bar.
That's the closest either side has come so far.
Mar 1st 2015, 4:13 PM
11'
Another quick break from Spurs, but Kane's shot is fairly tame and easily saved by Cech.
The striker will be hoping for a repeat performance of last January, when he tore Chelsea apart single-handedly at times.
Mar 1st 2015, 4:14 PM
13'
Diego Costa holds the ball up well and plays it to Hazard, who curls a first-time shot just wide from outside the box.
Both sides are looking threatening on the counter-attack.
Mar 1st 2015, 4:16 PM
14'
Mar 1st 2015, 4:17 PM
16'
There were some lively scenes before kick-off.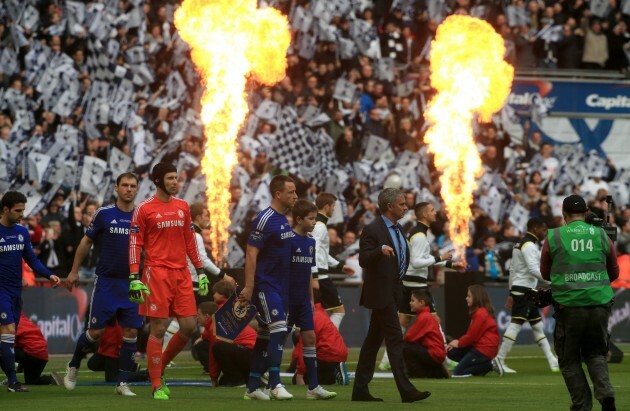 PA Wire / Press Association Images PA Wire / Press Association Images / Press Association Images
Mar 1st 2015, 4:20 PM
17'
After an exciting opening, the game's gotten a little scrappy in recent minutes.
As I type though, Rose bursts forward, before flashing a shot well wide.
Mar 1st 2015, 4:23 PM
21'
Tottenham have looked more settled in recent minutes, after a conspicuously nervy opening period.
Their fans, perhaps noticing this, are currently in fine voice.
Mar 1st 2015, 4:25 PM
23'
A powerful cross from Kyle Walker has just eluded everyone.
Tottenham are passing it about confidently now, and enjoying a good spell, though Chelsea continue to look sharp on the break.
Mar 1st 2015, 4:30 PM
25'
Mar 1st 2015, 4:32 PM
30'
Chelsea are defending surprisingly deep, as Spurs continue to probe.
Meanwhile, Dier has just been booked for a needlessly rash challenge on Costa.
Mar 1st 2015, 4:36 PM
33'
Chelsea's system seems to be having problems right now.
Zouma in midfield has been a failed experiment so far, with Tottenham looking increasingly dominant in that area.
As I type, Eriksen's snapshot is comfortably saved by Cech.
Mar 1st 2015, 4:38 PM
35'
Chadli robs the ball off Ramires, and Tottenham break.
However, the Belgian player's attempt to find Kane is well intercepted by Terry.
It's been a relatively open game, even if it has yet to produce many clear chances.
Mar 1st 2015, 4:42 PM
39'
Good build-up play by Tottenham, but again it's a poor finish, as Mason's shot goes well over.
Spurs have so far lacked a killer instinct, and may ultimately rue failing to fully capitalise on this period of dominance.
Mar 1st 2015, 4:44 PM
42'
The young centre-back has looked very hyper.
Mar 1st 2015, 4:44 PM
44'
Mar 1st 2015, 4:45 PM
44'
CHELSEA 1-0 TOTTENHAM (TERRY 44)
Mar 1st 2015, 4:47 PM
45'
Against the run of play, Chelsea lead.
A free-kick is played in and it falls to Terry, whose shot finds the back of the net via a deflection.
Mar 1st 2015, 4:48 PM
45'+1
HALF-TIME: CHELSEA 1-0 TOTTENHAM
Here's a look at that Terry goal.
https://vine.co/v/O0BWzKtgxpD
So 1-0 at half-time. Tottenham have been the better team, outplaying Chelsea in midfield, but Jose Mourinho's side have shown the type of ruthlessness that has consistently been evident in their play this season.
Zouma has looked uncomfortable in midfield at times, though Spurs failed to make the most of their dominance, enjoying plenty of possession but failing to do enough in the final third to make Chelsea sweat.
Down the other end, Chelsea have threatened sporadically, while Eric Dier is lucky to still be on the field after a couple of rash challenges on Diego Costa.
The second half is underway…
Mar 1st 2015, 5:08 PM
53'
Hazard finds himself in a good position, but his cross deflects harmlessly away.
Fabregas then sees his attempt well saved by Lloris shortly thereafter.
Another goal now would surely win it for Chelsea.
Mar 1st 2015, 5:12 PM
54'
Tottenham still enjoying a good degree of possession.
However, at the moment, you get the feeling that they're hoping rather than believing that they can score whenever they go forward.
Mar 1st 2015, 5:14 PM
55'
Chelsea 2-0 Tottenham (Costa 55)
Mar 1st 2015, 5:15 PM
57'
Costa finds space in the area and his shot takes a deflection off Walker and goes in.
Mourinho's men have one hand on the League Cup without playing particularly well.
Mar 1st 2015, 5:18 PM
58'
More good passing from Spurs, before Bentaleb balloons a shot well over.
It's looking a little desperate now from Spurs, with just an hour played.
Mar 1st 2015, 5:19 PM
61'
Townsend, who's had a quiet enough day, is replaced by Dembele.
Mar 1st 2015, 5:21 PM
62'
Here's a look at that Costa goal.
https://vine.co/v/O0BO9tuOeUd
Mar 1st 2015, 5:22 PM
63'
Hazard plays a one-two with Willian, before curling a shot narrowly wide from the edge of the box.
A third goal would undoubtedly seal the game for Chelsea now.
Mar 1st 2015, 5:25 PM
64'
Hazard crosses to Fabregas, whose header is just off target.
There's little sign of a late rally from Spurs, who look a beaten team right now.
Mar 1st 2015, 5:29 PM
68'
Erik Lamela is on for Ryan Mason, as Tottenham bid to make one last push to save this game.
The match has become very scrappy of late, as Chelsea pragmatically look to see it through with plenty of tactical fouls etc.
Mar 1st 2015, 5:32 PM
72'
Awful stuff from Tottenham.
They have a free kick in a good position, but Dier strays offside as Eriksen chips it in and the linesman raises his flag.
Mar 1st 2015, 5:35 PM
75'
Close! A corner is flighted in and Kane heads it on, with Lamela narrowly failing to get on the end of it
Just 15 more minutes for Chelsea to hold on.
Mar 1st 2015, 5:38 PM
78'
Soldado has replaced Chadli as Tottenham make their final substitution.
Meanwhile, Lamela shows signs of frustration with what looks like an elbow on Costa.
Mar 1st 2015, 5:41 PM
81'
Both sides look jaded now.
Tottenham have gone all-out attack and could easily be exposed if Chelsea string a decent counter-attack together.
Mar 1st 2015, 5:45 PM
83'
Kane breaks through on goal but Terry makes a superb last-ditch tackle to deny him.
The Chelsea skipper has been outstanding today.
Mar 1st 2015, 5:48 PM
88'
Spurs are really applying the pressure now, but Chelsea's defence are standing firm.
Looks like Jose Mourinho is set to win his first trophy since returning as Chelsea manager.
Mar 1st 2015, 5:49 PM
90'
Kane powers towards goal, but Cahill this time makes a well-judged challenge.
Didier Drogba is about to come on, in what Martin Tyler describes as a "sentimental substitution".
Mar 1st 2015, 5:50 PM
90'
Mar 1st 2015, 5:53 PM
90'+2
FULL-TIME: CHELSEA 2-0 TOTTENHAM
CHELSEA ARE THE 2015 LEAGUE CUP CHAMPIONS!
Mar 1st 2015, 5:58 PM
90'+4
So it's all over.
Tottenham started brightly and dominated the midfield at times, but Chelsea's greater potency in the final third ultimately proved to be the difference between the sides.
Spurs will be disappointed that they couldn't emulate their win over Chelsea in January, but ultimately failed to capitalise during the period when they were on top.
Chelsea took full advantage of some defensive lapses, before showing their strength at the back in comfortably seeing the game out to earn a deserved victory.
It's Jose Mourinh0′s first trophy since his return as Chelsea manager, and one suspects it won't be his last.
He's gone full John Terry!
Right, that's all from me for now.
Thanks for reading and commenting, and stick around, as we'll have plenty more reaction to follow.