Rafa Benitez is back in the Premier League and is first duty is a tough encounter with Manchester City.
Fact.
As always, we'd love you to get in contact, so send us your thoughts by emailing sean@thescore.ie, via Twitter@thescore_ie, find us on Facebook, or leave a comment below.
You may need to refresh to see videos and images.
Chelsea 0 – 0 Manchester City
We've already forgotten about Roberto di whats-his-face. Time for a new dawn at Chelsea, a brave, fresh start with a manager who can finally realise Roman Abramovich's dream of mixing sexy football with big massive trophies.
But until the quiet Russian oligarch figures out how to reincarnate the Brazil 1970 World Cup squad, he's settled for Rafael Benitez.
Chris Foy is the man in the middle at Stamford Bridge and here are the runners and riders:
Chelsea: Cech; Azpilicueta, Ivanovic, Luiz, Cole; Ramires, Mikel; Mata, Oscar, Hazard; Torres.

Substitutes: Turnbull, Ferreira, Cahill, Bertrand, Romeu, Marin, Moses.

Manchester City: Hart, Zabaleta, Kompany, Nastasic, Kolarov, Barry, Y Toure, Silva, Milner, Dzeko, Aguero.

Substitutes: Pantilimon, Maicon, K Toure, Garcia, Nasri, Tévez, Balotelli.
KICK OFF: We're off an running at the Bridge and the natives were restless before a ball was even kicked.
The new gaffer is roundly booed and chants of 'One Di Matteo…' ring around the ground.
As Ramires receives treatment after relatively heavy run-in. Sky bring us this image from the stands.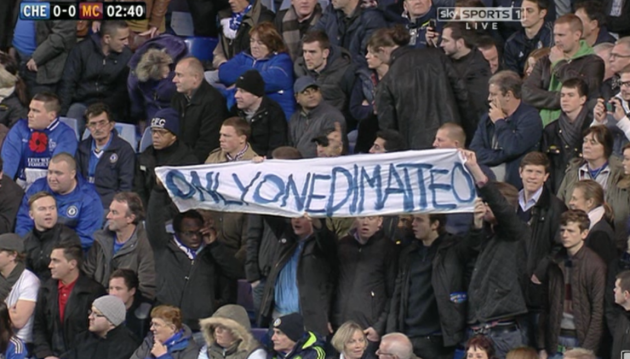 Quite an even opening to the game, both sides putting some decent little passing patterns together, but it is City who look to have settled the quickest and Dzeko is working to channels well to link with Silva.
City have turned the heat up even further in recent minutes, making it difficult for the Blues to escape their own half. A frantic break down the right from Juan Mata ends with a hurried Fernando Torres shot.
At the other end, Kolarov attacks down the left and his cross plays a little pinball in the six-yard area, ultimately deflected over the bar off David Luiz.
The corner drops to Yaya Toure in space near the edge of the box, but for once his control lets him down and Chelsea escape. Good game.
I wonder would a goal or two keep these lads away from the printer?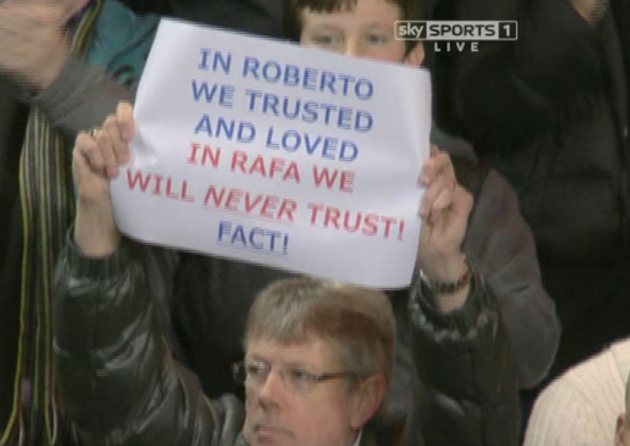 21 minutes: 54 percent possession for City and their best opening arrives.
Unfortunately for them, the cross from the right lands on the head of David Silva rather than, say, Edin Dzeko, and the ball loops over the bar from the near post effort.
The home side have suddenly slipped into a higher gear. Their intensity is greater now and Ashley Cole pushes forward and Oscar battles for possession on the edge of the area.
It comes to nothing, but it's much more like it from the European champions.
Ooh! Lovely skill from Aguero ends with a superb block from Azpilicueta. The Argentine received the ball from Dzeko on the edge of the area. Milner's run allowed him space to turn and feign a pass to the Englishman before taking the shot on his left foot.
Any change in Chelsea? This man thinks so.
Big chance!
Ramires sloppily gave the ball away in midfield and Zabaleta stole possession and after a quick one-two unleashed a powerful low shot save d by Petr Cech.
It's those two guys again, this time Zabaleta fouls Ramires and from a full 45 yards, David Luiz attempts a pile-driver, but it's weaker than his usual effort and it bounces around the penalty spot before finding the chest of Joe Hart.
It is absolutely lashing in London. Our screens have been given an extra shade of grey with the heavy downpour and it's not going to make htinkgs any easier for the players to give us a goal. But as I say that…
Another huge chance for City as Dzeko directs a header to Aguero. Maradona's son in law is in an acre of space on the edge of the six-yard box, yet manages to direct his header across goal straight at Petr Cech.
That's the best chance of the game and you would have expected Kun Aguero to find the net.
Fernando Torres is having to battle for the ball up front. Minutes after a free is given against him, he tangles for a 50-50 with Azpilicueta and wins the free-kick out on the right wing.
Mata's in-swinging free kick is dangerous, but City clear.
HALF TIME: Chelsea 0 – 0 Manchester City
Here we go again. No changes on either side as the second half gets under way with a good little scrap between Luiz and Aguero.
Ashley Cole drives across in on the half volley after a sweeping Chelsea move, but it's cleared at the near post by Kompany and the red shirted visitors clear.
Chelsea's incredible trio behind Torres are beginning to come into the game a little. Hazard teeing up Ramires who has a long range pot-shot that whistles a foot over the bar good effort.
After Torres wins another free on the right Mata swings in another cross, but it's easily cleared for City to counter through David Silva. The Spaniard picks out Toure, but he and Aguero get all mixed up and the former Barca man's pass fizzed behind the former Atletico man.
Fer-nan-do Tor-res. He thought he was away through on goal after winning a bouncing ball inside his own half, but play is pulled back for handball and City are able to take it quickly.
They work a shooting chance for Yaya. It's powerful, but straight at Cech and he gathers at the second attempt.
TORRRESS!
A slick move down the right is flicked back by Mata and lands invitingly on the half volley for Torres' left boot. He smashes the shot just over the bar.hart was well positioned, but would have had to be very sharp to keep it out.
Ashley Cole's positional sense saved Chelsea. A Dzeko shot sneaks past Cech, but Cole is waiting inside the six-yard box and is able to take a touch before clearing.
It's all City again.
A bold move from Roberto Mancini; Carlos Tevez is on.
Are you all still awake? After an exciting third quarter, it's beginning to look like both sides are intent on not losing.
Victor Moses is on, though. Perhaps he can provide a spark?
YELLOW CARD: Kolarov enters the referee's little black book after cutting down Moses on his way to a counter attack. That's both City fullbacks carded.
Oriol Romeu replaces Mikel. Rafa like to keep his defensive shields fresh.
The subs first act is to clear the danger after Milner's cross is deflected low on target and is shooed away by Cech.
We need a goal, we can't be having two liveblogs without a single net-rippler. Even a goal-line controversy would be nice at this stage.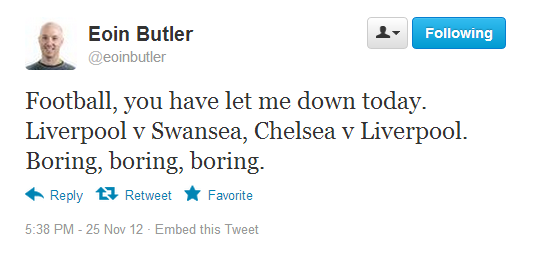 After a somewhat scrappy counter attack from Chelsea, Moses squares the ball across the area, Ashley Cole arrives with a rasping shot which blazes over the bar.
He thinks it should be a corner, we're not so sure.
Here comes Mario…. he doesn't look very happy to be coming on in the pouring rain.
We're in stoppage time and the fourth official has indicated two minutes of added time. Oh good.
Edin Dezko does well to power a header on target, but it's held cleanly by Cech.
YELLOW CARD: As Vincent Kompany is awarded man of the match, Balotelli runs at Luiz and drops like a stone after contact.
He gets carded, and Chelsea are awarded the free kick.
Harsh enough on Super Mario, I reckon running at full speed into Luiz; shoulder would have hurt.
FULL TIME: Chelsea 0 – 0 Manchester City
Well, that's that over. It's one to fast-forward through after recording Match of the Day 2 tonight.
Thanks for stopping in and checking how we were keeping anyway.
There'll be a full program of Premier League midweek fixtures on Tuesday and Wednesday so do come back to see how your side i progressing.
Until then, we've plenty of other weird and wonderful content to keep you amused so happy viewing.