June's nearly done and the Ulster Senior Football Championship has whittled their nine teams to three. This is where you'll find a blow-by-blow account of Derry and Donegal's bid to join Monaghan in Clones on 19 July.
As always, we'd love to hear your thoughts on the game. E-mail Sean@the42.ie, tweet @the42_ie, post a message to our Facebook wall, or leave a comment below.
To disable push notifications on this liveblog, please click the toggle button above.
Well, hello there. Welcome along to our minute-by-minute take on this evening's Ulster Championship semi-final.
If you can't get to see it live on Sky, stick with us and you won't miss a beat.
Throw-in's not until 7pm, so you've time to put the kettle on, make a few sandwiches and settle in – like these boyos.
Here's how Brian McIver and Rory Gallagher have set their stall out this evening.
DERRY: Thomas Mallon; Oisín Duffy, Brendan Rogers, Dermot McBride; Kevin Johnston, Chrissy McKaigue, Ciarán McFaul; Niall Holly, Fergal Doherty; Seán Leo McGoldrick, Mark Lynch, Enda Lynn; Daniel Heavron, Eoin Bradley, Cailean O'Boyle.
DONEGAL: Paul Durcan; Paddy McGrath, Neil McGee, Éamonn McGee; Mark McHugh, Karl Lacey, Frank McGlynn; Neil Gallagher, Martin McElhinney; Christy Toye, Odhrán MacNiallais, Ryan McHugh; Patrick McBrearty, Michael Murphy, Colm McFadden.
Rachel, Jim, Darragh, Peter and the other guy have kicked off their live coverage in Clones.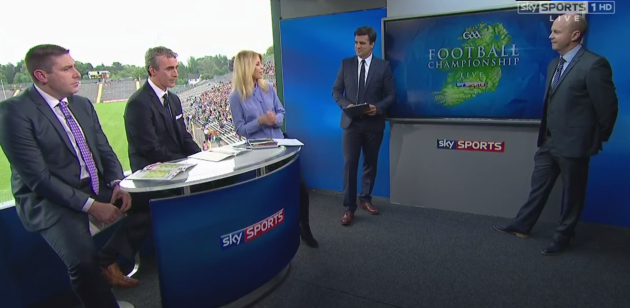 McGuinness says Derry "are where Donegal were in 2011″, while O'Se jokes that Donegal are playing much better since his fellow pundit hung up his whistle.
Peter Canavan previews the tactical element of today's game with a look back at Derry's league meeting with Dublin – the night Dr Joe Brolly pronounced the game dead.
As Patrick Ward wrote this morning:
"Armagh's insistence on funnelling almost every player behind the ball and neglecting their attacking instincts proved their downfall against Donegal, and that should be a lesson for Derry. "
You can read the rest of our own prelude to today's fixture (plus other football action) here.
There's only one kind of brolly either set of fans need today.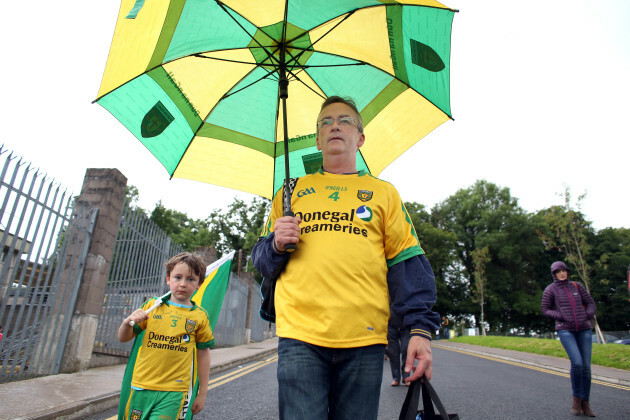 Presseye / Andrew Paton/INPHO Presseye / Andrew Paton/INPHO / Andrew Paton/INPHO
A clean sweep of Donegal predictions on Sky's punditry panel as they hand over to Dave McIntyre on commentary.
Hard to argue with that either, Derry are hoping to channel some of that annoyance at being written off into their performance, but we'll plump for a five-point winning margin for Donegal.
Jun 27th 2015, 7:03 PM
0.30
Here we go THROW-IN
Neil Gallagher wins the ball and it's let in to Murphy, but a slip leaves him with grass instead of possession.
Jun 27th 2015, 7:06 PM
3.40
Huge early chance for Derry as they work the ball to Enda Lynn after a high ball in. The half forward twists, seven yards from goal on the angle, but Curcan is off his line quickly and smothers the goal-bound shot.
Up the other end and Odhrán MacNiallais lands a beauty of a score from 25-30 yards.
Bradley instantly cancels it out with an opening free.
Donegal 0 – 01 Derry 0- 01
Jun 27th 2015, 7:08 PM
5.30
It's a relatively open contest so far. Donegal obviously look purposeful in attack, but Derry having joy with Bradley's aerial threat from Lynch's high balls in.
Jun 27th 2015, 7:10 PM
7.00
Another high ball in to the Donegal square and Durcan struggles to deal with it, his fist directs the ball back towards his own goal and he needs Neil McGee to act as sweeper and slap it out.
Jun 27th 2015, 7:11 PM
8.00
McBrearty is off the mark, blasting over with his left as he runs across the goal.
Donegal 0 – 02 Derry 0- 01
Jun 27th 2015, 7:13 PM
10.l00
Donegal 0 – 03 Derry 0-01
A free this time for McBrearty, but aside him, Donegal are proving a little wasteful in attack with three blocks and three wides already in the books.
Jun 27th 2015, 7:14 PM
12.00
There you go, Donegal cooking now thanks to Christy Toye guiding one over as Derry invite pressure with some poor kick-outs.
Donegal 0 – 04 Derry 0- 01
Jun 27th 2015, 7:18 PM
15.00
Donegal living dangerously and Derry hand-pass their way to another decent chance, but Sean Leo McGoldrick can't get his limbs free when the ball comes back his way six yards out.
Donegal don't manage to clear though and Bradley points to bring the deficit back to two points.
Donegal 0 – 04 Derry 0- 02
Jun 27th 2015, 7:21 PM
17.00
Not quite a schmozzle, but these boys have certainly been brushing up on their MMA techniques.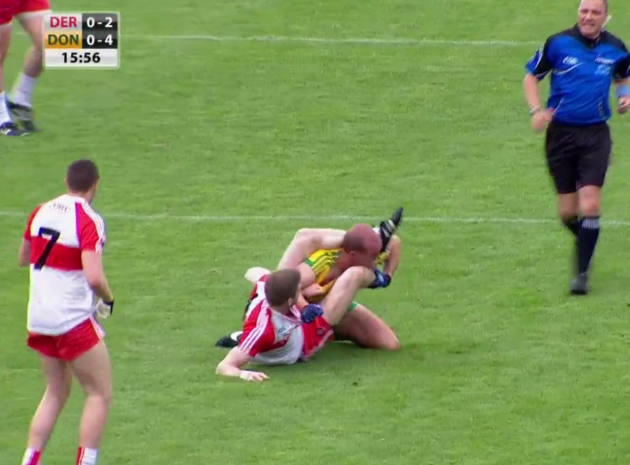 Jun 27th 2015, 7:22 PM
19.00
Fine score from Cailean O'Boyle, he rifles over Derry's first score from play and two in a row!
Donegal 0 – 04 Derry 0- 03
Jun 27th 2015, 7:24 PM
22.00
The equaliser!
Mark Lynch storms through the middle and kicks a high, handsome point to level this semi-final.
Donegal 0 – 04 Derry 0- 04
Jun 27th 2015, 7:30 PM
26.00
Another disappointing miss for Donegal as McFadden's long range effort drops short and wide of the mark. Michael Murphy had set up the opportunity by winning possession in a thunderous midfield collision with Fergal Doherty.
Jun 27th 2015, 7:31 PM
28.00
15 scoring opportunities, commentator Dave McIntyre tells us, and Donegal have converted just four.
Jun 27th 2015, 7:33 PM
30.00
BOOM! Superb score from McFadden, battling his way through two harassing defenders before curling over a left foot shot from the left flank.
Donegal 0 – 05 Derry 0- 04
Jun 27th 2015, 7:35 PM
32.00
And we're back at tit for tat: Chrissy McKaigue marches forward to join the attack and makes sure it's worth his while with a high curling right foot shot over the bar.
Donegal 0 – 05 Derry 0- 05
Jun 27th 2015, 7:37 PM
33.00
GOAL CHANCE for Donegal. Ryan McHugh sends in an angled ball and Murphy muscles his way into the square and swipes a big paw down onto the dropping ball.
It's headed for the corner of the net, but Mallon dives and saves the umpire raising a green flag.
Jun 27th 2015, 7:39 PM
35.00
HALF-TIME! Donegal 0 – 05 Derry 0- 05
I know what you're thinking, it's a low scoring affair in Ulster, but it's been a fairly open game in Clones.
Only four frees given away apiece and the first 15 minutes were anything but cagey.
Here's a glance at Sky Sports' half-time stats before we get going for the decisive 35 minutes.
Derry's kickouts and Donegal's shooting profligacy will be the areas of concern for the respective managers.
Here's who's got on the board so far.
Jun 27th 2015, 7:55 PM
35.00
Here comes the second half, folks. Who has the winning of this game?
Jun 27th 2015, 7:56 PM
36.00
A huge score from McFadden. Again he storms through bodies to make the space for himself and sends the ball high into the Clones sky and it drops two feet over the bar.
Donegal 0 – 06 Derry 0- 05
Jun 27th 2015, 7:58 PM
38.00
Donegal starting to look happy to go a little more to the cynical side of defending. The referee is happy enough with their haranguing before the ball breaks to McGoldrick 15 yards out, left of the posts, but he puts. it. wide.
That is not what the Oak Leafers need at this particular moment in time.
Jun 27th 2015, 8:00 PM
39.00
Derry have well and truly contracted Donegal's shoot-lots-of-wides bug. Bradley this time launches an ill-advised long range attempt with the outside of his boot and the Derry fans behind the goal keep their hands in their pockets.
Jun 27th 2015, 8:02 PM
41.00
Step up, Michael Murphy with an absolute MONSTER of a point from 40 yards. It goes, straight, high and true until the flag comes up.
Niall Holly comes up with an excellent response at the other end now. Will that score get Derry going?
Donegal 0 – 07 Derry 0- 06
Jun 27th 2015, 8:05 PM
45.00
This game is in its full stride now as Martin McElhinney lands a beauty of a score.
Donegal come roaring back for more and O'Reilly dances round the keeper and finishes off.
GOAL! Donegal 1 – 08 Derry 0- 06
Jun 27th 2015, 8:10 PM
50.00
Martin O'Reilly ran a great support line with Toye drawing defenders in before fisting the ball to O'Reilly who finished with aplomb.
Mark Lynch comes up with a good response, landing a long range free, and a minute later Derry finally manage to strip McFadden of possession and counter-attack with O'Boyle converting the point.
Donegal 1 – 08 Derry 0- 08
Jun 27th 2015, 8:13 PM
53.00
Yellow card for Heavron for collaring a Donegal man.
Murphy swings in the resulting free with a vicious swerve, but it drops low and is easily cleared by Derry.
Jun 27th 2015, 8:14 PM
54.00
Donegal's conversion rate is now at 9/24. The goal certainly puts a gloss on their attacking display today.
Jun 27th 2015, 8:19 PM
58.00
Three in a row now for Derry. Benny Herron fires over a lovely score to put the cat among the pigeons and Derry within a (big) score of the champions.
Donegal 1 – 08 Derry 0- 09
Jun 27th 2015, 8:20 PM
60.00
As Chrissy McKaigue lets fly, but watches his shot go right and wide, Donegal are looking at a 15 minute timer since their last score, the goal.
Jun 27th 2015, 8:24 PM
63.00
McBrearty swings a free kick in from the right side, but it's a poor strike and it pings back off the post.
The ball breaks to Michael Murphy who only hits the ball clean and he re-opens a three-point margin for his side.
Donegal 1 – 09 Derry 0- 09
Jun 27th 2015, 8:25 PM
65.00
Derry refuse to be shrugged off however, hitting back with another point. 10 scores apiece now in this Ulster semi-final.
Donegal 1 – 09 Derry 0- 10
Jun 27th 2015, 8:27 PM
67.00
BLACK CARD: Brendan Rodgers is sent to the line for a cynical – needless too – foul on MacNiallais deep in Donegal territory.
Jun 27th 2015, 8:29 PM
68.00
Another awful foul from a Derry man as their frustration boils over
Black Card: Ciaran McFaul can be happy he's getting replaced after scything down McHugh.
Jun 27th 2015, 8:30 PM
70.00
Michael Murphy is human, he completely scuffed that resulting free and Derry were able to catch it after a bounce and storm clear.
Still two points in it as we enter added time.
Jun 27th 2015, 8:32 PM
71.00
McKaigue finds the bare minimum space for a shot from the right wing, hits it true enough, but it trails wide of the near post and Donegal can close this one out here.
Jun 27th 2015, 8:34 PM
74.00
FULL-TIME! Donegal 1 – 09 Derry 0- 10
Rory Gallagher takes his team to a fifth Ulster final in succession, and for the third year in a row, they'll meet Monaghan.
Thanks for staying with us through that hotly-contested Ulster Championship clash.
We'll bring you more reaction from Clones before the night is out.
Safe home.