In the end, Arsenal came through thanks to Aaron Ramsey's 62nd-minute goal but there were times when Arsene Wenger's men looked very shaky. Jurgen Klopp will be annoyed by his side's failure to make chances count. We went minute-by-minute.
As always, we'd love to hear your thoughts on the game. E-mail murray@thescore.ie, tweet @thescore_ie, post a message to our Facebook wall, or leave a comment below.
You may need to refresh the page for YouTube videos and other elements to display correctly.
Borussia Dortmund 0 – 1 Arsenal
Welcome to our coverage of the Dortmund v Arsenal clash in Group F this evening.
First things first, it's bad news. Billo announces that the RTÉ panel won't be chatting about Martin O'Neill and Roy Keane until after tonight's game. Should be well worth the wait…
Here's the visitors' team for this evening. It's the same side that beat Liverpool on Saturday.
Arsenal: Szczesny; Sagna, Mertesacker, Koscielny, Gibbs, Ramsey, Arteta, Rosicky, Ozil, Cazorla, Giroud
Feel free to get your predictions in for this evening's game! Can Arsenal pull off an important away win? Or are Klopp's men too good?
In case you didn't catch the Bundesliga results from the weekend, Dortmund warmed up for this with a 6-1 hammering of Stuttgart on Friday.
The Dortmund team for this evening is as follows.
Dortmund: Weidenfeller, Großkreutz, Schmelzer, Bender, Papastathopoulos, Subotic, Blaszczykowski, Sahin, Lewandowski, Mkhitaryan, Reus.
The players are out on the pitch for the pre-game anthem.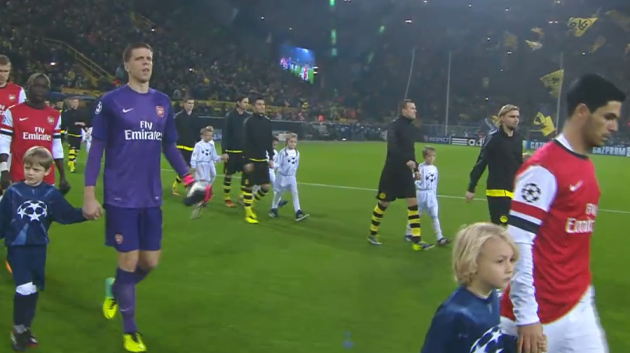 And we're underway in Dortmund, where the atmosphere is as electric as ever. Must be one of the most passionate home crowds in Europe. A phenomenal wall of sound and wall of yellow shirts.
3 minutes – A first attacking threat from the Gunners, Rosicky steals past Schmelzer, who slipped. However, the Czach midfielder's chipped pass has too much on it and runs out for a goal kick.
4 minutes – Real chance for the home side, as some slick passing results in Lewandowski surging into Arsenal's area. Mertesacker is alert though and manages to nip in and take the ball off the striker's foot for a corner. The set piece comes to nothing though, but an early warning for Arsenal there.
The Times' football correspondent, Oliver Kay, has shared this photo of the magnificent terrace at the Westfalenstadion.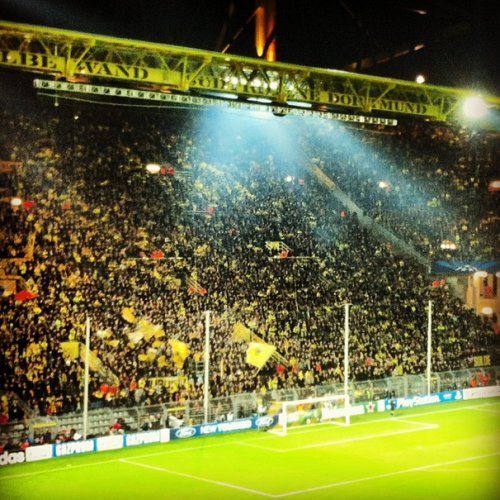 10 mintues – Dortmund pressing Arsenal hard when they lose possession, but Arsene Wenger's men are standing off when they're not in control of the ball. A dangerous cross is swung into the vicinity of Giroud, but Weidenfeller punches it away. Lots of grabbing of jerseys on that occasion.
In fairness to the Arsenal supporters, they are making themselves heard. Strains of English chanting clearly audible in Dortmund. This unbiased source agrees:

14 minutes – Arsenal not over committing players in attack and so far Giroud is the only one positioned inside the Dortmund defensive third of the pitch consistently. It's been a decent start from the away side though and both teams are starting to string the passes together. More space on the pitch now and Arsenal are looking comfortable.
17 minutes – Oooh, so close for Dortmund, a dangerous delivery from a free kick out on the left, Bender heads it back across goal and Subotic fires just wide. It nearly crept into the bottom right-hand corner of Szczesny's goal. Sloppy defending from Arsenal there, no one picked up Bender and no one attacked the ball.
20 minutes – Giroud struggling a little to impose himself on the Dortmund centre backs, although he is isolated at the moment. Looks like Arsenal will be relying on him to hold the ball up for the likes of Özil and Cazorla to burst forward, but so far it's not working perfectly.
21 minutes – Dortmund go on the counter and Blaszczykowski slides a lovely pass through for the surging Großkreutz. Arsenal look exposed for a second but get cover across just in time and concede the corner. Again, the set piece is wasted by Klopp's side. That's two promising attacks down Dortmund's right-hand wing now. Is Gibbs being targeted?
25 minutes – Dortmund are starting to look more threatening moving forward, and this time it's Schmelzer who has gone close this time. Had two bites of the cherry but couldn't get either shot on target, with the first one blocked. Arsenal looking less secure at the back with every passing minute, and still haven't managed to get a shot off in attack.
30 minutes – Arsenal appealing for a yellow card after Rosicky is hauled down in the rain. Arteta picked up a yellow for a foul of his own a few minutes ago, and Wenger looks unhappy that the same treatment hasn't been dished out to the home team by referee Bjorn Kuipers.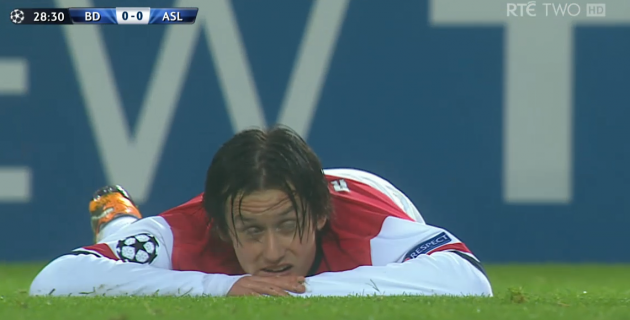 32 minutes - Reus suddenly breaks away and has space to run into. But Mertesacker gets back to make the challenge again. The German defender looks fired up for this one and that's great defending by him again. Arsenal still not creating anything even resembling a scoring chance, while Dortmund continue to grow into the game.
Chelsea have gone 1-0 up against Schalke, with Samuel Eto'o scoring. Shocking play from the German side's keeper Timo Hildebrand absolutely gifts them that one!
36 minutes – Arsenal still struggling in attack back in Dortmund, and they may be missing Jack Wilshere. Arteta needs to calm down out there. He's on a yellow and looking a little too aggressive.
38 minutes – That should be the opener for Dortmund, no doubt about it! Mkhitaryan misses from straight in front of Szczesny's goal after some excellent build-up play by Polish pair Lewandowski and Blaszczykowski.
Barcelona are 1-0 up against AC Milan at the Nou Camp. We barely even need to tell you who scored the opener; that man Leo Messi with a 30th minute penalty.
42 minutes – Half time approaches and surprisingly enough, Arsenal have had 61% possession. They've simply done nothing with the ball though. Need to come up with some ideas in attack. Still no shots on goal or even off target for Wenger's men. Lewandowski's been booked for a tackle from behind.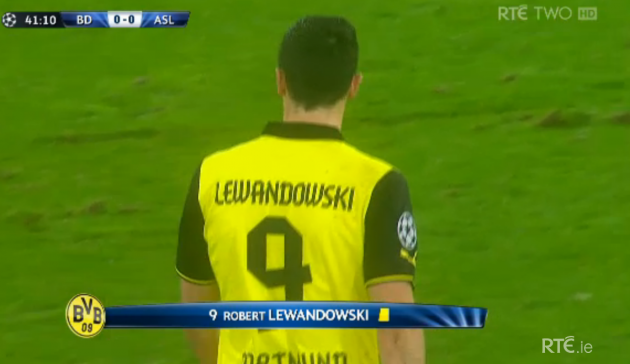 44 minutes – A little bit of farce before the break as Großkreutz takes a dive and forces Arsenal to kick the ball out of play. A minute later, he's back on his feet and bounding around the pitch…
Half Time – That's it for the first 45 minutes at the Westfalenstadion and Arsenal will probably be happy to go in withe the game scoreless after a half in which they were made to look pedestrian by Dortmund's pressing.
What were your thoughts on that first half for Arsenal? There aren't too many options for Wenger on the bench to change things up after the break. Is it time to spring the Great Dane and get Bendtner onto the pitch? Let us know your half time thoughts…
In the other Group F tie, Napoli are 2-1 up against Marseille, with Inler and Higuaín both on the scoresheet. Andre Ayew scored the Ligue 1 side's goal. As things stand, Napoli lead the group while Arsenal are down to third. That could all change in the second half if Wenger can get his side to create some chances.
Celtic are drawing 0-0 with Ajax at half time in Amsterdam, while Chelsea lead Schalke 1-0. Meanwhile, in the RTÉ studio, John Giles is really disappointed that his prediction of goals in the Arsenal game isn't coming to pass. Eamonn is getting warmed up for the discussions on Martin O'Neill and Roy Keane later.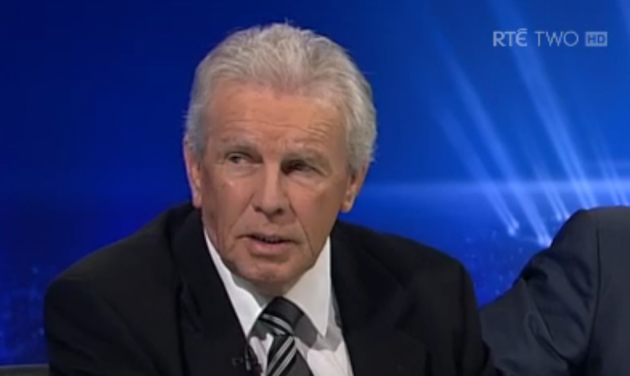 The tale of the first half in easy to understand numbers.

Another reminder from Billo that the boys in the RTÉ studio will be discussing Ireland's new coaching staff after the Arsenal game. Do you think they'll be pleased with the FAI's choice(s)? It will be interesting to hear Liam Brady's thoughts on the subject, a man who defended Trapattoni on several occasions. John Giles has changed his prediction and says this one is going to finish scoreless. Let's hope not!
Second Half – We're back underway at the Westfalenstadion and there don't appear to be any changes for either team. It's very much as you were in the first half, with Dortmund going straight on the attack too.
Here's the to-the-point analysis of that first half from TheScore.ie reader Shay O'Reilly. Have to agree with him that Arsenal are being dominated physically. Giroud in particular is struggling to make himself stand out.
Shay O'Reilly: Arsenal look too light, easily pushed off the ball.
50 minutes – Excellent save by Szczesny! Reus tests him with a decent header that skids off the slippy surface.
52 minutes – Another wonderful save by the Arsenal keeper from a Blaszczykowski daisy cutter! Reus nets the rebound but he's well offside and ref Bjorn Kuipers rules it out. Arsenal in debt to Szczesny now.
54 minutes - Dortmund have started the second half really well and they are piling on the pressure. Arsenal are on the ropes now, as Arteta makes another stupid foul within shooting range. Reus puts too much on the free though and it's over. Arteta needs to be very careful now, he's getting ever closer to a second yellow.
56 minutes – TheScore.ie reader Tomás O'Connor has been on to express his view that Dortmund's players are going to ground too easily. Are they trying to get Arteta sent off? The Spaniard is certainly making some silly challenges, but is Tomás onto something?
Tomás O'Connor: Dortmund players dropping to the ground every time they get touched.
59 minutes – Schmelzer is the latest Dortmund player on the ground, after taking a knee to the back of the head by Sagna, according to George Hamilton on commentary. Nothing in it and Sagna shakes his head as Schmelzer gets treatment.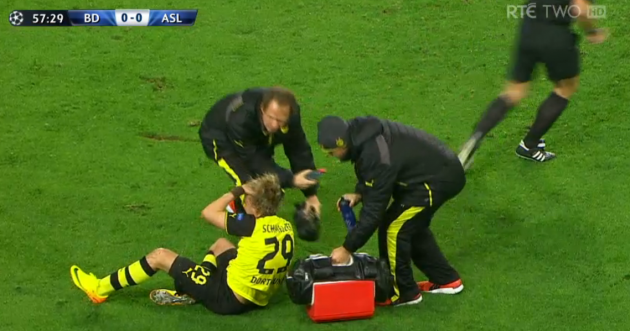 Chelsea are now 2-0 in front against Schalke and it's Samuel Eto'o with his second of the night. Willian with an excellent assist for that one.
63 minutes – Completely against the run of play, Ozil dinks in a chipped pass, Giroud finally wins the physical battle and nods on a header for Aaron Ramsey to finish.
64 minutes – Oooh, Dortmund have missed a sitter to draw level! Lewandowski hammers a cross in from the right, but Reus completely misses the ball and swings at thin air. This game has burst into life!
66 minutes – Arsenal go back on the counter attack, Giroud swings in a gorgeous cross to Ramsey, who takes it down on his chest and gets his shot on target. The ball goes between Weidenfeller's legs and takes a nick to just go wide!
67 minutes – Mertesacker nearly scores for Arsenal at one end, Dortmund counter and Reus almost scores. Arsenal clear it away and then Schmelzer hammers a left-footed shot just wide. This is breathless stuff now!
Arsenal goal scorer Aaron Ramsey is having some season, and so prolific.
70 minutes – Wow, how the tables have turned at the Westfalenstadion. Arsenal suddenly brimming with confidence and Dortmund are looking shaky. Mertesacker has just gone so, so close with a looping header over Weidenfeller, which also clears the crossbar too. The German centre back is having a fine game.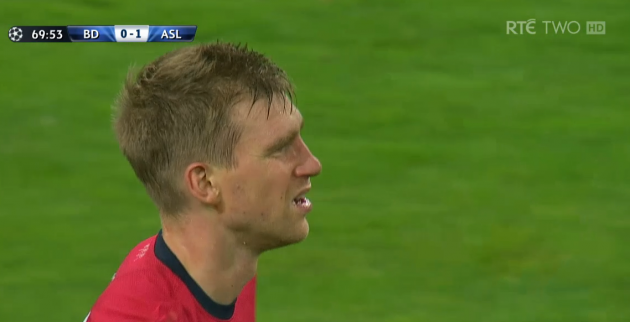 75 minutes – Now it's Dortmund who are lacking incisiveness in attack and their touch is letting them down. Arsenal are confident and comfortable in attack. Dortmund have sprung Hofmann and Aubameyang off the bench, replacing Bender and Blaszczykowski. The latter has been superb for the home team. Arsenal have made a change too; Cazorla is off for the Spanish defender Nacho Monreal. Time to shut up shop?
Here's the goal that has Arsenal in front:
Credit: ByZLATAN
79 minutes – Arsenal feel they should have had a penalty there, after Weidenfeller came off his line to clatter Giroud. The Dortmund keeper didn't even touch the ball, but the ref waves away Mertesacker's vehement claims. Wenger is pacing nervously on the sideline.
82 minutes – Arsenal packing men behind the ball now, really filling their defensive third of the pitch with bodies. Dortmund are struggling to use their pace and direct passing skills to any effect. Arsenal looking to ride this one out.
85 minutes – Such confidence and poise now from Arsenal as the game enters the last five minutes of normal time. It's incredible the effect one goal can have on a team, they are looking assures now. Dortmund still coming forward, but Wenger's men are stacked at the back. 10 men behind the ball.
This was the moment Ramsey turned in Giroud's flick on. Weidenfeller helpless…
Frank Augstein/AP/Press Association Images.
89 minutes – Giroud is managing to win ball in the air now, as Arsenal look to hoof everything clear. But Gibbs gives away a corner and Dortmund have another chance. Their set pieces have been poor, but that one is better. Lewandowski with a half-chance but it's over the bar.
90 minutes – Bendtner is on for Arsenal, as is Vermaelen. There'll be four minutes of additional time here. Will there be a final chance for Dortmund to equalise?
Full Time – That's the final whistle at the Westfalenstadion and Arsenal have won 1-0 to stay top of Group F. Lewandowski had a late, late penalty appeal ignored. The Polish striker claimed he was pulled over by Mertesacker, but nothing in it.
Ronnie Whelan calls it a "smash and grab" win for Wenger's men, while John Giles says "goals change games." Never more of an illustration of that than in Dortmund tonight. Arsenal were shaky and nervous before Ramsey's goal in the 62nd minute. That changed everything though, as Arsenal visibly grew in confidence. Credit to Mertesacker and Koscielny, who were excellent in the middle of Arsenal's defence.
The post-match analysis shows that Lewandowski could easily have had a penalty right at the death. Were Arsenal lucky? Or was this a strong victory away from home? We'd love to hear your thoughts on the game, so let us know via the normal routes. Thanks for joining our coverage of tonight's game.
Exclusive Six
Nations Analysis
Get Murray Kinsella's exclusive analysis of Ireland's Six Nations campaign this spring
Become a Member