Have an observation or opinion that's just has to be shared? Let us know! Leave a comment below, tweet @thescore_ie, find us on Facebook or dispatch an electronic carrier pigeon to conor@thescore.ie.
Full-time: England 30-9 Ireland
England - Foden, Ahston, Tuilagi, Barritt, Strettle, Farrell, Dickson; Corbisero, Hartley, Cole, Botha, Parling, Croft, Robshaw (c), Morgan.
Ireland – Kearney, Bowe, Earls, D'Arcy, Trimble, Sexton, Reddan; Healy, Best (c), Ross, O'Callaghan, Ryan, Ferris, O'Brien, Heaslip.
Having dazzled their media with a virtuoso performance against France, England enter today's game at the crest of a mounting wave of hysteria.
Victory for the men in white, we're told, could guarantee the long-term appointment of humble, unassuming Stuart Lancaster, thus making his squad frontrunners for next year's tournament and, in the long-term, world domination.
We've been here before, though, haven't we?
Oh, no! 80 minutes of Nigel Owens's shrill, pedantic officiating!
In the words of Danny DeVito:

Farrell lofts a kick to the left touchline. It's claimed by Ferris after a brief struggle between the opposing lines, but Nigel Owens spots a knock-on and awards England the first scrum of the afternoon, which duly grants the young fly-half his first penalty attempt of the evening.
As Cian Healy, whose binding was to blame, trots goalwards, the youngster sends an efforts soaring between the posts.
England 3-0 Ireland
A steady, misting downpour is already wreaking havoc with the rhythm of the game and the accuracy of both teams' passing.
After a couple of comedically inept clearing kicks, Dickson sends Ireland scampering back into their own half.
A punt downfield allows Foden to find touch and, after some enterprising work at the breakdown, England begin to work the ball left-to-right across the face of the Irish defensive line, building momentum as it goes. The move amounts to nothing, Ashton and Tuilagi running themselves into a cul de sac on the right wing, but it should serve as an early warning to the men in green.
Keith Earls blazes clear on the right wing before being forced into touch. He had support on his right should, but no space in which to release them.
Seconds later, another turnover allows Redden to gather and spin a pass into the arms of D'Arcy. The centre lifts his head, sees a wall of white and, with a slightly ungaingly swing of the leg, threads a kick through the line. It looks to be settling in play, but Dickson, racing back to collect, slips and takes it into touch.
Collecting something of an aimless clearance, Rob Kearney pauses for a moment a thumps a colossal drop-goal attempt from all of 55 metres. It looks like it might… possibly… be over… but clips the inside of the right posts and drops back into play.
So close.
Frenetic and disjointed, both sides are yet to secure a convincing foothold in the game.
A sky-high Garryowen from Sexton doesn't quite find the arms of a rushing Andrew Trimble, but it yields a penalty when Brad Barritt materialising in an offside position boot the ball downfield.
A brainfart from the inside-centre.
Sexton wastes little time in drawing Ireland level.
England 3-3 Ireland
Seán O'Brien concedes a penalty – and supplies further proof of his weakness at No7? – when he's penalised for going off his feet at a ruck on the periphery of Irish territory.
He atones for his sins moments later, however, when an overthrow from Hartley at the resulting lineout allows him to charge the English inside-centre channel.
More knock-ons, more fumbles… England have a scrum 30 metres out.
The English pack time their engagement perfectly and, with all the momentum, begin to wheel clockwise. Panicked, Reddan sticks a leg inside the scrum and pokes the ball clear. He's penalised immediately and very fortunate to remain on the pitch.
Farrell isn't complaining, though.
England 6-3 Ireland
More helter-skelter stuff in midfield see Ireland pouring numbers forward in the hope of manufacturing space in midfield. Cian Healy claims the ball at the base of a ruck and, rather than nudging his way into contact, hoists a long pass to Gordon D'Arcy.
The centre, sitting in the pocket – or a pocket, anyway – attempts a drop goal, but his execution leaves a lot to be desired. The ball flips and flops harmlessly into English arms.
Some dynamic running from Ireland, and the fast ball, it produces, begins to tire the English defence. Before Ireland can find a breakthrough, though, Donncha Callaghan is penalised for accidental offside.
English infringement at the subsequent scrum suddenly grants Ireland an attacking platform…
… but Hartley works some magic at the heart of the scrum and sends Croft lumbering downfield.
A cheap loss of possession, the error is only compounded moments later when Gordon D'Arcy launches a kick directly into touch.
Plenty of powerful running and abrasive manoeuvring in contact pleases the crowd, but England can't make any ground. The turnover, when it comes, arrives on the back of sloppiness.
Sexton clears downfield. And so the ping-pong continues…
The Irish scrum is devastated yet again, allowing Morgan to charge clear and into contact.
Surprised and slow to reset, the Irish defence is sent careening backwards. Infringement at the breakdown looks inevitable, and so it proves, with Sexton penalised for wandering offside.
Farrell makes no mistake.
England 9-3 Ireland
Mike Ross, who appears to be cradling his left shoulder, is withdrawn and replaced by Tom Court.
Bad news for an Irish pack that's already struggling to hold its own.
Content to wind the clock down, Dickson dawdles at the breakdown and pays the ultimate price – well, not quite the ultimate; he wasn't executed or anything - when Donnacha Ryan, man among men, wades through the bodies to claim possession. He can't retrieve the ball, but Nigel Owens sees enough in it to award Ireland a last-gasp penalty.
The last action of the half, Sexton's three-point conversion lands a huge psychological blow.
England 9-6 Ireland
Half-time: England 9-6 Ireland
A contender for the most boring tweet of all-time:

"This game will be decided by error… Gordon D'Arcy is – sadly – continuing his decline as an international centre." – George Hook
Heavily-influenced by the conditions – greasy, misty rain – this encounter has devolved into a series of gritty, attritional battles in midfield. Until Donncha Ryan landed a late blow for the Irish pack, it had been a half of subtle, if not catastrophic, losses for Declan Kidney's men.
We're back underway.
Another white turnover – the product of brawn and determination – underscores the extent to which England are excelling at the breakdown. An error from Tuilagi grants Ireland a scrum, but the English front row is rampant yet again, driving Ireland backwards and hooking the ball clear to Dickson.
Troubling.
Wary of the contest at the breakdown, Ireland turn to a more expansive pattern of play, drawing the three-quarters into the game.
It takes no time at all for its risks to be exposed, however, Foden and Croft – showing more of that pace he employed to deadly effect last week – conspiring to draw England to within metres of the Irish line.
The scrum is a defensive one, but the Irish pack is annihilated once again. The result's a penalty and Farrell's first points of the second half.
England 12-6 Ireland
D'Arcy and Reddan are withdrawn in place of O'Gara and O'Leary, two grizzled veterans of Kidney's muddy days at Munster.
Apropos of nothing hugely significant, a moment of indiscipline from England grants Sexton a routine attempt on goal.
England 12-9 Ireland
A fair assessment:

A five-metre scrum, conceded by Tomás O'Leary – through no fault of his own, it must be said – when he's forced to take the ball back across his own line, leaves Ireland looking over the precipice.
It will take a moment of Houdini-like brilliance, or luck, to avoid the concession of at least three points…
Ireland mount a stout defence and of their line, reducing the first to scrums to stalemates, but the third devolves into a chaotic scramble that sees a white shirt over the line.
The TMO recommends the ball return for another scrum, but it only prolongs the inevitable. The fourth and final set piece sends Nigel Owens trotting away goalwards. Penalty try!
Controversy: Replays suggest Andrew Trimble, penalised for making an illegal/premature try-saving tackle, was within his rights to contest the ball.
Farrell's conversion is a formality.
England 19-9 Ireland

:'( more like…
An injury to Tom Court further weakens an already suspect Irish scrum. The result is total English dominance and a gain of twenty metres before Owens' whistle interjects to award the home side a penalty.
Farrell, cool as the cryogenically preserved head of Walt Disney, flips an effort between the posts.
England 22-9 Ireland
The Irish scrum is obliterated (again) on the edge of the English 10-metre line. Farrell's kick to touch is a smidgen overambitious, though, and palmed back into touch by beanpole Tommy Bowe.
A reprieve for Ireland, deferred moments later when Rob Kearney fumbles a grubber kick…
TRY FOR ENGLAND! Another scrum – this one perilously close to the Irish posts – another dominant English performance. Wheeling from Tom Court's tighthead position, England step forward and earn the intervention of Nigel Owens.
Youngs, a recent replacement for Dickson, senses fatigue in the Irish ranks, and lauches a surprise bid for the line. He's scarcely troubled en route to the whitewash.
Game. Set. Match.
Farrell's conversion is wide; something for the schadenfreude-hungry, at least.
England 27-9 Ireland
It isn't over yet, I'm afraid. More shenanigans inside the 22 – born of desperation, fatigue and humiliation – place the ball at the feet of young Owen Farrell.
He can't miss, and doesn't.
England 30-9 Ireland
Rob Kearney gathers a final long ball and slouches into contact. O'Leary shuffles a pass to O'Gara and the fly-half, realising the end is nigh, skims a kick into touch.
Full-time: England 30-9 Ireland
And so a positively dire performance from Ireland brings the 2012 campaign to a close.
"If we look at this scrum and say 'Where do we get a prop to replace what we've lost today?' you'd go to Leinster and Munster and find a bunch of South Africans…" – George Hook
"You can't blame the provinces… What they haven't done is effectively groom the younger players, identify the right coaches and bring them through the system." – Brent Pope
"That was embarrassing… We saw a great performance last week, but it was predicated on a man called Mike Ross staying upright and fit." – Conor O'Shea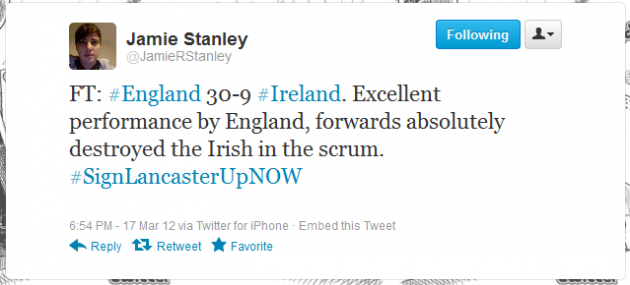 The Lancaster miracle:
"Look at Ireland! By contrast, the rookie Ryan, is 28-years-old! Where has he been?" – Conor O'Shea