Good afternoon and welcome to our live minute-by-minute coverage of today's GAA club action.
There are three senior finals down for the decision across the country this afternoon, starting with our mouth-watering double-header at 2pm:
Munster SFC final: Nemo Rangers v Clonmel Commercials, 2pm
Leinster SHC final: Cuala v Oulart-the-Ballagh, 2pm
Ulster SFC final: Crossmaglen Rangers v Scotstown, 3.30pm
As always, we'd love to hear your thoughts on the games. E-mail niall@the42.ie, tweet @The42GAA, post a message to our Facebook wall, or leave a comment below.
You may need to refresh the page for YouTube videos and other elements to display correctly.
Is there anyone left in Dalkey, or are they all on their way to Dr Cullen Park?
Can Cuala become the first Dublin club to win Leinster in 36 years — or after suffering through four defeats in the last five finals, will today finally be Oulart-the-Ballagh's day?
There's just as much at stake in Munster. Nemo, who have just the 15 Munster titles in the trophy cabinet, are bidding to make it a sweet 16 at the expense of Clonmel Commercials who would become the first-ever Tipp side to win the provincial crown.
TEAM NEWS: A change apiece for Commercials and Nemo.
John Harney starts in place of Danny Madigan for the Tipp side, while James Masters replaces Luke Connolly in the Nemo 15.
Clonmel Commercials
1. Jake McDonald
2. Fergal Condon
3. Donal Lynch
4. Jamie Peters
10. Luke Moore
6. Seamus Kennedy
7. Kevin Fahey
8. Jack Kennedy
9. Aldo Matassa
13. Kevin Harney
11. Ian Fahey
12. Jason Lonergan
24. John Harney
14. Michael Quinlivan
15. Padráig White
Nemo Rangers
1. Micheal Aodh Martin
2. Aidan O'Reilly
3. Ciaran O'Shea
4. Alan Cronin
5. Kevin Fulignati
6. Tomás Ó Sé
7. Alan O'Donovan
8. David Niblock
9. Michael Dorgan
10. Dylan Mehigan
11. Barry O'Driscoll
12. Paul Kerrigan (c)
17. James Masters
14. Conor Horgan
15. Colin O'Brien
Oulart manager Frank Flannery has described conditions in Dr Cullen Park as a "hurricane." Expect the wind to have a massive say in this one.
TEAM NEWS: Looks like there's one change for Cuala as well — Con O'Callaghan replaces Colum Sheanon.
Cuala
1. Sean Brennan
2. Ross Tierney
3. Cian O'Callaghan
4. Simon Timlin
5. John Sheanon
6. Oisin Gough
7. Sean Moran
8. Jake Malone
9. Darragh O'Connell
10. Cian Waldron
11. Colm Cronin
19. Con O'Callaghan
13. David Treacy
14. Mark Schutte
15. Sean Treacy
Oulart-the-Ballagh
1. Conor O'Leary
2. Paul Roche
3. Keith Rossiter
4. Barry Kehoe (c)
5. Eoin Moore
6. Shaun Murphy
7. Kevin Sheridan
8. David Redmond
9. Michael Jacob
10. Garrett Sinnott
11. Tommy Storey
12. Des Mythen
13. Rory Jacob
14. Peter Sutton
15. Nicky Kirwan
Dr Cullen Park lends itself to great photos, but probably not the best playing experience to be fair…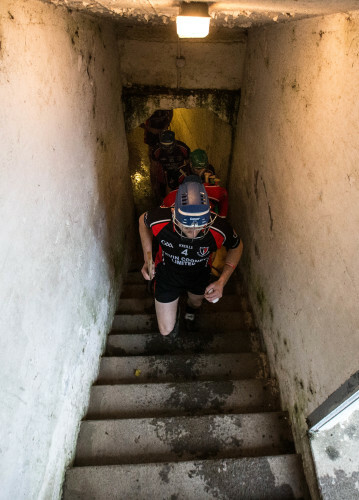 Cathal Noonan / INPHO Cathal Noonan / INPHO / INPHO
The national anthem is playing Mallow — we're just about ready to go between Commercials and Nemo.
1 min — Nemo 0-1 Commercials 0-0: OOOH! James Masters threatens the Commercials goal in the very first minute but corner-back Jamie Peters does brilliantly to block it over the bar.
That could have been a nightmare start for the Tipp men but for Peters' timely intervention.
2 mins — Oulart 0-2 Cuala 0-1: Flying start in Carlow. Two quick points from Tommy Storey for the Wexford men, with Con O'Callaghan adding one for Cuala in between.
4 mins — Nemo 0-2 Commercials 0-1: James Masters points a fine free for the Corkmen before Kevin Harney kicks Commercials' first.
6 mins – Chance for Commercials to draw level but Michael Quinlivan drags his free off target. You'd have backed him to score there…
9 mins – Nemo have the wind at their backs in this first half but Clonmel are digging in and making it difficult for them. Jason Lonergan tests Micheal Martin, and Commercials will have a 45 to level it…
9 mins – Nemo 0-2 Commercials 0-2 : Quinlivan makes no mistake this time. All square early on.
8 mins – Oulart 0-3 Cuala 0-1: Nicky Kirwan stands over a 65 and points to nudge Oulart further in front.
12 mins – Another missed free for Michael Quinlivan in Mallow.
James Crombie / INPHO Aidan O'Reilly tries to dispossess Michael Quinlivan. James Crombie / INPHO / INPHO
14 mins — Nemo 0-3 Commercials 0-2: Space opens up in front of David Niblock and the midfielder points to restore Nemo's lead.
14 mins — Oulart 0-3 Cuala 0-2: Sean Treacy is fouled and big brother David steps up to point the free. The wind is very much with Oulart in this first half, judging by the flags at pitchside.
15 mins — Oulart 0-5 Cuala 0-2: Two quick scores for Oulart. Des Mythen wins scrappy possession in midfield and points, and then from Sean Brennan's puckout, David Redmond fires straight back over the bar.
19 mins — Nemo 0-3 Commercials 0-3: That's a beaut from Jason Lonergan. He takes a couple of steps inside the 45 and then fizzes over a lovely score off the outside of his left boot.
19 mins — Oulart 0-6 Cuala 0-2: Cuala are doing well to win possession but even the slightest mistake is being punished by Oulart and the wind. Tommy Storey tacks on his third of the afternoon and the Wexford men lead by four.
22 mins — Nemo 0-4 Commercials 0-3: James Masters doesn't need too many invitations and he pops another over following good work by Niblock.
23 mins — Nemo 0-4 Commercials 0-4: All square again! Great block by full-back Donal Lynch to turn over possession, Jason Lonergan carries it on, and Aldo Matassa points.
25 mins — Nemo 0-5 Commercials 0-4: Swift counter by Nemo and David O'Donovan is up from the back on the overlap to finish off the move. Good score.
24 mins — Oulart 0-7 Cuala 0-2: I've no doubt that Nicky Kirwan has fine range on a still day but he has the help of the wind here as he launches a free from his own 65 up and over the bar.
29 mins — Nemo 0-5 Commercial 0-5: Nemo are sloppy in protecting the ball as they move it out from the back. Ian Fahey does well to turn the ball over and Jack Kennedy points.
27 mins — Still Oulart 0-7 Cuala 0-2 with three minutes to play in the first half in Carlow.
30+1 mins – Kevin O'Driscoll touches the ball on the ground and Michael Quinlivan will have a chance — a difficult chance admittedly — to send Commercials in ahead.
HALF TIME: Nemo Rangers 0-5 Clonmel Commercials 0-5
He misses it, and that's half-time.
GOAL FOR OULART! Oulart 1-7 Cuala 0-2 (Dunne 30′)
What a massive boost for Oulart as they grab the game's opening goal in stoppage time!
They win another of Sean Brennan's puckouts and after moving the ball through the hands, David Redmond drives towards goal. Three Cuala defenders come across to deal with the threat but it leaves sub Tomás Dunne with a yard of extra pace. He cuts back inside Cian O'Callaghan and taps to the net.
HALF TIME: Oulart-the-Ballagh 1-7 Cuala 0-2
Cathal Noonan / INPHO Con O'Callaghan and Colm Cronin try to win back possession from Barry Kehoe Cathal Noonan / INPHO / INPHO
Cuala will have the wind in the second half, remember…
SECOND HALF: We're back underway in Mallow and in Carlow. A massive 30 minutes for all four clubs…
33 mins — Commercials 0-6 Nemo 0-5: With the wind at his back this time, Michael Quinlivan points the 45. Clonmel lead for the first time!
35 mins — Oulart 1-8 Cuala 0-2: That's a big score from Oulart to stretch their advantage and turn up the heat on Cuala. Tomás Dunne knocks down the long ball and Nicky Kirwan points, his first from play.
36 mins – Yellows apiece for John Sheanon and Des Mythen…
36 mins — Oulart 1-9 Cuala 0-2: Oulart starting to turn the screw as Dunne taps over a close-range point off his right.
38 mins — Oulart 1-9 Cuala 0-3: Treacy points a free — Cuala needed that, and a whole lot more.
38 mins – Wide for Seamus Kennedy and a lengthy period of Commercials pressure comes to nothing. They still lead by a score, 0-6 to 0-5.
40 mins — Oulart 1-10 Cuala 0-3: Oulart are just looking that little bit sharper here. Des Mythen beats his man to the ball, pops it over, and celebrates with a big fist pump.
Is this finally to be Oulart's day?
40 mins — BIG CALL! Michael Quinlivan is through on the Nemo goal and goes to ground under pressure, but referee Rory Hickey is having absolutely none of it. That's one that will be discussed again this evening.
42 mins — Oulart 1-10 Cuala 0-4: Another Treacy free but there's still nine in it. Cuala doing no more than match Oulart at the moment.
42 mins — Commercials 0-7 Nemo 0-5: Another for Quinlivan! Commercials are two up and surely the Tipp faithful are starting to believe?!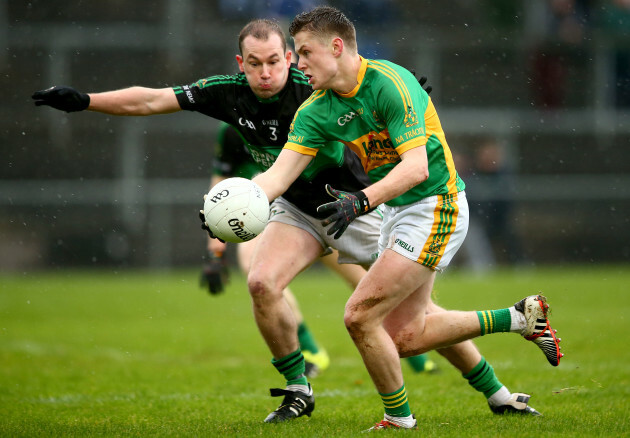 James Crombie / INPHO Ciaran O'Shea and Jason Lonergan James Crombie / INPHO / INPHO
GOAL FOR OULART! Oulart 2-10 Cuala 0-4 (Sinnott, 44′)
Delight for Oulart, disaster for Cuala — and surely that's that?!
Eoin Moore launches a long free towards the Cuala goal and it evades everyone, including Cuala keeper Sean Brennan, who gets the faintest touch which kills the pace on the ball. It drops dead and Garrett Sinnott boots to the net.
Twelve-point game. Surely there's no way back for the Dubs?
45 mins — Commercials 0-7 Nemo 0-6: Paul Kerrigan cuts the gap to one with a quarter to play. Nemo needed that.
Oulart 2-10 Cuala 0-7 — 48 mins: Fine response from Cuala but is it too little too late? They've hit three unanswered since the goal, David Treacy with the most recent from play. Nine in it now…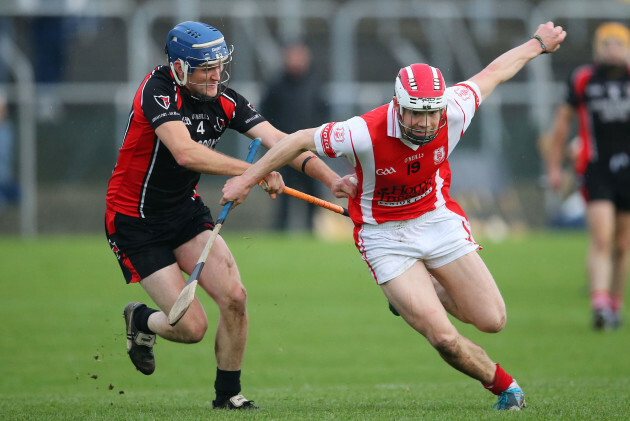 Cathal Noonan / INPHO Con O'Callaghan tries to get free of Barry Kehoe. Cathal Noonan / INPHO / INPHO
48 mins — OH WHAT A CHANCE! Paul Kerrigan stripes his shot off the right post and Clonmel breathe a massive sigh of relief. That was a golden opportunity.
50 mins — Oulart 2-10 Cuala 0-9: Two more from Treacy and Cuala are back within seven with 10 minutes to play. That's been a huge few minutes for the Dubs but they still have it all to do.
52 mins — Oulart 2-11 Cuala 0-10: Cuala concede the free and Nicky Kirwan points Oulart's first point since the goal. Treacy responds immediately to cancel it out.
53 mins — Oulart 2-11 Cuala 0-12: Serious determination by Cuala here who simply won't give up. Con O'Callaghan brings them back within six…
54 mins — Oulart 2-11 Cuala 0-12: Treacy again! Five-point game… and after their history of heartbreak in Leinster finals, what must Oulart be thinking now? This is way too close for comfort.
52 mins — Commercials 0-7 Nemo 0-7: ALL SQUARE! Luke Connolly points and Nemo are back on terms.
57 mins – Back in Mallow, Commercials have kicked their NINTH wide. Will they come to rue the wastefulness? All square with three to play.
58 mins — Oulart 2-12 Cuala 0-12: Have Oulart weathered the Cuala storm? They regain possession from a hasty clearance and Eoin Moore powers forward to point. That should settle the nerves because time's nearly up…
58 mins — Nemo 0-8 Commercials 0-7: NEMO LEAD! Paul Kerrigan! Two to play…
Stoppage time in Carlow. Oulart are on the cusp of glory…
Two minutes to play in Mallow. Can Commercials get their equaliser?
There will be four minutes of injury time in Oulart-Cuala…
60+1 mins — Nemo 0-9 Commercials 0-7: Priceless! Jack Horgan points and now Commercials need a goal.
GOAL FOR COMMERCIALS! Commercials 1-7 Nemo O-9 (Quinlivan 60+2′)
OH. MY. DAYS. Have Commercials just snatched the win? Michael Quinlivan drills a low shot past Micheal Martin and Commercials lead at the death. There can't be any time left…
FULL TIME: Clonmel Commercials 1-7 Nemo Rangers 0-9
Unbelievable!
What incredible drama in Mallow but there'll be no drama in Dr Cullen Park where time is just up. Oulart 2-13 Cuala 0-13
FULL TIME: Oulart-the-Ballagh 2-13 Cuala 0-13
How about that for a bit of drama to finish off the afternoon?!
Massive to congrats to both Clonmel Commercials and Oulart-the-Ballagh, and commiserations to Nemo and to Cuala.
Two wins that have been a long, long time coming. You can bet they'll be celebrated tonight!
Thanks for reading.
Exclusive Six
Nations Analysis
Get Murray Kinsella's exclusive analysis of Ireland's Six Nations campaign this spring
Become a Member