Happy Monday, sports fans. It's time to forget about that long weekend of hope turned to hurt, pull up your socks and believe again.
Nigel Carolan's Ireland U20s are in their fourth game of the World Rugby U20 Championship, a semi-final after impressive wins over Wales, New Zealand and Georgia.
Argentina are the opposition for the Wolfpups and both sides are chasing a historic first appearance in the age grade decider.
Tell us your thoughts, wishes, expectations and opinions on the game ahead by commenting below, tweet us @Rugby_ie or hit us up on Facebook.
It should be a cracker, so if you can't get to  TV by 17.30, stay with us and I'll talk you through the whole thing.
Here's how the Wolfpups and Los Pumitas will line up today.
Ireland
15. Jacob Stockdale (Belfast Harlequins / Ulster)
14. Matthew Byrne (Terenure / Leinster)
13. Shane Daly (Cork Con / Munster)
12. Conor O'Brien (Clontarf / Leinster)
11. Hugo Keenan (UCD / Leinster)
10. Johnny McPhillips (Queen's University / Ulster)
9. Stephen Kerins (Sligo / Connacht)
1. Andrew Porter (UCD / Leinster)
2. Adam McBurney (Ballymena / Ulster)
3. Ben Betts (Young Munster / Munster)
4. Sean O'Connor (Cashel / Munster)
5. James Ryan (Lansdowne / Leinster) (Capt)
6. Greg Jones (UCD / Leinster)
7. David Aspil (St.Mary's RFC / Leinster)
8. Max Deegan (Lansdowne / Leinster)
Replacements
16. Vincent O'Brien (Cork Con / Munster)
17. James Bollard (Dublin University / Leinster)
18. Adam Coyle (Naas / Leinster)
19. Evan Mintern (Cork Con / Munster)
20. Kelvin Brown (Shannon / Munster)
21. Niall Saunders (Harlequins)
22. Brett Connon (Newcastle Falcons)
23. Jimmy O'Brien (UCD / Leinster)
Argentina
15. Bautista Delguy
14. Tomás Malanos
13. Juan Cruz Mallía (Capt)
12. Santiago Mare
11. Julián Domínguez
10. Domingo Miotti
9. Patricio Baronio
1. Rubén Ricco
2. Gaspar Baldunciel
3. Santiago Medrano
4. Franco Molina
5. Ignacio Calas
6. Marcos Kremer
7. Mariano Romanini
8. Vicente Boronat
Replacements:
16. Román Pretz,
17. Santiago Pulella
18. Gonzalo Del Pazo
19. Conrado Roura
20. Bautista Stávile
21. Lautaro Bazán
22. Martín Elías
23. Nicolás Osadczuk.
Nigel Carolan on Sky Sports pre-match saying he hopes to beat Argentina 'at their own game.' The head coach wants his team to be expansive in attack, but also points to a set-piece threat that they can rely on.
The teams are out of the tunnel and will have to rein in their enthusiasm for a set of anthems.
We're nervous for these young men now.
A powerful rendition of Ireland's Call with several of the 23 arching their back to get a little extra volume bellowing out into the Manchester air.
You don't need me to tell you that Argentina are beyond pumped after their anthem. Time for some rugby, some knockout, World Cup rugby.
KICK-OFF. Miotti sends the ball to the Ireland 22 and we're off and running with an exit strategy.
Adam McBurney is an early casualty, the Ulster hooker is down getting treatment.
The replay shows him taking a nasty knee right into the solar plexus as a Pumita takes a high ball.
No question of foul play, but a sore way to be winded.
2 mins: Stephen Kerins just a little too eager to turn defence in to attack after Ireland get the ball back. His kick after a forward dart goes straight in to touch.
Andrew Porter has just gone to work. A big shove from the humongous loosehead and Ireland win a scrum penalty on the 22 metre line. McPhillips kicks Ireland into the Argentina half.
McBurney's throw at the line-out is a rare crooked one. It'd be a shock if he wasn't still feeling effects of the knee that clattered into him.
Solid first set of attacking phases from Ireland with some good opening carries from Mz Deegan and his back row.
It's knocked on on the 22, but the green shirts are hot on the breakdown out wide and force a penalty for holding on.
McPhillips will kick for touch.
TRY! Ireland 7 Argentina 0 (Stockdale '8)
The maul is halted by a good Pumita resistance, but Ireland don't hang around waiting to see what's next. McPhillips sends the pill sailing across the field, Byrne contested and it was spilled backwards by the Argentina wing. Shane Daly was first to the loose ball and he popped it back to Stockdale.
McPhillips connects to make it a flawless conversion from the right wing.
There was perhaps a question of a knock-on for that try, but it did look legit on replay so thankfully the TMO isn't just employed for the craic.
Ireland concede a penalty just after the restart. Miotti's connection is typically pure and powerful, but the ball drifts just right of the top of the posts.
15 mins: After McPhillips wisely pins Argentina back, they clear to give Ireland a line-out 40 metres out. Ryan's slap back at the tail hits the deck and the set piece is a touch messy. But Ireland recover to off and attack the left flank until a handling error forces a scramble back to a loose ball.
Here's a close-up view of Stockdale's finish.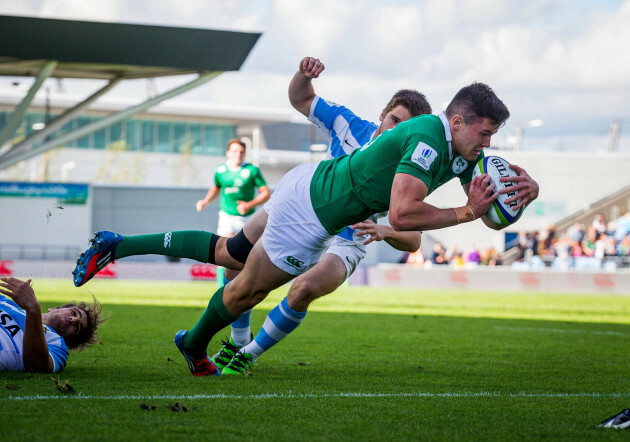 Ryan Byrne / INPHO Ryan Byrne / INPHO / INPHO
Ireland struggling to make big inroads in the Pumita defence in open play, but we're keeping them penned in to the right area of the field.
Oof. Matt Byrne takes a pass from Stockdale and is instantly hit man and ball.
Ireland force the issue wide again and the wide pass to Keenan is knocked on and Daly can't help lift it. Penalty and a route out.
TRY! Ireland 14 Argentina 0 (Deegan '22)
Absolutely astonishing athleticism from the number eight. Just as Argentina set up shop in Ireland's half, Deegan reads the move brilliantly and steals a Baronio pass and proceeds to out-pace two Argentine backs when pinning back his ears in a 60 metre sprint for the line.
A marvellous try and a marvellous conversion to match from McPhilliips.
That is a terrific start from Ireland and just what we wanted to see pre-match. This was not the time to slip behind and try to scrap back into a game.
Another restart is followed by a penalty concession, but the defence stays firm and force a turnover scrum on their own line.
Upgrade it! Penalty after the green scrum force a decision and McPhillips sends a rocket 50 metres upfield.
TRY! Ireland 21 Argentina 0 (Stockdale '30)
Unbelievable stuff from Ireland. If Stockdale's first was an easy finish, this was an absolute gem.
Ryan sends the ball back at the tail of a line-out and the backs are sensing blood. Keenan steps inside off the left flank to beat two men and by the time Stockdale gets the ball in his hands he's building up to full speed and is light enough on his feet to sidestep one defender before really hitting the afterburners.
This is sensational stuff from Ireland. We've watched them put nice phases together at times this tournament and then put in big defensive shifts. But this is absolutely clinical. Ruthless stuff from the Wolfpups.
36 mins: A reprieve for Los Pumitas as Byrne puts the ball down after Ireland try to exploit wide gaps after Porter draws tacklers into the middle.
TRY! Ireland 21 Argentina 7 (Mallia '38)
Argentina mount one last attack in the half and make the most of it. After trucking the ball up off the back of a line-out, Miotti sends s disguised grubber from the 5 metre line and the captain and centre Mallia is first to dive on the loose ball behind the posts.
HALF-TIME: Ireland 21 Argentina 7
What a half of rugby that was. Beautiful stuff.
Second half then, here we go.
McPhillips sends the restart to the left flank. The South Americans build from there though and made a big break in midfield to take play up to the Ireland 22 before a knock on sends the ball back into a scrum… which Andrew Porter is just OWNING at the minute.
McPhillips can boom the ball back to halfway with his penalty.
43 mins: I feel I'm repeating a line from early in the first half, but Ireland guilty of trying to break the game too early. They stretch the field to go wide right, but Byrne's acceleration around the corner comes with a knock on.
45 mins: The Wolfpups are tigerish as ever in defence though and force another penalty to strip possession off the Pumitas. The South Americans must be incredibly frustrated out there, Ireland making sure they can't build pressure against them.
Ireland are really cranking up the pressure, a series of phases strung together as they rumble through the carriers to make 30 metres.
Alas, once James Ryan gets a sniff of the line, Ireland go off their feet trying to recycle his latest gainline and Argentina can escape.
Ireland look confident and assured though, not panicking on the attack but they know they have a winning lead and don't have to do anything magical to win from here.
Peep! Pumas pinged for going from the side and McPhillips can extend the lead to 17.
PENALTY! Ireland 24 Argentina 7 (McPhillips '53)
And he sends it sailing through the posts.
Ah yes. I'll say it cautiously, but it's looking good. Argentine frustration really showing now and the fail to let go of Greg Jones in the tackle.
With a tricky cross-wind McPhillips finally has a miss to his name as the ball is pulled right, but Ireland look the stronger, smarter team out there by a distance.
More sublime stuff from Stockdale. The Ulster back attacks the line and seems to ghost in and out of tacklers' range. His footwork when he is eventually taken down means it's always on his terms.
Now, obviously as I type that he's on the ball again and ends up giving a penalty away near the touchline.
20 minutes to go and Ireland don't look like a team who will concede from here on in.
Another penalty goes against Argentina and the referee will finally come in and give a warning for persistent ruck infringements.
PENALTY! Ireland 27 Argentina 7 (McPhillips '62)
PENALTY! Ireland 30 Argentina 7 (McPhillips '65)
Ireland are in cruise control now and McPhillips' boot is allowing them to turn thoughts to the final. Another terrific long-range effort at a post which has proven tricky for other kickers in this tournament.
69 mins: McPhillips looks like he fancied a chance to go through the full repertoire, sitting back in the pocket to snap a drop-goal. There wasn't a great shield set though and he ended up rushing and mis-hitting his effort wide.
OUCH! Ref goes to TMO to check foul play and it's an absolute stinker of an act.
Sean O'Connor is poking out of the maul and replacement prop Santiago Pulella aims a headbutt at the jaw of the lock in the midst of his work.
Red card, no doubt about it: Santiago Pulella.
We're entering the closing stages of this game and Ireland are happy to see it out against the 14 men.
These boys have a final to play later this week.
TRY! Ireland 35 Argentina 7 (Daly '84)
FULL-TIME: Ireland are in the World Rugby U20 Championship final!
Ireland 37 Argentina 7
Shane Daly rounded off a comprehensive Irish win with an intercept try 10 metres from the posts.
Ireland are four for four in this tournament. Bring on England or South Africa.