By jingo it was a close one in Christchurch last week. However, the beauty of a three Test series means that opportunities for revenge come thick and fast. Or, at least, it was supposed to.
Feel free to leave us a comment below or contact me @patmccarry on Twitter.
You may have to refresh the page occasionally to play YouTube videos and such.
New Zealand 60-0 Ireland
Welcome along to Waikato Stadium in Hamilton – lovingly referred to as Cowtown. We are 30 minutes away from the third and final Test match between Ireland and the All Blacks.
Ireland need to prove to the world, as much as themselves, that they can perform at a consistently high level and test, nay defeat, the best teams in the world. They came so close last weekend but the All Blacks are weakened by a few injuries so opportunity knocks.
Here are the line-ups:
Ireland: Rob Kearney; Fergus McFadden, Brian O'Driscoll (captain), Paddy Wallace, Keith Earls; Jonathan Sexton, Conor Murray; Cian Healy, Rory Best, Mike Ross, Dan Tuohy, Donnacha Ryan, Kevin McLaughlin, Sean O'Brien, Peter O'Mahony.

Replacements: Sean Cronin, Declan Fitzpatrick, Donncha O'Callaghan, Chris Henry, Eoin Reddan, Ronan O'Gara, Andrew Trimble.
An alternative, and some would say stronger, backline would be Kearney, Trimble, O'Driscoll, McFadden and Earls. It will be interesting to see O'Mahony at Number 8.
New Zealand: Israel Dagg, Ben Smith, Conrad Smith, Sonny Bill Williams, Hosea Gear; Aaron Cruden, Aaron Smith; Tony Woodcock, Andrew Hore, Owen Franks, Luke Romano, Sam Whitelock, Liam Messam, Sam Cane, Richie McCaw (captain).

Replacements: Hikawera Elliot, Ben Franks, Brodie Retallick, Adam Thomson, Piri Weepu, Beauden Barrett, Tamati Ellison.
Six changes in the All Blacks' team and the headline news is Cruden coming in for Dan Carter and Sam Cane starting at openside flanker while McCaw shifts to the back of the pack.
Here are the highlights from the Second Test:
YouTube credit: rugsta15
Amid much fanfare and horn-blowing, both teams are coming out onto the Waikato Stadium pitch. A lovely ground, capacity of 30,000 a police dog or two.
Remember, you can contact me @patmccarry on Twitter (or by leaving a comment) as the action unfolds.
Anthems done and dusted and Paddy Wallace looking very tanned – good old Portugal, never lets ya down!
Riche McCaw wanders a few steps towards the Irish at the end of the haka – not quite as much emotion as last week but it never fails to do the trick.
Here we go. Ireland on the attack and in possession but a squandered pass from McFadden means they clear.
Hosea Gear spills a Murray heave upfield but Cruden mops up. Turnover ball for the All Blacks and Sam Cane thunders forward before knocking on.
TRY! Two forward passes but Sam Cane is in for a try and Roman Poite waves it on.
Cruden makes no mistake from the right wing and it is New Zealand 7-0 Ireland. Not looking good already. I take it back about the two forward passes – there was only one, by Sonny Bill. Cruden's flick assist was perfect.
TRY! Sonny Bill races free after another magnificent pass by Cruden. 12 minutes gone. He bounced off McFadden there.
A simpler conversion for Cruden this time and it is looking bleak already – New Zealand 14-0 Ireland.
Cruden with a missed penalty attempt after O'Mahony was adjudged offside at the ruck.
TRY! Game over already? Cruden flick Sonny Bill bursts through to score. Paddy Wallace exposed. Welcome to New Zealand Paddy!
Dagg with the conversion this time and he gets it. New Zealand 21-0 Ireland after only 19 minutes. Yikes. Ireland are on a plane home in 12 hours time but they seem to be mentally on it already. Steerage.
Another All Black TRY! Wallace fails to find O'Driscoll, Cruden races free and finds Ben Smith to hare free and dive over in the right-hand corner. Dagg's conversion misses – New Zealand 26-0 Ireland
Irish scrum wins one. A crumb to chew on there.
O'Driscoll lets slip another pass after great hands in the attack from Kearney beforehand. Ireland take the attacking scrum after the All Blacks are penalised.
Woeful stuff here from Ireland as Aaron Smith steals the tame Murray put-in and New Zealand clear. Ireland have been awful so far.
Donnacha Ryan with a great break but he is isolated. He just about connects with Tuohy but it is two against six and the All Blacks snatch back possession.
Rob Kearney has been yellow-carded for a deliberate knock-on as the All Blacks streamed up the right wing. Beauden Barrett steps up on debut to land a penalty and make it 29-0. So ends one of the worst halves the Irish team have played in recent memory.
There is a lot of sniggering in the press box at Waikato Stadium and why not? New Zealand have resembled the Super Rugby styling of the Chiefs and have torn Ireland asunder. Looks like the boys in green will be playing for pride (again).
All Blacks are first back on the field and you can't blame them. They will fancy running up a half-century here. Ireland filter out a minute later.
I never included Keven Mealamu in the replacements list for the ABs. He is on now for Andrew Hore.
Conor Murray, I could punch your box kicks! Another hopeless punt that puts Ben Smith under no pressure. New Zealand attack through McCaw and Conrad Smith but play is called back for a forward pass.
TRY! And it is Sam Cane again, who dives over after taking, just about, a good feed from Aaron Smith. Liam Messam did all the damage initially. Barrett converts to make it New Zealand 36-0 Ireland
TRY! Hosea Gear outpaces McFadden, bounces off Earls and then drags the frailing McFadden over the line to score after a TMO.
Barrett's conversion misses the target. Gear smashed a forearm into Earls' face just before he touched down. Out of order but if we complain too much it will sound like sour grapes.
Rob Kearney is back on the field. Rejoice.
Ireland are getting battered here and need to show some fight to salvage something out of this game.
O'Gara is on to end Wallace's utter misery. Henry on for McLaughlin too.
TRY! Cane finds a charging Liam Messam and he powers through for try number seven. Brian O'Driscoll cursing at his troops on the pitch. Barrett's conversion attempt is off the post – New Zealand 46-0 Ireland
TRY! Welcome to the party Israel Dagg. Williams with a great grubber kick on the halfway and Dagg hares free to score. Barrett converts to make it New Zealand 53-0 Ireland
Got a text from an Irish friend living in Auckland, who travelled down to Hamilton for the match – "Left at halftime. Back in the pub."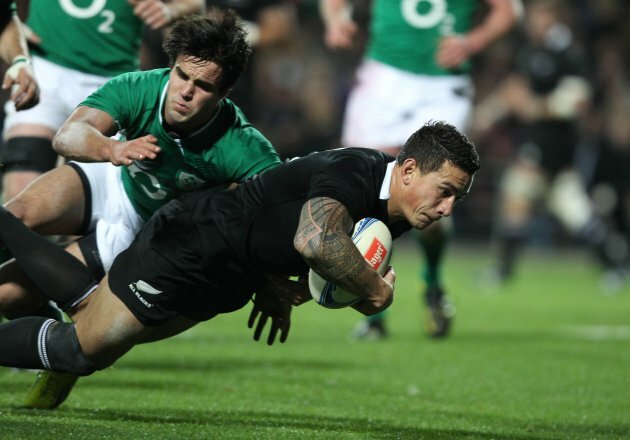 SBW gets his second try. (©INPHO/Billy Stickland)
TRY! Adam Thomson is the recipient of another gimme try pass after great work from Romano then Barrett. Try number nine and Barrett gets the extras – New Zealand 60-0 Ireland
There we go – 60-0 and game over. It was over after five minutes in reality.
Ok, that is that from New Zealand. Stay with us over the day for reactions and analysis of a record Irish defeat (margin-wise) against New Zealand.