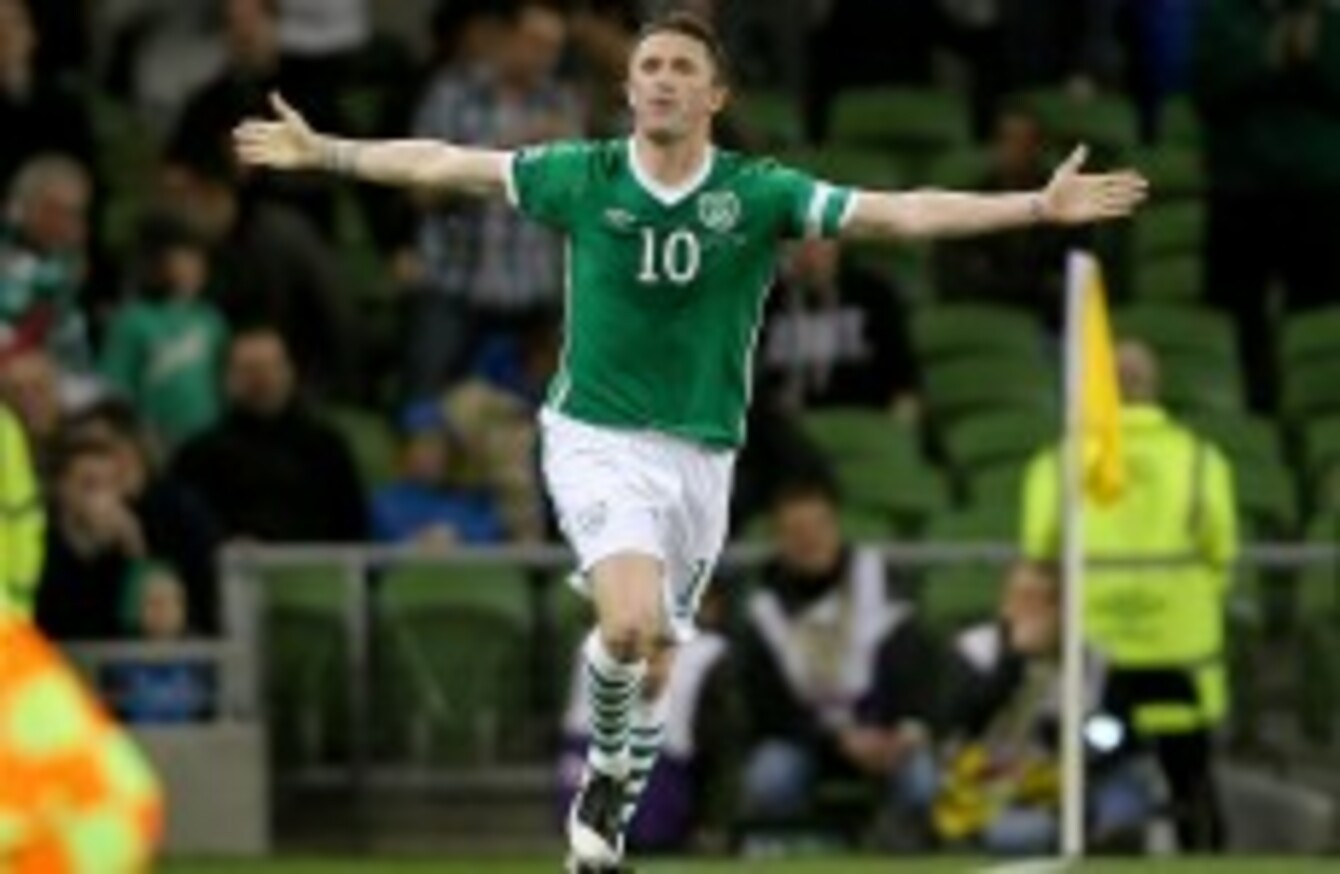 Image: ©INPHO/Lorraine O'Sullivan
Image: ©INPHO/Lorraine O'Sullivan
Get in touch with your comments and thoughts as the evening's action unfolds. Leave a comment below, send your e-mails to niall@thescore.ie, tweet us @thescore_ie or find us on Facebook.
FULL TIME Ireland 2-1 Macedonia That's all from me. Thanks for all of your emails and comments. I'm off to mooch a few interviews and maybe a leftover sambo or something. See you soon.
90+2 min: Tick tock. The crowd scream for a penalty as Long goes down in the box, but the ref is having none of it.
90 min: Three additional minutes. Three long minutes, I'm betting. Trichkovski has a half-chance on the edge of the box but Whelan's in close attention and forces him to sky it.
89 min: Pandev hasn't gone away you know. He threatens to spoil the party, trying to make a bit of space for himself to get a shot off but Kevin Foley thankfully sticks his foot in to dispossess the striker.
88 min: I think I may need a new set of eardrums. James McCarthy comes on to replace Robbie Keane and the Aviva erupts. Great welcome for Jimmy.
87 min: So close for Ireland. Long pulls the ball back to Keane on the edge of the box, but Noveski manages to deflect it just past the post.
85 min: McGeady wins a free in a dangerous position 20 yards out … but Fahey sends it over.
83 min: Popov pulls down Long as he breaks away down the line, escaping a booking (again) by pretending to be hurt. It's not a bad trick. Ireland doing their best to keep possession, and doing ok – Whelan, Keane and Duff playing some nice triangles.
80 min: Into the last ten minutes. The Aviva crowd are getting behind the lads, doing everything in their power to see them over the line.
78 min: Popov has … ahem … a pop off Duff, hurling him to the ground for no reason whatsoever. He's lucky not to pick up a second yellow for that.
77 min: Ireland make their first change, bringing Fahey on for Gibson in midfield. No sign of Jimmy Mc just yet.
75 min: A great save by Kieran Westwood keeps Ireland in front. A great lofted pass from Demiri catches Dunne fast asleep, not noticing that Trichkovski has nipped in behind him. The midfielder does everything right, trapping the ball perfectly, but Westwood is quick off his line to smother the effort. Ireland have had their warning – they need to wake up now.
73 min: Trichkovski's shot from 20 yards out doesn't trouble Westwood, but Macedonia have been the better side so far in this second half. Ireland are struggling to really get on the ball, often needlessly giving away what little possession they have. Time for a change, Trap?
70 min: Gibson goes into the referee's book as well for a pretty needless tackle from behind on Trichkovski. The free-kick comes to nothing.
66 min: Dunne picks up a yellow card which will rule him out of the game in Skopje in June.
64 min: A little bit of dilly-dallying there by Keane may have cost Ireland a third. Duff robbed Pandev out on the right and Ireland had a three-on-two break. The captain hesitated for a second before trying to stick the ball through Grncharov's legs and the chance is gone.
63 min: Westwood claims authoritatively from a Macedonian corner. He hasn't done much wrong so far tonight.
61 min: The nerves are already starting to set in among some of our readers it seems. Ronnie Sheehan has this to say for himself:
This has the makings of a nightmare !  Macedonians are great passers  and Ireland just can't hold onto the ball.  Needless giving away of possession cost us a goal and it will probably cost us at least one more. Just watch as panic gradually takes a grip on the Irish team. Needless to say there will be no substitutions until too late in the game.
58 min: That's better from Ireland, though again, it should have been a goal. McGeady crosses from the by-line, picking out Duff ten yards out. He traps it at the second attempt but his low shot zips just past Nuredinoski's far post. Ireland need to be taking those chances.
56 min: Popov has a little nibble at Duff from behind and picks up a yellow card for his troubles.
53 min: Clare Patten has e-mailed in to ask me what I thought of Zinedine Kilbane's nutmeg earlier. Trust me when I say that I missed that one, otherwise I'd still be talking about it. As it stands, I'm merely trying to get the image of Grncharov's assault out of my head.
49 min: Ouch. Collective grimace in the press box as Grncharov nearly takes Shane Long's head off with an outrageously high boot. I cannot stress how terrible a tackle that was – worse than De Jong on Alonso in the World Cup. Somehow, the referee interprets it as a yellow-card offence. To be polite, all I'll say is that his decision is incorrect.
48 min: Macedonia have come to play ball in this second half, I can sense it. Popov skirts down the left and crosses the ball towards Pandev on the penalty spot, but his hooked effort bobbles wide. Westwood is booked for taking his time over the goal kick.
46 min: We're off again. No changes for either side.
20.42 Declan Smyth has been back in touch again with his analysis of the Macedonian goal. Listen to the man, kids, he knows what he's talking about:
Just before the Macedonian goal, Darron Gibson got the ball sideways on in midfield. He had plenty of room to turn and attack the space. Instead he turned back and played the ball to Kilbane who knocked it long. The ball was lost. They attacked and scored.
20.40 Ugh. That was hardly ideal, was it? As a number of people are saying on Twitter, it really would have been distinctly un-Irish to take a two-goal lead into half-time. But still, there was no need to gift them a goal, was there?
From where I'm sitting (i.e. in the Aviva Press Box), it looked like Ireland really switched off for the last twenty minutes of the first period and were really just going through the motions. When you do that, you get punished.
As a result, the game has been changed completely. Ireland will probably emerge for the second half resembling a bag of nerves while Macedonia will clog the midfield and generally try to frustrate until they can fluke an equaliser.
Half Time: Ireland 2-1 Macedonia Back in a sec. Send me in some thoughts and comments. The other media people won't talk to me …
GOAL! Ireland 2-1 Macedonia (Trichkovski 45′) That changes things a little bit and, unsurprisingly, it's the two most lively Macedonian players who combine to produce it. Pandev slips a neat through ball to Trichkovski who cuts inside a slipping Richard Dunne and tucks it past a helpless Kieran Westwood.
43 min: O'Dea has looked quite comfortable at centre-half so far this evening. He cuts out a long ball intended for Pandev and, rather than hoof it forward, plays it nicely into midfield and Ireland retain possession. Quite refreshing that.
39 min: Ireland pay homage to Jack Charlton with some fine route one football. Westwood launches his goal kick deep into Macedonian territory, Long flicks it on and Keane volleys over from the edge of the box. Ball never hit the deck once.
37 min: I'm not sure if the RTE cameras have noticed this, but there is a section of fans in the North Stand waving their shoes in the air, singing "shoes off for the boys in green." Am I missing something?
33 min: Barry in Naas has been in touch with a little bit of doom-mongering and then a speedy retraction. I'll let you scroll down to the comments to see for yourself.
32 min: Trichkovski's effort from the edge of the box zips past Westwood's post. He's probably been the most threatening of the Macedonians so far.
28 min: Speaking of the lack of sympathy which Nuredinoski is getting, one of our regular readers, Declan Smyth, has just sent this in: "The Irish squad can give that old yellow bib to the Macedonia keeper. He's having a mare."
Nice.
26 min: And that should have been three. Long scampers down the right and decides to cut back inside Grncharov before taking his shot on. Between the Macedonian defender and his team-mate Shikov, they succeed in limiting the space and Long's shot drifts just wide of the left-hand post.
25 min: Nuredinoski is not getting too much sympathy on Twitter. It's actually quite entertaining.
GOAL! Ireland 2-0 Macedonia (Keane, 21′) Oh dear, oh dear. If Nuredinoski's confidence was already in pieces, then it might just have suffered irreperable damage. Darron Gibson hits a low free-kick from the best part of 25 yards and though the keeper has his body behind the ball, he spills it a couple of yards in front of him. Robbie Keane doesn't need to be asked twice – he sticks his foot on the end of it to double Ireland's advantage.
20 min: Long eventually comes on for Doyle.
19 min: Ireland are still down to ten men here as they haven't been able to make a substitution. Trap is doing his nut, chasing the linesman all the way down the line to berate him for not letting Long come on. I've never seen anything like that before. What's the Italian for "stay in the technical area please, sir?"
16 min: Ireland could be trouble here. Kevin Doyle took a bad knock there and he doesn't look like he'll be able to continue. Shane Long is getting warmed up.
14 min: Dunne looks to get on the end of an inswinging free-kick from McGeady but Grncharov beats him to it to knock it over the bar for a corner, which ultimately comes to nothing. Still, the Irish pressure has been good in these opening stages.
12 min: Popov's effort from distance doesn't trouble Westwood at all. That's the best Macedonia have had to offer so far.
10 min: McGeady has looked very lively so far in the opening ten. He sets Kilbane free down the left and when his cross is knocked back across the face of goal by Doyle, Keane very nearly gets a toe on the end of it. Another goal now would go a long, long way.
7 min: Nuredinoski is looking less than confident in the Macdeonian goal. I get the feeling that Darron Gibson may test the confidence with a few more long-rangers as the half progresses.
5 min All of those making competitive debuts look eager to make their mark. Darren O'Dea dispossesses Pandev with a great tackle much to the delight of the Lansdowne faithful.
2 min GOAL! Ireland 1-0 Macedonia (McGeady) What a start for Ireland. Kevin Foley wins a header in midfield which Doyle picks up, feeding McGeady on the edge of the box. He cuts back inside the defender and drills one in to the bottom-left corner of Nuredinoski's goal. The keeper might have done better, but I'd need to see it again.
19.45 We're off. Come on Ireland!
19.43 At a guess, I'd say the crowd is somewhere in the region of 35,000, but I can't really see. Daniel O'Sullivan has been in touch below with the following comment: "The price of tickets are a disgrace ,another half empty stadium ,thanks FAI."
What do you reckon?
19.41 Millennium Stadium, take note. That's how national anthems are supposed to be observed.
19.37 The teams are out on the pitch, awaiting the arrival of the dignitaries led by my buddy, the Lord Mayor of Dublin Gerry Breen. Me and GB go way back, didn't you know?
19.33 So, does anybody care to make a prediction? I'm going for Ireland to win by a single goal. That's how confident I am.
19.32 A video looking back on Ireland's visits to Skopje in 1997 and 1999 have just been shown on the big screen. As if we needed reminding …
19.30 My esteemed media colleagues have decided to join me. Note to self: arrive 15 minutes before kick-off next time around.
19.26 I may have a nice seat, but it's cold here high up in the West Stand. The ground isn't exactly full yet either. Wonder what type of a crowd we're looking at tonight?
19.24 The teams have gone back inside to get changed. Provided he doesn't get injured on the walk back to the dressing room, Robbie Keane will lead the team out for the 41st time this evening, more than any other captain. Be nice to mark the occasion with a goal, wouldn't it Robbie?
19.21 You'll note that I'm not even entertaining the prospect of Paul Green being included in today's squad. Here's what Trap had to say yesterday:
Against a more creative and technical opponent, maybe I'd need someone more like Paul Green, but tomorrow we're hoping to be able to play around their box a lot.

We need players like Gibson and McGeady who will control the ball and take shots on.
19.20 There's been quite a bit of discussion and debate about the Irish team selection over the past 24 hours, particularly the decision to leave out Ciaran Clark and James McCarthy in favour of players like Darren O'Dea and Darron Gibson. What do you think – has Trap got it right, or has he lost the plot completely?
19.19 I'm sure you've all had a chance to read this already, but in case you're wondering who the aforementioned Mr Pandev is, you might want to check out the bluffer's guide to Macedonia which we published yesterday.
19.17 As the PA reads out the Macedonian line-up, Inter Milan's Goran Pandev gets a great welcome. I'm not sure who's making all the noise though, I can't see any Macedonian fans from where I'm sitting.
19.15 I've just been watching Jimmy McCarthy who's knocking the ball about like he hasn't a care in the world. I'd say he'll be only delighted to win his first competitive cap and shut the chattering classes up once and for all. I'm sure he'll get one hell of a reception when he does finally appear.
19.10 A photo of tonight's team-sheet, just in case you were wondering what it looked like when printed out.
19.05 The two teams are out getting warmed up, with the Macedonians down in the Havelock end. The press box has started to fill ever so slightly. I obviously committed some sort of horrific faux pas by rocking up an hour before kick-0ff. Never did find those prawn sambos either …
19.02 And here's this evening's opposition, FYR Macedonia:
Macedonia: Nuredinoski, Shikov, Popov, Noveski, Grncharov, Shmulikoski, Demiri, Tasevski, Trichkovski, Pandev, Naumoski.

Subs: Bogatinov, Metreski, Georgievski, Risticj, Despotovski, Lazevski, Gjurovski.
19.00 The team-sheet has just been handed to me. The Irish team is as it was announced yesterday.
Republic of Ireland (vs Macedonia): Kieran Westwood; Kevin Foley, Richard Dunne, Darren O'Dea, Kevin Kilbane; Damien Duff, Glenn Whelan, Darron Gibson, Aidan McGeady; Robbie Keane (c), Kevin Doyle.

Subs: David Forde, Stephen Kelly, James McCarthy, Shane Long, Ciaran Clark, Liam Lawrence, Keith Fahey.
18.55 This is my seat for the evening – I suppose I'll have to make do with it.
18.45 Evening all. This transmission comes to you from high in the West Stand of Dublin's Aviva Stadium where I'm currently cutting a rather lonely figure in an empty press area. I'm ok with that – I never had many friends as a child.
We're just over an hour away from kick-off in tonight's crucial Group B fixture. I've no doubt that there'll be plenty to keep us occupied between now and then, so stay put and I'll help you while away the minutes before kick-off.
Back in a sec, I'm just going to look for the prawn sandwiches. They have those, right?