Image: ©INPHO/Barry Chambers/Cricket Ireland
Image: ©INPHO/Barry Chambers/Cricket Ireland
Get in touch with your comments as the morning's action unfolds. Leave a comment below, send your e-mails to sport@thescore.ie , tweet us @thescore_ie or find us on Facebook. Latest updates appear at the top.
Click here for a live scorecard
4.15pm Disappointing for Ireland. After restricting South Africa to less than a tonne for their first four wickets, the game really slipped away in the middle order. That Duminy-Ingram partnership really put on a great show to rack up 87 runs from their thirteen overs together. Then Johan Botha stepped in to add to the damage, scoring 21 late on to push the Springboks to a formidable total.
Of course, such totals are even more formidable when your openers seem insistent on losing early wickets. Again, Ireland started at a painfully slow pace, falling to 51/4 inside 12 overs. The day's best stint came from Gary Wilson who put up 31, but that was never really going to be enough against a team who fancy themselves to have a shot at the overall title.
So South Africa qualify while Ireland book the plane home. We've one game left against the Netherlands on Friday. It would be nice to finish with a second win, wouldn't it?
See you then.
3.52pm WICKET! We're all done here at Eden Gardens. Dockrell had just smashed a four but he was caught behind by van Wyk on the next ball and that brings an end to a dismal afternoon's work for Ireland. 141 all out – South Africa win by 131 runs.
3.45pm WICKET! There goes another one. John Mooney this time, who is dismissed for 14. Ireland struggle to 137/9 (33 overs).
3.35pm WICKET! While we were off celebrating Hurricane Fly's victory in the Champion Hurdle, Trent Johnston was dismissed for 12. Ireland have since moved up to 129/8 (31.0 overs), but this ship sailed long ago.
3.15pm WICKET! Cusack's gone.  A single from Mooney, but Cusack's attempts to get after Peterson and has a big heave into the off side, 'straightforward catch at cover'. Peterson has 3-25. Ireland 107/7 (25.5).
14.56pm WICKET! And another one in quick succession. Gary Wilson goes for 31 and this one could be over sooner rather than later. Ireland 92/6 (21.5)
14.54pm WICKET! Kevin O'Brien skies one, and he's gone as well now. Ireland 92/5 (21.3)
14.42pm Ireland are plodding along here, but it doesn't look good. The run rate for the last five overs has been a paltry 3.9, when Ireland need something along the lines of 6.2. Disappointing, as Ireland move to 85/4 (19.2 overs).
14.13pm WICKET! Ed Joyce goes lbw for 12 as Ireland struggle to 51/4 (11.4 overs)
13:59pm WICKET! That's three down, and Ireland have only made it as far as 35 before losing the opening trio. Niall O'Brien had gotten to 10, before being bowled by Kallis – it catches a faint tickle of his bat and off he goes. The target looks tough now. 35/3 with 8.5 overs gone.
We're still actually here, by the way – some tech glitches there, as you no doubt noticed, stopped us from being able to publish any changes. We're back now, thankfully, and we're €2 down after the first at Cheltenham.
13:29pm WICKET! Uh-oh. Paul Stirling, who had looked okay in firing himself to 10, goes inside the third. Ireland are 19/2 and now the chase of 273 looks really, really tricky.
13:21pm WICKET! Well, that's not promising. Captain William Porterfield falls in the first over, bowled by a dead chuffed Morne Morkel. 8 from the first over, but a wicket too.
13.16pm Ireland just getting started. We'll have one eye on this and one on the racing for the next little while. They're chasing 273 – a possible, though improbable, target.
12.32pm WICKET! South Africa knew that they needed to make tracks and did so over the last ten overs. JP Duminy tried to hit a six when on 99, but Kevin O'Brien got under the dropping ball to make the catch.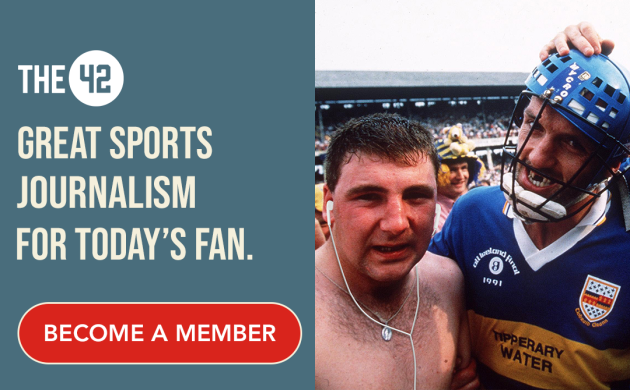 Two balls later, South Africa finish on 272/7 which is not beyond Ireland's reach if they can hold the early wickets.
11.46am WICKET! Whaddya know? That Duminy-Ingram partnership was just starting to heat up, but Johnston has put pay to that. He bowls Colin Ingram for 46 and that's six men down for South Africa who have ten overs and a powerplay left to post a reasonable total. SA 204-6 (39.4 overs)
11.20am No further wickets to report, sadly, but Ireland are bowling really well. The Duminy-Ingram partnership has been restricted to just 41 runs off 45 balls, and South Africa currently find themselves on 158-5 (34.0 overs).
10:50am WICKET! Things have been going quite swimmingly for Ireland, and they just got a whole lot better. Du Plessis is gone for 11 after he flicked Stirling's delivery into Johnson's grateful hands behind the wicket. SA 117-5 (26.3 overs).
10:11am WICKET! Dockrell bowls van Wyk. That is a huge wicket for Ireland, as Van Wyk had been racking up the runs. He is dismissed for 42 off 41 balls and South Africa are now on 84/3 (15.5 overs). Jean-Paul Duminy is in to bat.
10:00am Morning all. I'm sure you don't really need reminding that Ireland are currently taking on South Africa in Eden Gardens, Kolkata. Realistically, nothing less than two wins from their final two games will give Ireland any chance of making the tournament's quarter-final stages.
South Africa are tough opponents and – whisper it – my pre-tournament fancy to go the whole way, so it may be a big ask for Ireland to pull off a win today. Still, even if our boys are packing their bags come Friday evening, they will have done us proud.
Ireland won the toss this morning and put South Africa in to bat. Both of the South African openers – Hashim Amla and Graeme Smith – have lost their wickets early on however, leaving South Africa on 77-2 (13.4 overs).
We'll keep you posted as the South African wickets hopefully continue to fall.
#Open journalism
No news is bad news
Support The Journal
Your contributions will help us continue to deliver the stories that are important to you
Support us now