And then there were two.
Munster's loss to Glasgow last night means that Ireland will have only one representative in the Pro12 Grand Final. But will it be the defending champions, or the side railing against the perceived injustice of red cards?
As always, we'd love to hear your thoughts on the match. E-mail sean@thescore.ie, tweet @thescore_ie, post a message to our Facebook wall, or leave a comment below.
Welcome, rugby fans, to the RDS.
We have less than 50 minutes to wait for the repeat of last season's Pro12 Grand Final this time at the semi-final stage.
There are many questions ahead, but one thing we do know is that Leinster won't have Isaac Boss to call upon, the Ireland international has been replaced by Luke McGrath on the replacements bench.
And so, with that small amendment among the covering half-backs, here are the teams who will duke it out this evening.
The big news is the return of Rory Best and Ruan Pienaar for Ulster. Can they last the pace?
Leinster: Rob Kearney; Fergus McFadden, Brian O'Driscoll, Gordon D'Arcy, Dave Kearney; Jimmy Gopperth, Eoin Reddan; Cian Healy, Sean Cronin, Martin Moore; Devin Toner, Quinn Roux; Rhys Ruddock, Shane Jennings, Jamie Heaslip (capt.).

Replacements: Aaron Dundon, Jack McGrath, Mike Ross, Leo Cullen, Sean O'Brien, Luke McGrath, Ian Madigan, Zane Kirchner.
Ulster: Craig Gilroy; Tommy Bowe, Jared Payne, Darren Cave, Andrew Trimble; Paddy Jackson, Ruan Pienaar; Callum Black, Rory Best, Ricky Lutton; Johann Muller (capt.), Iain Henderson, Robbie Diack, Chris Henry, Roger Wilson.

Replacements: Rob Herring, Andrew Warwick, Adam Macklin, Dan Tuohy, Sean Doyle, Paul Marshall, James McKinney, Luke Marshall.
The heat is making this a grand day out in D4, and there are much more people milling around than this pic (admittedly taken around an hour ago) suggests.
Still, fair play to the lad for claiming his seat good and early.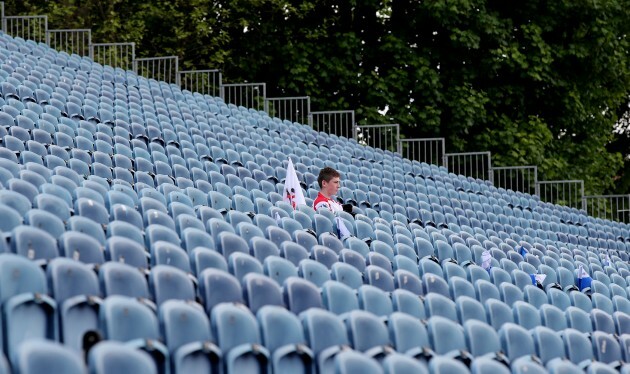 Dan Sheridan / INPHO Dan Sheridan / INPHO / INPHO
64.00 – DISALLOWED GOAL! Messi really thought he'd given Barca the lead with a close-range volley…He was wrong.
Still can't quite believe that Xavi is still on the bench. Could win an 8th league title today. Watching Alex Song replace Busquets must have been a kick to the stomach.
Sorry for the intermission there, that was the gap between leaving the sandwiches and sanctuary of the media room to coming to the middle of the Grandstand. Leinster have given us a decent view from the halfway line today.
Leinster and Ulster are both coming to the tail end of their warm-ups with the hosts taking the fairly unusual – at least to me – step of having a full 15 on 15 run-out as part of their session.
No point in leaving lads sitting in the stand, I suppose.
Ulster are making their way to the tunnel and it allows a fairly large travelling contingent to make their voices heard. Red and white are the dominant shades in the heart of the north terrace away to my left here.
Leinster have also headed to the shade, but mercifully from the players' point of view,the sun has been replaced by a haze and the temperatures have dropped.
Right, the flags have been raised high, the teams have been announced for the final time and the players have made their way towards the tunnel.
Can Leinster lift their performance on home soil? Can Ulster keep 15 men on the field? All will be revealed in the next 80 minutes.
Let's get it on.
Ulster are on the field and Leinster are about to receive a rapturous welcome. Time for me to get one last thing out of the way… your referee for the day is Leighton Hodges.
KICK-OFF: Paddy Jackson gets us underway by kicking at Jamie Heaslip. It's too deep for a chase, but Leinster's get-out ball is taken comfortably by Craig Gilroy.
Ruan Pienaar has just missed with an early long-range penalty attempt. The 'Bok had set up a decent spell on possession by drilling the ball toward Rob Kearney, who fumbled and allowed the ball slip behind him before hoisting it up towards midfield again.
Gilroy has started well. Two straightforward takes from high balls that have set up good phases of possession for Ulster and the northern province continue to attack.
Brilliant break from Bowe in midfield and the Ulster voices roar as their side attack the line. Robbie Diack has to reach high above his head to take possession. He is taken high on his way to the line and it sets up the chance for Jackson.
PENALTY: Leinster 0 – 3 Ulster (Jackson ' 6)
Ulster have started like a train and Pienaar's kick has pinned Leinster back onto their on five metre line. After an initially solid line-out, though, Leinster do enough to stagnate the move and win a penalty.
Wow. Leinster set a good base with a maul and hoist it high. Trimble leaps to take the ball cleanly and McFadden careers into him.
You know what the Ulster fans want. But McFadden's jump was to contest and the decision is just a pen.
15 minutes: Big moment for the Leinster pack as they completely blitz Ulster's scrum on halfway. Ricky Lutton could be in for a long day on that viewing.
Wind against Leinster so too far for a kick at goal, they go for touch, but Iain Henderson collects a loose ball off the second phase and marauds as far as half way before a knock on is called.
Another chance for Leinster's scrum to set a mark.
This time Lutton holds his ground under pressure from Healy and Reddan's snipe and kick flies out on the full. Line-out, Ulster.
Well, we have another tackle in the air decision to be made. McFadden took a high ball and seemed to jolt his leg up and into Trimble who then made contact.
Again, Leighton Hodges makes a calm decision and issues no card.
The Kearney brothers combine off the back of a scrum after a Jackson forward pass and Leinster finally have some pep in their step. Ulster have to defend their five-metre line viciously and they do, forcing a penalty which Pienaar wasted no time in drilling back to halfway.
24 mins: Despite coming up short on that attack, you have to think Leinster will be pleased at still being within a kick after a full quarter.
They will be less pleased with the Ulster dominance so far, but Mark Anscombe must be concerned that their period of momentum is over. Two forward passes from Jackson has not helped that particular cause.
ANOTHER BIG BREAK.
Jimmy Gopperth storms into another gap around the fringe of a solid scrum and he is not put down until the 22. Ulster's scramble defence led by Diack is terrific again and they force a turnover and a reprieve.
Ian Henderson penalised for going straight over the top of a ruck on half way and Gopperth sets up Leinster's best opportunity so far, a line-out inside the 22.
Once Ulster retreat as far as their 22, their defence has been immaculate, they force Leinster back five metres and force a central knock-on.
Wow. You won't see a decision like that very often. Hodges watches the blue Scrum steamroll forward, but penalises Healy for collapsing. The home fans are absolutely incensed.
This game needs a score.
SIN BIN: Very, very strange decision from Gordon D'Arcy. Tommy Bowe takes a mark from a forced O'Driscoll dink over the top.
D'Arcy watches the wing line up for free-kick and charges him with his shoulder.
Ulster's penalty is dreadfully inaccurate though, Pienaar missing touch a second time.
35 mins: Who needs scores, this is an enthralling game. You get the sense that if one side can just string 8-10 phases together then they will eke out a score, but the defences have been suffocating.
Ooomph! Was that a changing of the guard? Jared Payne powers over O'Driscoll in midfield and sets up a second Ulster break on the left wing. This time it's Leinster's turn to scramble and they do it well, forcing the visitors back inside and to the right before Toner helps to turn over.
The big man thinks he is away for a 90-metre dash, but Rory Best smashes into him and he's called back for a knock-on.
Ulster's scrum is solid and Cave's carry is hard and straight, but the visitors can't get a good string of passes together and so can't score out wide on this occasion.
Not clearly anyway, we're going back for a TMO after Diack knocked on.
PENALTY! Leinster 0 Ulster 6 (Jackson ' 40)
HALF-TIME Leinster 0 Ulster 6
The TMO was for a quick look at a scuffle between Andrew Trimble and Rob Kearney. The IRUPA chairman definitely seemed to take two swings at the IRUPA player of the year with Ulster on the attack there. Fortunate to get away with a talking to.
Jakers, maybe it was the snail's pace of my internet connection, but that half-time break flew by.
Here comes the second half, Jimmy Gopperth will start play off by kicking into the south terrace.
Rory Best looks nothing like a man who's been nursing an ankle injury for the past six weeks. He's stepping tacklers and making gainlines to beat the band.
42 mins: Gordon D'Arcy is back on the field and Leinster have their full compliment.
The inside centre's first act is to chase back after Ulster successfully moved it wide fast enough for Andrew Trimble to break clear up the left. Again, Ulster can't set a solid base in the Leinster third and the blues force the turnover.
Now that I mention it, here's the charge that earned D'Arcy a sin-bin.
RaboDirect PRO12 / YouTube
Brian O'Driscoll is down and OUT COLD. Seemed to be a clash of heads with an Ulster player just inside the Leinster half.
Brian O'Driscoll leaves the field, perhaps for the last time, after regaining consciousness. Ian Madigan has come on to replace him and D'Arcy will move to outside centre.
Losing O'Driscoll is an obvious blow for Leinster, and it could get worse after Hodges penalised them for straying offside 35 metres out.
PENALTY: Leinster 0 Ulster 9 (Jackson 52)
The RDS finds its voice again for another big break taking play out of the mire in midfield and into attack. But AGAIN the turnover comes and Ulster attempt to play their way out before Pienaar eventually finds an out-ball.
Leinster attempt to string phases together, but Henry forces the carrier to hold on.
55 mins: As Paddy Jackson joins O'Driscoll in the concussion bin Leinster are sending on the cavalry. Mike Ross,Leo Cullen and Sean O'Brien are all in the game now.
McKinney has replaced Jackson and Luke Marshall is in in place of Cave.
Where's your money now, folks?
Leinster fans are beginning to believe, they unleash a deafening cry as their team attack and they are sated by Hodges' straight arm on the edge of the 22. Leinster's first score of the game.
PENALTY Leinster 3 Ulster 9 (Gopperth '58)
Is that the turning of the tide. Ulster losing Jackson seems a bigger blow than Leinster without O'Driscoll to me.
Drama as Pienaar charges down Madigan. McFadden wins the race back and Leinster try to force their way out.
Meanwhile, O'Driscoll has called time on his afternoon. His career lies in the hands of his team-mates now.
Game on now.
Leinster have momentum firmly in their corner and force another penalty right on the 22.
PENALTY: Leinster 6 Ulster 9 (Gopperth '63)
A quick switch of the play from Pienaar and Ulster had an overlap on the left. They're setting up camp on the five-metre line, desperately trying to force an opening, but the blue shirts just keep on coming and slowing their progress.
Another man is down inured, Fergus McFadden looking punch drunk after a passage of play that ended with Leinster being awarded a scrum.
Ulster still very much in the area of the field they want to be in.
TRY! Leinster 13 Ulster 9 (Madigan '9)
Terrific move from the Leinster attack finally catching firer and Madigan is able to bounce through two tackles and touch down. The crucial score?
Gopperth converts.
Now Ulster are against the wall what can they come up with? Well, they've gone far enough to win a penalty on the edge of the 22. Three points are not enough though, they're going for the full hog.
78 mins: The line-out is decent,Leinster did not contest so the white shirts are forced backwards.
Luke Marshall is asked to make three hard carries into contact, but he can't wriggle out of contact to get an offload away. Ulster again move to the shortside, but Jared Payne looks to be bundled into touch.
We're a long way from that corner, but he's pleading for a TMO on where he grounded the ball.
The clock and field position are suddenly against Ulster now as the blue scrum emerged victorious from the set-piece on their own five-metre line.
Time is up and Ulster are running the ball across the halfway line.
It's over. The scrum is awarded to Leinster and they waste no time in kicking it out.
FULL-TIME Leinster 13 Ulster 9
Well, that was a frantic finish to an incredibly intense game.
Ulster, yet again, just can't find enough in the tank to close this one out and Leinster take their place in another Pro12 final where Glasgow now stand between them and a trophy.
Will Brian O'Driscoll be there? He'll be having plenty of cog tests over the next week to determine that.
Exclusive Six
Nations Analysis
Get Murray Kinsella's exclusive analysis of Ireland's Six Nations campaign this spring
Become a Member