Liveblog
So Liverpool go again, having won the Champions League and narrowly missed out on the Premier League title.
Jurgen Klopp's side will be looking to pick up where they left off and will be confident of a win against newly promoted Norwich.
It's been a quiet summer on Anfield, with no big-name players signed. Whether or not that decision is judged a wise one will inevitably depend on how the club fare in the coming months.
It may be early in the season, but with Man City having picked up 98 points last season, they will know they can scarcely avoid to drop points against the so-called weaker teams.
With the Canaries having won the Championship, there will be a feel-good factor around the club, but even with that positive mindset, anything other than a home win tonight would be a major surprise.
3.94 - Among Premier League fixtures to have been played more than 10 times, Liverpool vs Norwich City has seen the most goals per game in the competition's history (63 goals in 16 games, 3.94 per game). Bonanza. pic.twitter.com/TVKhTY1kro

— OptaJoe (@OptaJoe) August 9, 2019
Who do you think will win?

It's difficult to see anyone other than Man City and Liverpool mounting a serious title challenge. They were so far ahead of everyone else last season and no other side's recruitment has been strong enough to envisage them catching up anytime soon."
While you're waiting for kick-off, have a read of our writers' Premier League predictions.
Gary Neville and Jamie Carragher have been learning about the Premier League's incorporation of VAR ahead of this game.
Source: Sky Sports Football/YouTube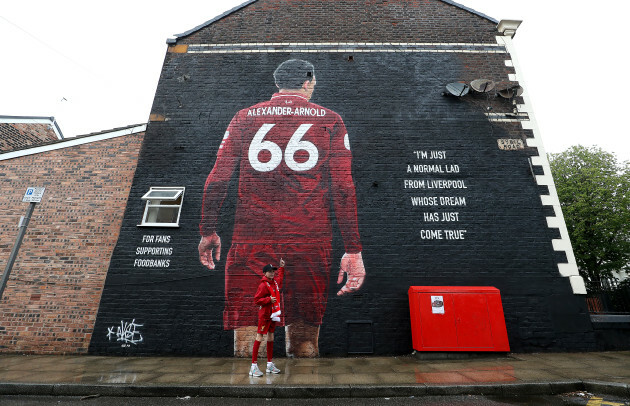 A mural of Liverpool's Trent Alexander-Arnold on the side of a house on Sybil Road, Anfield. Source: PA Wire/PA Images
There haven't been any real chances yet.
Liverpool, as expected, have started very much on the front foot.
Pukki breaks down the left and squares it to Stiepermann, whose first-time shot is well off target.
Norwich were afforded plenty of space there.
Flag
LIVERPOOL 1-0 NORWICH (HANLEY OG 7)
Origi gets away from Aarons down the left.
He then crosses and Hanley tries to make the clearance, but mishits it, and it finds the back of the net.
It's a nightmare moment for the 27-year-old Scottish international.
Robertson's cross finds Salah, but the Egyptian can't quite get a good connection and fires it wide.
Liverpool continue to dominate.
Pukki has found himself in one or two decent positions in recent minutes, with Norwich sporadically threatening.
As I type, Robertson's powerful strike from the edge of the area goes just over.
It's been an intriguing game so far that's being played at an intense pace.
LIVERPOOL 2-0 NORWICH (SALAH 19)
Alexander-Arnold drives forward with the ball and after a fortuitous deflection, Firmino plays through Salah, who finishes clinically with the outside of his foot.
This is turning into quite a baptism of fire for Norwich.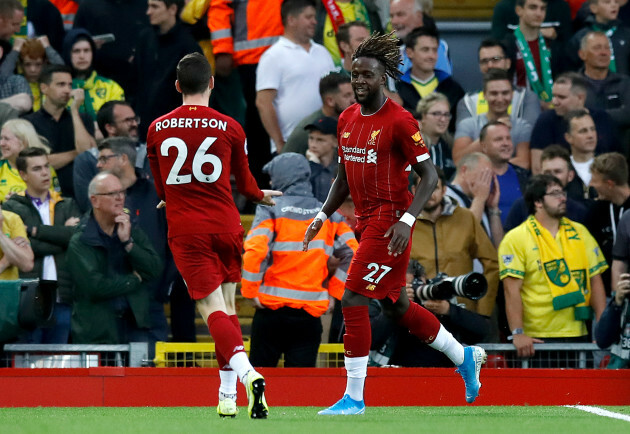 Liverpool's Divock Origi (right) celebrates with team-mate Andrew Robertson. Source: PA Wire/PA Images
Aarons squares it to Stiepermann, whose powerful strike from about 30 yards out forces Alisson into a save.
Norwich have actually been pretty good when they've had the chance to attack. Their problems have been down the other end.
LIVERPOOL 3-0 NORWICH (VAN DIJK 28)
This is turning into a nightmare for Norwich.
It's far too easy for Van Dijk — he doesn't even have to jump as he heads home virtually unchallenged from a Mo Salah corner.
It's Liverpool's title now, surely?

— Gary Lineker (@GaryLineker) August 9, 2019
As decent as they've been at times going forward, Norwich look so vulnerable defensively and liable to concede every time Liverpool attack.
Salah is the latest player to go close for the Reds.
3 - Liverpool have scored three goals in the opening half hour of a Premier League match for the first time since February 2014, when they were 4-0 up after 20 minutes against Arsenal. Unforgiving. pic.twitter.com/B5B7wtIRwr

— OptaJoe (@OptaJoe) August 9, 2019
Worrying scenes for Liverpool, as Alisson hobbles off after picking up a knock.
It means a competitive debut for Adrián, who was signed from West Ham over the summer.
LIVERPOOL 4-0 NORWICH (ORIGI 42)
Alexander-Arnold produces a brilliant cross for the onrushing virtually unmarked Origi, who heads home with aplomb.
This first half could hardly have gone much worse for Norwich, who have been seriously inept at the back.
Liverpool continue to attack, as if the score is still 0-0.
The whistle can't come soon enough for Norwich.
HALF-TIME: LIVERPOOL 4-0 NORWICH
Norwich City was the first club I went to on trial when I was younger. So I always look out for their results. And hope they get hammered. They didn't offer me anything

— Cillian Sheridan (@CillianSheridan) August 9, 2019
Well, it's a fairly satisfactory half for Liverpool and a disastrous one for Norwich.
The Reds have ruthlessly exposed the Canaries' frailties, with the likes of Salah and Origi looking very sharp.
Nine of Norwich's players had no Premier League experience before today and it really shows.
From a neutral's perspective, you hope this isn't a sign of things to come for the Premier League season, as the match has very quickly become a non-contest.
The second half is belatedly underway, after a technical delay.
It was "a head-set problem" for one of the assistant referees, according to Sky.
Liverpool almost score again.
Origi crosses for Henderson, whose shot on the edge of the area is tipped onto the post by Krul.
Moments later, Alexander-Arnold crosses for Firmino, whose attempt on the turn from close range goes just wide.
An injury to Alisson was the only negative in the first half for Liverpool.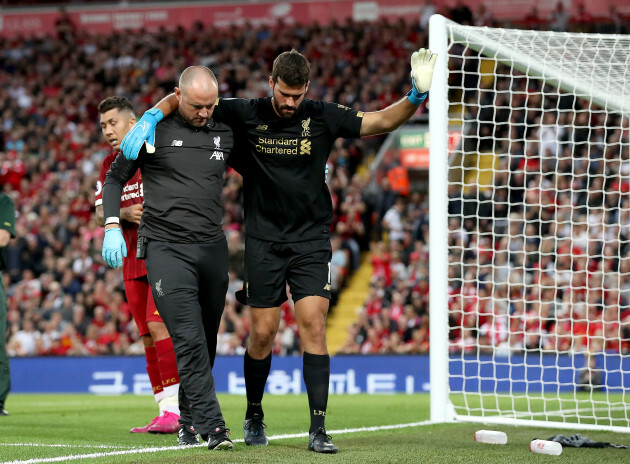 Source: PA Wire/PA Images
Norwich lose possession just outside their area, and Salah curls his attempt inches wide.
Moments later, Fabinho's curled attempt is gathered by Krul.
The visitors look bereft of confidence and are the architects of their own downfall right now.
Robertson drives a shot just wide after a free kick is only half cleared.
Norwich make a change, and it's one German player for another, as Stiepermann is replaced by Leitner.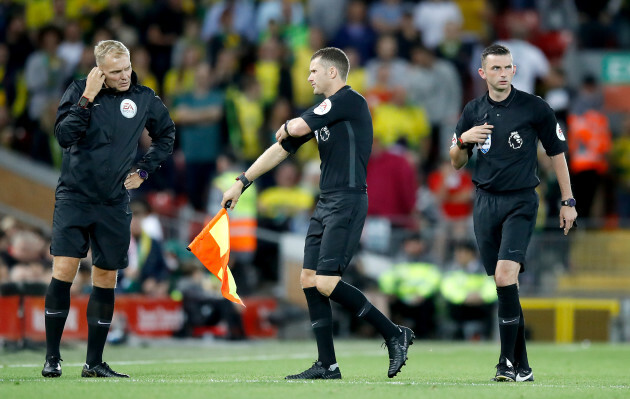 The start of the second half is delayed after problems with the comms for the referee and his assistants. Source: PA Wire/PA Images
LIVERPOOL 4-1 NORWICH (PUKKKI 64)
Finland international Pukki opens Norwich's Premier League account.
He collects a nicely weighted Buendia through pass and fires impressively into the corner of the net, having been played onside by Robertson.
Norwich have had some positive moments in attack, and they deserved that goal.
Firmino's shot from the edge of the area deflects just wide.
With 20 minutes remaining, you get the sense there is at least another goal or two in this game.
Meanwhile, Norwich make a second change — Trybull makes way for Hernández.
There are loud cheers as Klopp decides to give Mane a run out.
Origi, who took his goal very well, is substituted.
Norwich have been a bit better in recent minutes.
You wonder, however, how much of it is due to Liverpool taking their foot off the pedal.
Another change for Norwich.
The goalscorer Pukki is replaced by Josip Drmic.
Norwich City's Teemu Pukki (right) celebrates scoring. Source: PA Wire/PA Images
Alexander-Arnold goes close, as his curled free kick is tipped over by Krul.
Liverpool then make a substitution, with Milner on in place of Firmino.
FULL-TIME: LIVERPOOL 4-1 NORWICH
So that's that.
Liverpool didn't show many signs of rustiness in attack, as they were far too good for Norwich.
The Canaries demonstrated the type of poor defending that could result in their relegation if it doesn't improve between now and the climax of the season.
The visitors had the odd bright moment down the other end, but they were aided by the fact that the Reds relaxed to an extent in the second half.
0.24% of all goals in PL history have come in games between Liverpool & Norwich

— Duncan Alexander (@oilysailor) August 9, 2019
Right, that's all from me for now.
You can read our match report here.
We'll have more reaction to follow.
Contribute to this story: