Hello, and welcome to today's liveblog.
As always, we'd love to hear your thoughts on the game. E-mail paul@the42.ie, tweet @the42_ie, post a message to our Facebook wall, or leave a comment below.
You may need to refresh the page for YouTube videos and other elements to display correctly.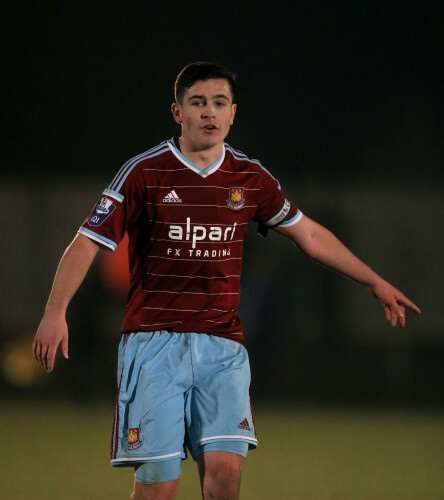 EMPICS Sport EMPICS Sport
Ireland U19 international Josh Cullen is on the bench today for West Ham.
Click here for all you need to know about him.
Aug 29th 2015, 3:04 PM
3'0
LIVERPOOL 0-1 WEST HAM (LANZINI 3)
Aug 29th 2015, 3:06 PM
4'0
Lanzini silences Anfield with a goal on his first league start for West Ham.
The Hammers take advantage of hesitance in the Liverpool defence, as the Argentine footballer connects with a cross-shot just ahead of the defender.
Aug 29th 2015, 3:07 PM
4'0
Maybe Brendan Rodgers was right when he said this match would be Liverpool's most difficult of the season so far.
West Ham have started this match very brightly.
Aug 29th 2015, 3:09 PM
8'0
Close for Liverpool!
Firmino twists and turns away from the defender and hits the post with a powerful shot from distance.
Aug 29th 2015, 3:11 PM
8'0
Peter Byrne Peter Byrne
Daniel Sturridge pictured before the game. Liverpool would love to have him available today.
Aug 29th 2015, 3:12 PM
10'0
Benteke goes down in the box after a challenge from Winston Reid, after the big striker chests the ball down.
There are half-hearted appeals for a penalty, but the referee rightly ignores them.
Aug 29th 2015, 3:15 PM
12'0
More nervy defending from Liverpool as they struggle to clear a West Ham free kick into the box.
Despite losing their last two league games, the Hammers haven't been afraid to attack by any means so far.
Aug 29th 2015, 3:17 PM
13'0
Lanzini sprints towards goal and shoots just wide.
He has excellent close control when he dribbles and looks a good player.
Aug 29th 2015, 3:20 PM
18'0
A cross is directed towards Benteke but Ogbonna heads away for a corner.
It should be a fascinating battle between the clubs' respective summer signings today.
Aug 29th 2015, 3:23 PM
19'0
Aug 29th 2015, 3:25 PM
20'0
West Ham are playing very narrowly at the moment, and Liverpool are struggling to break them down.
As the previous tweet suggested, Liverpool could benefit from greater width.
Aug 29th 2015, 3:27 PM
24'0
West Ham are looking dangerous on the counter attack.
The ball deflects into the path of the onrushing Cresswell at the edge of the area, but he fails to properly connect with the shot, blasting well over.
Aug 29th 2015, 3:29 PM
28'0
LIVERPOOL 0-2 WEST HAM (NOBLE 29)
Aug 29th 2015, 3:33 PM
30'0
West Ham double their advantage and it's an awful goal to concede from a Liverpool perspective.
Lovren dwells on the ball on the edge of his own area, and Lanzini robs the defender of possession.
The Argentine's cross is cut out, but Mark Noble is on hand to slot home the loose ball from just inside the box.
Aug 29th 2015, 3:36 PM
33'0
Liverpool's lack of width continues to be conspicuous.
It may not be long before we see one or both of Ibe and Moreno coming on.
Aug 29th 2015, 3:38 PM
34'0
Noble blasts another shot over the bar, as the visitors continue to threaten.
West Ham have out-thought and out-fought Liverpool so far, and thoroughly deserve their 2-0 lead.
Aug 29th 2015, 3:41 PM
38'0
Liverpool look totally bereft of ideas at the moment.
They keep coming up against wall after wall of West Ham defenders, with the visitors executing their gameplan brilliantly so far.
Aug 29th 2015, 3:43 PM
40'0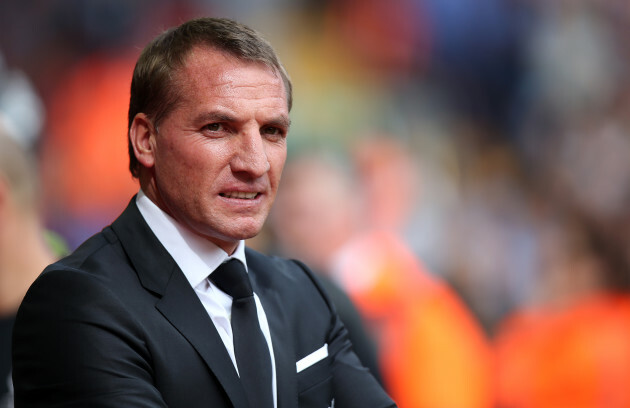 Peter Byrne Peter Byrne
Brendan Rodgers looks a concerned man right now.
Aug 29th 2015, 3:45 PM
41'0
The knives are out already.
Aug 29th 2015, 3:49 PM
44'0
Great play by Kouyate, who carries the ball at least 20 yards, before a well-timed challenge from Skrtel stops him.
This game is by no means over — West Ham have done a lot of chasing in this first half and will inevitably tire in the second.
Aug 29th 2015, 3:50 PM
45'0
Liverpool take a short corner but Coutinho is then robbed of possession, as he appeals unsuccessfully for a free kick.
That moment sums up Liverpool's hapless half.
HALF-TIME: LIVERPOOL 0-2 WEST HAM
Aug 29th 2015, 3:57 PM
0'0
So half-time, and West Ham have undoubtedly been the better team.
The Hammers have shown discipline in defence and potency on the counter-attack.
The Reds' lack of width is being exposed by their opponents' narrow set-up, while 22-year-old Argentine player, Manuel Lanzini, looks like he could be a star in the making, having registered a goal and an assist already on his full league debut for the club.
Liverpool are lacking ideas in attack currently, but may get more opportunities as the game progresses. The Hammers will struggle to sustain the intensity they showed in the first half for an entire 90 minutes.
Aug 29th 2015, 4:06 PM
46'0
The second half is underway…
Aug 29th 2015, 4:09 PM
47'0
Moreno has replaced Can at half-time.
Liverpool now appear to be playing 3-4-2-1, with Coutinho and Firmino in behind Benteke, and Clyne and Moreno playing as wing-backs.
Aug 29th 2015, 4:10 PM
48'0
Moreno has to be alert having just come on.
The Spaniard makes a good tackle to stop Kouyate, who was just preparing to run through on goal.
Aug 29th 2015, 4:12 PM
51'0
Aug 29th 2015, 4:15 PM
54'0
It's stupid from the Brazilian, who may just have killed Liverpool's hopes of getting anything from this game.
Having been booked late in the first half, he receives a second yellow for a clumsy sliding challenge on Dimitri Payet.
Aug 29th 2015, 4:18 PM
55'0
The crowd are getting very frustrated now.
Tomkins puts in a strong challenge on Moreno, and the ref waves play on, much to the fans' anger, before penalising Liverpool seconds later.
Aug 29th 2015, 4:19 PM
56'0
Aug 29th 2015, 4:22 PM
61'0
Danny Ings is coming on as Liverpool attempt to salvage something from this game.
The former Burnley man replaces Roberto Firmino, who — one powerful shot that hit the woodwork aside — has been disappointing.
Aug 29th 2015, 4:27 PM
61'0
Danny Ings nearly makes an immediate impact.
He makes a positive run at the defenders, and attempts to play a one-two with Benteke, but the Belgian striker's return pass is slightly overhit and West Ham clear.
Aug 29th 2015, 4:30 PM
66'0
West Ham are already taking it to the corner in an attempt to waste time, though Moreno quickly retrieves possession.
It's likely to be a patience-testing final 20 minutes for Liverpool fans.
Aug 29th 2015, 4:31 PM
68'0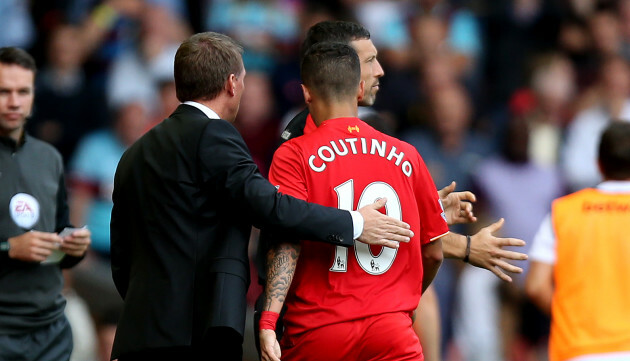 Peter Byrne Peter Byrne
Coutinho after being sent off earlier.
Aug 29th 2015, 4:33 PM
71'0
At the moment, it's West Ham looking like scoring with Danny Ings defending on the edge of his own box.
Eventually, the ball falls to Kouyate outside the box, but his shot is straight at Mignolet.
Aug 29th 2015, 4:35 PM
73'0
A free kick is flighted in towards Benteke, but as he leaps up the whistle is blown for an infringement.
Liverpool simply haven't done enough to get anything from this game today.
Aug 29th 2015, 4:38 PM
75'0
Half-chance for Cresswell.
The full-back is left with plenty of space down the left. He makes some space, turning Gomez, and forcing Mignolet into a decent save.
Shortly thereafter, Reid heads narrowly wide from a corner.
Aug 29th 2015, 4:39 PM
75'0
Aug 29th 2015, 4:41 PM
80'0
It's a fairly ridiculous decision judging by the replay, and it's easy to feel sympathy for Noble, who protests vehemently.
The whistle had gone already and he makes what looks a decent sliding tackle on his opponent, but the referee inexplicably sends him off.
Aug 29th 2015, 4:42 PM
80'0
Lanzini is replaced by 16-year-old Reece Oxford for the final few minutes.
Meanwhile, for Liverpool, Ibe has replaced Gomez, as the hosts look to go all-out attack.
Aug 29th 2015, 4:45 PM
83'0
Chance for Liverpool!
Benteke heads it into Lovren's path from a corner, but the defender can't direct it goalwards, failing to hit the target as he snatches all too anxiously at the loose ball.
Aug 29th 2015, 4:46 PM
84'0
Danny Ings is booked, after taking down Payet in frustration.
That challenge will waste another minute or two, as the Hammers player receives treatment, and West Ham now look certainties to prevail.
Aug 29th 2015, 4:49 PM
87'0
Aug 29th 2015, 4:51 PM
87'0
The game seems to be petering out now.
Liverpool have the look of a side resigned to defeat.
Aug 29th 2015, 4:52 PM
90'0
LIVERPOOL 0-3 WEST HAM (SAKHO 90)
Aug 29th 2015, 4:55 PM
93'0
Liverpool defenders stand off him, and Sakho duly capitalises.
The striker skips away from a challenge, before shooting into the corner of the net from the edge of the box to seal his side's victory.
Aug 29th 2015, 4:57 PM
91'0
Ireland U19 international Josh Cullen makes his Premier League debut, coming on in the final seconds for Sakho.
Aug 29th 2015, 4:58 PM
90'5
FULL-TIME: LIVERPOOL 0-3 WEST HAM
So West Ham win deservedly. Tactically, they were pretty much perfect, continually stamping out any hint of a Liverpool threat, and having the ability to clinically dispatch any chances that came their way.
After a decent start to the season, there is likely to be further pressure now on Brendan Rodgers.
Having spent so much money in the summer, this afternoon, Liverpool looked all too similar to the side that struggled on a regular basis last season.
Aug 29th 2015, 5:04 PM
0'0
Right, that's all from me. Thanks for reading and commenting.