Hello, European football fans! Excuse us if we skip the normal friendly hellos and how are yas, but we have some big, big team news for you.
No Cristiano Ronaldo!
Big Ron's thigh injury means he's not even fit enough for the bench.
Here are the teams in full. Manchester City have that mouthwatering trio of De Bruyne, Silva and Navas behind Sergio Aguero. They will make chances tonight.
Manchester City: Hart; Sagna, Kompany, Otamendi, Clichy; Fernando, Fernandinho, Navas, Silva, De Bruyne; Aguero.
Subs: Caballero, Mangala, Zabaleta, Kolarov, Delph, Sterling, Iheanacho.
Real Madrid: Navas; Carvajal, Pepe, Ramos, Marcelo; Modric, Casemiro, Kroos; Bale, Benzema, Vasquez.
Subs: Casilla, Varane, James, Kovacic, Jese, Isco, Danilo.
Now that we've that all out in the open, a reminder that you can tell us all your thoughts on the game in the comment section below or on Facebook, here.
The teams are in the tunnel, your bets have been placed (For what it's worth, I reckon Madrid will definitely score tonight, but will be happy to head home with a draw) and it's time to go.
Boos ring out around the Etihad as the Champions League theme (beloved of everyone else) is played.
City will kick off
Apr 26th 2016, 7:50 PM
1'0
City's first ball forward from Otamendi is hasty and over-hit. Pepe returns it with interest. Ronaldo is such an invaluable out ball for Los Meringues, so Gareth Bale will have to make himself available to fill that void.
Apr 26th 2016, 7:51 PM
3'0
Ball in from the Madrid right yields a corner off Kompany, but the set-piece comes to nought.
Apr 26th 2016, 7:53 PM
8'0
The game settled into a lull there after Madrid's almost-attack. Jesus Navas is doing his best to provide a spark with a back-heel to open up space behind him for a runner. However, Madrid are keeping six men locked in the final third and this game is extremely tentative at the minute.
Apr 26th 2016, 8:00 PM
12'0
Whisht! Casemiro is caught a bit late after Fernandinho flicks a pass beyond him in midfield.
The midfielder's movement has been exemplary so far and that he unit he forms the heart of – with Kroos and Modric – hasn't given City's defenders any targets to aim at below head height.
Apr 26th 2016, 8:03 PM
13'0
Madrid more than happy to soak up pressure and hope for the best on the break.
A rare foray forward sees Bale hoof a right-footed cross into the area and Benzema swings and misses the ball.
Aguero looks for space as City counter, but the ball over the top isn't quite good enough to escape Ramos.
Apr 26th 2016, 8:09 PM
19'0
Marcelo's getting all of the cat calls from the stands. The Brazilian was feeling pretty damn good about himself after cutting out Fernando's pass, but when a pass was hit towards him he opened his legs and flicked it directly in to touch.
A minute later he attempts a risky back-pass with his right foot which is almost intercepted.
Apr 26th 2016, 8:12 PM
26'0
The free-kick is turfed into the area, but Kompany is whistled for climbing on Ramos.
Apr 26th 2016, 8:13 PM
27'0
And another free-kick near the area. Sergio Ramos is done this time for a rash enough tackle (though he got the ball before crunching the ankle).
Apr 26th 2016, 8:13 PM
25'0
First real sight of green grass for City to play in to. Navas eats up the ground and slides a nice pass for KDB to chase onto.
In classic Pepe fashion, Pepe just mows the Belgian down outside the area.
Yellow Card for Pepe.
I'd be shocked if he sees this game out now.
Apr 26th 2016, 8:14 PM
28'0
Again, the flood of navy Madrid jerseys in the area sees off the aerial threat.
Apr 26th 2016, 8:19 PM
30'0
There's Geoff Shreeves, possibly reminding Big Ron that he is unable to play in tonight's Champions League semi-final.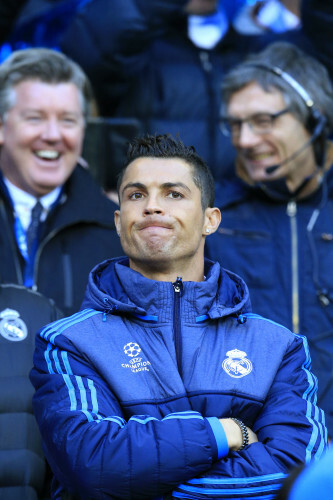 Jon Super Jon Super
Apr 26th 2016, 8:21 PM
33'0
15 minutes to go to half-time and Real Madrid are still doing their best Atletico impression. They're not interested in having the ball. They're killing this game and loving every passing second.
Apr 26th 2016, 8:23 PM
34'0
First sight of goal for Gareth Bale. But it's from 40 yards and he takes too long to run up to the ball and Fernandinho gets a good block to send the ball looping into Hart's hands.
Apr 26th 2016, 8:26 PM
39'0
Adding injury to insult. David Silva has now pulled up with injury and Iheanacho is pulling up his socks on the sideline.
Apr 26th 2016, 8:26 PM
37'0
The frustration bubbling under the surface for the home team is palpable now. A couple of sloppy fouls creep in and Silva gets a yellow card for a hack at Bale.
Apr 26th 2016, 8:29 PM
39'0
Yep, the Spaniard makes way to a round of applause in the Etihad and Kelechi Iheanacho comes into the fray.
Apr 26th 2016, 8:29 PM
43'0
Aguero has reacted to the loss of Silva by rolling up his sleeves.
The former Atleti man dropped deep and ignored all the open team-mates nearby to dribble down the left wing. He attempts a one-two with KDB, but it breaks down.
Apr 26th 2016, 8:33 PM
58'0
A corner for Real before half-time. Could they break the deadlock?
Apr 26th 2016, 8:34 PM
45'0
Eh, no. Not even close. The set-pieces from both sides have been poor tonight, and in a game crying out for creativity, that means we haven't even had a sniff of a goal so far.
Apr 26th 2016, 8:34 PM
47'0
In fairness to Bale. When he does get the ball to feet, he occupies at least two City defenders and puts them on the back foot.
HALF-TIME: Manchester City 0 Real Madrid 0
I feel like I should underline that nil-nil. It's been an uber-tentative opening quarter of this semi-final.
Apr 26th 2016, 8:50 PM
45'17
Zizou is making a change before the second half. Jese comes in for Karim Benzema.
No official word yet, but I'd say Benzema picked up an injury along the way. He had to do a lot of closing down lost causes in the first half.
Apr 26th 2016, 8:51 PM
47'0
Beautiful ball through the middle from Fernandinho finds Aguero. It's not quite good enough to follow through on goal, but the Argentine checks back into space and he'll be damned if he's passing the first half decent chance to the game to anyone else.
Aguero unleashes a left foot shot and it fizzes over the bar.
Apr 26th 2016, 8:54 PM
49'0
Gareth Bale takes a tumble after putting the ball beyond Otamendi. It's just inside the area, so he's looking for a penalty, but if there was contact it was minuscule.
Apr 26th 2016, 8:57 PM
51'0
Madrid do look a little bit more dynamic and flexible with Jese on board. Carvajal wins the ball on the right and starts an attack with Jese feeding Vasquez who can only drive a cross into a sliding defender.
Apr 26th 2016, 9:01 PM
55'0
At last! A decent flippin' set-piece. After a poor free-kick, Madrid's corner finds Sergio Ramos free and seven yards out. Luckily for Joe Hart, the header is weak and straight at the 'keeper.
Apr 26th 2016, 9:05 PM
59'0
Those Ramos and Aguero chances aside, patient readers, I'm sorry to report that we're almost an hour in at the City of Manchester Stadium and not much has happened.
Our photograph providers still have their lenses trained on Cristiano Ronaldo and who can blame them?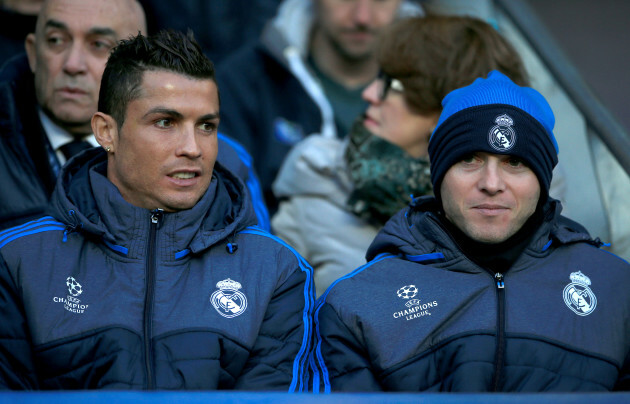 EMPICS Sport EMPICS Sport
Apr 26th 2016, 9:09 PM
63'0
There's the 60th minute mark and misplaced or intercepted passes are still the most exciting thing in the match. Because that's when players are out of position and space appears.
Aguero picked up the ball with back to goal and slid a square pass to De Bruyne who looks bright, but is edged off the ball fairly by Casemiro.
Apr 26th 2016, 9:11 PM
67'0
At half-time, my money went on the extended Real Madrid odds. But the smart money was pouring on to the 2/1 goalless draw. 24 minutes remain.
Apr 26th 2016, 9:14 PM
69'0
Tired legs and minds mean chances are being taken in the middle third. Pepe nips in on a loose pass and advances upfield, but his through-ball is far too ambitious and he's left needing to turn and chase.
Apr 26th 2016, 9:18 PM
72'0
CHANCE! Brilliant countering move from Real. Kroos feeds Carvajal who loses his tracker on the right. The fullback does well to loft a cross in on Jese, who generates an unnatural amount of power with his neck and loops a header onto the bar.
Apr 26th 2016, 9:19 PM
75'0
And another opportunity. Bale cuts in on his left foot and curls a shot low towards the far corner. It bounces a foot wide.
Apr 26th 2016, 9:20 PM
74'0
Real Madrid finding more and more joy and time on the ball. A gorgeous turn in his own half from Modric kills two opponents and when he gets the ball back he unleashes a shot. A poor shot, but it's a positive for the 17 to 20 minutes that remain .
Apr 26th 2016, 9:23 PM
77'0
Another bogus penalty claim, this time from Vasquez, invited the home crowd to make themselves heard. The roars of encouragement are short-lived though. It's a nervous night in Manchester.
Raheem Sterling comes on in place of Jesus Navas. Can he conjure something, anything to tilt this tie before the return leg in Madrid?
Apr 26th 2016, 9:25 PM
81'0
Marcelo is a driving force for Real right now.
The left back wins the ball back and wins a free kick right on the edge of the area…
Apr 26th 2016, 9:25 PM
79'0
Save from Hart!
Casemiro nods down a corner and the English stopper is again well placed to toe the ball to safety.
Apr 26th 2016, 9:26 PM
82'0
CHANCE! Another corner causing havoc. This time Ramos' header down falls to Pepe. He's free in the six yard box, but Hart's boot comes to the rescue again.!
Apr 26th 2016, 9:33 PM
89'0
Three minutes remaining and Real have simmered down a little. The chances have been exclusively theirs tonight. They haven't taken them, so maybe it's the sensible move to shut up shop now and call it a draw.
Apr 26th 2016, 9:33 PM
89'0
Having said that, Isco is being sent on in place of Kroos for injury time.
Apr 26th 2016, 9:35 PM
91'0
Suddenly, after 89 minutes, Aguero finds some space to operate in. He turns and sends a deflected pass to Sterling. The ex Liverpool starlet takes a touch that's a touch too heavy and Pepe gets across to shut that ish down.
Apr 26th 2016, 9:37 PM
90'2
Madrid mount one last attack, but lose it. KDB accelerates in behind the defence towards the area and Carvajal chops him to set up a grandstand free-kick finish.
Apr 26th 2016, 9:41 PM
90'3
De Bruyne fizzes the free kick in to the near post. Good an option as any, given the night City have had. Navas tips it over.
We'll have a corner… nah, nothing from that either.
FULL-TIME! Manchester City 0 Real Madrid 0
Apr 26th 2016, 9:41 PM
90'5
Thanks for the company. It feels like we've spent a long bus journey together and I've just woken up not realising I spent half the journey snoring and drooling on your shoulder.
BYE!