We went minute-by-minute for the last of the World Cup quarter-finals as a Dan Carter-less New Zealand took on Argentina in Eden Park, Auckland.
Send us your thoughts and comments on the morning's action.
E-mail niall@thescore.ie, tweet us @thescore_ie or find us on Facebook.
If you feel like it, you can get in touch via carrier pigeon as well but it's probably easier to leave a comment below. We read them, don't worry.
FT: New Zealand 33-10 Argentina
"Hamlet without the prince" is how the last of the World Cup quarter-finals has been described. With a place in the final four at stake, we're minutes away from the meeting between a Dan Carter-less New Zealand and Argentina.
Welcome to the party.
Here are the teams.
Argentina: Rodriguez; Camacho, Bosch, Contepomi, Agulla; Fernandez, Vergallo; Roncero, Ledesma, Figallo; Carizza, Albacete; Cabello, Leguizamon, Senatore.
New Zealand: Muliaina; Jane, Smith, Nonu, Williams; Slade, Weepu; Woodcock, Mealamu, Franks; Thorn, Whitelock; Kaino, McCaw, Read.
Before we get down to business, how about a quick hat tip to Mils Muliaina who makes his 100th appearance for the All Blacks this morning, joining Richie McCaw as one of only two players to reach the milestone.
There's a story in this morning's New Zealand Herald that's causing quite a bit of consternation. Here's the jist of it.
All Blacks star Cory Jane went on a drinking binge and lit up a cigarette inside a packed Auckland bar – less than 72 hours before playing in today's Rugby World Cup quarter-final.

He and injured teammate Israel Dagg were at the Mac's Brewbar in Takapuna on Thursday.
For Jane's sake, let's hope that he steps up to the mark this morning.
I don't know about you, but I'm going to be keeping a close eye on Colin Slade. Big, big morning for the AB's out-half.
We're off and running, courtesy of Felipe Contepomi. Nigel Owens is our match referee in Auckland.
Owens will have quite an impact on this morning's match, I'm sure. Argentina will want to get stuck in at the breakdown but will Owens allow them to slow the All Blacks' ball?
SladeWatch: He owes Conrad Smith many, many pints. Under no pressure at all, he knocks the ball on and it's hacked to within five metres of the New Zealand line. Fortunately for the out-half, Smith gets across to cover and relieve the pressure, sparing his blushes.
A nervy start for the hosts.
Fernandez tries an ambitious drop goal to get Argentina on the board, but it looks to have dropped just underneath the crossbar. Nigel Owens isn't too sure though, but after a brief consultation with the TMO, confirms that it was short.
New Zealand force the penalty and scrum-half Piri Weepu, who is the first-choice kicker today, will have a chance to get them up and running…
PENALTY! (Weepu, 12′) Sweetly struck by Weepu and the touch judges raise their flags. New Zealand 3-0 Argentina
The good people over on our Facebook page have had their say. I'm going for the ABs by 15-20 points.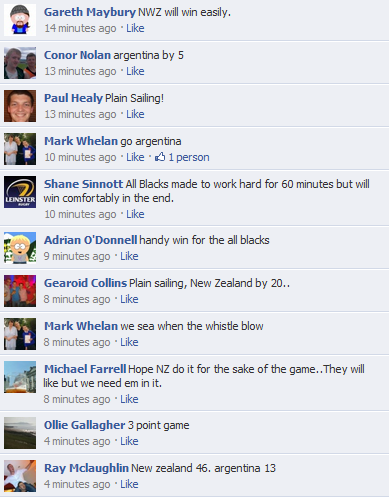 New Zealand are probing deep in Argentinian territory, but the gaps haven't opened up just yet. Patient approach.
Ooooh, that was close. New Zealand wait until Argentina commit an extra man or two to the counter-ruck and then fire the ball wide, playing in Kieran Reid on the wing. He gets the ball down and seems pretty confident that he has scored but the TMO replay shows that his foot was just in touch before grounding.
Very little in that, but it's the right decision.
On Twitter, former England captain Will Carling suggests that Colin Slade might actually be injured. He looks ok to me at the moment, but replacement out-half Aaron Cruden is out warming up regardless. Cruden has only been capped six times for the ABs — is he really the player you want controlling your back line in a World Cup quarter-final?
Wonderful creativity from the All Blacks there. Cory Jane claims a cross-field kick on the right wing and, no sooner than he has landed, plays a lovely chip through which runs just ahead of Muliaina and into Argentinian hands.
Oh dear. Argentina try to grind out a few yards on their own goal line but Vergallo somehow manages to fling the ball back over the deadball line, giving NZ a five-metre scrum.
The Argentinian front row drops its bind and Weepu will have a straightforward kick at goal to extend the lead.
PENALTY! (Weepu, 26′) No mistake by the scrum-half. New Zealand 6-0 Argentina
MISSED PENALTY! (Contepomi, 28′) A chance for the Pumas to hit back immediately, passed up by Contepomi whose kick at goal hangs just to the left of the posts.
TRY! (Cabello, 30′) Wow wow wow. Argentina have been game thus far but I don't think anyone expected them to take the lead. A great line break by Senatore sets up the platform, aided by some cracking handling by Contepomi in midfield. Rodriguez is held up just short of the line but flanker Cabello blasts past a timid Sonny Bill Williams on the blindside to score his first international try.
Contepomi adds a difficult conversions. Argentina lead? Argentina lead. New Zealand 6-7 Argentina
Graham Henry makes that change at out-half: Cruden on for Slade.
PENALTY! (Weepu, 36′) That's harsh. Contepomi is pinged for a high tackle but, in his defence, Cruden lost his footing and slipped just as the Argentinian centre was coming to him. Nigel Owens makes the call and Weepu dispatches the kick at goal. New Zealand 9-7 Argentina
Argentina's discipline deserts them and Weepu will have another chance to kick three points…
PENALTY! (Weepu, 38′) Bish bash bosh, easy for Weepu. He's eight from eight in this World Cup so far. New Zealand 12-7 Argentina
HALF TIME: New Zealand 12-7 Argentina
Ma'a Nonu is tackled by Argentina's Manuel Carizza.
Lynne Cameron/PA Wire/Press Association Images
Rather surreal scenes in Eden Park as the All Blacks left the pitch to almost complete silence from the fans at half time. Some would call it evidence of a winners' mentality in the stands as well; it seemed a bit more like an arrogant sense of entitlement to me. Bizarre.
We're back underway. Toeava comes on to replace Muliaina at full-back for NZ, while just before half time, Ayerza came on to replace Roncero at loosehead for Argentina.
Bosch is standing over a long, long penalty after NZ are penalised for accidental offside.
PENALTY! (Bosch, 46′) Holy mother of God, that is some boot of the ball. With a slight breeze at his back, Bosch absolutely leathers the ball and it flies straight and true over the bar. Brilliant. New Zealand 12-10 Argentina
PENALTY! (Weepu, 49′) The ABs march straight back down the pitch and Weepu nails a penalty to restore their five-point advantage. New Zealand 15-10 Argentina
Two brilliant passages of play by the All Blacks, but no points to show for it yet. Nonu makes up the yards through the middle, combining with Cruden for an improvised 1-2 which is hauled down a few metres short of the line. When play is recycled, Weepu tries a clever little cross-kick to Cruden on the wing but the replacement out-half is bundled into touch as he stretches to ground the ball.
YELLOW CARD (Vergallo, 57′) It's all happening now. Vergallo is sinbinned for slowing New Zealand's progress on the goal line, but as the advantage was being played, McCaw tried to ground the ball off the post padding to score. We're going upstairs to the TMO to see…
PENALTY! (Weepu, 57′) No try — McCaw was just short. With no advantage occurring, Nigel Owens brings it back for the penalty which Weepu knocks over. New Zealand 18-10 Argentina
Is this game starting to slip away from the Pumas? It certainly seems that way. A two-score game, 20 minutes on the clock, and they're down to 14 men against the hosts and tournament favourites. Talk about having the chips stacked against you.
Irrespective of how this ends though, Argentina will be able to hold their heads high. They've defended and battled like demons so far and their fans are having a party in the stands. A complete contrast to the home supporters who are devastated that they're not winning by 70 points in a World Cup quarter-final.
TRY! (Read, 67′) Argentina needed to take a bit of a gamble to claw their way back into this one and it hasn't really paid off for them. Rodriguez read the All Blacks' intentions and stepped up into the line to intercept the pass out wide — and missed by the width of a fingertip. Had he made it, he would've had a clear run to the New Zealand line. But he didn't, and Read gobbles up the pass and dots down in the corner. By such fine margins…
Weepu misses the conversion. That's his first miss of the morning, I do believe. New Zealand 23-10 Argentina
For the last time in the blue and white jersey of the Pumas, Mario Ledesma leaves the pitch to be replaced by Creevy. Kudos to a rugby legend.
PENALTY! (Weepu, 72′) Much to Contepomi's dismay, Argentina are pinged once again for going in off their feet at the ruck. Weepu nails the pen and that's his last action as he's replaced by Cowan. Great performance by the scrum-half. You'd nearly forget about that guy who normally takes the All Blacks' place kicks. New Zealand 26-10 Argentina
On Nigel Owens's performance, briefly, I'm not too sure he's helped his claim for the final with this morning's performance. Most of the iffy 50-50 calls went in New Zealand's favour and he has been quite inconsistent in and around the breakdown. But that's just my opinion.
TRY! (Thorn, 77′) Speaking of 50-50 decisions going in the ABs' favour, Cory Jane was perilously close to the touchline before offloading to Read. Most of the Argentinian defenders stopped, expecting George Clancy to raise his flag, but he didn't — and he's probably right. Thorn goes over unopposed and Cruden adds the extras. New Zealand 33-10 Argentina
FULL TIME: New Zealand 33-10 Argentina
C'est ça, as they probably don't say in either New Zealand or Argentina. The All Blacks book their place in the semi-finals; they'll be back in Eden Park next Sunday when they square off against Australia for a place in the World Cup final.
Before I leave, it is imperative that I pay tribute to a magnificent Argentinian performance. I don't think anybody realistically expected them to beat the All Blacks on home turf but for almost 60 minutes, this game was too close to call. It was everything that we've come to expect from Argentina, resilient in defence and relentless at the breakdown. The scoreline doesn't do them justice at all.
That's my lot. We've six days off before the World Cup liveblogs resume with the first semi-final, France v Wales, next Saturday. In the meantime, we'll have plenty to keep you entertained, so stay posted.
Thanks for stopping by.
Exclusive Six
Nations Analysis
Get Murray Kinsella's exclusive analysis of Ireland's Six Nations campaign this spring
Become a Member