After yesterday's controversy, we headed back to Eden Park for this year's second semi-final between New Zealand and Australia.
If you'd like to get in touch with your thoughts on the game, please do.
E-mail niall@thescore.ie, tweet us @thescore_ie, leave a comment on our Facebook wall, or use the comment section below.
FT: New Zealand 20-6 Australia
I hope your alarm clock didn't let you down this morning. This is one you won't want to miss.
With just 15 minutes to kick-off, old buddies New Zealand and Australia are running through their final drills in the dressing room. At stake over the next two hours? A place against France in next weekend's World Cup final. Yes indeed.
Get yourself comfortable. This is going to be great.
Alright, here are the team-sheets.
As you probably know, there is one major change to the Wallabies team as announced by Robbie Deans earlier in the week. Kurtley Beale has failed to shake a thigh strain in time to start, so Adam Ashley-Cooper switches from outside centre to 15 with Anthony Faingaa stepping into midfield.
It has been described in some quarters as a game-defining change. It'll be important for sure, but are Australia at a huge disadvantage before a single ball is kicked?
New Zealand: Dagg; Jane, Smith, Nonu, Kahui; Cruden, Weepu; Woodcock, Mealamu, Franks; Whitelock, Thorn; Kaino, McCaw, Read.
Australia: Ashley-Cooper; O'Connor, Faingaa, McCabe, Ioane; Cooper, Genia; Kepu, Moore, Alexander; Vickerman, Horwill; Elsom, Pocock, Samo.
In the RTÉ studio, Hook, Popey and O'Shea have all gone for New Zealand, with the word "comfortably" bandied about a bit as well.
Personally, I expect this one to be a good deal closer. If you agree, Australia at 5/2 with the bookmakers might be a wise move.
Eden Park is absolutely shaking as both countries' anthems ring out around the ground.
Step forward Piri Weepu, it's haka time!
Wow, that was intense. While the teams are getting rid of their tracksuit tops, you might want to have a read of some of the key considerations ahead of today's game.
Australia, for their part, haven't won at Eden Park since 1986 (the year before the first-ever World Cup) and the home team haven't been beaten by any nation there in 17 years.

A team that has lost a game during the tournament has yet to lift the trophy though – suggesting the odds are against Australia – but New Zealand have, incredibly, never beaten their neighbours at the World Cup. Simple really…
Go time. Craig Joubert is our man in the middle. Let's hope a) that he is practically invisible today and b) that this one lives up to its billing.
I know it's not strictly rugby, but I can't be the only person who thinks of this whenever Cory Jane's name is mentioned. Am I?
You may need to refresh the page for videos to embed correctly.
Great start by the All Blacks who have been deep in Australia territory in these opening five minutes. James O'Connor is tackled after carrying back into his own in-goal area, but the ball is knocked on from the resulting scrum.
TRY! (Nonu, 6′) It's no more than New Zealand deserve. Unbelievable running by Israel Dagg who darted inside Anthony Faingaa and powerfully handed off Rocky Elsom to break free. After that, it's a foot race to the line and just before Dagg is dragged into touch, he finds the wonderful supporting run of Ma'a Nonu on his shoulder with a beautiful flicked off-load. Try time!
Weepu can't nail a difficult conversion, but it's first blood New Zealand. New Zealand 5-0 Australia
I wonder if Craig Joubert was listening to the South African criticism of referee Bryce Lawrence following last week's quarter-final. The Boks were less than happy with David Pocock's work around the breakdown and the Australian seven is the first player to be pinged for a penalty. Not supporting his own weight at the breakdown. Here's a chance for Weepu to extend the lead…
MISSED PENALTY! (Weepu, 9′) Weepu's pen comes back off the post. A let-off for Australia.
PENALTY! (Weepu, 12′) It doesn't take long for Weepu to make amends though. Again, it's Pocock who is penalised at the breakdown and this time Weepu's kick bisects the posts. New Zealand 8-0 Australia
Here's the state of the nation over on Facebook. Not a lot of love for the Aussies, it seems.
PENALTY! (O'Connor, 15′) For the first time this morning, Australia actually get their hands on the ball — it has only taken 13 or 14 minutes for them to achieve that much.
When they do, they look menacing and Digby Ioane shakes tackle after tackle after tackle before he is held up just yards shy of the line. The ABs' defence holds firm as Australia probe and look for a gap, but Richie McCaw is penalised for not releasing the tackled player, allowing O'Connor to get Australia on the board. New Zealand 8-3 Australia
Keep sending in your comments and tweets. Here's Jim's take:
DROP GOAL! (Cruden, 21′) Are you watching, Stephen Jones? That is how you take your chances. The ball is fired back to the young out-half — who, it must be noted, isn't that far inside his own 10-metre line — and he sweetly strikes it between the posts. New Zealand 11-3 Australia
Points to note after the opening 25 minutes:
Quade Cooper has been absolutely appalling so far.
Cory Jane has been untouchable in the air, fielding high balls like Jack O'Shea in his prime.
If you thought I was being unfair or having a bit of a go at Quade, I'm not: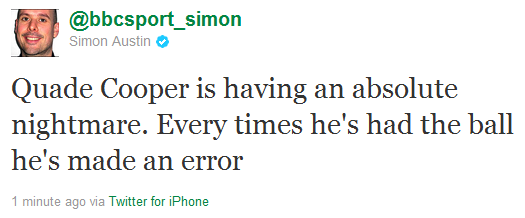 Australia pound through the phases inside the ABs' 22. Cooper slots back into the pocket, readying himself for a drop goal — or is he just getting out of the way? It's hard to tell.
DROP GOAL! (Cooper, 32′) Coops gets his chance eventually and he seizes it to drag Australia back to within five points. Will that be enough to placate all of those (like Sean below) who are calling for him to be replaced by Berrick Barnes? New Zealand 11-6 Australia
PENALTY! (Weepu, 37′) That's a silly, silly offside by Australia and it gives Weepu a chance to stretch out the All Blacks' lead as we head towards the break. He's only two out of five from his kicks at goal today, but it has been enough so far. New Zealand 14-6 Australia
I think this qualifies for a "bazinga", but let me be clear — I will not be held responsible for any political innuendo which you choose to read into this. As far as I'm concerned, it's strictly about Mr Dagg and his forays into the Australian 22…

HALF TIME: New Zealand 14-6 Australia
I'm going to take a minute or two to finish this half-eaten bowl of Rice Krispies here beside me, but if you send in your thoughts on the first half, I'll fire the best ones up before we get back underway.
If you're interested, here's some Blair Witch-style footage of the Nonu try. Personally, I think my description was more than adequate, but whatever floats your boat.
Before you ask, slow-motion replays have determined that Dagg was not in touch before he released the ball to Nonu.
We're back. Australia need to score first here – file under "stating the obvious."
It's all about the small victories, eh?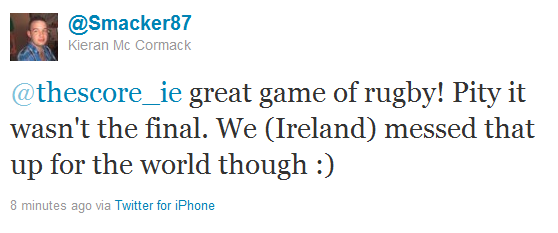 PENALTY! (Weepu, 42′) Bah, another silly mistake by McCabe who gives away a cheap penalty by holding on deep in his own half. Weepu slams the penalty between the sticks. What was that I said about Australia needing to strike first? New Zealand 17-6 Australia
I know it's early days yet, but you can't help but feel this one slipping out of Australia's grasp. Their good work deep in the New Zealand 22 comes to nothing as Ashley-Cooper is penalised for not releasing the ball on the deck.
You want stats? You got it.
Territory: New Zealand 59-41 Australia
Possession: New Zealand 55-45 Australia
That's all I've got.
FYI, Ryle Nugent has just compared Richie McCaw to Peter Schmeichel. I have nothing else to add to that.
Heh.

MISSED PENALTY! (Weepu, 56′) Weepu takes on a rather ambitious effort in an attempt to put Australia to bed, but it drifts right and wide.
That'll be his last action of the morning; he's replaced by Andy Ellis and goes off to a massive ovation from the Eden Park crowd.
Ali Williams is on to replace Woodcock as well.
New Zealand look comfortable as we enter the last 20 minutes, but if Australia are looking for game-changers, it's probably going to be either Genia or Ioane that provide the spark here.
A bit of the zip has gone out of the game as a contest, but that's mainly because the All Blacks are content to pin Australia back deep in their own 22 and grind out the yards. Australia are refusing to give in, but the rugby is being played in the wrong part of the pitch.
Aaron Cruden is the preferred kicker now that Weepu has departed. He has a shot from half-way here now which would surely wrap the game up…
MISSED PENALTY! (Cruden, 68′) And, just like Weepu's last attempt, it goes to the right and wide. There's still only 11 points in it but time isn't on Australia's side and the ABs are not giving a single inch up cheaply.
Amazing, here comes Weepu again! He's on as a blood sub — Andy Ellis looks like he's been savaging some animal rather than playing rugby and he has to go off for some treatment.
I'm guessing that Weepu's (unpunished) tendency for feeding the ball directly to his own second row is what has raised Fiachra's ire: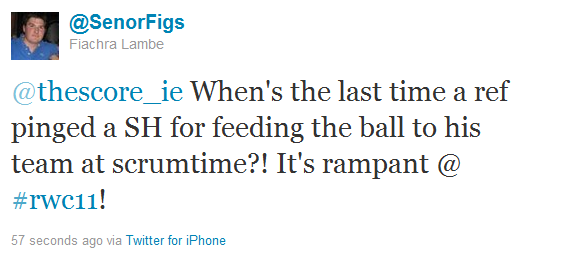 PENALTY! (Weepu, 72′) That's the game. Weepu kicks a penalty from a testing angle and New Zealand celebrate like a team who have just made it to the World Cup final on home soil. New Zealand 20-6 Australia
YELLOW CARD! (Williams, 76′) I didn't even have time to tell you that Sonny Bill Williams was on the pitch, but it's not that important now — he's gone again. As Cooper was being wrapped up in the tackle, Williams flew in with a big shoulder. A definite yellow and New Zealand will be down to 14 for the last few minutes.
Australia are camped on the New Zealandline. A try here would certainly make for a nervy last few minutes…
No chance. The ABs' defence holds firm, Richie McCaw leads the foraging, and Australia concede the penalty turnover. Less than a minute left now.
FULL TIME: New Zealand 20-6 Australia
And so the New Zealand public breathe a huge sigh of relief — but if they thought that this week was nervy, one can only imagine what the next seven days are going to be like.
As with every other game in this tournament, we'll be back to Eden Park next Sunday for minute-by-minute coverage of the tournament finale. It's a repeat of 1987 as New Zealand face France in the very stadium where the All Blacks won their only World Cup to date.
History repeating? Or will Mad Marc and his merry men pull out one massive performance to cause an unlikely upset?
We'll see you then.
Exclusive Six
Nations Analysis
Get Murray Kinsella's exclusive analysis of Ireland's Six Nations campaign this spring
Become a Member