Scotland 0-1 Ireland
Hello, and welcome to tonight's liveblog.
It's a huge day for women's football, with the Irish team potentially 90 minutes away from sealing a World Cup spot.
It will be dependent on other playoff results (which we'll keep you up to date with), of course, and they may yet face a trip to New Zealand in their bid to secure qualification.
First and foremost though, they must get past a Scottish team who are the bookies' favourites to progress and unlike Ireland, have major tournament experience having qualified for both the last World Cup and the 2017 Euros.
Nevertheless, Ireland certainly won't be afraid of their opponents, having impressed in qualification, especially with strong performances on the road against Sweden and Finland.
Who do you think will progress tonight?

Ryan Byrne / INPHO Harriet Scott, Lily Agg and Aine O'Gorman of Ireland. Ryan Byrne / INPHO / INPHO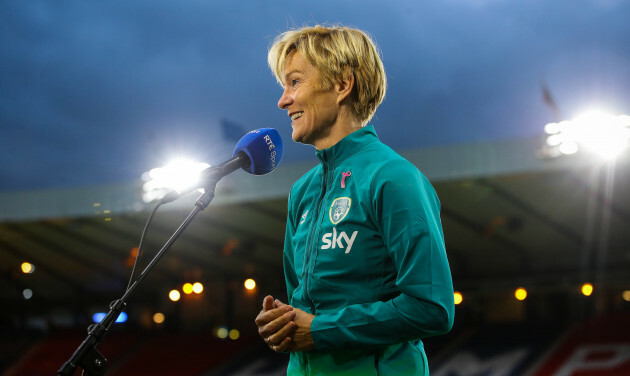 Ryan Byrne / INPHO Ireland manager Vera Pauw speaks to the media ahead of the game. Ryan Byrne / INPHO / INPHO
Both other playoff games have gone to extra time by the way.
Portugal currently lead Iceland 2-1 (which is good news for Ireland) and it's 1-1 between Switzerland and Wales.
Ireland have started well.
They've just had a corner and a spell of concerted pressure in the Scottish half without creating any chances yet.
Ryan Byrne / INPHO The Ireland team stand for a minute's silence in memory of those affected by the recent tragedy in Creeslough in Co. Donegal. Ryan Byrne / INPHO / INPHO
Good play from McCabe who dribbles away before being taken down cynically by Cuthbert.
Scotland had a decent spell of possession before that, so the Arsenal star did well to relieve some of the pressure on the Irish goal.
Fahey gets booked for blocking a goalbound shot with her hand.
But then, Brosnan gets down really well to her left to save Weir's penalty.
So a brilliant moment for Courtney Brosnan but a let-off for Ireland.
They need to settle as Scotland are in the ascendancy still.
Another nervy moment for Ireland.
Brosnan comes for the ball and collides with Thomas, but the referee points for a corner rather than a penalty.
Judging by the replay, Ireland were a bit fortunate there.
It's Scotland's turn to feel nervous now.
Megan Connolly's long throw reaches the penalty area, but it's a little too long and eludes the Irish attackers.
Quinn heads a cross away after good play down the right by Brown.
Scotland still look the more threatening side.
As it stands with 10 minutes to go in both games elsewhere, it's Portugal 3-1 Iceland and Switzerland 1-1 Wales.
So it's looking good from an Irish perspective at the moment in that regard.
The ball is in the Scottish net but it's ruled out.
Megan Campbell's throw appears to go directly into the net.
However, the fact that it doesn't seem to get a touch off anyone means it's disallowed.
Those Campbell throws are a big plus for Ireland though and are likely to cause problems throughout the game.
It's finished Portugal 4-1 Iceland.
So that's good for Ireland.
Switzerland, meanwhile, have just gone 2-1 up against Wales.
Big chance for Ireland!
McCabe crosses for O'Gorman, who can't keep her header down and misses the target.
That's their most encouraging moment of the first half.
It's also finished Switzerland 2-1 Wales.
So those results mean a win for Ireland in 120 minutes will send them to the World Cup, while a penalty kicks victory would send them to New Zealand for the playoff.
And of course, they will be out if they lose.
McCabe has just put in two dangerous crosses that the Scots have nervously cleared.
Ireland have grown into this game.
As I type, Campbell's long throw again causes havoc. It falls to Payne on the edge of the area, who shoots well over with a first-time effort.
So close for Ireland!
Campbell's throw causes problems again.
Fahey, Agg and Caldwell all then have goalbound efforts blocked on the line before it's eventually cleared.
HALF-TIME: SCOTLAND 0-0 IRELAND
So that was pretty much a half of two halves.
Scotland were dominant initially. They got one penalty that they missed and were unlucky not to have another when Brosnan collided with Thomas.
Fahey also was arguably fortunate not to be sent off for handballing on the line.
However, Ireland really came alive towards the end of the half.
O'Gorman missed a gilt-edged header and they were also desperately unlucky not to score amid a goalmouth scramble on the brink of half-time.
The Scots also look terrified by Campbell's long throws, which have led to many of Ireland's best moments.
Ryan Byrne / INPHO Scotland's Sophie Howard clears off the goal line. Ryan Byrne / INPHO / INPHO
The second half has begun…
Cuthbert's cross finds Brown, who can't hit the target on the stretch from a tricky angle.
It's been a strong start to the half by the Scots.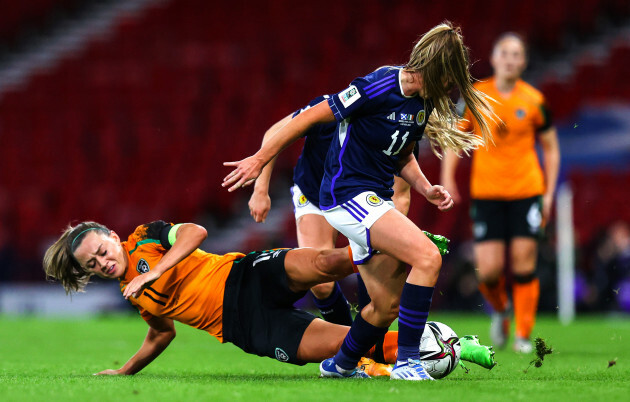 Ryan Byrne / INPHO Ireland's Katie McCabe with Lisa Evans of Scotland. Ryan Byrne / INPHO / INPHO
Evans puts in a cross but O'Gorman tracks back well and is in the right position to clear.
Moments later, Emslie is inside the area but Agg does well to prevent her opponent from getting a clear shot on goal and the ball bobbles harmlessly wide.
Docherty tackles Payne and it goes out for a throw.
Ireland's lone striker has done plenty of tireless running as usual.
Campbell's subsequent long throw then finds the head of Quinn, but the Birmingham defender's effort goes a few inches wide.
As I type, Weir's pot shot is comfortably saved by Brosnan.
Worry for Ireland as their goalkeeper Brosnan is down receiving treatment.
It appears to be a shin injury.
Brosnan is set to continue.
It looks like she'll be okay.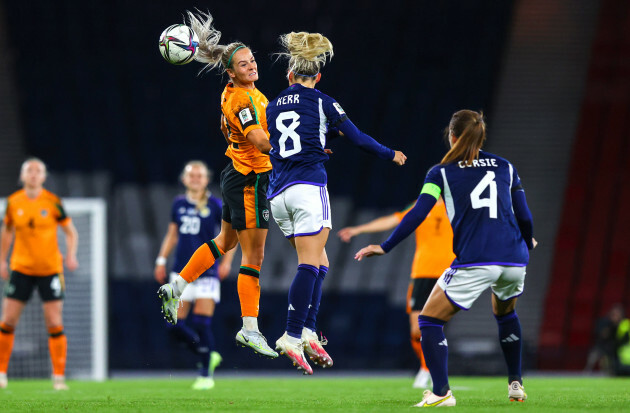 Ryan Byrne / INPHO Ireland's Lily Agg with Samantha Kerr of Scotland. Ryan Byrne / INPHO / INPHO
Another nervy moment for Ireland.
After patient build-up play, Emslie receives the ball in the area but Finn does really well to get the block in and take the sting out of the shot.
McCabe curls a dangerous free kick into the area.
However, it falls awkwardly for Caldwell, who can't direct her attempt on target.
Meanwhile, there are a couple of substitutions.
Payne seems to have taken a knock and is replaced by Amber Barrett.
For Scotland, Evans and Brown are off, while Mukandi and Grimshaw are on.
With just over 20 minutes remaining, the game is in the balance.
There haven't been as many clear-cut chances compared to the first half and it's hard to predict which way it will go.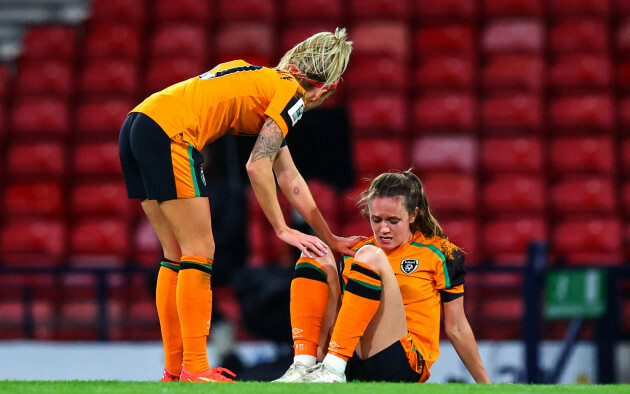 Ryan Byrne / INPHO Ireland's Heather Payne down injured as Denise O'Sullivan checks on her. Ryan Byrne / INPHO / INPHO
A Scotland corner is only half cleared.
It falls to Weir on the edge of the area, but her volley goes well over.
IRELAND 1-0 SCOTLAND (BARRETT 72)
Out of nothing, Ireland are ahead.
They counter and O'Sullivan clips a lovely ball through for Barrett, who shows good composure to slot it home when through on goal.
Good save from Brosnan to keep out Cuthbert's powerful effort after another menacing Scottish attack.
Meanwhile, the hosts make more changes — Graham and Harrison are on, Kerr and Thomas are off.
A ball into the area deflects off Caldwell and goes out for a corner.
Ireland are in for a nail-biting last 10 minutes.
Campbell is down receiving treatment on her head after a clash with Cuthbert.
Meanwhile, Scotland make another change — Beattie is on for Docherty.
Scotland win a free kick about 30 yards from goal. It looked harsh on Agg, who appeared to win the ball.
Less than four minutes of normal time remain.
A ball is played in but Howard's header goes just wide.
Looks like it's going to be Ireland's night.
Cuthbert's ball in is well claimed by Brosnan.
There will be six minutes of stoppage time.
Three minutes left…
Ireland are looking solid at the moment.
A cross finds Corsie, but her header is wide.
That's surely that.
FULL-TIME: SCOTLAND 0-1 IRELAND
Incredible stuff!
Ireland have prevailed against the odds and will be at the World Cup next year.
Donegal's Amber Barrett is the hero on the night after her clinical finish made the difference.
Huge credit must also go to Courtney Brosnan, whose penalty save was crucial in the context of the game.
It was a tightly-fought match and a superb performance from Ireland. They defended with great discipline and heart, while Vera Pauw got her tactics spot on, allowing the Scots plenty of possession while hitting them on the break.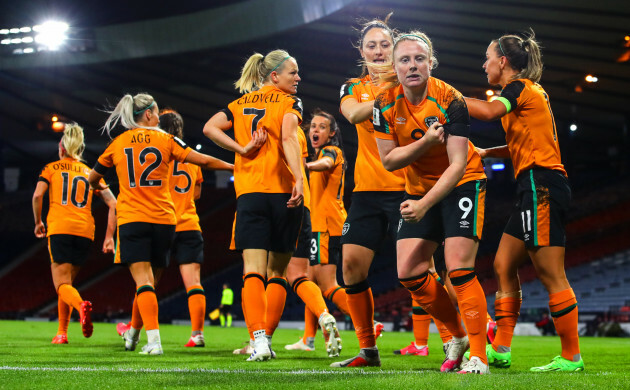 Ryan Byrne / INPHO Ireland's Amber Barrett celebrates scoring their first goal with teammates. Ryan Byrne / INPHO / INPHO
Right, that's all from me for now.
Thanks for reading and commenting.
We'll have loads more reaction to follow.