As always, we'd love to hear your thoughts on the game. E-mail paul@thescore.ie, tweet @thescore_ie, post a message to our Facebook wall, or leave a comment below.
You may need to refresh the page for YouTube videos and other elements to display correctly.
Sweden 0-0 Ireland
Hello, and welcome to our liveblog for tonight's crucial World Cup qualifier.
Here are the teams for tonight's match:
Republic of Ireland: Forde, Wilson, Clark, O'Shea, Coleman, Green, McCarthy, Walters, McClean, Keane, Long.

Sweden: Isaksson, Lustig, Granqvist, J Olsson, Safari, Elm, Kallstrom, Larsson, Ibrahimovic, Kacaniklic, Hysen.
So let's have your predictions then – how will this game turn out?

Remember the last time Ireland met Sweden? Something tells me tonight will be a different kettle of fish though.
YouTube credit: irishmusiccentral
Speaking on RTE, Eamon Dunphy says the soccer community in Ireland is "worn out" with Giovanni Trapattoni.
Meanwhile, Liam Brady reminds us all that Trap is unbeaten away in all qualifying games since he took over.
It's all getting rather heated in the RTE studio, as Brady and Dunphy argue the case for and against Trapattoni.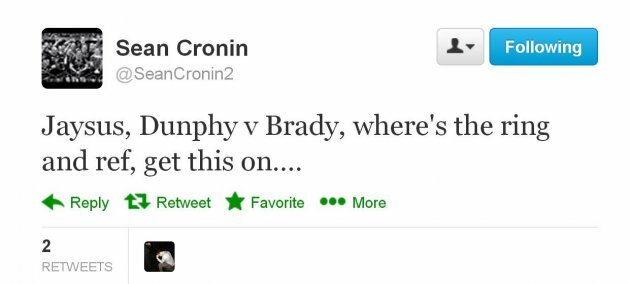 The roof is closed in the Friends Arena in Stockholm, and the Irish players are currently getting a feel for the surface: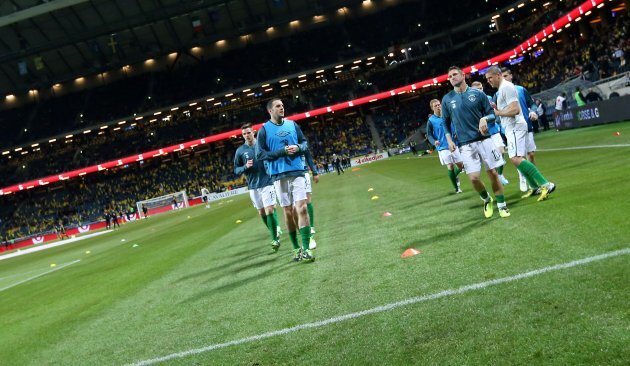 (INPHO/Donall Farmer)
For one, there's the spread-out nature of Stockholm with all the little islands. Secondly, there's that crisp cold. Combine the two, and it's a bit more difficult for Irish fans to congregate in their usual numbers.

Those numbers, however, have been the subject of some debate. Although there is a decent presence in the city – which included two brave lads walking through the main shopping district in just shorts and t-shirts, to the utter amazement of every Swede they passed – it does seem to be anywhere near as high as past campaigns.
- Reporting from Stockholm, Miguel Delaney sets the scene ahead of the game. You can read the full article here.
The teams are out and we're about to hear the anthems…
The way in which the Irish anthem was sung hasn't gone down well.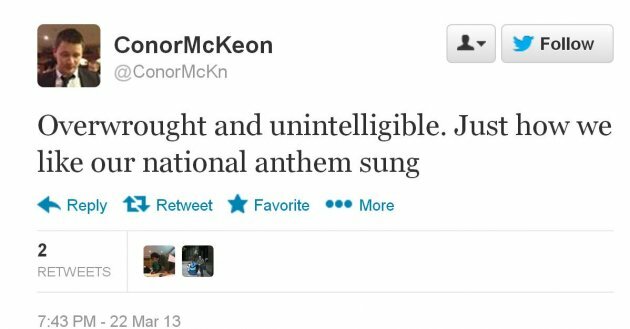 We're underway, as RTE co-commentaor Ronnie Whelan delivers some reassuring words:
"[Sweden] are not that good!"
Let's hope he won't be made to eat his words come full time.
Great run by James McClean down the left, and his cross is unconvincingly cleared by a Swedish outstretched leg.
Seconds later, Walters just fails to connect properly with Keane's cross.
Good, positive start from Ireland – McCarthy is producing a few intelligent passes.
So close! McClean's corner finds Keane totally unmarked, however the striker mishits his shot on the volley.
It's been pretty much all Ireland so far!
Full-time: Kazakhstan 0-3 Germany
Meanwhile, you can find more on Dunphy and Brady's earlier argument here.
McCarthy plays through Long on goal, but the striker shows an uncharacteristic lack of composure and blasts over.
Meanwhile, two Swedish corners in a row ultimately come to nothing. The Irish back four has looked pretty solid thus far.
I don't want to jinx it, but the cliche about Ireland being at their best when they're underdogs seems to apply so far.
However, as I type, McCarthy overhits a routine pass to the onrushing McClean in the Swedish box.
James McCarthy's influence beginning to tell perhaps?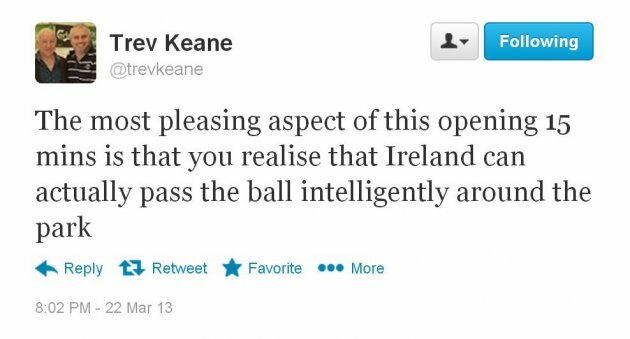 Chance for Sweden, as Ibrahimovic's header allows Hysen to volley it towards goal.
Forde gets down well to save it though.
Fantastic save by Forde after Kallstrom's inswinging free-kick misses everyone and threatens to find the corner of the net.
Elsewhere, Austria are beating the Faroes 3-0.
As a free-kick is played into the Sweden box, Olsson has his hands all over Long, but alas, the referee ignores it.
He's also just neglected to book Lustig for a professional foul on McClean.
Ireland have not been quite as impressive in recent minutes, as Sweden have enjoyed the majority of possession of late.
That said, the visitors continue to look lively when given the opportunity to break.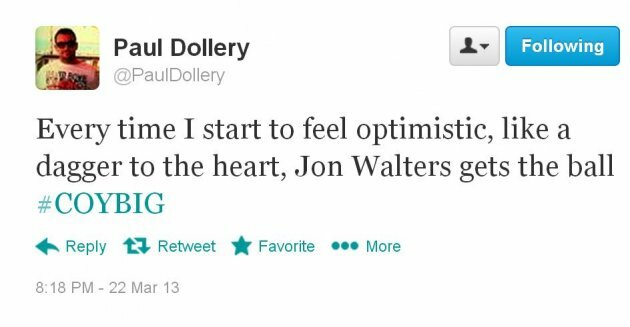 Ibrahimovic's shot deflects off Coleman and goes narrowly wide.
Ominously, Sweden are coming more into it as the game develops.
Green picks up a booking for a rash challenge, after the Swedes deal uneasily with McClean's dangerous corner.
Five minutes until half-time…
Lots of patient build-up play by Sweden, but little in the way of a serious threat.
Trap will be relatively happy going in at the break, barring an imminent disaster.
As I type, Wilson heads nervously over his own bar after a free-kick is flighted into the Irish box.
What a waste! McClean mishits his corner with virtually the last kick of the half.
Thankfully, that abysmal moment has not been an accurate reflection of Ireland's first-half.
HALF-TIME: SWEDEN 0-0 IRELAND
Eamon Dunphy says he's "pleasantly surprised" by the Irish performance, calling the game "winnable".
And that's pretty much the consensus from the RTE boys.
It's been a relatively solid display from David Forde so far. At 33, he's the oldest Irish player ever to make his competitive debut.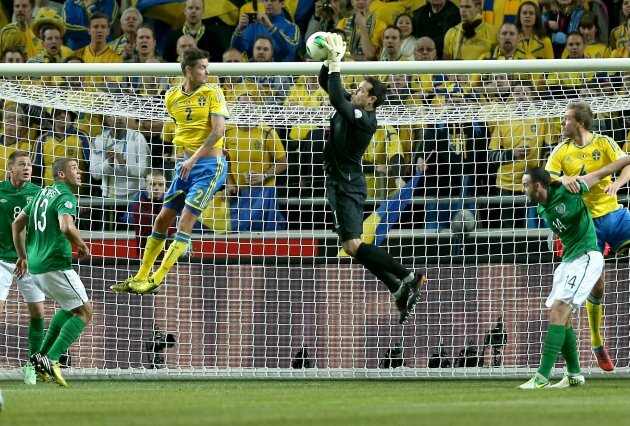 (INPHO/Donall Farmer)
Eamon Dunphy reckons they should take Keane off and bring on Hoolahan.
He says that we've learned Ireland are a "really good" and "adaptable" team.
The second half is underway…
Good defending from Larsson. McClean tries to poke the ball past him, but he shields it out of play for a goal kick.
It's been another bright start to the half from Ireland.
The Swedes look frustrated and short of ideas at the moment.
Another hopeful through ball has run out of play.
Green has played well in breaking up the play, however not for the first time tonight, he has misplaced an ostensibly straightforward pass.
There's been very few sightings of goal for either side in recent minutes.
Great persistence from Shane Long to win a throw-in after losing the ball initially.
The Irish team's work-rate has been superb as ever tonight.
Good cross in from Shane Long, but no one is there to meet it.
One of the few areas where the side has fallen down tonight is in our failure to get adequate numbers in the box when attacking, which stems from Trap's defensive style more than anything else.
Bad clearance from Clark and Larsson consequently flashes a shot just wide from the edge of the area.
Sweden have begun to step up the pressure on the Ireland goal in recent minutes.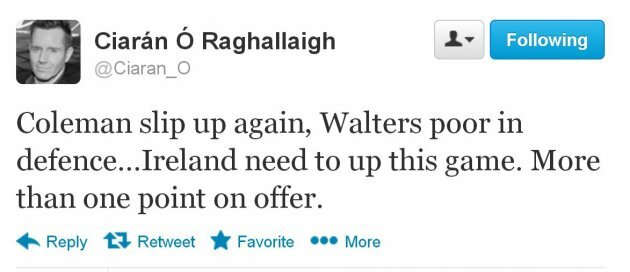 Trapattoni is animated as ever on the touchline – (INPHO/Donall Farmer)
Keane finds himself in a good position in the Swedish box, but frustratingly overhits his cross.
Meanwhile, Sammon and Hoolahan are warming up for Ireland.
Hoolahan has come on for Ireland, replacing Keane.
Keane has been excellent in defence, and started impressively, but his attacking threat has lessened as the game's progressed, so the change is probably justifiable.
It'll be interesting to see how the Norwich man does in his stead.
Final score: Austria 6-0 Faroes. No surprise there.
10 minutes left in this game.
Andy Keogh has replaced James McClean.
Perhaps Trap reckons the Millwall man can provide a further goalscoring threat late on.
Hoolahan makes a good break, but can't quite find the killer pass.
With five minutes left, neither side looks like scoring in truth.
Final change for Ireland is an interesting one – Conor Sammon is on for Shane Long.
James McCarthy has deservedly been named Man of the Match by Ronnie Whelan.
Not too shabby, particularly as he only found out he was starting today.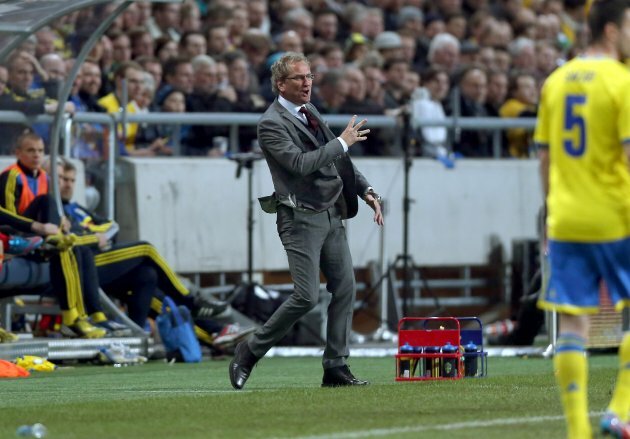 Sweden manager Erik Hamren shows his frustration – (INPHO/Donall Farmer).
FULL-TIME: SWEDEN 0-0 IRELAND
And Robbie Keane is swiftly off the bench to swap jerseys with Ibra.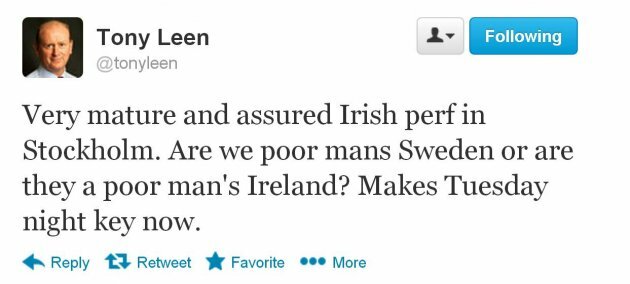 So an encouraging performance from Ireland against an ordinary enough Swedish side.
The players all worked extremely hard, and limited the amount of chances for the hosts.
They started very well, but ultimately looked happy to settle for a point, when a more ambitious approach may have yielded greater rewards.
Still though, Trapattoni is likely to be satisfied with the outcome of tonight's game, especially given the amount of inexperience in the side and the less than ideal preparations for the game.
It's ultimately a display to build on, which keeps us very much in contention for qualification.
Right, that's it from me. Thanks for reading and commenting.
Stay tuned though, as we'll have further reaction up on the site shortly.