The sun was shining and the Munster football championship got underway in Thurles. Where else would you want to be? We went minute-by-minute and, as always, we'd love to hear your thoughts on the games. E-mail adrian@thescore.ie, tweet @thescore_ie, post a message to our Facebook wall, or leave a comment below.
You may need to refresh the page for goal updates and YouTube videos to display correctly.
Full-time: Kerry 0-16 Tipperary 0-10
Okay, let's do this. Tipperary are taking on last year's beaten All-Ireland finalists in the first game of a Semple Stadium double-header. We'll be going minute-by-minute on the football and the Premier's hurling clash with Limerick at 4pm. Ewan MacKenna is en route to Dr Cullen Park as we speak and will be live from the non-televised Wicklow-Meath game while — in an other code — Sean Farrell is at the RDS.
Parish notes read; who do we fancy for the first game here? Or, should I ask, does anyone see an upset on the cards? Joe Brolly and Colm O'Rourke are in shirt sleeves and reckon this is merely a 'loosener' for the Kingdom while Brolly drew comparisons with Man City versus 'Plymouth or Stevenage or someone'.
Joanne Cantwell asks Jack O'Connor if Donaghy's exclusion from the team is because a rumoured breach in discipline. "We pick the team on merit," the Kerry chief says with a smile. "We're happy with the team we've picked and we're sure Kieran will play a part and that's as much as I want to say about it." For those not up to speed on the Tralee man's movements, Brolly explains Donaghy went to the Champions League final rather training. Can't blame him.
The GAA's official Twitter account fires through this picture form the sideline. It looks hot.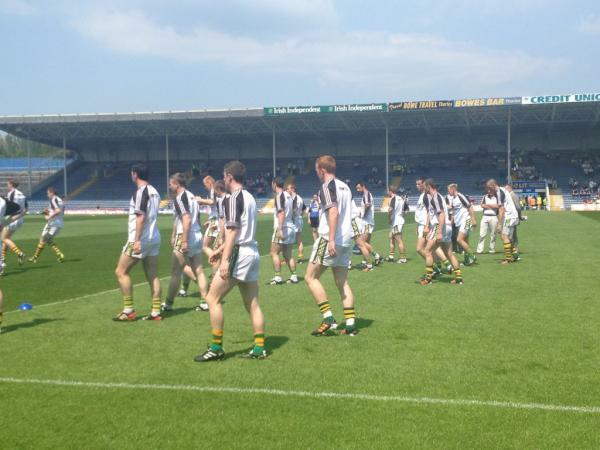 "A lot of talk heading into this has been about Kieran Donaghy being benched but whatever about the rights and wrongs of him attending the Champions League final against management's request, it's the perfect time to wake him up after recent seasons where he's been hit and miss. It may even be the nudge he needs to get back into top form and show again he's so much more than a midfielder playing close to goal.
Expect him to come on late with the game well over but if the result is a formality, with a view to later in the year keep an eye out for Declan O'Sullivan at full-forward (we think Kerry need him as a playmaker at 11) and for any creaks and cracks in defence where Eoin Brosnan's pace could be an issue against better teams and where Daniel Bohane gets his chance at three."
Read more of Ewan MacKenna's preview of the game here — including his prediction.
We're not long from throw-in now, so let's run through those teams:
Tipperary: Paul Fitzgerald; Andrew Morrissey, Paddy Codd, Ciaran McDonald; Brian Fox, Robbie Costigan, Alan Campbell; George Hannigan, Hugh Coghlan, Lorcan Egan, Peter Acheson, Shane Scully; Alan Maloney, Michael Quinlivan, Philip Austin.
Kerry: Brendan Kealy; Shane Enright, Daniel Bohan, Killian Young; Tomás Ó Sé, Eoin Brosnan, Peter Crowley; Anthony Maher, Bryan Sheehan; Paul Galvin, Darran O'Sullivan, Kieran O'Leary; Colm Cooper, Declan O'Sullivan, Patrick Curtin.
Kerry 0-1 Tipperary 0-0 Bryan Sheehan gets Kerry off the mark within 60 seconds of throw-in with a straightforward free after his shirt was pulled by Paddy Codd. Not the start they wanted on the Premier bench, I'm sure.
Tipperary 0-1 Kerry 0-1 The hosts get their first point of the afternoon through Michael Quinlivan, kicking a free from an acute angle. The crowd have been given something to cheer about too thanks to a Tipp full back line that have gotten in three good block downs. 3 mins
Tipp 0-3 Kerry 0-1 Tipperary are now two points to the good after a free kick from Alan Maloney sailed over and then another was tacked on despite an easier chance hoping off the upright. Kevin McStay admits there's a long way to go but the Premier could not have asked for a better start. Colm Cooper has just placed the ball wide of the post and a quick Kerry free-kick was drileld off Paul Galvin's backside. They haven't settled yet it seems.
Kerry are back within a point with 13 minutes now on the clock. We were first left rubbing our eyes as long-range specialist Bryan Sheehan dragged a free kick wide. Tomás Ó Sé made no mistake moments later however when he darted forward and clipped one between the posts to open his account for the summer of 2012.
Tipperary 0-03 Kerry 0-03 "You'd have to say, Tipperary are doing well," Marty Morrissey states, 16 minutes in, with surprise etched all over his voice. This despite Colm Cooper drawing Kerry level.
Kerry 0-4 Tipperary 0-3 Lovely football from Kerry at last and it results in a score. Bryan Sheehan ends a move he started deep in the Kerry half, kicking a point under little pressure. You get the feeking their clicking into gear a little, no? 21mins on the clock.
Kerry 0-6 Tipperary 0-4 A tale of two goal chances. Tipperary get their first score in about 12 minutes though a Philip Austin punch when perhaps a three-pointer was on the cards. Moments later, Darran O'Sulllivan turns on his heels — or literally takes off, as Marty Morrissey says — and blazes over. As I type, Kieran O'Leary fists another over for Kerry, Anthony Maher adds another and Robbie Costigan is forced off with an injury. Big swing.
Kerry 0-8 Tipperary 0-4 Here they go. Paul Galvin fed Colm Cooper there with a NBA-style, over-the-head pass; the Crokes man shook off his marker and curled the ball inside the post. 28 minutes clock and the Kingdom are starting to open up a lead.
Kerry 0-9 Tipperary 0-4 Put these words in order: Cooper. scores. point. Colm. another.
Kerry 0-9 Tipperary 0-5 The wide tally for Tipperary now stands at four as the otherwise impressive Michael Quinlivan drags a '45 badly. The set piece was awarded after a tussle in front of the Kerry goalmouth in which there were calls for a penalty. Moments later Quinlivan makes up for the error with a pointed free. Two minutes of additional time will be played, we're told.
Kerry 0-9 Tipperay 0-6 The last action of the half is Alan Maloney drilling over a lovely point after Daniel Bohan was booked for some indiscipline. The sides trot in for their energy drinks with the home fans' cheers ringing in their ears. Three points in it. What did you make of that?
'That is rubbish' says Joe Brolly as he goes on to blast 'hurling nazis', coaches watching hand-passing videos and everyone else who ever wrapped a blanket defence around their Gaelic football teams. Michael Lyster meekly mentions the heat again.
Kerry 0-9 Tipp 0-7 After an interval in which we were treated to more action than the actual football, Tipperary earn the first score of the second half. Alan Moloney hooks the ball over his shoulder and the bar for a fine score.
Kerry 0-10 Tipperary 0-7 Bryan Sheehan gets the Kerry scoreline clicking over again with a typically expert set-piece. Killian Young is up off the turf, having received some attention from a trainer and looks fine to continue.
Kerry 0-10 Tipp 0-8 It's a two-point game again. Alan Maloney tucks one over the bar again, and he's made quite a name for himself this afternoon, whatever happens.
Kerry 0-11 Tipperary 0-9 Oooh! Tipp almost took the lead there with a goal but Kerry 'keeper Brendan Keely tipped over a blistering shot from Hugh Coughlan. If he'd put it a few feet either way it would have nestled in the roof of the net; as it was the Kingdom No 1 got a hand above his head and pushed it over the bar. That episode is Kieran Donaghy's cue to come on, Galvin's off. As I type, Sheehan scores again. Business time.
Kerry 0-13 Tipp 0-9 Well, it's the little margins. Michael Quinlivan had the chance to draw Tipperary to within a single point of Kerry but his gimme of a free-kick came back off the upright. Bryan Sheehan then added a couple of points up the other end — one largely due to the presence of Kieran Donaghy on the end line — and the atmosphere has dulled a little. Four points in it now.
62 mins. Michael Quinlivan loks a great addition to Tipperary's forward line but he showed his age there when he drove forward and rather than square for a team-mate lashed the ball high and wide when a goal was on. Aidan O'Mahony is on for Eoin Brosnan meanwhile.
Kerry 0-16 Tipp 0-10 We're into garbage time here but Tipp almost cut the gap in half with a late goal. Philip Austin charged forward again but Kealy made a great save from point blank range.
And that's it. Kerry have booked a mouth-watering showdown against Cork in two weeks' time. Tipp will have to regroup and refocus on the qualifiers. They'll take plenty from that run out against the Kingdom. What did you think of it?