Liveblog
Good evening and welcome to The42's coverage of today's second All-Ireland SFC Round 4A qualifier — it's Donegal v Galway.
There's all to play for, with a coveted quarter-final place on the line and throw-in at Markievicz Park in Sligo is 7pm [Live on Sky Sports Arena].
We'll be providing you with updates here and as always, we'd love to hear your thoughts on the game. You can tweet us @the42_ie, or leave a comment below.
Here's how the teams are named to start, as per programme. We'll keep you updated on any late changes though.
Donegal:
1. Mark Anthony McGinley
2. Paddy McGrath
3. Neil McGee
4. Caolan Ward
5. Ryan McHugh
6. Kieran Gillespie
7. Eoghan 'Ban' Gallagher
8. Jason McGee
9. Ciaran Thompson
10. Martin O'Reilly
11. Frank McGlynn
12. Eoin McHugh
13. Paddy McBrearty
14. Michael Murphy
15. Hugh McFadden
Galway:
1. Ruairi Lavelle
2. Eoghan Kerin
3. Declan Kyne
4. Cathal Sweeney
5. Gary O'Donnell
6. Gareth Bradshaw
7. Liam Silke
8. Paul Conroy
9. Johnny Heaney
10. Thomas Flynn
11. Michael Daly
12. Eamonn Brannigan
13. Danny Clummins
14. Damien Comer
15. Shane Walsh
The other qualifier between Mayo and Cork has gone to extra-time, so throw-in at Markievicz Park has reportedly been delayed until 7.15pm.
Extra-time is underway in Limerick, and you can keep up with all the action through our liveblog:
And here's some more pre-match reading on Donegal's Ryan McHugh and Paddy McBrearty: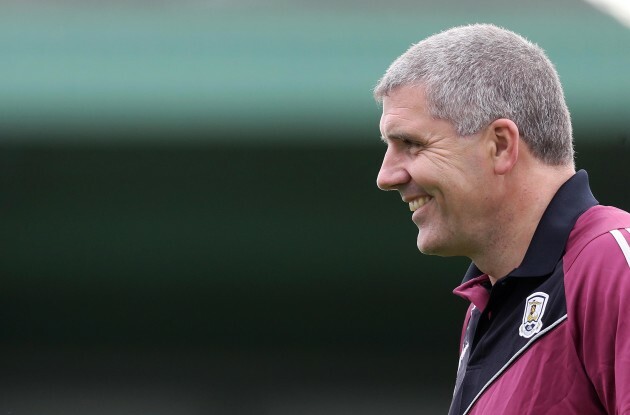 Source: Tommy Dickson/INPHO
Kevin Walsh is all smiles before throw-in, but will he be grinning from ear-to-ear when the final whistle sounds?
"Just to let you know, the other qualifier will be starting shortly in Markievicz Park," says the commentator on Sky Sports. "But for now all eyes on the Gaelic Grounds."
The ball has been thrown in in Sligo though.
Galway 0-1 Donegal 0-0
2mins: And it's the Tribesmen who draw first blood through Armstrong.
Galway 0-2 Donegal 0-0
3mins: Walsh hits a beauty, and Galway are off to a great start.
Galway 0-2 Donegal 0-1
4mins: Michael Murphy gets Donegal off the mark with a well-taken free-kick.
Galway 0-2 Donegal 0-2
6mins: Another Murphy free has tied matters in Sligo.
Galway 0-3 Donegal 0-2
8mins: Armsrtong has tagged on his second score of the evening, as Galway edge in front.
It's all over at the Gaelic Grounds — it's finished Mayo 0-27 to Cork 2-20 after extra-time.
Galway 0-4 Donegal 0-2
10mins: Armstrong splits the post with a free-kick, while McBrearty hits the first wide of the game for the Ulstermen at the other end.
Galway 0-4 Donegal 0-3
12mins: The Kilcar man made no mistake on second asking however, fisting over to put a point between the sides.
Galway 0-4 Donegal 0-4
14mins: We're level for the first time since throw-in — Murphy with another free.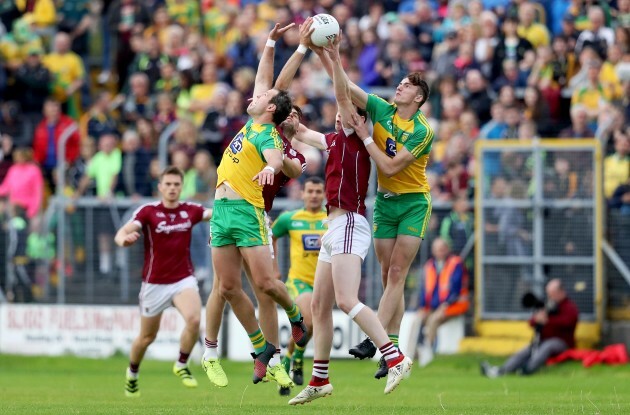 Source: Tommy Dickson/INPHO
Galway 0-4 Donegal 0-5
16mins: Donegal get their noses in front through a brilliant score off McBrearty's left boot.
GOAL for Galway!
Johnny Heaney palms the ball into the back of the net, after a strong run to get there.
Galway 1-4 Donegal 0-5
Really well-worked move from Galway there for the goal, super movement to set it up. They're on the attack again, and settling into the game really well.
Galway 1-5 Galway 0-5
20mins: The goalscorer follows up with a lovely point, and opens the gap to three. 1-1 from midfield within minutes.
Galway 1-6 Donegal 0-5
23mins: Galway move into a four-point lead through another Armstrong free-kick. They're well on top in midfield, and it's paying dividends in front of the posts.
PENALTY for Galway!
Thomas Flynn appears to have been taken down by Michael Murphy.
On second glance, it was McGinley who committed the foul off the back of Murphy's error. He's seen a black card for a deliberate trip, as Peter Boyle is called to action for his championship debut.
Galway 2-6 Donegal 0-5
GOAL! Liam Silke converts for his first championship goal.
Galway 2-7 Donegal 0-5
29mins: Donegal need a score badly, but the Galway defence are playing out of their skin. Galway midfielder Conroy hits his first score, after a Donegal attack is brilliantly broken down.
Source: Tommy Dickson/INPHO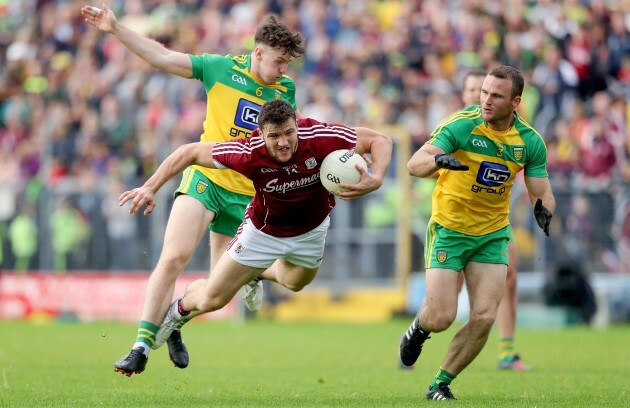 Source: Tommy Dickson/INPHO
Galway 2-8 Donegal 0-6
32mins: Murphy answers the call and ends Donegal's scoring drought with a 45. Corofin's Ian Burke cancels it out at the other end though.
Galway 2-9 Donegal 0-6
34mins: Super save from Boyle, as Donegal are spared conceding a third goal. Comer slots over, and there's nine points in it.
Comer is dealt a yellow card for a high tackle, while there's a change in the Donegal camp. Michael Langan replaces Jamie Brennan.
Frank McGlynn has also been withdrawn, as Martin McElhinney comes in.
GOAL for Galway!
Goal number three and it's Johnny Heaney again.
Galway 3-9 Donegal 0-7
37mins: For the goal, Heaney palmed in again from close range. McElhinney responds at the other end to close the two minutes of additional play.
Half-time score:
Galway 3-9 Donegal 0-7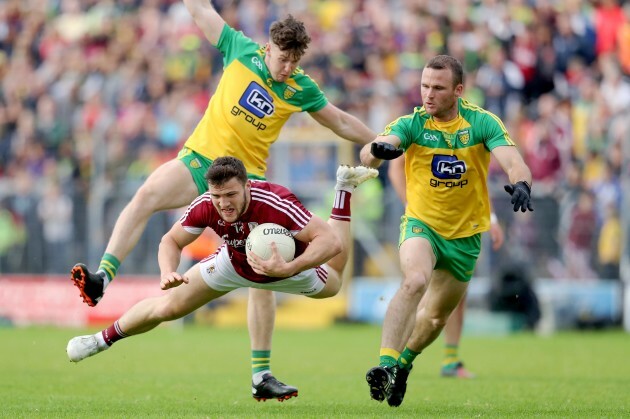 Source: Tommy Dickson/INPHO
So, what are we thinking? It looks very much like Galway will be heading towards the quarter-finals unless Donegal produce some sort of miracle in the second half.
They can't be written of though!
And we're underway again.
One change — Karl Lacey is in for Kieran Gillespie on the Donegal side.
Galway 3-9 Donegal 0-7
37mins: Two Donegal wides in the first minute. They're playing with the wind in this half, and there's some rain starting to fall. Neil McGee sees yellow.
Galway 3-11 Donegal 0-7
39mins: Heaney makes it 2-2 for himself, and opens the second-half scoring. Armstrong adds another. The Tribesmen are making it look easy.
Galway 3-12 Donegal 0-7
40mins: The scores just continue to flow. This time it's Garry O'Donnell, the Galway captain, from play.
Galway 3-12 Donegal 0-8
42mins: Martin O'Reilly gets Donegal's first score of the second half after seven minutes.
BLACK CARD for Michael Murphy!
The commentators feel that it should have been a yellow card rather than black, but Murphy's sent marching and things go from bad to worse for Donegal.
Galway 3-12 Donegal 0-9
47mins: Good score from McBrearty, his third of the game.
Another black card for Donegal — this time it's substitute McElhinney. They're down to 13!
Galway 3-13 Donegal 0-9
49mins: This really is the stuff of nightmares for Donegal. Michael Daly has widened the gap through play. McBrearty then rattles the crossbar at the other end.
Galway 3-13 Donegal 0-10
52mins: McBrearty with his fourth, and there's 12 points in it.
RED CARD for Galway!
It's 14 v 13 as Declan Kyne is dealt his second yellow card.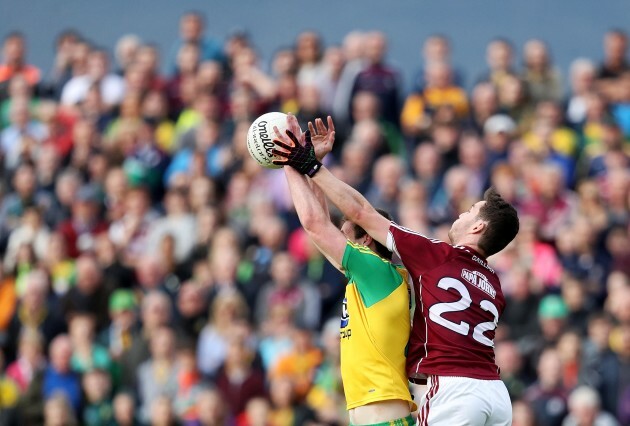 Source: Tommy Dickson/INPHO
Galway 3-13 Donegal 0-11
56mins: Michael Langan from play as Rory Gallagher's side attempt to keep up.
PENALTY for Donegal!
Cathal Sweeney is shown a black card for what the referee deems to be a deliberate pull-down.
MISS! McBrearty's initial effort with the penalty is brilliantly saved by Power, and the rebound is denied too. Super goalkeeping!
Galway 3-13 Donegal 0-12
60mins: Martin O'Reilly scores from play for Donegal, as Kevin Walsh makes a double substitution.
Galway 3-14 Donegal 0-12
62mins: Brannigan, with his first impact from the bench, splits the posts. David Wynne was the second Galway player to come on.
Danny Cummins replaces Michael Daly. Galway have had nine different scorers from play. It looks like Michael Meehan is about to make his return!
Galway 3-15 Donegal 0-12
65mins: Jason McGee sees yellow, and Sean Armstrong nails the resulting free.
Huge reception at Markievicz Park as Meehan is introduced. Great to see him back.
Galway 3-15 Donegal 0-13
68mins: McBrearty had scored before that substitution, and there's 11 points between the sides.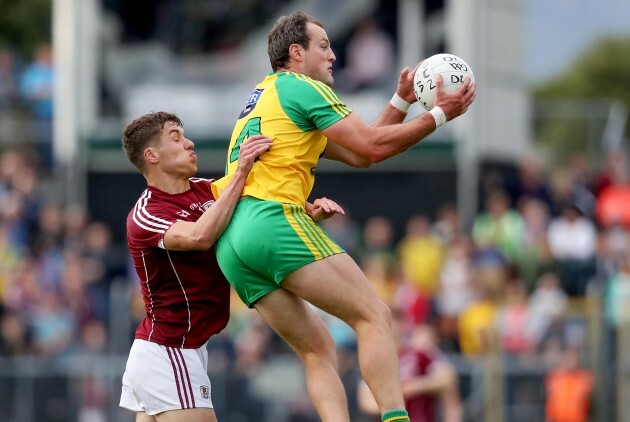 Source: Tommy Dickson/INPHO
Galway 3-16 Donegal 0-13
70mins: There's four additional minutes to be played. Garry O'Donnell has scored Galway's latest point, and debutante Ian Burke has been dealt a yellow card.
Galway 3-16 Donegal 0-1
72mins: You could almost hear a pin drop around the ground, as McBrearty registered another free-kick.
Galway 3-17 Donegal 0-14
73mins: Brannigan points another, as Walsh bloods two more debutantes.
GOAL for Galway!
Danny Cummins hits the Tribesmen's fourth, and it's 4-17 to 0-14. The final whistle can't come soon enough for Donegal.
Full-time score:
Galway 4-17 Donegal 0-14
And it's Galway who progress to the quarter final. Huge win for the Tribesmen.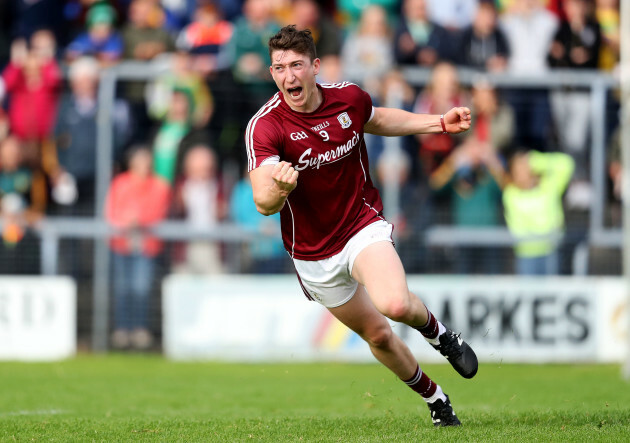 Source: Tommy Dickson/INPHO
Well that's that. Galway march on to the All-Ireland quarter finals and book their date with Kerry in Croke Park.
It's been a busy day of football qualifiers, and we already know next weekend's pairings. Galway and Roscommon can't meet again after the Connacht final, so here's how the fixture list is looking:
Galway v Kerry
Mayo v Roscommon
That's all from me, but we'll have a full match report on The42.ie in the coming minutes. Thanks for tuning in, and have a nice evening.
Contribute to this story: