Arsenal 2
Liverpool 1
LIVERPOOL MANAGER BRENDAN RODGERS has questioned the 'strange decision' of Howard Webb not to award his team a second penalty in their 2-1 defeat to Arsenal.
Liverpool were eliminated from the FA Cup after their reversal at the Emirates and Rodgers feels his team were denied a certain spot-kick. "The best team lost," he told BT Sport. "The very least we deserved was a replay from the game… we should have been 2-0 up after seven minutes."
The Reds were awarded a penalty after 59 minutes when Luis Suarez was felled by Lukas Podolski. Steven Gerrard scored from the spot but was one on the Liverpool players claiming another penalty four minutes later. Suarez hit a free-kick into the Gunners wall but pounced on the rebound and nudged the ball past on-rushing Arsenal midfielder Alex Oxlade-Chamberlain. The Uruguayan was sent sprawling by the Englishman but Howard Webb waved away his claims.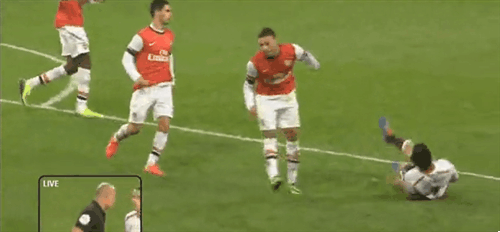 BT Sports BT Sports
Rodgers said, "We are bitterly disappointed, especially with what we thought was a blatant penalty… It was probably even clearer and more blatant than the first one."
"Luis got a clear nick on the ball and young Oxlade-Chamberlain cleared him out… it was a strange decision."
Oxlade-Chamberlain, who scored his side's first goal, insisted he was never worried about Webb awarding a penalty for his challenge. "There are always penalty appeals in every game so you just have to worry about the ones that are given," he said. "Thankfully that wasn't given." Arsenal boss Arsene Wenger's take on whether his midfielder caught Suarez in the box was 'maybe, maybe not'.
Arsenal hit the front when Oxlade-Chamberlain drove the ball home from 10 yards out. The home side, chasing their first piece of silverware in nine seasons, doubled their lead through Podolski after the break before Gerrard's penalty led to a tense finish. The win for Arsenal set up a home FA Cup quarter final with Everton, who beat Swansea 3-1 earlier today.
– First published at 18:32