Liveblog
Hello, and welcome to today's liveblog.
As always, we'd love to hear your thoughts on the game. E-mail paul@the42.ie, tweet @the42_ie, post a message to our Facebook wall, or leave a comment below.
You may need to refresh the page for YouTube videos and other elements to display correctly.
Kick off for the games is at 5.30pm.
It's been a tight opening few minutes, with no clear-cut chances.
Chelsea have the former Leicester duo — Kante and Drinkwater — starting in midfield.
Sturridge lays the ball off to Salah.
The Egypt international then shoots well over.
Neither side's attack has functioned so far.
Bakayoko has just overhit a pass in the direction of Hazard.
Salah finds Gomez down the right, but his cross is cut out.
Liverpool have looked the more dangerous side in these early stages.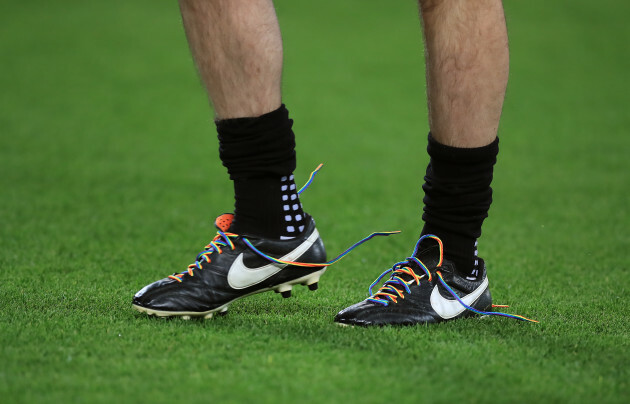 Match referee Michael Oliver wearing rainbow laces to support the Rainbow Laces campaign for LGBT. Source: PA Wire/PA Images
Liverpool continue to probe, but Chelsea have been very solid defensively so far.
It's been a somewhat Mourinho-esque performance from Conte's men, with the visitors happy to sit back and invite their opponents on.
That said, as I type, Chelsea counter, and Hazard forces a decent save from Mignolet with his shot from the edge of the area.
Hazard plays through Drinkwater.
Mignolet does well though, as he comes off his line quickly and smothers the ball.
Moments later, Zappacosta's powerful shot forces another decent save from Mignolet.
Zappacosta charges forward again, but Klavan uses his strength to get in front of the ball and shepherd it out of play.
Chelsea have been in the ascendancy of late.
Salah escapes from Cahill.
His shot, however, is blocked by Christensen.
Matip is penalised for a cynical foul on Morata.
It's still 0-0, but it's been an intriguing game to watch nonetheless.
As I type, Alonso curls a free kick just wide.
Chelsea getting going now. Wonderful run from Hazard ends with good pass for Drinkwater but Mignolet saves. Then bedlam at a corner but somehow Liverpool get it clear.

— Chris McKenna (@cmckennasport) November 25, 2017
Both sides cancelling each other out at the moment.
Plenty of nice build-up play, but the two teams have rarely looked like scoring.
The referee has just fallen over, prompting one of the biggest cheers of the afternoon so far.
Zappacosta is free down the right, but his cross is cut out by Henderson.
The wing back has been Chelsea's most potent attacking threat so far.
Moments later, Salah finds space and curls a shot just wide from outside the area.
The former Chelsea player will be no doubt keen to make his former club pay for letting him go a few seasons back.
HALF-TIME: LIVERPOOL 0-0 CHELSEA
The second half has begun…
Watching Bakayoko has put me in mind of a recurring childhood dream: I wake up on Christmas morning and my parents have bought me all the wrong toys.

— Tom Williams (@tomwfootball) November 25, 2017
Sturridge produces a seemingly tame shot.
However, it slips under Courtois' arms and goes just wide.
Zappacosta breaks down the right. His cross deflects off Henderson for a corner.
The Italian continues to cause Liverpool some defensive headaches.
Love Mo Salah. In the banal pass pass pass without responsibility of modern football, so refreshing to see players who run with the ball with such confidence.

— Stan Collymore (@StanCollymore) November 25, 2017
Liverpool have finally registered their first shot on target, while Chelsea have only managed two after 55 minutes.
Surely it can't be too long before Firmino and Mane are introduced.
Still no real sign of a breakthrough with just over half an hour to play.
As I type, Courtois does well to gather the ball while preventing himself from sliding out of the area with it.
Suddenly, Chelsea break threateningly.
However, Zappacosta's cross eludes everyone and Liverpool eventually clear.
Drinkwater's cross deflects off Klavan, before hitting off Morata and going wide.
Moments later, Salah gets the ball in the box, but he's instantly surrounded by Chelsea defenders.
Some magnificent defending from Cesar Azpilicueta so far, blocking, dispossessing. #cfc

— Henry Winter (@henrywinter) November 25, 2017
LIVERPOOL 1-0 CHELSEA (SALAH 65)
Oxlade-Chamberlain prods the ball onto Salah on the edge of the box.
The Egptian makes no mistake with the finish.
Liverpool make a change right after the goal.
Sturridge is replaced by Wijnaldum.
Salah, you didn't kill somebody. You scored against your former club. Feel free to celebrate!

— Eoin McDevitt (@EoinMcDevitt) November 25, 2017
Kante floats a ball straight into Mignolet's arms.
Chelsea have seldom looked like scoring, so they really face an uphill task here.
Nervy defending from Liverpool.
Klavan twice tries to clear it, but hits it off his own man both times, before it eventually deflects to safety.
Meanwhile, Chelsea make an attacking change, as Fabregas replaces Drinkwater.
Fabregas plays through Morata, but he's adjudged to be offside.
Meanwhile, Chelsea make another offensive change, as Pedro replaces Bakayoko.
Liverpool threaten again.
Wijnaldum's shot from the edge of the box deflects out for a corner.
Coutinho almost plays through Salah, but Azpilicueta makes a vital interception.
Chelsea are throwing bodies forward now, and Liverpool are finding it easier to exploit them on the counter-attack as a result.
Another Chelsea change.
Willian is on for Zappacosta.
LIVERPOOL 1-1 CHELSEA (WILLIAN 85)
Willian is only just on.
He produces what looks like an attempted cross, but he ends up lobbing Mignolet and finding the net.
This game is still being played at a rapid pace, with both sides going for the winner.
Two minutes of normal time remain.
Liverpool make a double change.
Lallana makes his first appearance of the season in place of Coutinho.
Meanwhile, Mane comes on for Oxlade-Chamberlain.
FULL-TIME: LIVERPOOL 1-1 CHELSEA
Right, that's all from me. Thanks for reading and commenting.
You can read our report on the game here.
Contribute to this story: