THE FOLLOWING PASSAGE is an extract from Lost? Liverpool FC and English Football at the Crossroads by Anthony Carragher.
There, in that little boot room, that beating heart of Liverpool FC, Shankly's men plotted, planned, studied and schemed their way to thirty major trophies. Paisley, with his eye for a player or a tactic.
Fagan, a fountain of honesty and pragmatism. Moran, ready to tear strips off any player who got too big for his boots or whose hunger to win waned. Evans, painstakingly taking notes, filling journals with tactics, training programmes, technical details. Bennett, the toughest trainer in the business.
Each listening to the other, learning from the other, the collective greater than the individuals, just as Shankly had taught them.
In his diaries, Fagan spoke of the room's simplicity; "In time it would become furnished with luxuries like a rickety old table and a couple of plastic chairs, a tatty piece of carpet on the floor and a calendar on a wall that would later be adorned with photographs, ripped from newspapers, of topless models… there was little evidence to suggest this room was even part of a football club."
A simple room for men to talk football. Great football men. Their influence would span nearly half a century from the 1950s until the winter of 1998 when the last of these greats, Roy Evans,would honourably step down after managing the Reds for four seasons.
Evans didn't get his team over the line and lift the title, but he did leave Liverpool as the Premier League's most successful English manager with the Reds never falling below fourth under his watch.
After the sad passing of Ronnie Moran few men living understood better the heartbeat of Liverpool FC than Evans.
EMPICS Sport Former Liverpool manager Roy Evans. EMPICS Sport
When I met him, we talked about many things including our current American owners. Evans is mostly positive about their tenure but urges caution too.
"I don't think they are very knowledgeable about football, but they are not stupid enough to start trying to make decisions that they can't make. I think that is an important part. If you don't know how the game goes, you have to have people who do."
Evans could never have envisioned where Liverpool are today, all these years without the title.
"No, not in a million years. I thought we would win it in my time. It was always about trying to win games. We scored a lot of goals, we made defensive mistakes too, but that was part and parcel of how we played, with the players that we had.
"One year we got very close, but we didn't get over the line, but from there on you would have expected to go forward. Brendan made a good challenge, but between those times it's never really been that close.
"The biggest thing is winning. I'm a Liverpool lad. I stood on the Kop and understand the football expectations of all our supporters. It's like Jürgen at the minute, he's saying some great things but eventually you'll always be judged on what you achieve and what you win."
Evans had the battle scars to prove that he knew what he was talking about. On that horrible day when Stoke stomped on the liver bird and won 6–1, Stevie Gerrard played his last game in Red. Gerrard connected us to our heritage. He came through the youth-ranks when Roy Evans was still the manager and Ronnie Moran still growled at anyone and anything that moved.
That linked Gerrard to Fagan, to Paisley and of course back to Shankly himself. It linked him to the Boot Room. Gerrard, like Evans, was a Scouser, he knew what the Boot Room stood for, what the Liverpool Way was.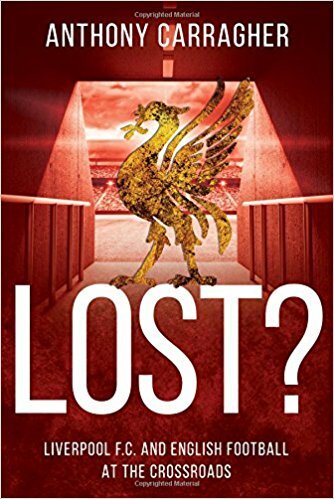 If cut, he bled Red, Liverpool Red. He knew too what the Kop was, for he was one of them. He understood Hillsborough, as much as anybody could. The disaster had taken one of his own.
As long as Gerrard played in red, captaining our team, we knew that the spirit of Liverpool was safe.
Exclusive Six
Nations Analysis
Get Murray Kinsella's exclusive analysis of Ireland's Six Nations campaign this spring
Become a Member
Carragher was another totem and he understood how important this DNA was, saying "we were the link between past and future, the last of the Boot Room boys."
Now, with these links gone, were Liverpool FC at risk of losing their identity? There are many still around that protect the heritage actively and whom we know bleed Red. Phil Thompson, Jimmy Case, David Fairclough, Terry McDermott, Sammy Lee, John Aldridge, Steve McManaman and Robbie Fowler to name a few. All were hometown men.
This condition, or state of 'being Liverpool', is not confined to locals. It has been instilled in others too by footballing osmosis. Bill Shankly, Bob Paisley and Kenny Dalglish all Red to the core. When I think of these men, I need to be reminded that none were born within 100 miles of the banks of the Mersey.
Other blow-ins such as Hansen, Hughes, St John, Barnes, Molby, Alonso, Garcia and Benitez have all shown the stigmatic trait of bleeding Liverpool Red. Yet it's not only players and managers who have lived and breathed the cause, in the old days owners did too. Founder, John Houlding, lived and worked in the city, acted as its Mayor.
Similarly, David Moores and his family had been involved with owning and running the club for over fifty years, back to the days of Shankly.
Only when they sold ownership to Gillett and Hicks in 2007, did the new era of foreign ownership begin. In this burgeoning financial age of English Football, anybody with lots and lots of money could own a club, regardless of their true bona-fides. Did they love football, or was it only about financial gain? Had the game lost its soul? Had Liverpool?
- ©Anthony Carragher
'Lost? Liverpool FC and English Football at the Crossroads' by Anthony Carragher is published by Troubador and is available now.
The42 has just published its first book, Behind The Lines, a collection of some of the year's best sports stories. Pick up your copy in Eason's, or order it here today (€10):