A EXTRAORDINARY DAY of sport got going at Anfield as the Premier League champions pay a visit to the Reds.  
As always, we'd love to hear your thoughts on the game. E-mail ben@the42.ie, tweet @football_ie, post a message to our Facebook wall, or leave a comment below.
You may need to refresh the page for YouTube videos and other elements to display correctly.
There is the small matter of the Capital One Cup later today (4pm), but to whet your appetite we've got two massive games in the Premier League.
While Arsenal and Everton meet at the Emirates at 2.05pm, it's over to Merseyside where Liverpool host the champions.
Here are the teams:
Liverpool: Mignolet, Can, Skrtel, Lovren, Henderson, Allen, Moreno, Markovic, Lallana, Coutinho, Sterling.
Man City: Hart, Zabaleta, Mangala, Kompany, Kolarov, Fernandinho, Yaya Toure, Silva, Nasri, Dzeko, Aguero.
Brendan Rodgers has opted to leave strikers Daniel Sturridge and Mario Balotelli on the bench and goes with a front three of Adam Lallana, Coutinho and Raheem Sterling.
City have Yaya Toure back in their team while Manuel Pellegrini sticks with the strike parternship of Edin Dzeko and Sergio Aguero.
When the teams met at the Etihad on the second day of the season, a Stevan Jovetic double helped City to a 3-1 victory.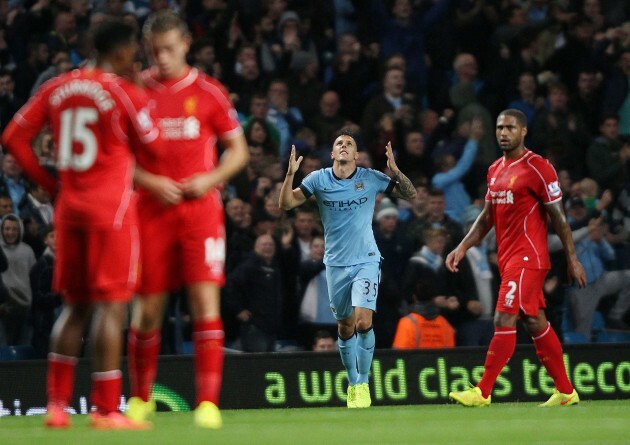 Barrington Coombs Barrington Coombs
How do you see this one going?

Ireland midfielder David Meyler knows who he's backing on Super Sunday…
Here we go then…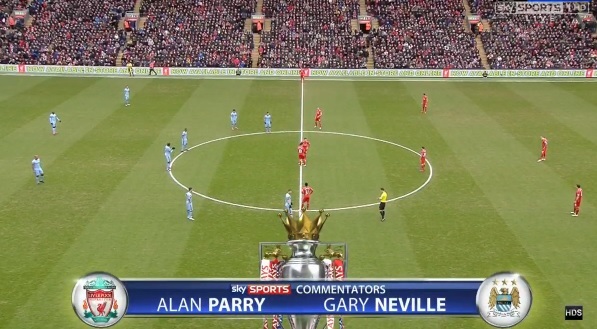 Mar 1st 2015, 12:03 PM
3'
Man City have started strongly here. Dzeko turns Emre Can and attempts to play in Aguero but the Argentine striker has trailed offside and it's a free-kick to Liverpool.
Mar 1st 2015, 12:08 PM
7'
Man City fans chanting: "You nearly won the league!" at Liverpool. That's just mean.
Mar 1st 2015, 12:09 PM
9'
Coutinho threads through Lallana and he's got space to get a shot off. It's straight at Hart, however, and the Man City keeper saves easily.
Moments later, the same two combine and Lallana smashes the ball into the roof of the net… but he's ruled offside. What a goal that would have been!
Mar 1st 2015, 12:11 PM
10'
GOAL! Liverpool 1-0 Manchester City (Jordan Henderson) 
The home side are ahead through a spectacular hit from Henderson, who checks inside and drills his effort into the top corner. What a start!
https://vine.co/v/O2LBr0pDLIt
Mar 1st 2015, 12:13 PM
12'
Man City should really have equalised there. Silva picks out the run of Aguero with a ball over the top and he shoots past Mignolet only to see the ball come back out off the upright. Desperately unlucky.
Mar 1st 2015, 12:22 PM
21'
Moreno takes on Zabaleta, who has looked sluggish in these opening minutes, and cuts onto his weaker right foot before shooting high and wide.
Mar 1st 2015, 12:23 PM
22'
Sterling gets the better of Mangala with some nice footwork but there aren't any team-mates on-hand to capitalise on his ball across the six-yard box.
Mar 1st 2015, 12:26 PM
25'
GOAL! Liverpool 1-1 Manchester City (Edin Dzeko)
The visitors draw level with a brilliantly-worked goal. Aguero comes inside and plays an inch-perfect pass to Dzeko, who makes no mistake from 15 yards.
FOOTGOALS / Vine
Mar 1st 2015, 12:35 PM
30'
Mar 1st 2015, 12:40 PM
34'
Markovic chips the ball in for Lallana and he is stretching to make contact but gets a shot away from a narrow angle. It hasn't got sufficient accuracy, however, and rolls out over the end line.
Mar 1st 2015, 12:41 PM
40'
Dzeko appears to be through on goal after Toure's ball from deep but the linesman's flag is raised. Aguero then gets caught offside seconds later.
Mar 1st 2015, 12:46 PM
44'
Hart saves from Sterling after another good move from Liverpool. One minute of added time to play.
Mar 1st 2015, 12:47 PM
46'
Half-time: Liverpool 1-1 Manchester City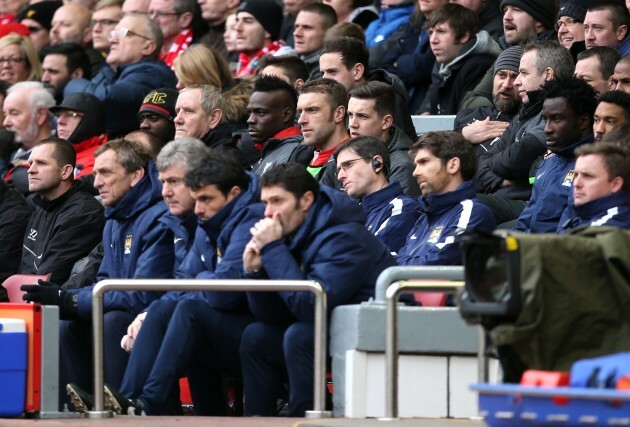 Both sets of substitutes watch from the bench.
The Man City skipper has been really out-of-sorts in recent weeks.
Mar 1st 2015, 1:06 PM
46'
After leaving Liverpool waiting a couple of minutes,  the Man City players return to the pitch and create the first chance of the second half. Zabaleta crosses for his compatriot Aguero, who can only head over the bar.
Mar 1st 2015, 1:10 PM
51'
Kompany fouls Sterling and gets a talking to from referee Mark Clattenburg, but no booking.
Liverpool work the ball well with Coutinho and Lallana involved in setting up Sterling. The young England international can't make decent contact with the cross though and Hart isn't troubled.
Mar 1st 2015, 1:13 PM
53'
Lallana has the ball in the back of the net for the second time today but, again, it's disallowed.
Mar 1st 2015, 1:15 PM
55'
Yellow card for Fernandinho. The Brazilian trips Countinho and goes into the book.
Meanwhile, Dzeko is making way for James Milner as Pellegrini looks to deal with Liverpool's dominance in midfield.
Mar 1st 2015, 1:20 PM
58'
Kolarov does excellently to beat Markovic down the left flank but then skies his attempted cross.
Mar 1st 2015, 1:24 PM
62'
Daniel Sturridge is warming up…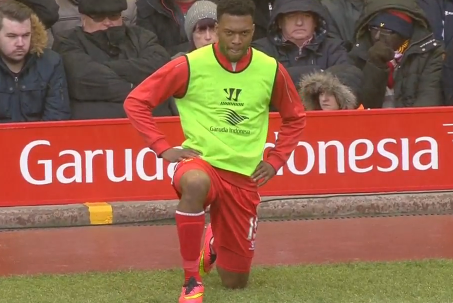 Mar 1st 2015, 1:27 PM
67'
Moreno brings down Zabaleta in the corner and City have a free-kick in a dangerous area. Silva takes… but it's a poor delivery.
Mar 1st 2015, 1:33 PM
75'
GOAL! Liverpool 2-1 Manchester City (Coutinho)
After his belter against Southampton last week, Coutinho pops up with another goal of real quality. Thoroughly-deserved from one of Liverpool's stand-out performers today.
https://vine.co/v/O2LjBHHQUgP
Mar 1st 2015, 1:38 PM
79'
Daniel Sturridge and Wilfrid Bony are on for Markovic and Fernandinho.
Mar 1st 2015, 1:41 PM
81'
Another change on both sides — Kolo Toure on for Moreno and Frank Lampard is introduced in place of Nasri.
Mar 1st 2015, 1:42 PM
84'
One for stat fans — This is the first time Yaya Toure and Kolo Toure have played against each other in a professional match.
Mar 1st 2015, 1:46 PM
85'
He's only on the field but Bony has just been booked.
Then Yaya Toure, who has been bad in the second half, gives the ball straight to Sturridge but he shoots a couple of yards wide.
Mar 1st 2015, 1:48 PM
89'
Obviously eager to make up for the mistake, Yaya Toure goes on a marauding run to set up Silva. The Spaniard gets plenty of power but it's not on target.
Three minutes of added time to go.
Mar 1st 2015, 1:51 PM
93'
Full-time: Liverpool 2-1 Manchester City
Mar 1st 2015, 1:56 PM
90'+3
The three points moves Liverpool above Southampton into fifth place. They are level with Arsenal, who kick off against Everton in their game in-hand  at 2.05pm. Man CIty remain second — five points adrift of Chelsea with one game more played.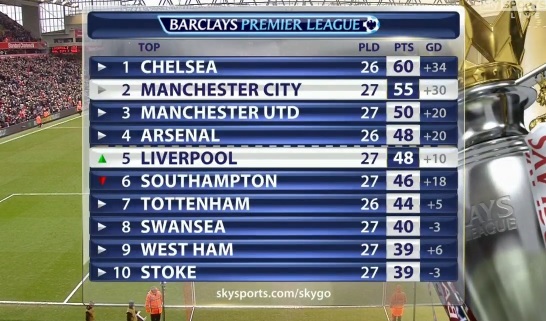 Thanks for joining us. Don't go anywhere as we have bags of sporting goodness still to come.