Liveblog
WHEN ALEX FERGUSON told Manchester United fans that their job now is to "stand by the new manager", he didn't mention being forced to stand idly by as Liverpool assented to the English football throne as being part of the job description.
Nonetheless, that is what looks almost certain to happen now: Liverpool have dropped just two points all season and are 13 points clear of second-placed Manchester City with two games in hand.
Still, hope for United fans abounds in the fact they are the only side to take points of Liverpool in the league this season, and they can at least now occupy the role Liverpool took during some years of the Ferguson dynasty: a royal pain in the arse on one-off occasions.
Welcome to The42's live coverage of Liverpool vs Manchester United at Anfield, which kicks off at 4.30pm.
Do get involved in the comments section below the line, or email me directly at gavincooney@the42.ie. I am also lurking on Twitter @gcooney93.
Team news follows in just a sec….
Team News
Liverpool
Fabinho and Joel Matip return to the Liverpool team, albeit not to their team: Jordan Henderson, Gini Wijnaldum and Alex Oxlade-Chamberlain continue in midfield, behind the recognisable front trio.
There are no changes at the back for Liverpool either – a defence that has kept six clean sheets on the bounce.
Everton-slaying teen Curtis Jones makes the bench.
🔴 TEAM NEWS 🔴

Our line-up to face @ManUtd 👊

— Liverpool FC (@LFC) January 19, 2020
Manchester United
As anticipated – Marcus Rashford is out with a back injury. (That's what happens when you're carrying a whole team etc etc.)
It looks like Ole Gunnar Solskjaer is redeploying the back three/five that worked pretty well against Liverpool at Old Trafford, with Luke Shaw likely to be pressed into action as a left-sided centre back.
Daniel James and Anthony Martial lead the line/counter-attack, with Mason Greenwood on the bench.
This is the first game of the Harry Maguire Era, who takes over the captaincy from the departed Ashley Young.
🚨 TEAM NEWS 🚨

Here's your #MUFC starting XI for #LIVMUN...

— Manchester United (@ManUtd) January 19, 2020
Elsewhere today, Leicester have slumped to a 2-1 defeat away to Burnley.
Here's how the table looks ahead of the final game of the weekend, with United just the 27 points behind Liverpool.

Blimey – Some bad news for United fans. Solskjaer has just said that Rashford is likely to be out for "weeks."
"The closer I get to kick-off the more I get worried" says Roy Keane on Sky, citing Luke Shaw and his wearing a "silly hat" in the warm-up.
Mo Salah joked in an interview earlier this week that his side dropped points at Old Trafford earlier this season as he missed the game with injury.
He's never scored for Liverpool against United, although he may fancy his chances up against Brandon Williams/Luke Shaw.
Source: Tim Goode
Salah's (relatively) poor record against United can be extended to include Jurgen Klopp:
20% - Among the 31 teams Jürgen Klopp has faced 10 or more times during his managerial career, his worst win ratio is against Manchester United (20% - P10 W2 D6 L2). Susceptibility. #LIVMUN pic.twitter.com/Lakpw3PzgS

— OptaJoe (@OptaJoe) January 19, 2020
The scenes earlier as the Liverpool team bus arrives at Anfield: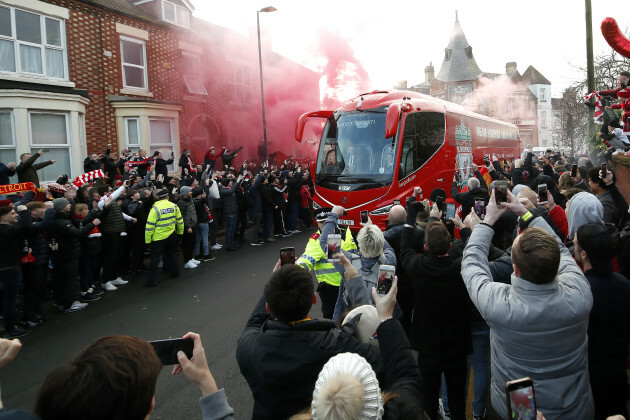 Source: Martin Rickett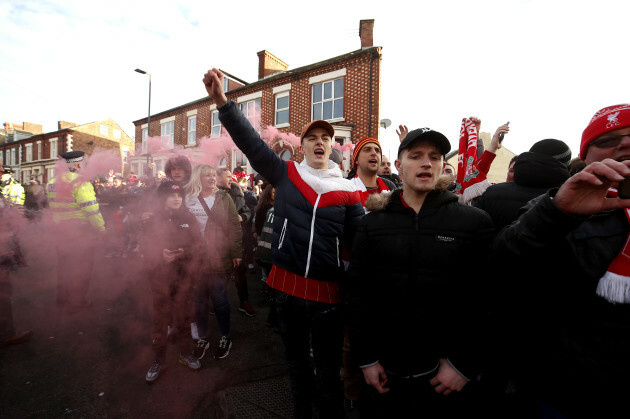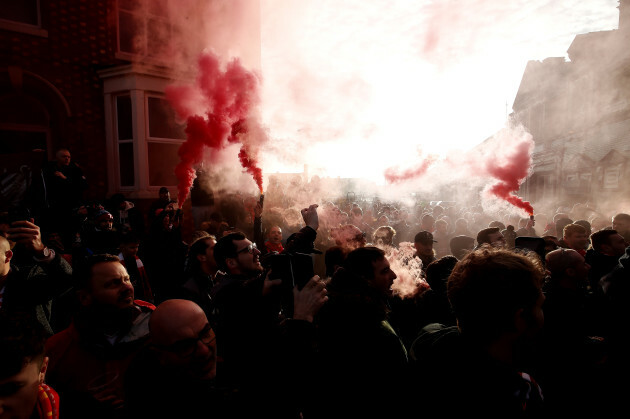 T-minus 10 minutes to kick-off.
Sky judging by the warm-ups that United might actually go with a back four, with Brandon Williams to play on the left-wing. We'll see what Solskajer does goes with in a few moments…
The teams are in the tunnel at Anfield, and are about to emerge to be punched with the sound of You'll Never Walk Alone.
In recent years, this tie has largely been abysmally dull – here's hoping today is different.
Crackling atmosphere at Anfield. We're about to kick off…
We're off!
United attack the Kop end in the first half.
A back four for United, with Luke Shaw at left back and Brandon Williams ahead of him.
A clumsy Robertson touch loses possession, and Mane commits a foul in trying to win the ball back from Wan-Bissaka. Decent free-kick position here for United…
Van Dijk does well to cut out the cross into the box, and Mane then thwarts a counter-attack with an errant pass.
Matic slides James down the right wing, and his tame cross for Martial is cut out by Van Dijk.
United have made a decent start.
Liverpool's first attack: Robertson's first time cross is blocked behind for a corner.
Corner went short to Robertson, whose first-time cross couldn't clear the first man, and the attack ultimately wilts.
Anfield was very boisterous at kick off, but now United fans are working through a chorus of "where's your famous atmosphere."
On the pitch, Nemanja Matic is booked for a very high boot on Wijnaldum – it caught him bang on the nose.
The free-kick into the box is headed narrowly wide by Mane!
He was stopping to make contact with the ball, amid a gang of United defenders, who will be disappointed he won the header so easily.
Robertson just makes a recovery tackle on Daniel James outside the Liverpool box. There may be joy for United down that side this afternoon…
Shaw is getting very tight to Salah early on, and referee Craig Pawson was unmoved as Anfield bayed for a foul when the attacker went down under contact with Shaw.
Robertson tries to slide Wijnaldum in down the left side of the penalty area, but United scuttle over and clear their lines well. Solskajer's side have been disciplined so far, Liverpool yet to threaten.
Oxlade-Chamberlain wins a corner off Brandon Williams.
GOAL! Liverpool 1-0 Man United (Van Dijk)
And United's decent start is in tatters. Alexander-Arnold whips it into the box and onto Van Dijk's forehead, rising above Brandon Williams.
Solskajer will be exasperated by how easy that was.
Now Salah wins a free-kick in off the right wing. Anfield is roiling again, Van Dijk is trotting forward…
….oooh Van Dijk is inches from connecting with the set piece and doubling the lead. Harry Maguire was all over the shop, and Liverpool have another corner.
This delivery is poor this time, and United survive.
It's now a back three for United, but the issue is their midfield. Maguire and Lindelof pass the ball to eachother – inviting Liverpool's ravenous press – to which Maguire responds by giving the ball to Lindelof, who shanks the ball right out of play.
Dear oh dear.
Shaw is bewilderingly not awarded a free kick when he is tripped by Firmino. United could have done with the breather – Liverpool are smothering them so far.
Wan-Bissaka does well to slide in on Robertson, and the home side have another corner.
Another poor delivery from the left by Robertson, which is cleared by Fred at the front post.
Big chance for Mane!
Fred deflects a Firmino pass into his path in the box, but he takes a touch and Shaw hacks clear. Corner coming…
Liverpool have a goal disallowed by VAR!
United have a reprieve. David De Gea is adjudged to have been fouled by Van Dijk in the build up to a stunning curled finish by Firmino.
A stay of execution for United on the balance of play so far…
Liverpool are rampant here, and United are reeling.
Salah whips a cross across the box and Firmino skews his shot narrowly wide from inside the box.
We're catching our breath after a hectic few minutes: but that VAR call on Van Dijk looks generous to Manchester United. He was adjudged to have made no real effort to go for the ball…but he jumped with his eyes solely on the ball, and De Gea punched the ball pretty tamely.
An audacious Salah backheel finds Mane in the box, but Maguire arrives to cut the ball out. United can't get out of their own box at the moment – they are trying to pass through Liverpool's press to predictably ugly circumstances.
Liverpool have another goal disallowed!
United are saved by the offside flag, as Gini Wijnaldum is just offside having finished an utterly gorgeous move.
Firmino backheeled the ball back into midfield to Oxlade-Chamberlain, whose first time ball found Wijnaldum in the box. He finished the chance…but then had to finish his celebrations prematurely as the flag went up.
United living on the edge here…
Andreas dribbles and weaves his way into the Liverpool box and is eventually dispossessed and knocked over by, eh, Daniel James. The move ends with Martial flashing a shot wide of Alisson's near post – the best United have had so far.
What a chance for United!
Wan-Bissaka steers a first -time ball across the penalty area, and Andreas is inches from making enough of a connection to steer the ball beyond Alisson.
United are slowly, slowly creeping back into this…
Andreas drives forward and lashes a shot from distance at Alisson, which the goalkeeper gathers.
De Gea makes a big save!
Salah slips Mane through one-on-one with the United defence all over the shop, but he blocks it behind with his right foot in trademark style.
United deal with the corner.
Two added minutes at the end of this half.
Mane wins another corner off Fred.
De Gea does well to punch Alexander-Arnold's corner clear under significant pressure under the crossbar.
HT: Liverpool 1-0 Man United
One goal for Liverpool with another two disallowed. United started doughtily, but took a standing count for the half's middle third, during which Liverpool pretty much pulverised them.
Coming out of that period at only 1-0 down was a decent result for United, and they've created a couple of chances since – Andreas' failing to connect with the ball a yard out in front of the Kop the best of them – so this game isn't quite over yet.
We'll be back in a few!
Aaaaaand we're back underway!
No changes during the break for either side.
Early Liverpool pressure: Salah finds space in the box and rolls the back for Henderson, who hammers a shot from distance that is blocked by Lindelof.
Salah misses a SITTER!
Mane feeds the ball to Robertson, who squares the ball to Salah who – unmarked! – in the middle of the six yard box, some how screws the ball wide.
A shocker.
Liverpool are totally rampant.
Firmino flicks the ball back from the endline to Mane, who spoons over a shot from the edge of the six-yard box.
Henderson hits the post!
Good lord, United can't breathe. Henderson cracks another shot from distance that De Gea does superbly to get a finger to, and the ball bounces back off the post.
Lindelof is down holding his groin: he may just need a breather. Liverpool could have had three goals in the first four minutes of this half.
Shaw hacks clear under severe pressure from Salah. Wan-Bisasaka is being ripped apart down Liverpool's left - surely Liverpool's second isn't far away.
Howls for handball from the Anfield cross as an Alexander-Arnold volley hits Shaw in the box. It was at almost point-blank range, to be fair.
De Gea then saves an Oxlade-Chamberlain shot from distance.
We're struggling to keep up here; absurd Liverpool dominance at the start of this half.
Liverpool have a corner that goes short to Salah. He dinks it to the back post, where United head it away for another corner – their 11th of the game so far.
The lads at the Alamo would have given up if they faced this kind of pressure.
Henderson snaps a gorgeous pass left for Firmino, who waltzes into the box and dumps Wan-Bisaaka on his arse with a delicious dummy – but his shot is blocked away.
Seven shots in the first nine minutes of this half for Liverpool so far.
It never rains dept – Martin Tyler has just broken the news that Marcus Rashford has a stress fracture of his back and is out for up to three months.
A shot for United!
Fred wins the ball on the halfway line, drives forward and shoots wide of Alisson's near post.
Liverpool are enjoying unimaginable amounts of space around the United defence at the moment. United aren't sitting in at the moment, but they aren't pressing with any kind of effectiveness either.
What, exactly, are they trying to do?
Woah, big chance for Martial!
United get off the ropes, but Martial – one on one with Alisson eight yards out – lashes a wild volley into the Anfield Road end.
That was a big chance. United are hanging on in there…
This game could have been 4-0 or 5-0 before that Martial chance.
It should have been 1-1 after it.
Liverpool waste yet another chance.
They break through Wijnaldum – who sends Matic out to the shops with a gorgeous feint and touch before sending Mane into the box. Lindelof does superbly to stand Mane up and force him wide onto his left foot, and the resulting shot is tame and dribbles across De Gea's goal and out of play.
Alisson gets away with dawdling on the ball as Martial closes in on him. He hacks it clear in a panic.
Liverpool make their first change: Adam Lallana replaces Alex Oxlade-Chamberlain.
Oxlade-Chamberlain is pretty frustrated to make way, as he was in the same situation at Spurs eight days ago.
Martial, meanwhile, shoots tamely at Alisson from distance.
Fred battles with Wijnaldum and wins possession, drives United forward and shoots. Alisson slaps the ball behind for United's first corner…which doesn't clear the first man.
Well, United have seem to have weathered the second mad Liverpool tempest of the game. Liverpool's pace has slackened off, and United are beginning to push forward now.
Ever since this blog slagged off United's pressing/approach, it's improved. Williams on that occasion did well to shut down Alexander-Arnold.
Lallana randomly stumbles and falls over the ball with Liverpool on the attack and Alexander-Arnold caught forward, but Van Dijk steps in and snuffs out a potential United counter.
Liverpool drive forward, and Shaw is booked for dragging Salah to the ground.
Martial does well to head Alexander-Arnold's free-kick away, and United deal with the latest bit of danger.
A double United change: Juan Mata and Mason Greenwood for Andreas and Brandon Williams.
United have clung on in there by mingling determination with outrageous fortune – can they hit Liverpool with a sucker punch?
Mane is picked out in the box with a devilish cross, but rather than shoot, he flicks the ball back to Firmino, and his shot is eventually blocked away.
Another real chance for United: Martial lofts a cross into the box and over Van Dijk's head, but Greenwood can't connect.
Now Alisson shanks the ball out of play. Liverpool are beginning to seem a tad nervous…
It's all United now, with Liverpool dropping deeper and the Anfield crowd falling hushed. Mata tries to dink a ball through for Greenwood, but it's overhit and easy for Alisson.
Wan-Bissaka drives forward and his cross is blocked behind for a corner by Robertson.
Liverpool deal with the corner in the six-yard box, it seems to be Firmino who did his defensive job.
Jurgen Klopp has seen enough to declare for what he has: Firmino and Mane make way for Divock Origi and Fabinho.
Liverpool earn a breather – Lallana is fouled 25 yards from goal by Matic.
Robertson's cross to the back post finds Van Dijk, but United deal with the danger and get the ball clear. Then Shaw is forced to clear for a throw-in ahead of Salah; Liverpool in no rush to take it.
They have taken it, and the ball ended up out for a goal kick.
United are running out of time.
Lallana gets pinged for a clumsy foul on the left wing on Shaw, who is now on the ground and struggling with cramp.
Diogo Dalot replaces him.
Gomez does well to head the free-kick clear, and Salah is sent away on the counter attack. He is pushed wide by Wan-Bissaka, and ends up firing a cross across the box to nobody.
Wasteful.
Liverpool fans have broken out the exuberant 'Allez, Allez, Allez' chants, It's not over yet lads -United have a corner.
The corner is short to Mata, Lallana does well to dispossess him but then is adjudged to have hauled him down.
A free-kick in a dangerous spot for United here…
..it goes to the back post to Maguire, whose first-time cross is sliced behind by Van Dijk. Corner coming…
Van Dijk heads clear, Liverpool break but Henderson's cross into the box is cut out.
United come forward again…
THREE added minutes. Fred's cross is sliced into the air by Gomez and another United wave comes.
Mata in the box – but his cross is cleared by Van Dijk.
The ball then comes to Dalot on the left wing – his cross is cleared by Van Dijk.
Maguire's gone up front!
Henderson blocks a United cross: another corner.
90 seconds…
Van Dijk clears the corner, and then Mata is caught offside.
GOAL! Liverpool 2-0 Man United (Salah 90+3)
That's the game and probably the league title for Liverpool!
Alisson takes his goal kick imimediately and finds Salah, who runs clear and slips the ball under De Gea. Alisson is first to catch him in celebration!
GAME. OVER.
FT: Liverpool 2-0 Man United
For the first time this season, "We're gonna win the League" rings around Anfield.
United were battered at times, rode their own grit and fate's fortune, and created a couple of chances to make them feel today might be different.
Liverpool were much the better side, though, deserved to win, and Jurgen Klopp's on-pitch fist-pumps have a bit more intensity than usual.
They go 16 points clear…with a game in hand.
Thanks for following, bye!
Contribute to this story: