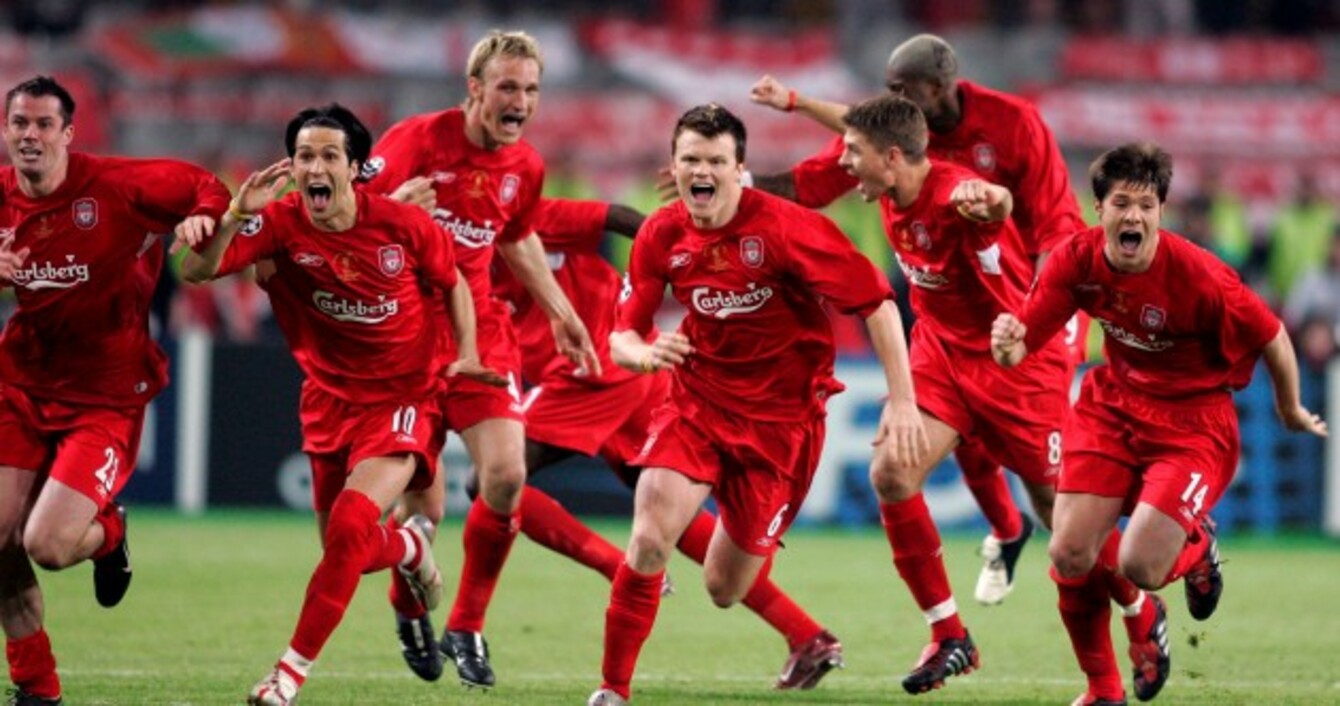 Liverpool players running to goalkeeper Jerzy Dudek to celebrate after AC Milan's Andriy Shevchenko missed his penalty.
Image:
PA Wire
/Press Association Images
Liverpool players running to goalkeeper Jerzy Dudek to celebrate after AC Milan's Andriy Shevchenko missed his penalty.
Image:
PA Wire
/Press Association Images
LIVERPOOL WENT INTO the 2005 Champions League final as clear underdogs.
The Reds had struggled through their group, finishing second behind Monaco and only advancing on goal difference, and needing a last-minute Steven Gerrard strike to rescue them in the decisive final game with Olympiakos (see below).
They had earned narrow victories over Juventus and Chelsea, as well as comprehensively beating Bayer Leverkusen in the knockout stages.
Milan, by contrast, had topped a group that included Barcelona, as well as comfortably dispatching Man United and Inter on their way to the final.
Moreover, while Liverpool couldn't even finish in the top four in the Premier League, Milan had narrowly missed out on triumphing in Serie A. And unlike Liverpool, they were guaranteed a place in the following year's Champions League, having secured second place domestically.
There was at least one glimmer of hope for Rafa Benitez's side going into the game though — Milan had already shown signs that they were susceptible to becoming overly lax. Having convincingly won the first leg of their semi-final with PSV 2-0, they only emerged triumphant on away goals ultimately, losing the second leg 3-1.
Yet despite their underdog status, there was some optimism about Liverpool's prospects. Before the game, Rafa Benitez said: "Maybe Milan are favourites, but we have confidence, and we can win." Meanwhile, Arsenal boss Arsene Wenger backed Liverpool's chances, commenting: "I fancy Liverpool as Milan look jaded physically and certainly mentally, by losing the title, I think they have never had a better chance than now to beat Milan".
Liverpool defender, Jamie Carragher, however, was more pessimistic going into the match, saying the side weren't as good as the Liverpool team that had won the UEFA Cup previously: "No disrespect to the squad we have got now but it is obvious we are not as strong as we were when we won the UEFA Cup in 2001. Back then we had a settled team and that season when we went into games against Barcelona and Roma, we always felt we were as good as them."
Formations
Both sides started with a 4-4-2. Carlo Ancelotti opted to pick on-loan Chelsea striker Hernan Crespo over Jon Dahl Tomasson and Flippo Inzaghi, while Benitez somewhat surprisingly fielded a rather attacking line-up, leaving Dietmtar Hamann on the bench and picking Milan Baros ahead of Djibril Cisse in attack.
Milan adopted a diamond formation, with Andrea Pirlo at the base of the midfield and Kaka playing behind the two strikers, while Clarence Seedorf and Gennaro Gattuso operated in central midfield.
Liverpool had Harry Kewell (who had played barely any football since Christmas that year) playing just off Baros, with Xabi Alonso picked in the holding midfielder role, while Steven Gerrard was in front of him, with John Arne Rise and Luis Garcia either side of their captain.
Going into the game, Liverpool were actually regarded as a quite defensive team. They had managed just 52 goals in the Premier League that season. Furthermore, in the Champions League group stages, they had conceded only three goals in addition to scoring six. They hammered Bayer Leverkusen 6-2 on aggregate in the last 16, before reverting to type and beating Juventus 2-1 and Chelsea 1-0 on aggregate in their subsequent games.
Compare that to Milan, who were undoubtedly more attack-focused, scoring 10 goals in the group stages and 10 in the last-16 up to that point. They had also scored 63 goals in Serie A — the fourth-highest of any team in Italy that year.
Champions League nerves evident in both sides' play
In the first-half, Milan, though clearly superior, were not as dominant as the 3-0 scoreline might suggest.
Liverpool offered very little in attack and were hampered by the concession of a goal after just 50 seconds, when some slack marking allowed Paolo Maldini to volley home a free-kick.
Thereafter, Liverpool rallied briefly, though the best chance they could muster was a Sami Hyypia header from a Gerrard cross that was comfortably saved by Dida.
Following this short spell, Milan gained the upperhand again gradually, while Liverpool hit a series of hopeful balls up towards Milan Baros, who worked tirelessly but received little change off Alessandro Nesta all night — though he did make a vital contribution to Liverpool's third goal (more on which later).
After the opening goal, there were moments of nerves from both sides. For Milan, even the experienced Maldini inexplicably ran the ball out of play at one stage, while the normally composed Andrea Pirlo hit more than a few stray passes.
Meanwhile, Liverpool's anxiety was epitomised by Djimi Traore, a defender with a longstanding reputation for being error-prone.
The French full-back gave the ball away continually and at one moment, as seen below, he inexplicably failed to step up with the rest of the Liverpool defence, thereby playing the entire Milan attack onside, only for Shevchenko to waste the chance.
To be fair to Traore, Liverpool's gradual improvement coincided with his own, and he put in some good tackles and interceptions in the second half, as well as making one vital goal-line clearance from a Shevchenko attempt.
The same can be said for Jerzy Dudek, who was ultimately the hero after his starring role in the penalty shootout, but committed one or two howlers in attempting to deal with innocuous balls into the box, which nearly led to Milan goals at crucial points in the game.
Liverpool struggle to cope with Kaka
If Steven Gerrard inspired the comeback, then it was surely Kaka who was primarily responsible for Milan's resplendent first half.
The Brazilian played at the most attacking point of the midfield diamond for his team. Initially, he struggled to influence the play, as Liverpool's similarly narrow midfield shut down space. However, as the half developed and Liverpool's midfield tired, he found more joy, as their defensive ill-discipline and ball-watching meant there were times when the backline were sometimes left three-on-three with the Milan attack, as seen below.
Both the goals Kaka created came from counter-attacks in which Liverpool desperately threw bodies forward in an overly cavalier manner.
With their primary defensive midfield lynchpin Hamann absent, Milan's main threat was allowed to find space all too easily (see below), as Liverpool searched frantically for a goal.
They had already been warned at 1-0, as Kaka played through Shevchenko for an effort that was disallowed thanks to a questionable offside decision.
Shortly thereafter, the attacking midfielder burst forward again, showing dynamic pace and leaving Liverpool's midfield trailing in his wake, producing an intelligent pass for Shevchenko, who then crossed to Crespo for the second goal.
He produced an even more stunning pass for the third goal, after Liverpool's midfield had once again afforded him too much space.
After the break, Kaka's influence lessened considerably. Perhaps partially because, like his teammates, he was becoming increasingly tired and was guilty of complacency. But the introduction of Dietmar Hamann was key to minimising Kaka's threat, as the extra body meant he had even less space in which to operate, while Liverpool were less exposed on the counter-attack, as the German midfielder provided a more naturally defensive-minded presence than either Steven Gerrard or Xabi Alonso. Of course, the fact that Liverpool sat back considerably after their third goal meant there was also far less scope for Kaka to execute his customary killer through-passes.
The two sides of Steven Gerrard
Both the strengths and weaknesses of Steven Gerrard were on display in Istanbul that night. The captain ultimately was the driving force behind his side's rejuvenation, but he was also partially to blame for the third goal they conceded.
With Liverpool 2-0 down, an element of desperation understandably crept into their play. Luis Garcia was guilty of one or two wild shots that were well off target, and with the half coming to a close — not for the first or last time in his career, Gerrard was similarly culpable, trying to play the killer pass when it simply wasn't on, allowing the Milan defender to intercept and launch a counter-attack.
Almost directly thereafter, Gerrard ill-advisedly lunged towards Kaka in a similarly desperate manner to his pass seconds before. However, he was simply nowhere near tight enough to the Brazilian, coming in from an awkward angle (as can be seen below) and allowing him the space to turn and easily shrug off his weak challenge, and then hit the killer pass that led to the third goal.
Of course, Gerrard more than made up for his underwhelming performance in the first half, by playing an integral part in changing the game after the break. Liverpool's switch to a five-man midfield gave the England star license to get further forward with the newly introduced Dietmar Hamann sitting in midfield.
Look at how far forward he is in the shot below (remember it's the second half now) in contrast with how deep he is compared to the rest of his teammates in the image above. Indeed, with Liverpool in dire need of goals, Gerrard effectively reverted to the number 10 role during the early stages of the second half.
The move paid dividends, as the England star scored the first goal as he headed home unmarked, and was fouled for the penalty that led to the equaliser.
The half-time change also gave Liverpool considerably more width, and so it was no surprise that two of their three goals emanated from attacks down the left flank, with Milan's wingless midfield unable to put sufficient pressure on Jon Arne Riise on both occasions.
Milan stubbornness
As good as Liverpool were in the second half, Milan were undoubtedly the authors of their own downfall. Check out the image below.
There are seven Milan players (including a couple of defenders) up for this set piece and eight if you include the corner taker.
At 3-0 up, you don't exactly have to park the bus to ensure victory, all Milan needed to do was exercise a modicum of caution and they surely would have seen out the victory.
Now, take a look at the shot below, which was just seconds after the Milan corner broke down.
Steven Gerrard has ghosted into the box with no one picking him up. The Milan midfielders are clearly shattered from having to chase back from the corner and lack either the energy or the defensive instincts (or perhaps both) to pick up Gerrard. They even had a second chance to pick him up, after Riise's initial cross was blocked, so it was surely mental tiredness more than anything that led to the poor defending.
What's perhaps more surprising is that Milan had failed to learn from the error of their ways previously. In addition to the aforementioned game with PSV, they had been knocked out of the previous year's Champions League at the quarter-final stage despite beating Deportivo 4-1 in the first leg.
Reportedly at the behest of their president, they had played an attacking line-up with two strikers in the second leg and subsequently got beaten 4-0.
Source: Maestr021Channel/YouTube
They demonstrated similar stubbornness in Istanbul, refusing to react to Liverpool's change to a five-man midfield, and continuing to play with two strikers. The consequences, perhaps not so surprisingly in hindsight, were disastrous.
Just look at the shot below and how much space they afford Smicer, who is lining up to take the shot that will result in the second goal. It's because they are reeling and simply cannot cope with Liverpool's greater numbers in midfield and renewed attacking intensity.
Similarly, observe the next image, with Gerrard and Pirlo highlighted. Milan are actually quite well positioned at this moment.
But look at all the space Steven Gerrard is given to run into in the clip below (and also notice how far behind the play ageing midfielder Clarence Seedorf was). Pirlo has been distracted by Carragher's forward run, despite his teammate already having that area covered, thus allowing Gerrard to gallop forward unchallenged. Again, this is primarily down to lack of concentration and midfield weariness (Milan had shown previous conspicuous signs of tiredness, not winning a game in all of May going into the final).
Pirlo and Gattuso notice the danger too late, with Gerrard's far superior pace enabling him to outsprint the Italians and forcing the ex-Rangers man to concede a penalty, for which the midfielder was fortunate not to be sent off.
Simply put, Milan got what they deserved for their arrogant approach and poor discipline in the second half.
Curbing Serginho
Milan's main tactic in extra-time appeared to be to get the ball to Serginho as often as possible. The winger came on in the 86th minute, and reacting to this change, Liverpool adopted a 5-4-1 formation.
Gerrard's attacking threat was more or less sacrificed as he was asked to play right wing-back instead of the defensively weaker Smicer.
The England midfielder did a largely good job tracking Serginho and alleviating his threat, blocking his crosses on numerous occasions and rarely giving his opponent the opportunity to pick out a target.
Midfielders such as Pirlo, Gattuso and (when he came on) Rui Costa were constantly looking to pick out the Brazilian's darting runs with incisive diagonal balls.
Gerrard's tiredness meant that on one or two occasions, he afforded his opponent too much space and thus failed to prevent him getting a cross in, requiring Liverpool to produce some fairly desperate last-ditch defending.
On one occasion, Carragher stretched superbly to cut out a dangerous ball in, and on another, Dudek was forced to pull off a fantastic double save to stop Shevchenko from grabbing what would have almost certainly been the winning goal.
Liverpool's extra-time tactics were similar to Milan's in that their priority was getting the ball to a speedy substitute in the form of newly introduced lone striker, Djibril Cisse.
Cisse brought a renewed energy and enthusiasm to Liverpool's attack and held the ball up well once or twice, but he was largely ineffectual — his ill-discipline and over-eagerness to make the difference led him to shoot wildly off target and stray needlessly offside on more than one occasion, ultimately putting Liverpool under more pressure as a result.
It was perhaps wise of Liverpool to adopt a defensive strategy and reduce Gerrard's attacking responsibilities in extra-time. Milan had had the better possession throughout the game and so, Liverpool looked the more tired of the two teams, and thus, seemed increasingly liable to concede.
Conclusion
After Liverpool got the third goal, neither side played particular well or with much ambition. Both teams were clearly a tad shellshocked at finding themselves in their respective improbable positions. Liverpool appeared content to sit back and play for penalties, and created few major chances of note. Milan grew increasingly weary and carved out few opportunities, though Shevchenko continued to look lively and went close on a couple of occasions.
If anything was going to lead to a goal, it would a defensive error, with Dudek at one point letting a cross slip through his grasp, only for Jamie Carragher to make another excellent goal-saving tackle.
Ultimately though, it is a game in which destiny seemingly favoured Liverpool and they duly capitalised, attaining a 3-2 spot-kick victory in quite possibly the most dramatic European Cup final ever.
Jamie Carragher best summed it up afterwards…
A version of this piece was originally published on 24 May, 2014