THE BIGGEST QUESTION for Liverpool this season is whether they can adequately replace Luis Suarez. Individually, it's an impossibility.
But Brendan Rodgers' hope is that the amount of goals the Uruguayan scored (31) and the assists (12) he contributed can be accounted for elsewhere. Rodgers has brought in a litany of reinforcements – three of them from Southampton. Adam Lallana and Dejan Lovren will expect to walk straight into the starting XI though Rickie Lambert may have to wait a little longer for first-team opportunities. Rodgers' forked out £20million to bring in Lazar Markovic from Benfica and he won't be satisfied with an impact substitute's role. But, what Rodgers is assembling is a flexible unit. One that can easily drop into a variety of systems and one that also has healthy competition for places.
This season is a different animal. There's a level of expectation but also the stress of elite European competition. Rodgers needs all the players and all the permutations he can get. But he does have a number of basic issues to address.
How do you solve a problem like Suarez? 
Last season, the attacker was unplayable. His dynamic with Daniel Sturridge was well-documented but the huge issue for Liverpool going forward is just how unique a performer he was. For the most part, Suarez played as an individual. The majority of his goals were self-manufactured with him using his quickness of thought, his poacher qualities and his impeccable finishing to terrorise defences (usually Norwich's).
David Davies / PA Wire/Press Association Images Suarez was such an individual that it's impossible for Brendan Rodgers to find a like-for-like replacement. David Davies / PA Wire/Press Association Images / PA Wire/Press Association Images
Yes, there was a terrific partnership with Sturridge but, though Suarez was usually selected in a wide area of a front-three, he played through the middle consistently.  Even though he was part of a lethal 'two-man strikeforce', Suarez dictated things. Even in his first game of last term against Sunderland, his opening goal was striking for the way in which he told Sturridge where to play him the ball. Sturridge has his own strengths and excelled when having to play without Suarez for the first few games of last season. But, it will be intriguing to see if Sturridge can instill a similar ruthlessness and arrogance in his game, especially when having to take on such a daunting goal-scoring burden.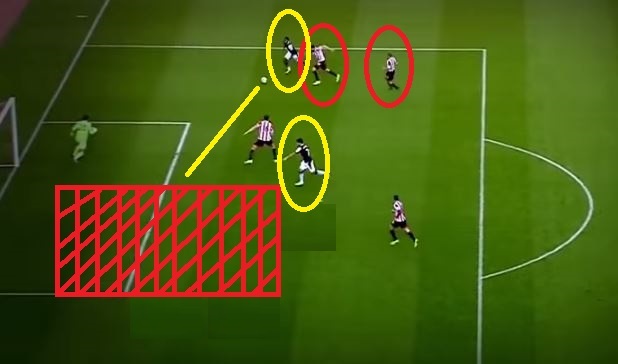 Keelan Byrne Keelan Byrne
There are three other elements to Suarez's game that Liverpool will certainly miss. His movement, his individuality and his ability to force defenders into committing mistakes. His awareness ensured he was a constant nightmare for defenders. Always looking for gaps to exploit or space to run into, he had the intelligence and speed to not just acknowledge a potential opportunity but to get in the right position at the right time. A goal against Cardiff last season perfectly encapsulates that, as well as Sturridge's vision. Suarez has a look at the way the Cardiff defence is set up. He can spot the space behind Sturridge and can see his strike-partner is the wrong-side of his man, on his way to making a run towards the near post. But, at this moment, just as Johnson is about to cross, there's only one Liverpool player in the area. Cardiff will feel they've got the situation under control.
Keelan Byrne Keelan Byrne
But in an instant, everything changes. Sturridge is picked out at the near post but Suarez has lost Medel and has found the space. All he needs now is for Sturridge to find him.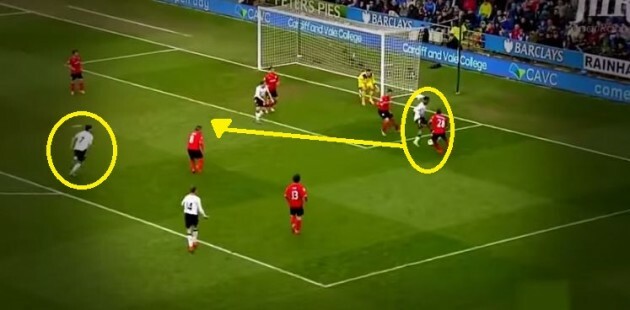 Keelan Byrne Keelan Byrne
And Sturridge does. A perfectly-weighted back-heel right into Suarez's path and he thumps it low to the net.
Last season, defenders looked more uneasy than ever when faced with Suarez. Perhaps it had to do with his incredible run of form or his boundless energy when closing down and harassing. Whatever the reason, it became a pretty impressive offensive tactic. Under pressure at the back, Liverpool could thump a long ball forward and it was never in vain. Suarez would chase it down and, sometimes, his presence was enough to put defenders off.
Finally, there's the individual brilliance that came to define his final campaign at Anfield. Goals against Norwich and West Brom in particular stand out. The contrast between both goals says much too. The former is an instinctive lob from far out, displaying the extravagance, explosiveness and arrogance that Suarez possesses.
TehMaca - Minecraft - Gaming videos! / YouTube
The other is more Suarez-like. Close to goal and fronting up defenders, he evades tackles quickly through a combination of pace and close control, throws in a little bit of impudence for good measure and then effortlessly glides the ball to the net.
combo luke / YouTube
Formation change?
Going by Liverpool's recent friendly against Borussia Dortmund, Brendan Rodgers is keen to retain the 4-3-3 he played regularly last year. In many ways, it makes more sense than it did then. Having Suarez and Sturridge playing so well together, the formation ensured one of them always drifted wide, away from their natural zone.
With the addition of Adam Lallana in the summer window, Liverpool gain a player comfortable in playing on the outside of a top-three – doing it superbly for Southampton. His greatest strength is his movement and he enjoyed an immensely fruitful relationship with Rickie Lambert, constantly looking for space and usually finding it. It's probably one of the key reasons why Rodgers decided to bring him to Anfield – his ability to find gaps picks up from where Suarez left off and with a play-maker, Philippe Countinho (more on  him later) set to play a key role within the team this season, having a quick, intelligent top-three is imperative. Against Tottenham, he made a lovely arced run to sprint forward on Lambert's shoulder and race past him before picking up the through-ball and tucking it away to the bottom corner.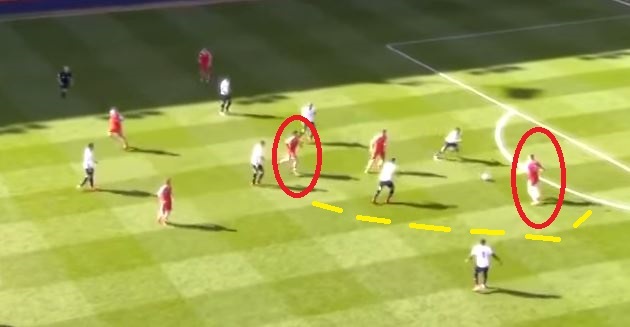 MadridusfanTV MadridusfanTV
They've also got Raheem Sterling who stepped up to the plate and delivered magnificently throughout last term. Straight away, there's a solid balance to the Liverpool setup. And with Lallana and Sterling scoring nine times in the league last season, Rodgers won't be too concerned.  He'll hope that both can add a couple more and look for a substantial goal-scoring improvement from Coutinho and Henderson too. Even still though, it's hard to see Gerrard (13) and Skrtel (7) having such prolific campaigns again. But, the addition of Lambert gives Liverpool more attacking options.
Exclusive Six
Nations Analysis
Get Murray Kinsella's exclusive analysis of Ireland's Six Nations campaign this spring
Become a Member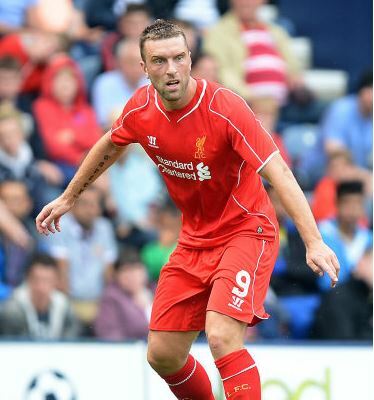 Martin Rickett / PA Wire/Press Association Images Rickie Lambert will give Rodgers options this season - exactly what the manager wants. Martin Rickett / PA Wire/Press Association Images / PA Wire/Press Association Images
Though many would consider him a traditional centre-forward, he proved at Southampton that he was clever in possession and not just a physical presence that relentlessly attacked lofted crosses into the area. He regularly drifted wide at St. Mary's, with Jay Rodriguez the main striker. For Rodgers, that's a nice bonus. Lambert can play in any of the three attacking positions while, if Liverpool are chasing a game, he can step up alongside Sturridge, with Sterling as a possible number 10 tucked in behind.
The Coutinho conundrum
Following Liverpool's 4-0 demolition of Borussia Dortmund last Sunday, Rodgers was full of praise for the Brazilian play-maker.
I really see him, over the next four or five years, being a big force in world football, both for Brazil and Liverpool. He's an incredible operator, just magical to watch and he's the kind of player that supporters come to see. We're very glad to have him. His ability to get out of tight situations and his view of the game is incredible.That's his best position – playing between the lines, he doesn't get marked. He drops to the back of midfield, he draws defenders out, and the weight of his passes is phenomenal. He was outstanding, and what he's added to his game is that relentless pressing. He's very strong under pressure on the ball, and puts pressure on the opposition when he's not on the ball."
Against Dortmund, he was named on the left of the top three. But he never played there. He came inside and occupied a central role, an area he prefers and where he can exert more influence. Early on Sterling was wide left, Sturridge through the middle and Coutinho dropped deep, close to the centre-circle. But, Liverpool's opening goal came from his deftness and awareness – characteristics that Rodgers will desperately want to rely on as much as possible.

beIN Sport beIN Sport
Just before Lovren plays the pass, Coutinho has a quick look to see where Sturridge is and, more importantly, where he's heading. He's been afforded some space and with Dortmund playing such a high line, he knows exactly what it will take to unlock their defence.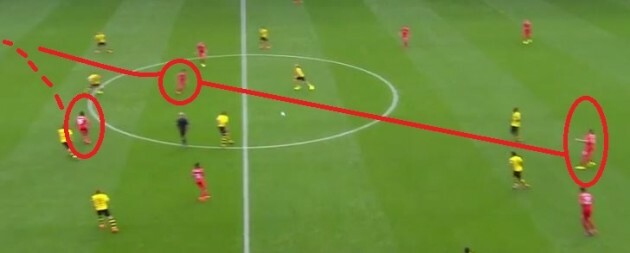 beIN Sport beIN Sport
Lovren's pass has plenty of pace on it – Coutinho carefully flicks it through, knowing Sturridge is already on his way in behind the Dortmund defence. The striker does the rest.
http://vine.co/v/MVxzDPipDWM
The big problem for Rodgers is accommodating Coutinho in the starting XI. Though he might be named on the flank of a top-three, he won't play there. He'll drop deep and feature, surely at Rodgers' request, between the lines. So, how do Sturridge, Sterling, Lallana and Coutinho fit in the same team. 4-2-3-1 is an option though he could also play in a midfield three.
One other bonus during the Dortmund clash was Coutinho's goal. Again, it came from him being positioned close to goal, picking out the space and demanding to receive the ball (where have we seen that before?) while his was a composed finish.

beIN Sport beIN Sport
So, plenty for Brendan Rodgers to mull over on the eve of a new season. But he'll relish it. They may not go as close to the championship as they did last term but with a Champions League adventure to contend with again, there are plenty of reasons for Liverpool fans to feel optimistic.