Liverpool 2 
Real Madrid 5 
REAL MADRID ARE the nightmare from which Liverpool are trying to wake. 
For 20 minutes at a fervid Anfield it seemed as if they might finally have exorcised their greatest demons: first Darwin Nunez finally came good with a subtle flick and then Thibaut Courtois bafflingly handed Mohamed Salah a goal, in what Liverpool might have felt was a flourish of cosmic justice after his superhuman performance in last season's final. 
But Real Madrid don't care about any of that. 
Instead they wrote history in their singularly brutal, insouciant way. 
Vinícius Júnior scored twice and now no player has scored more goals against them in the history of the European Cup or the Champions League. 
Liverpool then conceded four goals at Anfield for the first time in a Champions League game. 
And then they conceded a fifth.  
Real Madrid have now beaten all versions of Klopp's Liverpool: the zealous insurgents of 2018; the freshly-minted champions of 2021; the quadruple-chasing establishment order of 2022; and they have now dealt the final, shattering blow to the wearied and desiccated class of 2023. 
The realisation that this team has no more to give seems yet to have dawned on Jurgen Klopp and his coaching staff, whose insistence on hard-running, high pressing with too many exhausted legs is the stuff of a cargo cult: the rehearsing of old rituals in the hope that some former glory might return. 
To fail to adapt and slow the game down at 2-0 up was unforgivable, and attributable to either naivety or arrogance.
They quickly lost their lead – Vinicius' first goal was stunning and his second an inexplicable error from Alisson – and only a last-ditch tackle from Andy Robertson at the end of a move that began with a Courtois throw prevented them from being behind at half-time. 
Instead they were behind almost as soon as the second-half began, their players stood like Medusa subjects as Eder Militao scored one of the easiest goals of his career. The fourth was rooted in abject luck – Darwin Nunez might have had a penalty for a push in the back and moments later Benzema scored via a deflection off Joe Gomez – while the fifth was an embarrassment, Modric pouncing on a clunky Fabinho touch and scything through Liverpool's midfield before Benzema sat Alisson down and scored brilliantly. 
Most startling was Liverpool's utter lack of reaction to falling behind. Carlo Ancelotti cannily redeployed Fede Valverde to gum up Liverpool's right-hand side as the first-half wore on, interrupting the connections between Trent Alexander-Arnold, Jordan Henderson and Mo Salah. Liverpool reacted by doing…nothing. 
Darwin Nunez' first goal was terrific but he did nothing else, at one point ruining a second-half counter-attack by dribbling lamely, hopelessly into midfield. What Liverpool have lost in all-round play with Sadio Mane's departure, they have not come close to replacing. 
Liverpool's chronic midfield issues also came to boil again, with Henderson fading as the game wore on and Stefan Bajcetic struggling, often swallowed whole by the wide maw of Camavinga and Valverde. 
Defensively the injury absence of Ibrahima Konate was brutally felt, as Joe Gomez is not good enough to defend the oceans of space which Klopp's set-up asks of him. 
It was this finely-tuned, high-risk set-up that made Klopp's Liverpool a magnificent team, but it has too high a tariff for the today's squad. Most of those who know innately what they are supposed to do no longer have the physical capacity to do it, while its younger additions are too callow and inconsistent.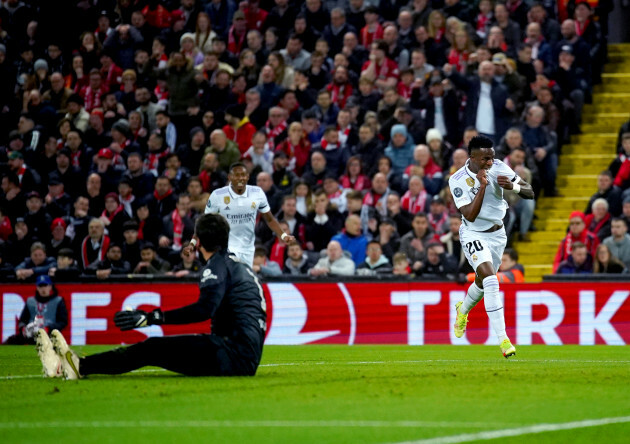 PA Vinicius celebrates his first goal. PA
These are not issues singular to matches against Real Madrid, but it is Madrid who have most brutally exposed them. Liverpool's squad upkeep has been a failure and the midfielders they came closest to signing – Camavinga and Aurelien Tchoumaeni – play for, guess who, Real Madrid. And so Liverpool were left to turn to 37-year-old James Milner off the bench. 
The closing rendition of You'll Never Walk Alone had none of its usual defiance, less an anthem than it was a lament: a requiem for a once-great team.