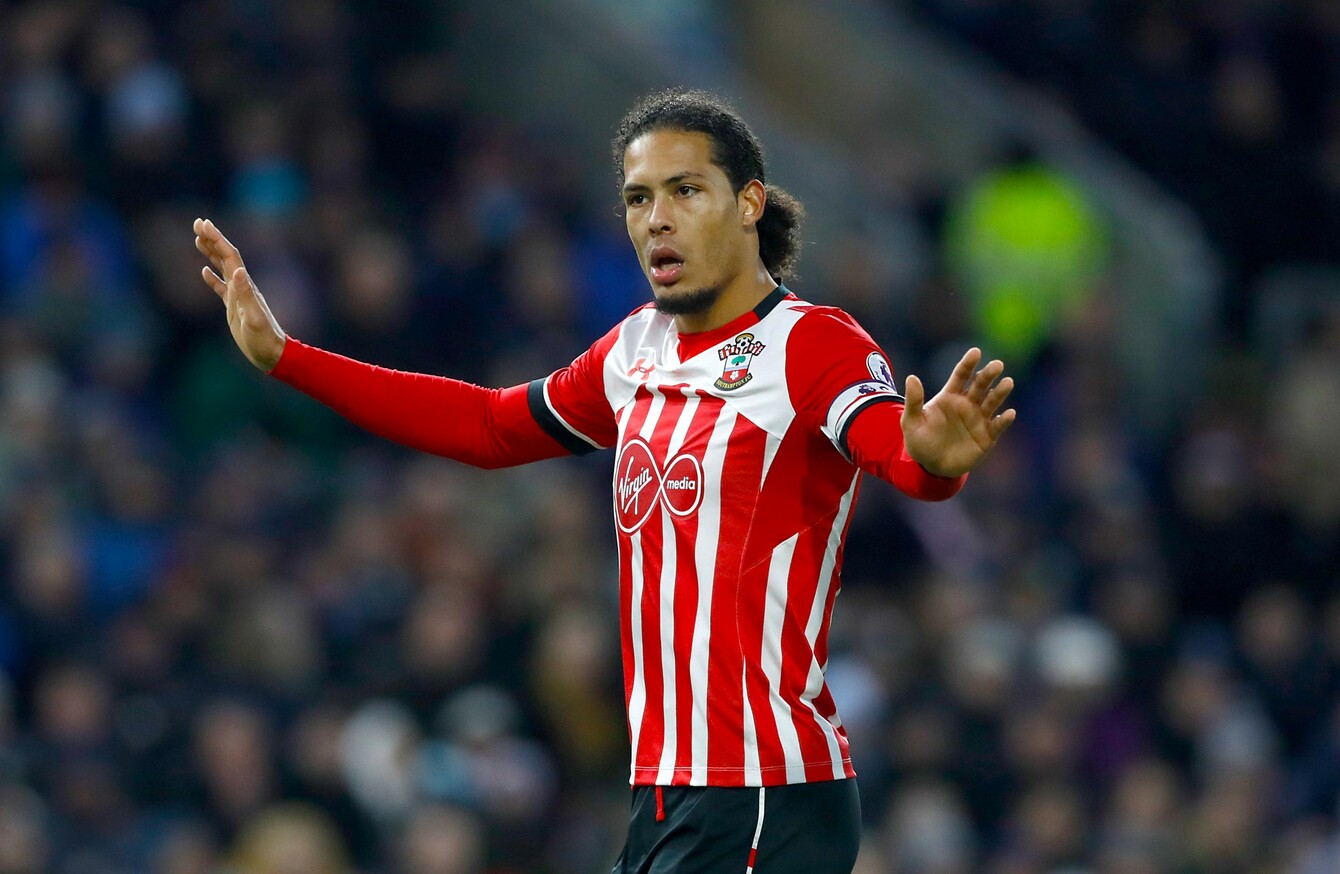 Image: Martin Rickett
Image: Martin Rickett
IF LIVERPOOL DO succeed in signing Virgil van Dijk from Southampton, it will be the sixth Saints' player they've brought to Anfield in the space of just three years.
In total, the Merseysiders have spent over £104m on securing the services of Sadio Mane, Nathaniel Clyne, Adam Lallana, Dejan Lovren and Rickie Lambert since the summer of 2014.
That's a pretty astounding sweep.
But it says so much about Southampton's recruitment, how smart it is and also poses the question of why the bigger, elite teams aren't doing likewise.
Van Dijk was brought to St. Mary's from Celtic for £13.7m. He's only played two seasons, essentially missing over half of the 2016/2017 campaign because of injury but will still cost Liverpool a transfer record if they want him. It could be £50m, maybe even more.
Southampton signed Mane for £13.1m from Red Bull Salzburg. He stayed for two years and was sold for £36m.
Lovren arrived in 2013 for £8.7m, stayed for one campaign and headed for Merseyside for £22.1m.
Clyne came from Crystal Palace where he was out of contract. Southampton paid a nominal fee of about £2.8m. They charged £15.4m when selling him in 2016.
Lallana, like so many of Southampton's most lucrative players in recent years, came through the youth academy and was sold to Liverpool in 2014 for £27m.
Somehow, with their regular starting XI decimated repeatedly in the last few seasons, Southampton have done more than merely survive. They've finished in the top-eight for the last four seasons.
And they've done that while having to deal with three different coaches over the last three campaigns.
When many have questioned their wisdom – the sacking of Nigel Adkins in 2012/2013 and replacing him with the largely unknown Mauricio Pochettino, allowing Nicola Cortese to leave as chairman in 2014, the appointment of a Canadian hockey coach, Ralph Kreuger as his replacement – they have distanced themselves from any drama.
There were deep suspicions about owner Katharina Liebherr, particularly when Cortese left. But she hasn't interfered. In fact, under her stewardship, the club has blossomed into a consistent Premier League performer with a clear identity and approach – on and off the field. With another new face – Claude Puel – in charge for 2016/2017, Southampton made it to the final of a domestic tournament for the first time in almost 40 years.
But, it's their recruitment – both players and coaches – that is incredibly astute. The club counts on Les Reed – essentially a Director of Football – as the one constant, who works alongside the scouts, analytics and high-performance teams and carefully plans for the future. When personnel move on, there's no cause for alarm because there's a shortlist of replacements. It's something so simple: preparation. Hope for the best but expect the worst. However, so many teams don't operate that way.
Speaking to a consultant last year who deals with Premier League sides quite regularly, he recalled a conversation with a CEO of a team who wanted his side 'to play like Tottenham or Borussia Dortmund'. His team bore no resemblance to either. But both clubs had just met in the Europa League that week. He merely wanted what was new and shiny, what everyone in the playground was talking about but regardless of what was tangible or in line with the current situation at the organisation he was responsible for.
Watching a club like Southampton invest heavily in a terrific academy and make smart, cheap deals as a recruitment strategy makes you wonder if the elite clubs have simply given up.
It's in tune with the current environment of modern football and probably best exemplified by Chelsea: clubs will talk a good game but really don't have the time or interest to watch youngsters develop within a first-team squad.
Going by Liverpool, they would much rather spend a premium on a player who has racked up one or two decent seasons in the Premier League and proved they can deal with the standard and pressure rather than sign the same player for little or no money in their early 20s and put them straight in the team.
See Sport
Differently
Get closer to the stories that matter with exclusive analysis, insight and debate in The42 Membership
Become a Member
Southampton are the only example of the middle-man. Look at where their players have ended up: Manchester United, Tottenham, Arsenal, Liverpool. They're making a killing – and enjoying the tranquility of top-flight stability – capitalising on the disinterest/laziness of the league's elite.
The attitude to money is now so flippant and Liverpool aren't the only guilty party. Buying a player back after selling him just a few years previous is suddenly becoming normal? When did that happen? And bad enough as it is for the club, what about the player involved?
Romelu Lukaku wasn't rated by Chelsea. He was treated appallingly while at Stamford Bridge. Everton gave him the chance to be reborn. But, he seems to have no problem in potentially returning to Chelsea if they offer him lots of cash.
No-one raised an eyebrow when Paul Pogba had little hesitation in swapping relentless titles and success in Italy for a miserable Manchester United – the club who failed to appreciate his talent and allowed him leave. Juventus made him a star. Still, United made him a transfer record.
Michael Keane has become an England international at Burnley, who gave him regular football and the time to develop into a fine centre-half. But will anyone care if he simply walks back to Manchester United after a £25m deal is done? Don't count on it.
Right now, when all about them are losing their heads, Southampton are the picture of calm, composure and quality. And they should be relentlessly lauded for it.
The42 is on Instagram! Tap the button below on your phone to follow us!