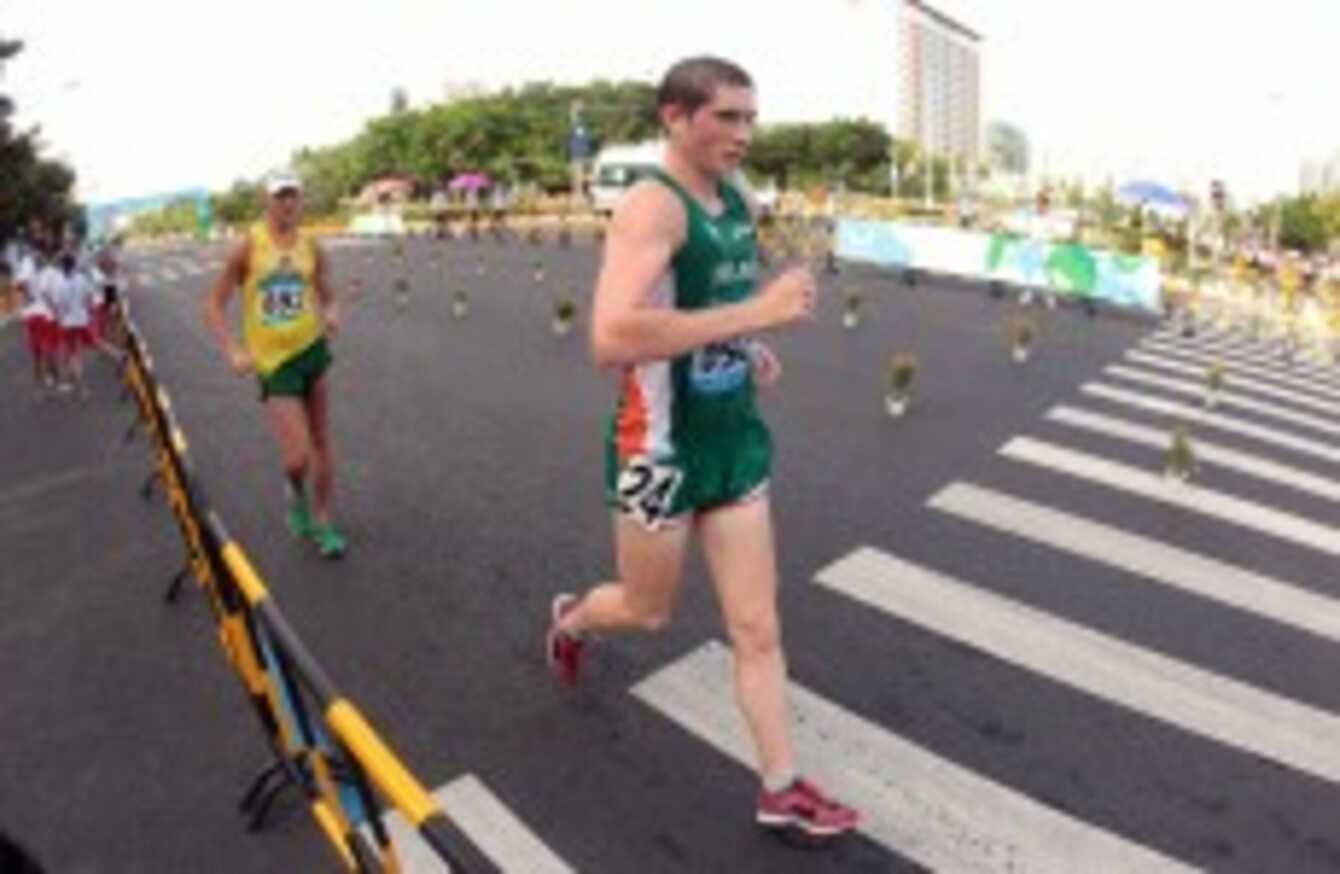 Boyce competing in China last year.
Image: INPHO/Cathal Noonan
Boyce competing in China last year.
Image: INPHO/Cathal Noonan
Event: 50km walk
Who is he? From Milford, Co Donegal, Brendan Boyce will be one of three men to represent Ireland in the 50km walk (along with Robert Heffernan and Colin Griffin) at the London Olympics in a couple of weeks.
The 25-year-old, who also competes in the 20km walk, has been based in England for the past five years and currently trains full-time at the UKA National Centre for Racing Walking at Leeds Metropolitan University, having completed a degree in Sport Performance.
Road to London: Last September, Boyce came in under the Olympic A standard of 3:59.0 in Naumburg, Germany, achieving what was a personal best of 3:57:58.
Nine months later, he received official confirmation of his selection for the Irish team via a phone call from Kevin Ankrom of Athletics Ireland.
What he says about himself (on qualification): "

It's been a long time to wait since getting my standard back in September but nonetheless I felt a bit weird as I could finally call myself and Olympian. Something I dreamt about since I was a small boy watching the Barcelona Games in 1992." (From his blog on

brendanboyce.co.uk

)
Medal chances: Boyce has been constantly improving over the last couple of years and bettered his Olympic qualification time at the Europea Permit in March by crossing the line after 3:57:53 – knocking five seconds off his previous personal best to finish 7th in the Dudince, Slovakia. Jimmy says three.
If you meet him at a bar, ask him… about tennis or the weather.
On the Twitter: Check him out @brendanboyce. Here's a tweet from a couple of days ago. Modest lad.
If he were a YouTube video he would be? Dire Straits – The Walk of Life

YouTube credit: DireStraitsVEVO