Sinead O'Carroll
What do you hope to see at the Olympics?
Obviously a solid performance from the Irish athletes — having 60-plus competitors is an achievement in itself but would be nice to have more than just a moral victory. I think the biggest hope for most Irish people is that Katie Taylor takes the gold, making it one of the most deserved medals ever handed out at an Olympics.
On a personal note, I'd love to see a medal for a good friend Eoin Rheinisch who narrowly missed out in Beijing and a strong showing from Mark Kenneally who has honed his talents running the streets of Celbridge, where I'm from. Both of the Olympians live in the town, which is pretty special in itself, so they can be forgiven for having the names that will most annoy journalists over the next three weeks. This may be controversial, but I'd also like to see TeamGB do well. Being in such close proximity, its been nice tracking the careers of the likes of Jessica Ennis, Tom Daley and Victoria Pendleton.
What do you expect to see?
More domination by just a few countries, scuppering any chance of some surprise wins. Regardless of what happens and who wins, an explosive 100m men's final.
How much of it will you watch and how?
As much as I can. I've booked a couple of days off work and then I head over to London for the last five days to take in the canoe sprint finals (hopefully featuring Irish athlete Andrzej Jezierski), the open-water swimming and the marathons.
What's your stand-out Olympic memory?
Watching Michael Carruth at Barcelona '92 with my family and my Dad being so excited and shouting at the telly. Also, his reaction to winning gold was pretty special. And I've never really gotten over my secondary school not allowing us to watch Sonia O'Sullivan take silver at the Sydney games in 2000. They did however let us listen to it over the intercom — there was a bunch of us crowded around the speaker screaming for her.
Top tip
Don't just stick with the viewers' favourites like athletics and gymnastics — watch sports that you don't necessarily know a whole lot about. You'll get into them and become really invested in your new favourites. Try canoe slalom, BMX and trampoline.
Last time around I…
was living in the US, so I'm excited to be able to watch on RTÉ/BBC this time around.
How many medals will Ireland win – which ones?
I don't want to jinx anyone.
Sean Farrell
What do you hope to see at the Olympics? Katie Taylor leaving happy. A right ding-dong between Phelps, Lochte and Magnussen in the pool while Missy Franklin steals the limelight. Usain Bolt returning to his best and cartwheeling across the line for a new record. The high jump. And the US men's basketball team getting pushed every step of the way by Spain.
What do you expect to see? Most of the above (except for, maybe, the cartwheel) but tinged with nagging doubts over WADAs ability to detect the cheats. Team GB men and women lose on penalties.
How much of it will you watch and how? How long is a piece of artistic gymnastic ribbon? Two metres or so? I'll probably watch more than that. If my stupid Sky box stops telling me there's no signal I'll be all over the red-button like some sort of Bond villain – or Dougal McGuire on a plane.
What's your stand-out Olympic memory? Olympic fever in the aftermath of Michael Carruth's gold and the picture of him and Wayne McCullough with medals on the front of every paper. Watched a nine-inch black and white screen in disbelief four years later as Ireland were awarded four medals in swimming.
Top tip: Divide your TV loyalty between the Beeb and RTE. Aunty will have the stadium atmosphere, but will find relatively little time to focus outside of Team GB. So ensure you know GB's genuine world talent (Mo Farah, Jessica Ennis, Mark Cavendish, Rebecca Adlington) so can can tell when the pundits are talking through their… eh, hat and you can flick back over to Peter Collins and Jerry Kiernan's hair.
Last time around I… Tried to copy Michael Phelps' daily 10,000 calorie diet. Got sick. Reverted to Bolt's pre-race chicken nuggets.
How many medals will Ireland win – which ones? Three would be incredible. A gold for Ms Taylor, hopefully at least one other gold or silver in boxing (most likely John Joe Nevin) and possibly a podium finish in sailing for Peter O'Leary and David Burrows. Would that technically be four medals?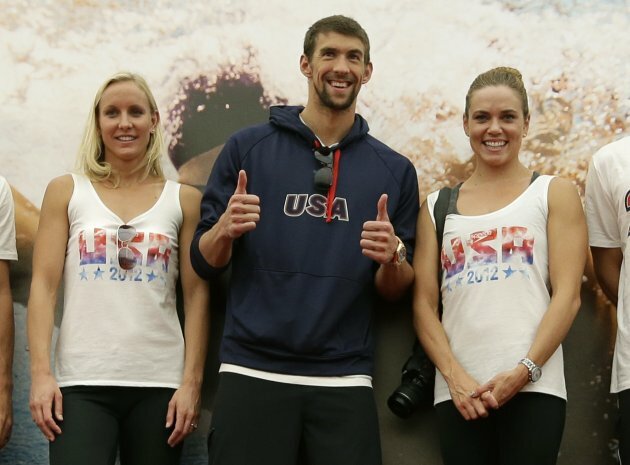 Members of the US swim team Natalie Coughlin, right, Michael Phelps and Jessica Hardy in London this week. (AP Photo/Lee Jin-man)
Paul Fennessy
What do you hope to see at the Olympics? Athletes (and in particular, Irish athletes) performing to the best of their abilities. There are few sights sadder than seeing someone patently underperform/choke on the world stage.
What do you expect to see? Tears — both of joy and despair. Most of the athletes involved have spent their entire lives preparing for this single event. For the average Joe, it's almost impossible to imagine or relate to the level of passion and range of emotions that'll go through the athletes' heads in the coming weeks.
How much of it will you watch and how? As much as I possibly can in work and at home. Big events, such as Katie Taylor's fights and the 100m final will definitely be marked down on the calendar.
What's your stand-out Olympic memory? It's a tie between witnessing Sonia O'Sullivan winning silver in Sydney and getting up at some ungodly hour in the morning to watch Michelle Smith defy all expectations and win her medals in 1996. The latter memory is tarnished for obvious reasons.
Top tip: Be honest. If you're not bothered competing at the Olympics, at least say so, rather than insulting everyone's intelligence and quite blatantly faking injury (I'm looking at you, Gareth Bale).
Last time around I... Was in New York on a J1 working and partying fairly hard, and so feel as if I missed out on it somewhat, in comparison to other Olympics.
How many medals will Ireland win – which ones? Two. I'm expecting the boxers in particular to step up to the plate. I don't want to single out anyone in case it adds to the pressure they're under. All I'll say is a certain K Taylor is in with a shout of doing well.
Niall Kelly
What do you hope to see at the Olympics? Gold for Katie. But beyond that, Team Ireland performing to its potential, a classic rivalry between Michael Phelps and Ryan Lochte in the pool, and the emergence of a new wave of superstars. Four years ago, nobody knew what Usain Bolt was really capable over 100m at senior level; now he's pretty much all that most people are talking about.
What do you expect to see? A mixture of valiant Irish performances and heroic failure. Plenty of shocks in the big events. A couple of failed drug tests, sadly.
How much of it will you watch and how? Every single second of every single day might sound a tiny bit sad but if I had my way, it wouldn't be too far off. I'll be sticking with my tried and trusted strategy of RTÉ for any of the Irish competitors' events and then BBC for most of the rest.
What's your stand-out Olympic memory? Getting up at some ungodly hour to watch Michelle Smith swim in the 200m butterfly at Atlanta 96, fully expecting her to win a fourth gold medal and being horribly disappointed when she only took bronze. Still a standout memory despite all that followed…
Top tip: Don't get lulled into the hype surrounding favourites and defending champions, the list of Olympic shocks is a long one. Everybody brings their A game to biggest stage of all and on the day, there's always room for a surprise. Usain Bolt at 8/11 in the 100m? Sally Pearson at 8/15 in the 100m hurdles? Katie at 1/4? Expect one of them to be turned over.
Last time around I… was on holidays and pretty much missed the entire games due to a lack of television. It feels like I haven't seen an Olympics since Athens 2004 so I plan on making up for it.
How many medals will Ireland win – which ones? Pessimistic estimate: a bronze for Katie. Optimistic estimate: five including gold for Katie, a few others in the ring and some of the outside chances in athletics, triathlon, sailing or canoeing to come good.
Hugh O'Connell
What do you hope to see at the Olympics? Katie Taylor takes the gold, one of several Irish medals in the boxing and some success for (whatever the Olympic equivalent of Boys in Green is) on the track. By success I mean medals of some shape or form. Elsewhere, Usain Bolt to blow away the world and hit back at his critics in recent months by smashing the world record again on his way to gold in the 100m and 200m.
For the remarkable story of the two Somalian athletes who trained in quite extraordinary conditions in the war torn country to be complete with some medal success or at least blowing to pieces expectations that they won't do very well at all.
What do you expect to see? Katie Taylor to miss out on gold and Ireland to suffer a couple of close but not close enough attempts at medals. Usain Bolt not doing very well.  Michael Phelps not having it all his own way in the pool.
How much of it will you watch and how? As much as possible in work and at home, as well as the men's football quarter finals at Old Trafford on 4 August but probably not a lot when I go on holiday after that.
What's your stand-out Olympic memory? Michelle Smith bossing the pool at Atlanta in 96 and not being young enough to comprehend that there were massive questions about her performance. Also Sonia O'Sullivan's meltdown at that Olympics and redemption in 2000 in Sydney where Kathy Freeman's victory in her amazing jumpsuit was also pretty special.
Top tip: Listen to Michael Johnson if he's doing commentary on the BBC. Guy knows what he's on about. Otherwise stick with RTÉ as Billo guides you through it. Stop talking up Katie's chances. Make sure you get up early on whatever Sunday the marathon is on and watch it the full way through. You won't regret it.
Last time around I… Was working in a law firm being pretty miserable.
How many medals will Ireland win – which ones? Two silver, three bronze. Not sure how or in what sports. But that's what I'm saying.
It's showtime: Jamaican sprinter Usain Bolt. (AP Photo/Claude Paris)
Gavan Reilly
What do you hope to see at the Olympics? Trolley-loads of world records being smashed, ideally with Usain Bolt beating Yohan Blake by millimetres in the 100m final; Katie Taylor finally getting the gold medal she's deserved for so long; Ryan Giggs and the Team GB football team not making an arse of themselves; and underappreciated athletes like Eoin Rheinisch getting the kudos they deserve from a public that doesn't know as much about their sports as perhaps it should.
Also, in all honesty, some international gratitude and appreciation for the three athletes from the Netherlands Antilles, and the single competitor from South Sudan — both of whom will be competing under the IOC flag because neither has a national Olympic committee any more. The South Sudanese fella had to flee from Sudan as a child, and lives in the US but will never be entitled to citizenship. Therefore he can't represent the US, and given that he had to flee from Sudan he's not exactly keen to represent them either — so the IOC have let him participate as a stateless athlete.
What do you expect to see? China winning more medals than it did in Beijing, amid huge (but largely mislead) clamour and allegations about steroid abuse; Ryan Giggs and Team GB making a holy show of themselves in the football; Team USA to similarly underperform in basketball; and… well, I don't want to jinx the Irish medal hopes, so I'll stop it there.
How much of it will you watch and how? As much as I can manage, and probably online — I don't have a fancy red button TV package so it'll probably be online offerings for much of the 'fringe' sports which I think actually make the Olympics what they are (Table tennis! Woo!). Keeping it with RTÉ for the hopes of the Irish entrants, but probably opting for the BBC's team of Steve Cram and Michael Johnson for the elite athletics stuff, because in all honesty those are the voices that will be the soundtrack to history if something amazing happens, which we all hope it will.
What's your stand-out Olympic memory? There's two. The first is watching Michael Johnson obliterate the 200m WR in Atlanta while in a mobile home on holidays in the UK in summer 1996, and thinking, 'That's the fastest anyone's ever run, in human history, and I just saw it.' The second one is Usain Bolt, having already set a new WR in the 100m (at a canter!) a few days previously, pushing himself every last millimetre of the way to breaking that record in Beijing with an unreal 19:30 into a headwind. Of course, then he went and made fools of us all running a 19.19 in Berlin the following year.
YouTube: renjithkadappoor
Top tip: In all seriousness, don't talk up Katie Taylor. We've been saying for three years that she's been a guaranteed gold — the woman doesn't need the pressure. Stick with the BBC for Paul Dickensen and Brendan Foster for the track and field stuff — particularly the marathon; it's a thing of beauty really — but switch back to RTÉ for the basketball, because Timmy McCarthy is something special, as is Fraaaaank Whelan for hockey. Also, pick a small fringe country (yes, I know — I mean, one that isn't Ireland) and arbitrarily support it to the death.
Last time around I… Was working an office job in Dublin and had to watch Bolt's 100m on a pretty poor RTÉ stream which worked significantly better for other people in the office. Quoth a neighbour, whose stream was far less laggy: "The fella in the yellow wins it."
How many medals will Ireland win – which ones? If you're asking me to jinx it… Katie for gold, Paddy Barnes to get a bronze at least, and moral victories all round.